American Express Centurion Lounges are great. They're stylish, offer complimentary real hot and cold food items and a complimentary tended bar. The Dallas Fort-Worth and Miami lounges have complimentary spas. There are kids rooms, showers in most. And customer service is great.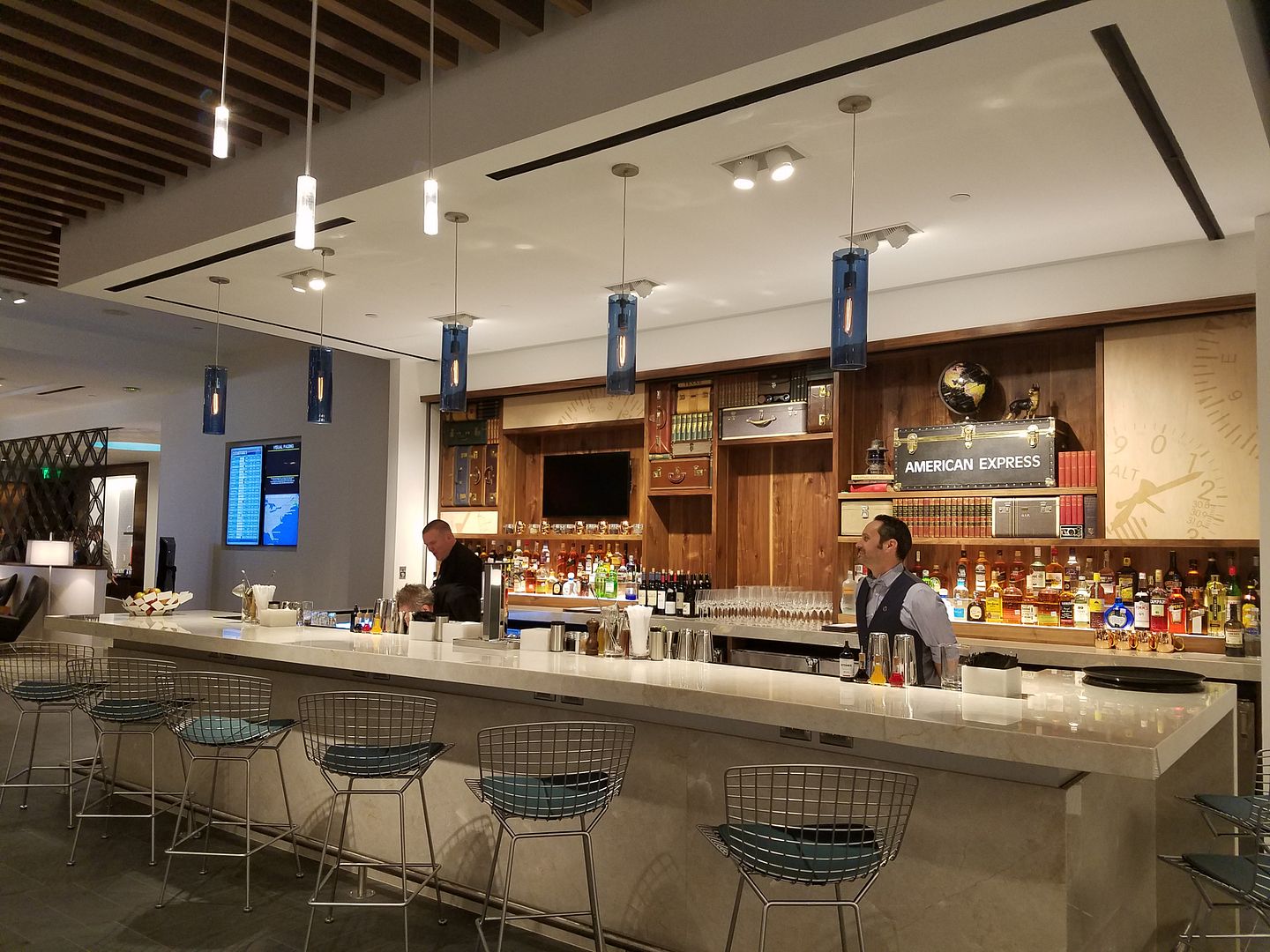 Houston Centurion Lounge Bar
The challenge is that, to borrow from Yogi Berra, they're so good I don't go there anymore. I used to make an effort to spend time in the lounges before flight. But I find lounges where I have to scramble to find a table and dodge and weave other customers at the buffet not to be respites from the terminal.
It's worth noting that the new Houston Centurion lounge has remained peaceful and quiet when I've been in, likely owing to its location. And also that there's a secret to always finding space in the Dallas lounge.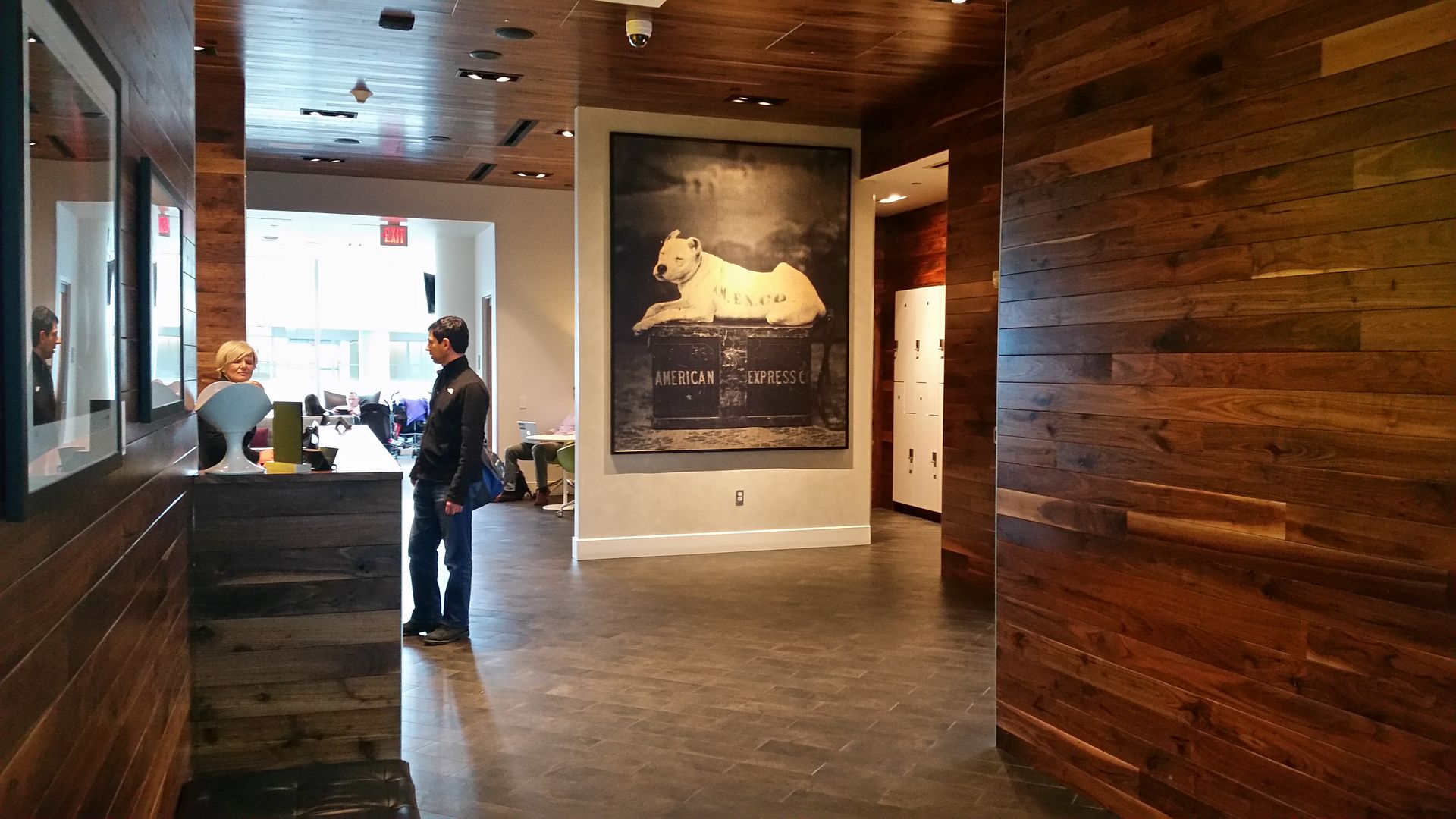 Dallas Fort-Worth Centurion Lounge Entrance
It looks like American Express is doing something about overcrowding.
Reader Ross K. shared this morning that member services at the Miami Centurion lounge stated, "New rules at centurion lounge. Can only bring in one guest. Children are not free even infants have to pay $50."
There was a little bit of confusion because he was describing one guest in addition to the cardmember's spouse. It turns out that's a bit of a misunderstanding. (And more than one guest was in fact admitted, the agents were describing a future policy.)
The Centurion Lounge access page hasn't been updated. It still describes the old guest rules.
Centurion® Members and Platinum Card® Members who receive complimentary access may enter with either up to two guests or immediate family (spouse or domestic partner, and children under 18) at no additional charge. Guest or family access is per Card Member, not per Card. Family and guests may not enter or remain in the lounge unless accompanied in the lounge by the Card Member.

If you purchase a one-day pass, your children under 18 may accompany you at no additional charge. You must purchase a one-day pass for any additional guests.
However Stgermainparis reports a sign at the Dallas-Fort Worth Centurion lounge:
Effective March 30

Platinum cardmembers can bring 2 complimentary guests into the lounge

It's no longer going to be or immediate family

So a cardmember and spouse plus two children will need to spend $50 to bring in the second child.
Apparently "the policy will be across the network and 'will match the [new] 2-guest access [offered to Platinum cardmembers for Priority Pass lounges]'."

Miami Centurion Lounge
My own preferred solution would be limiting the number of visits each Platinum cardholder can have for free, rather than limiting the number of people who can be brought in on each visit. Charge cardmembers for visits after their first 20 in a year.
However since it's generally not possible to simply get more space in airports than American Express already secures, and the lounges aren't large enough to accommodate demand, they do need to do something. This is something, we'll soon see what effect is has and whether it will make access to the lounges as sublime as when each one first opens and no one yet knows about them!
Update: Remember you can get an authorized user card for a spouse, pay that fee, then you each get 2 guests.. if you travel as a family often that may be a worthwhile strategy, and your spouse gets card benefits like lounge access when they are alone too.