American is running a targeted offer of an elite fast track that makes even Executive Platinum somewhat easy to obtain along with double miles. I don't know how broadly targeted it is, the person who received this is an occasional American flyer — three or four trips a year — and was once an AAdvantage Gold.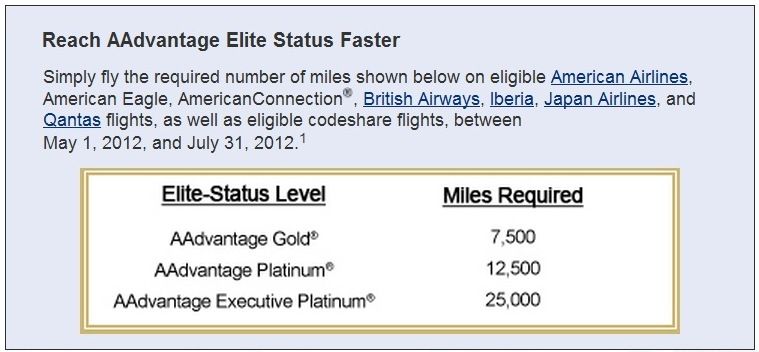 Registration is open through May 11. Offer terms and conditions are here. Elite status earned under the promotion is valid through February, 2013 — not through February 2014 which is what you'd get flying the normal required miles during calendar 2012. Interesting that the elite fast track is based on miles rather than the tougher qualifying points (which penalize cheaper fares and bonus premium cabin fares).
This is a targeted promotion though of course you may well have been targeted, check your email box. You can try to register with promo code HVC3C. But don't count on getting the offer if you didn't receive the e-mail.
Update: Apparently, judging from the comments, my capitalizing 'targeted' in the title, beginning the post "American is running a targeted offer" and ending with a bolding of 'targeted' and saying "don't count on getting the offer if you didn't receive the e-mail" wasn't clear enough. 🙂
American will generally let anyone register for anything and will send a confirmation email. The front-end registration process doesn't check eligibility. American will run the list later against those who were supposed to receive an offer. If you weren't targeted, it's highly unlikely you will receive the benefits of the offer. Check your email, though, to see if you've been targeted!