As a followup to my posts on how to find award availability for the whole family — I've written about the routes with four or more business class award seats on Star Alliance airlines (so using United, US Airways, Air Canada points etc) between the US and and Europe and between the US and Asia — I've put together an illustration of routes with best first class availability on oneworld between the US and Asia.
To begin, recall basic principles.

More seats are harder than fewer seats. If you can split up (a family of four might fly 2+2) that makes things much easier.

Roughly six months out is a good sweet spot for searching award space.

Shorter flights are in less demand. East Coast – Europe is far easier than West Coast – Europe. West Coast – Asia is far easier than East Coast – Asia. If you're on the opposite coast, be willing to connect domestically or even buy domestic connecting flights if needed.

Multiple flights a day mean more award space. More total seats between a city will usually make it easier to get awards. But if the flights are ones that tend not to sell out that's even better.
You want to use the right tool to search for award space on your own, even before calling up your mileage program to book an award or trying to do it yourself online. But what routes to plug in?
Using American miles to Asia we'll talk later about options on other airlines, but American has so many first class seats and since they offer what many would consider more of a business class product with pajamas their ability to sell those seats is fairly limited. (At the same time, since the business class product to Asia is old angled seats, folks grabbing business class who know what to expect will certainly want to upgrade.)
Getting a whole family to Asia in American first class is really, really doable. In fact, American Airlines award availability in first class to Asia is so good that it even violates the rule that West Coast – Asia is doable while East Coast is tough. Even Chicago and New York flights are possible, and while these searches don't illustrate it I even see the space over peak holiday periods.
All of the following calendars of availability are current as of this writing and show March 2014 dates and flights with at least four first class award seats open.
This is Chicago – Tokyo and Chicago – Shanghai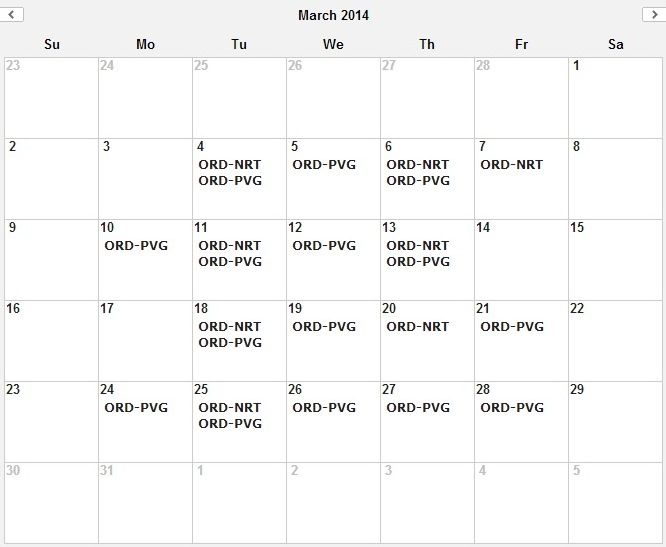 Chicago – Beijing
Here's Los Angeles – Tokyo and Dallas to Tokyo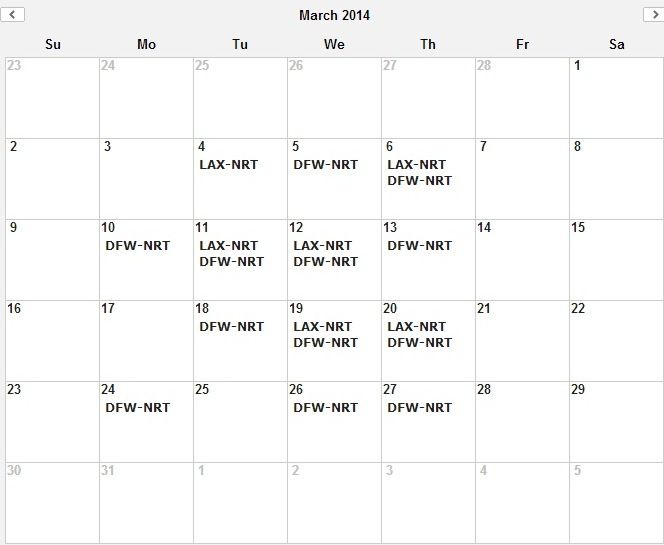 And New York JFK to Tokyo Haneda (the closer-in Tokyo airport, albeit with fewer international connecting options)
There are tons of options for getting to Asia using miles in a oneworld program by flying American Airlines first class.
In general American has better domestic award availability than competitor US airlines (although they aren't as generous in this regard as they once were). More often than not you can get the domestic connection to the international gateway city.
With a bit of flexibility and advance planning, awards are not just for a couple but can be for the whole family.
Note: All award calendars generated using Award Nexus.
---
You can join the 30,000+ people who see these deals and analysis every day — sign up to receive posts by email (just one e-mail per day) or subscribe to the RSS feed. It's free. Don't miss out!