This afternoon I popped over to Dallas to learn about upcoming catering changes at American. I was able to try some of the new entrees, that appear to be improvements, and most importantly signal that the airline is investing in product which has been an ongoing open question for the US Airways-American merger.
When US Airways and American merged, you took an airline where customers were hungry (no meals on US Airways flights less than 3 hours 15 minutes) and an airline where they were reasonably well fed and sort of met in the middle for meal times while adopting a legacy US Airways catering approach. That led to a backlash from customers, and American's management has been making changes ever since. Bringing back entrée salads last month was an important step (and those will continue).
There are new meals coming for domestic first class and premium transcon first class, plus they're changing up wines and adding some improvement to the lounges.
There aren't press releases going out onthese, but they're significant developments for passenger experience. And they had a small customer event that I wrangled an invite to (and that a small group of bloggers and journalists did as well — I ticked off a bucket list item by finally meeting Benet Wilson).
The event was held at LSG Sky Chefs corporate headquarters about six miles from the airport terminals. Fun fact, that not everyone at American knows: the reason LSG Sky Chefs' North American headquarters is near the Dallas Fort Worth Airport is because Sky Chefs was an American Airlines operation started in 1942. Back then there weren't outsourced airline catering operations, airlines started their own. Lufthansa bought pieces of it in the 1990s acquired the rest in 2001.
Key takeaways:

New meals in transcon (New York JFK – Los Angeles/San Francisco plus Miami – Los Angeles) first class starting July 1.

New wines July 1.

New appetizers in Flagship lounges mid-July

New meals in domestic first class August 1

Expanded meal windows and renovations coming to Admirals Clubs
American's Vice President of Marketing Fern Fernandez opened the event acknowledging that American 'had some missteps' with its inflight catering last fall.
Other executives including Hector Adler, who is Vice President of Inflight, as well as folks from lounges, catering, and AAdvantage were on hand and consulting chef Sam Choy.
Domestic First Class Menu
Starter
Warm Mixed Nuts
Appetizers
Antipasto Skewers
Tomato Tart
Salad
Wedge Salad
Romaine and Kale Salad
Entrees
Beef Filet with lobster mac and cheese
Shrimp & Grits
Lasagna
Lentil Chili with Polenta Cakes
Asian Slaw Salad with Teriyaki Chicken
Dessert
Salted Chocolate Caramel Premade Sundae
Transcontinental First Class Menu
Appetizers
Spicy crab with Sushi Rice, Avocado and Wasabi Aioli
Burrata Cheese with Oregano and Capers
Edamame Hummus with toasted garlic baguettes
Entrees
Beef Oscar with Crab Asparagus, béarnaise sauce and smashed potatoes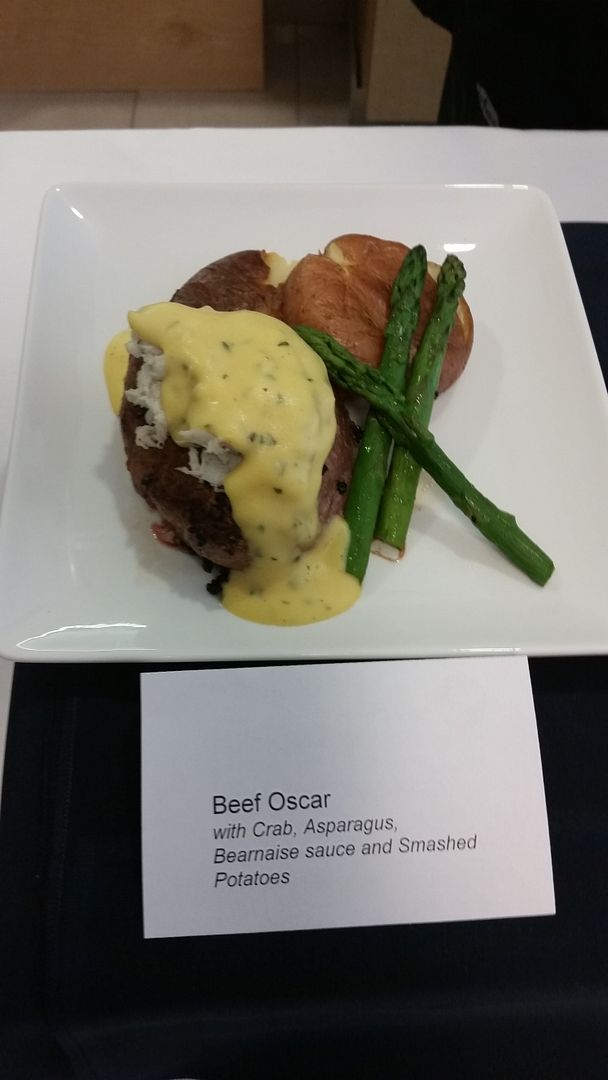 Steamed Sea Bass with soy glaze and ginger cilantro, pasta rice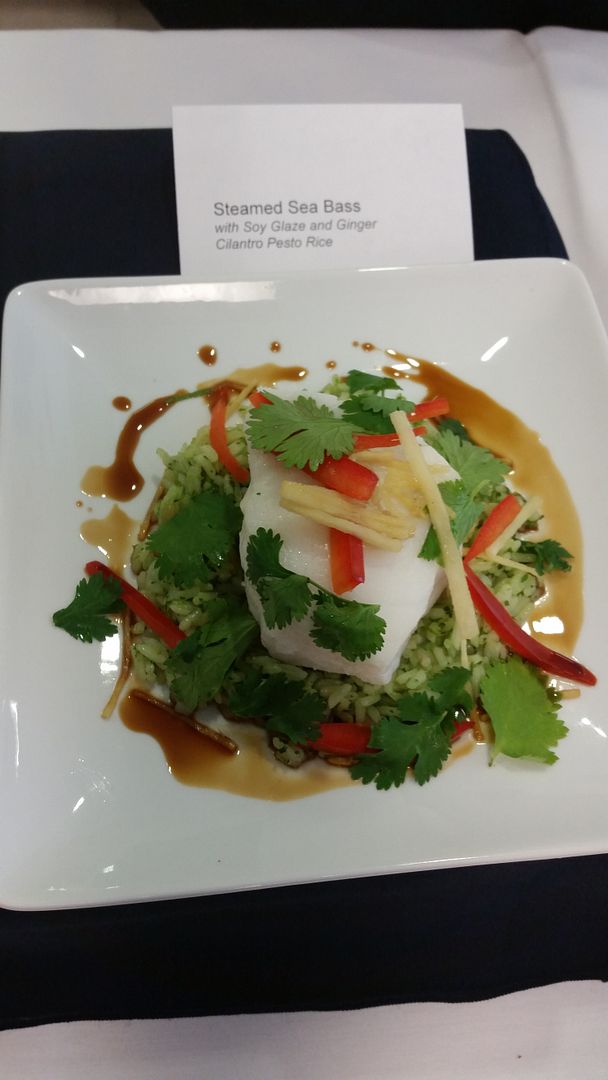 Lobster Risotto with shaved brussel sprouts, lemon oil and parmesan crisp
Wagyu Meatloaf with sriracha ketchup, roasted garlic mashed potatoes and candied onions
Pan Roasted Coconut Lime Chicken with olives and garlic mashed potatoes
Turmeric Paneer with red tikka curry, jeera rice and roasted two-color cauliflower
Summer Seasonal Vegetables
Baby Sunburst Squash and Zucchini (Eastbound)
Blanched Baby Carrots and Sugar Snap Peas (Westbound)
New Snacks for Flagship Lounges (which complement existing meal service)
"North America" Macaroni and Cheese
"Asia" Sesame Soba Noodles with Chicken Satay
"Europe" Ricotta whipped with lemon and extra virgin olive oil, ciabatta crostini
"South America" Peruvian Causa Yellow Potato West Coast Dungeness Crab Aji Amirillo Basil Cilantro Oil
It turns out that the mac and cheese will come in multiple varieties — truffled mac and cheese, for instance and sweet pea and ham mac and cheese. They will be presented on small plates (they were friend in our presentation but won't be in the lounges) and they hope to bring some on-demand customization to the mac and cheese.
There will be additional meal changes coming, such as new non-egg breakfast dishes in domestic first coming sometime in August (for instance, different pastries).
American breaks the country up into 4 domestic regions and assigns meals to each region for a month. So the meals from Dallas to Miami are different than Dallas to Los Angeles. Each month the meals cycle so that for instance Miami might get one month what Los Angeles had the previous month. The full menu only gets replaced once a year.
Wine Changes
American presented some of the new wines:
US Airways and American flights in the same regions will have same wine selections effective July 1. There were several other wines present as well, such as an Etude Pinot Noir which I much like for a $30 Pinot. I'd find this an excellent business class wine, though merely a role player at best for international first class where they're deploying it.
Bubbles in domestic first class will be a Bottega Prosecco, replacing the current sparkling.
Verdict on the Food
Everything tasted good in the LSG Sky Chefs building. I'm going to reserve judgment on the specific meals until I've tasted them in the air. I'm happy, though, to see American investing in the meal service. They're clearly trying to get better here, recognizing that the roll backs from last September went too far, and intending to put out a quality product especially as meal service is an area that both Delta and United are focusing on as well.
The Flagship Lounge snacks presented were probably closest in taste to what will actually be delivered in-lounge. As an addition, they're an improvement. But mostly they signal a continued investment in American's first class lounge product, so coupled with plans for a new Flagship lounge at DFW airport it indicates a commitment to first class despite only having that cabin on one aircraft type internationally (Boeing 777-300ER) going forward plus on their 3-cabin domestic transcon flights of course.
The most popular dish amongst those tasting today, it seemed, was the beef oscar (filet and crab meat) although that wasn't one of my own favorites. Among the beef dishes I actually liked the meat loaf, although calling it 'wagyu' is I suspect a bit of a stretch (perhaps there is some small portion of American wagyu mixed in to legitimately use the term) and the 'sriracha ketchup' wasn't at all spicy. Still, not bad.
Everyone present acknowledged the end of the 'mystery meat' which it turns out was a short rib.
Additional changes to service and lounges
A handful of other conversations were of note.
Fern Fernandez mentioned that American is running a purser training program in Dallas, emphasizing customer service and managing the inflight service crew. Their goal next year is that flight attendant recurring training will include broader customer service training as well so get greater consistency.
Expanded meal windows in the Admirals Clubs, although I don't have the timeframe for this to begin. I like their new soups, for instance, they just aren't out long enough and so stopping by the 'A' club in Dallas today at 11:45am all they offered was fruit, vegetables, and cookies.
I also had a long conversation about the coming revamp of the D15 Admirals Club lounge in Miami which will hopefully start in a few months, be done in stages, and complete next summer. They are taking over some space next door to the lounge that had been offices in order to expand the lounge. They eventually plan to get rid of the 'terrace overflow' space and move reception forward closer to the escalators. They have a more efficient seating plan in mind to accommodate more customers in this admittedly over-capacity lounge.
Takeaway from the day is that they're investing in product, they aren't doing everything I'd like to see, but they are doing more than I thought. We'll see how these execute, but I think we can also expect that if some of the things they're trying don't work well in practice they'll continue to iterate and improve.