Ever since I first stay at the Andaz 5th Avenue I fell in love with that property's overall value proposition, especially for a Hyatt Gold Passport Diamond member. Their rooms are generally large for New York anyway, and they have a ton of suites, so Diamonds often get upgrades even when not confirming a suite upgrade at time of booking. And they offer Diamonds breakfast via room service as well as in the restaurant. (The restaurant is small and this makes it possible to accommodate everyone.)
And I absolutely loved the Park Hyatt when I first got to stay there back in the Fall.
However in Manhattan I tend to choose a hotel for a given stay based first on location and then price (or rather 'value for money'). So last month I stayed at the W Downtown when I needed to be blocks from there both for a dinner shortly after arrival and then a meeting the next morning.
Two nights ago I needed to be in Manhattan for about 24 hours, and most of my activities were within about 6 blocks of the Hyatt Herald Square (near the Empire State Building) so I decided to give that property a try. Also narrowing the decision was that most of the other hotels I might consider were sold out already by the time I was booking.
The Hyatt Herald Square is a former Holiday Inn that got only a $6 million renovation before re-opening as a Hyatt a year and a half ago.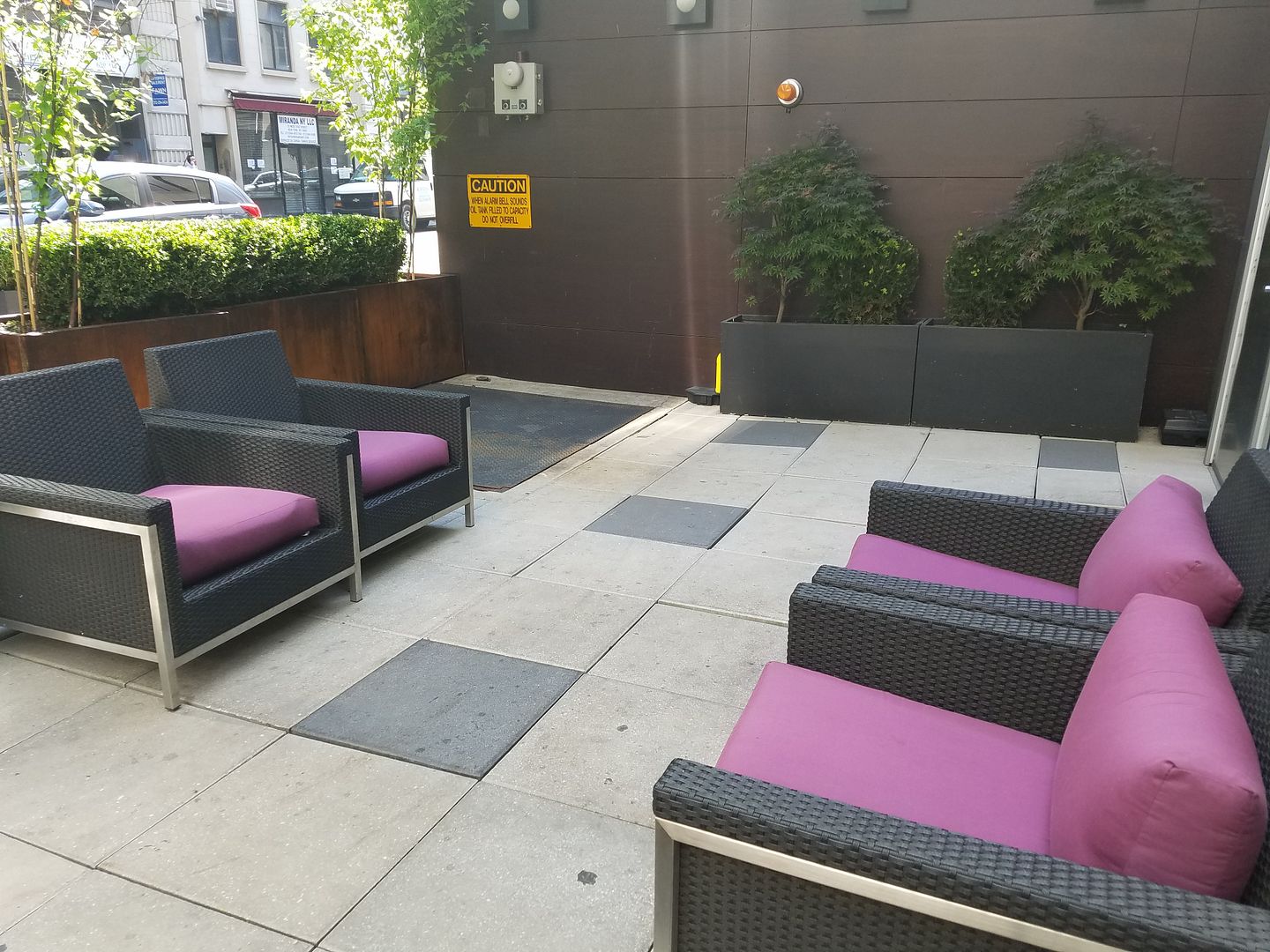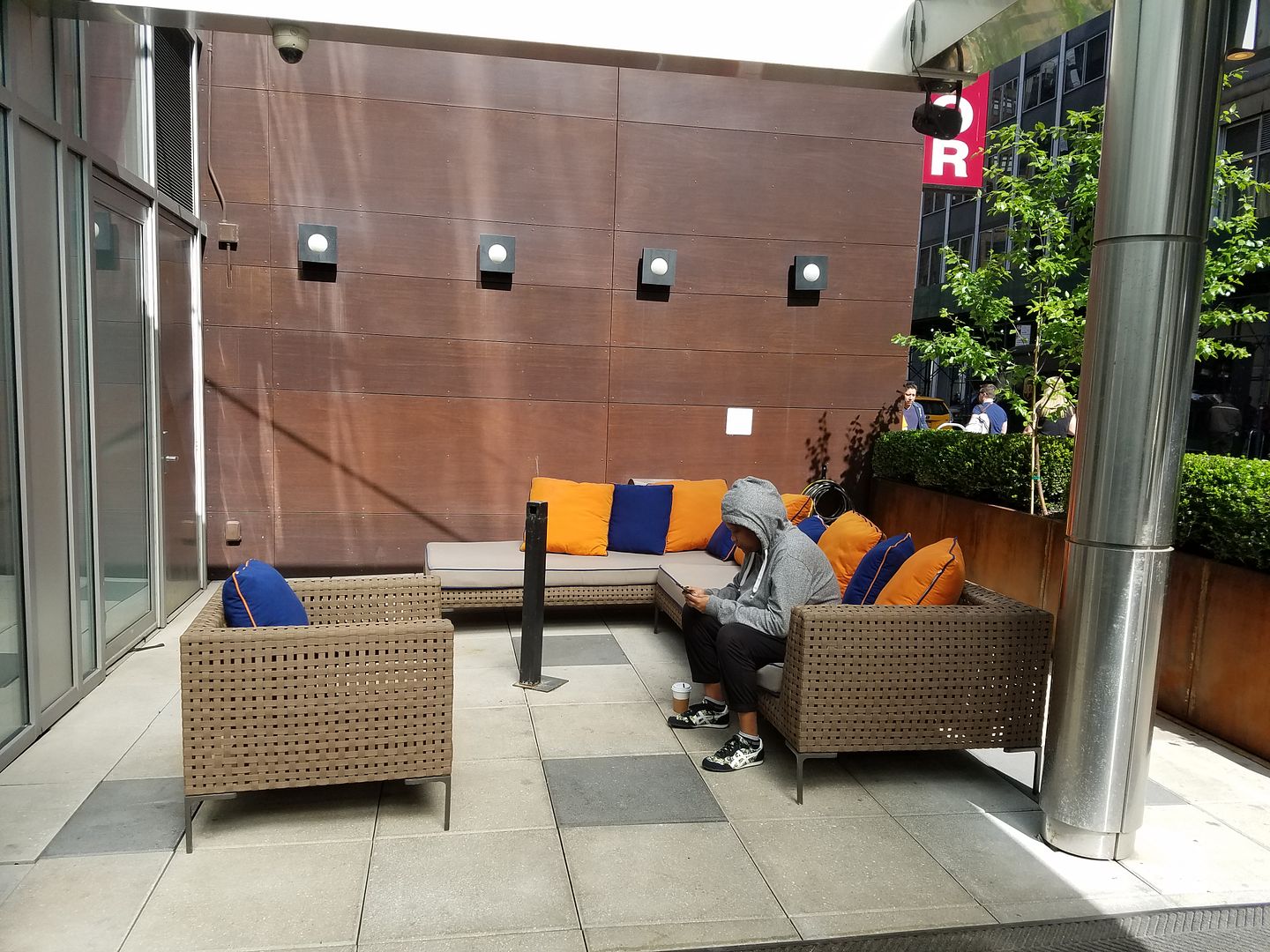 The lobby area is small but nice, though a bit confusing the first time you walk in. Elevators are right in front of you, the front desk is around the corner on the right. You can't see the desk until you turn the corner. Behind the desk is a communal area where people were working, and a bar.
When I checked in a little after 3pm I was told that if I wanted a 'high floor' I'd need to take a room with two doubles, but after some searching they found a king bed on the third floor at the back of the hotel. It was quiet, with no street noise at night.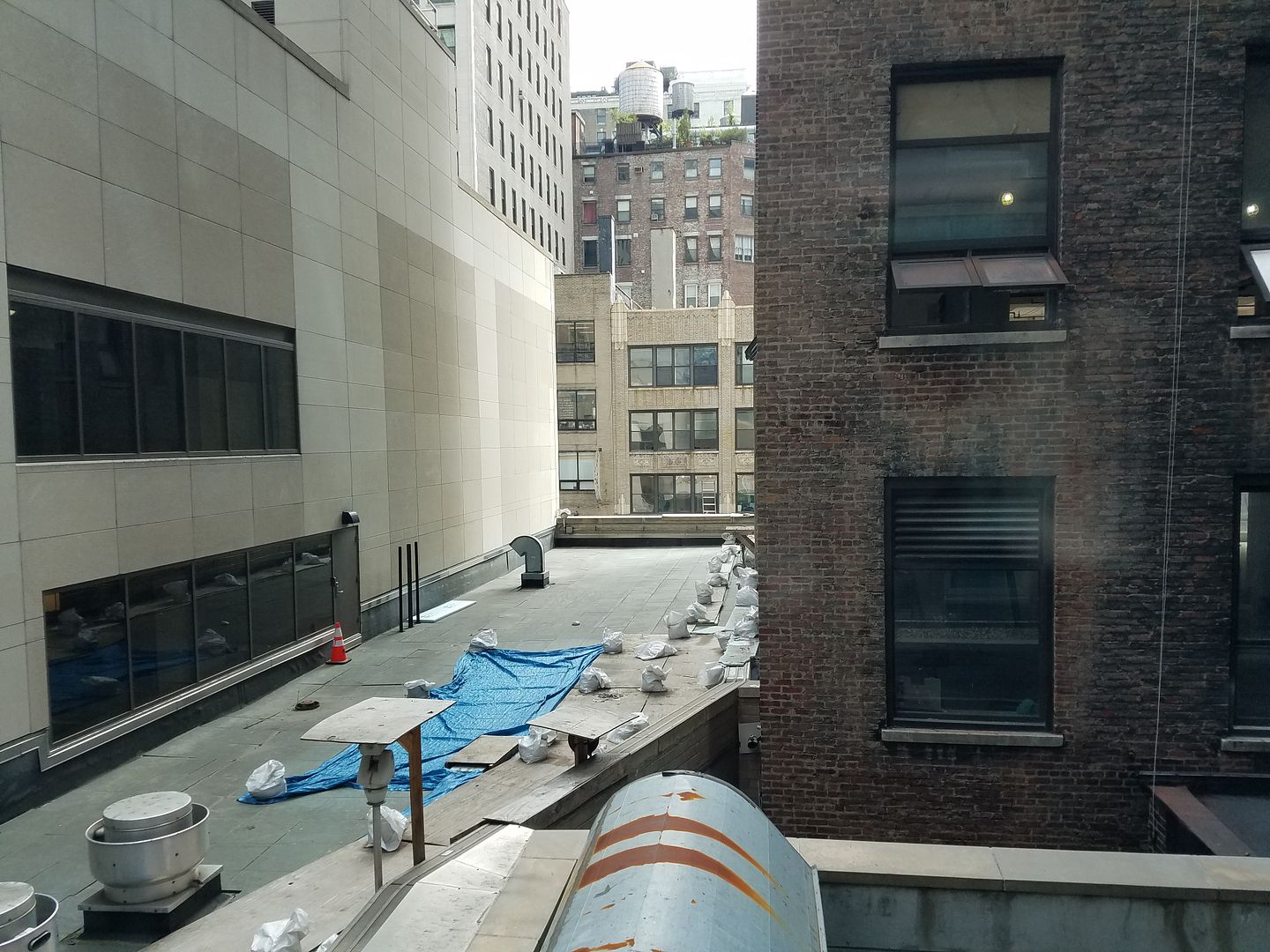 I was offered a Diamond amenity, they had a laminated sheet showing food and beverage choices, but I just took the points. They explained that the restaurant opened at 6am for breakfast and that it would be available until 11. What they didn't mention (and I hadn't looked up in advance) is that the hotel actually provides Diamonds with a credit that can be used in the restaurant, at the coffee stand, or with room service.
I went up to my room and boy was it tiny. It was about size of my 160 square foot dorm room freshman year in college. There was no desk. There was a ledge that you could pretend was a desk, but there was no desk chair.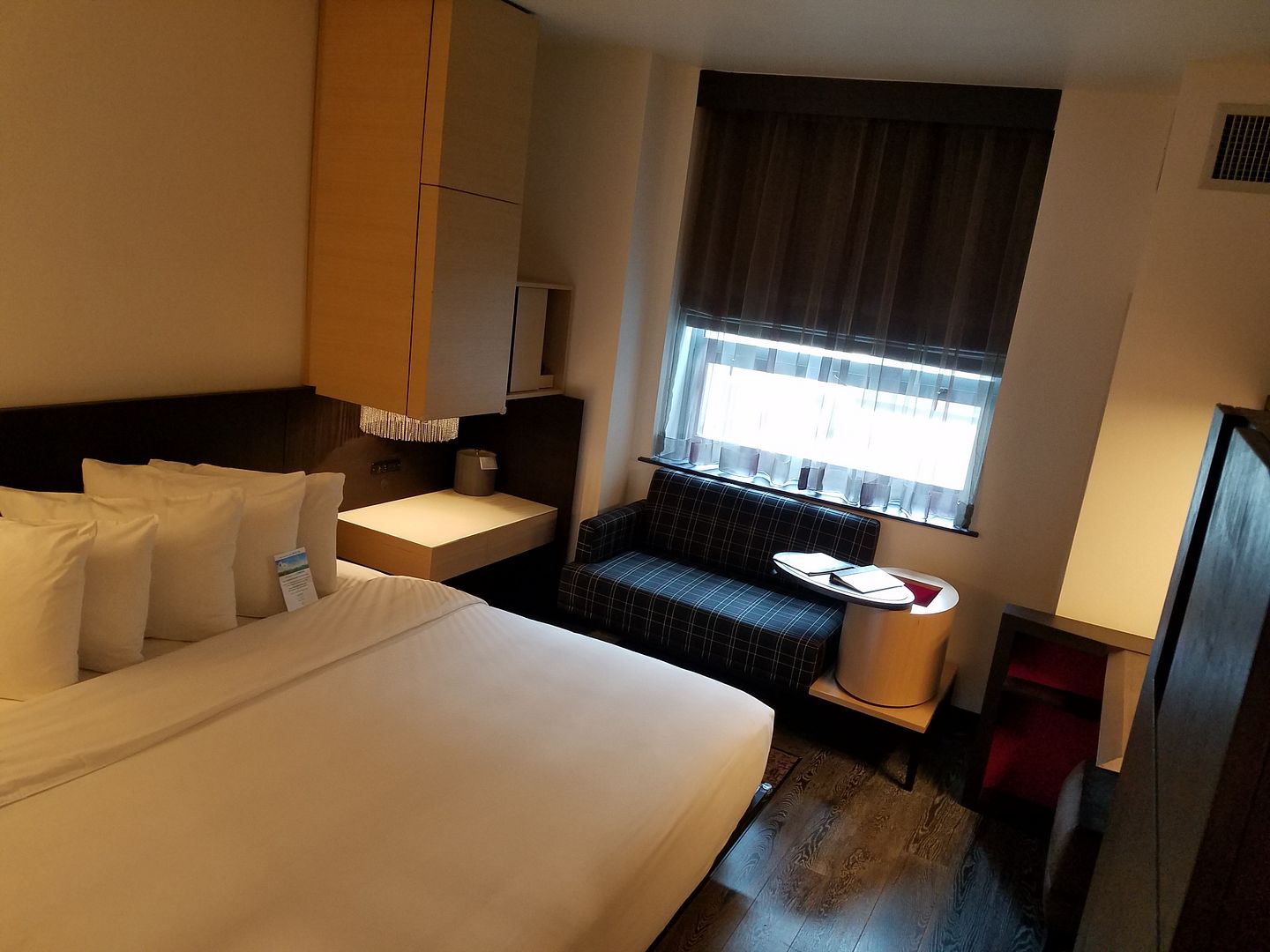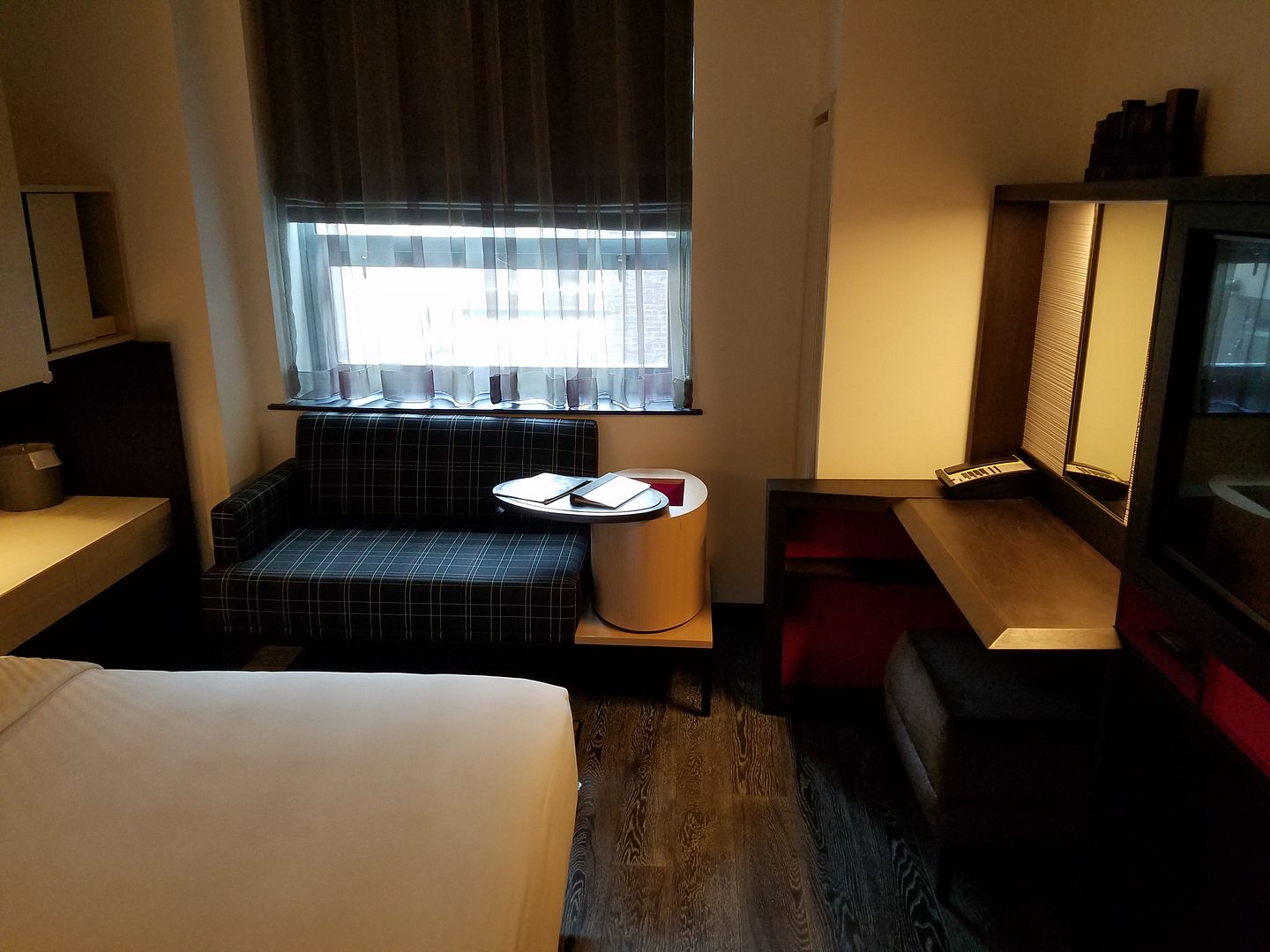 The bathroom was relatively large considering how small the bedroom was. When the hotel opened they were offering C.O. Bigelow toiletries but have switched to Hyatt Regency standard KenetMD.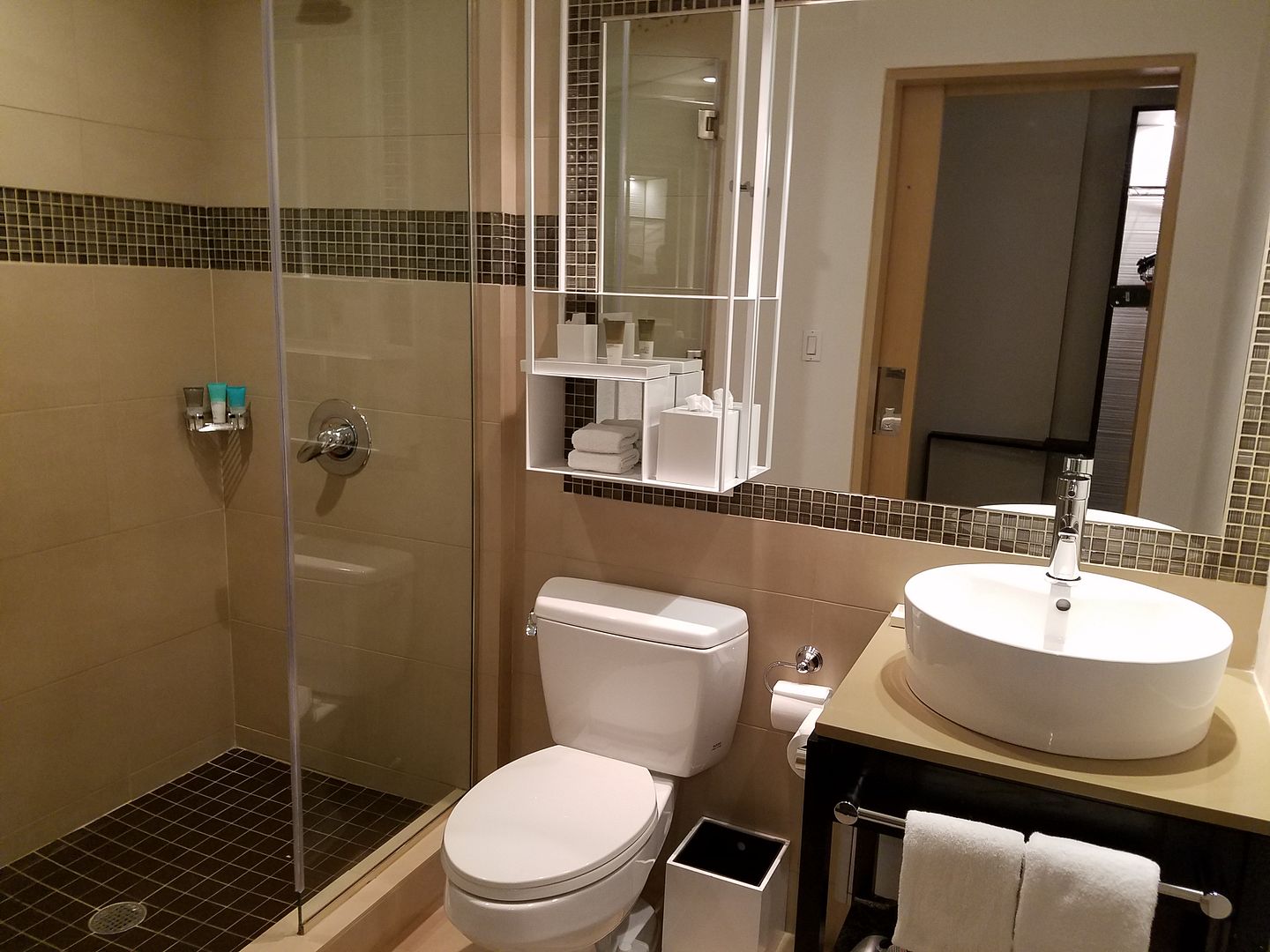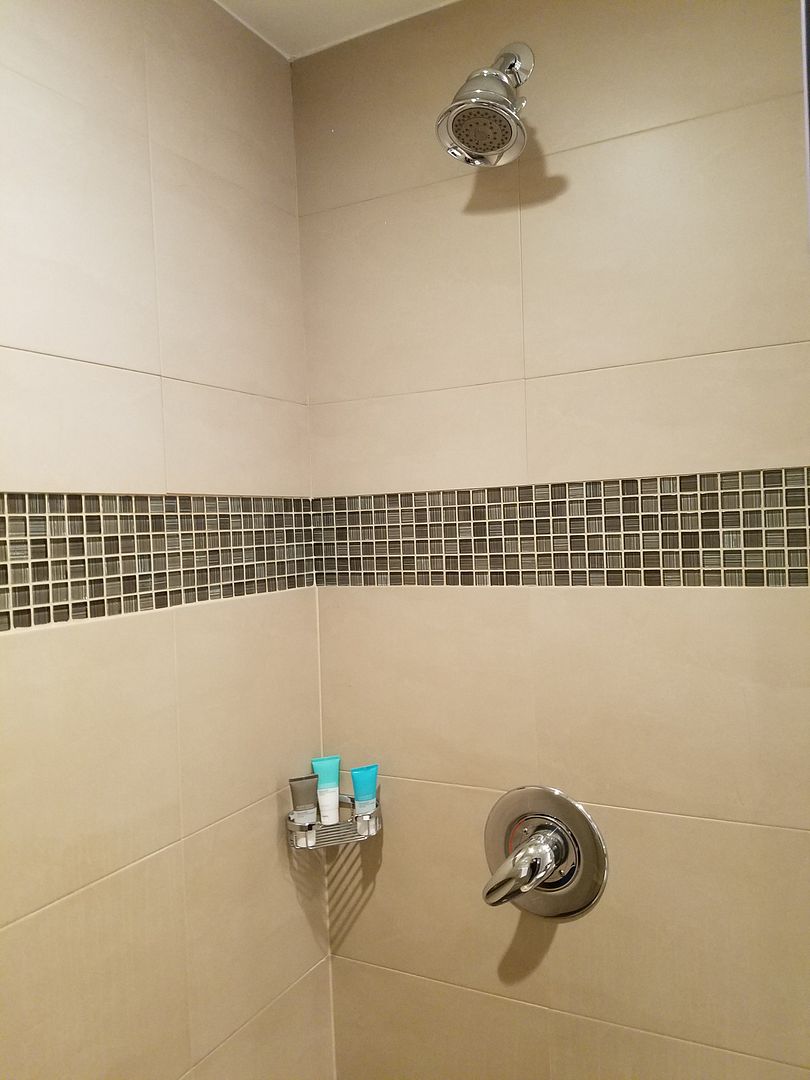 The restaurant is small. I didn't eat there. I had a number of phone calls stacked back-to-back early in the morning so I ordered up room service. They told me it would take extra time because "there were two people eating in the restaurant."
Staff were all exceptionally friendly for New York (I can say that, having grown up in New York), although not the most competent. They got my breakfast order wrong. Although they proactively offered late check-out when I checked into the hotel, and I took them up on 3pm, they set up my room keys for noon (and I failed to remind them they shouldn't do this). And I grabbed two water bottles from the grab and go, they told me they would post the bottles to my folio, but they failed to charge me.
But I was thrilled to find another Hyatt that often prices inexpensively and that offers room service. My breakfast was about $40, so the coffees I picked up in the lobby at 6 a.m. was mostly free as well.
The biggest problem, though, is that this isn't a room I can work from. On this stay I didn't need to. But the only place you can really use a laptop is the bed, which I don't find super-conducive to productivity. For me it was a great base out of which to walk to meetings. But it wouldn't be a place I'd want to spend extra time.