Here are some propositions that are true:

Getting several business class award seats on the same flight is hard, much harder than two (which is much harder than one).

It's often tough to find award space during major holidays.

Using Delta Skymiles for premium cabin award travel at the low level is highly frustrating.
And yet I've written in the past that if you want to fly non-stop from the US to Australia, Delta Skymiles are actually your best bet — not that you'll find much 'low' level award space on Delta's Los Angeles – Sydney flight. Instead, Delta partners with Virgin Australia which has by far the best award space on the route, even multiple seats during high season on their Los Angeles – Sydney, Los – Angeles – Melbourne, and especially Los Angeles – Brisbane flights.
One of the requests I get quite frequently through my award booking service is travel to India or other countries in that region — especially around Christmastime and often for a family rather than just a couple. It turns out this can be very doable – using Delta miles – flying on their Skyteam partner Saudia.
I first interalized just how good award space on Sauda was last year after helping to book someone one-stop award space to and from Lahore, Pakistan for Christmas and New Years.
Just How Good is Award Space on Saudia?
Award Nexus will run a search for up to 29 days at a time. I could have added in the 30th and 31st of the month but decided against, their simple map with two parameters seemed to illustrate well just how good availability is.
Here's a search for Washington Dulles – Riyadh and Washington Dulles – Jeddah looking for 4 business class award seats from December 1 through December 29.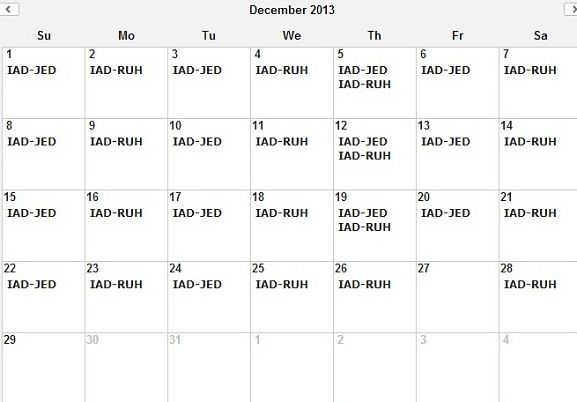 I also ran a search for New York JFK to the dual Saudi Arabian hubs, four business class award seats from December 1 through December 29.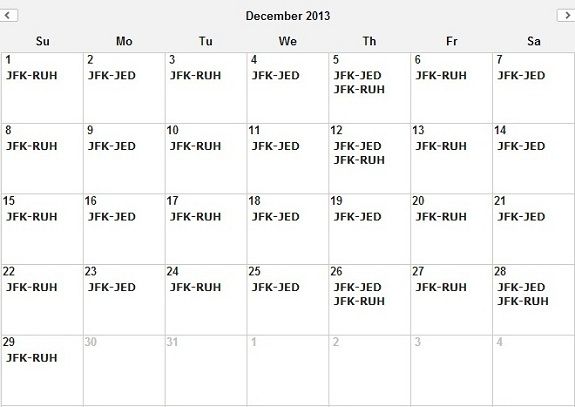 In other words, even though each flight is not daily, you can get 4 business class awards from these two US gateways to Saudia Arabia nearly every single day even during December and leading up to Christmas.
What's more, Saudia is expected to introduce Toronto service in October. That adds another gateway through which I think we can expect outstanding award availability once schedules are loaded.
How to Use Delta Miles to Book Award Travel on Saudia
Here are the general principles.

You cannot book Saudia space online using Delta miles.
Saudia business class awards book into 'D' inventory. You can search for award space at AirFrance.us and also using the free FlightStats.com.
Delta agents may not have even heard of Saudia, even though they are a member of Skyteam. I am frequently told things like "Air France is the only member of Skyteam" by Delta agents. Be persistent, hang up call back.
Even if the Delta agent has heard of Saudia, they may come back and say that awards aren't available, that they won't price, or that they can only book coach. Again, hang up, call back.
Sometimes the Long Haul Flight Isn't the Hardest Part of the Itinerary
Delta miles are a challenge to use, even when they partner with airlines that are as generous with award space as Saudia.
The hardest thing here is not going to be finding space between the US and Saudi Arabia. The real challenges are going to be:
Finding award space inside North America to get from your home city to the international departure gateway. Delta award space is tough to get at the low level much of the time. So you may wind up having to buy tickets to get to the start of your trip (always leave plenty of time to connect when traveling on separate tickets, you don't want to miss the start of your award).
Saudia doesn't offer daily service to each of their two hubs, and they may not have daily service to the city you're trying to fly to. On the day you can make it to Riyadh, the flight to your connecting city may leave from Jeddah or vice versa.
Short haul award space on Saudia isn't always as good, so if your onward destination is served by narrowbody aircraft and there aren't as many business class seats as you found for the long haul flight you may wind up putting part of the family in coach for the shorter segment.
Do You Want to Fly Saudia?
There are several important things to understand before traveling on Saudia.
Their long haul business product is decent — seats are angled flat for the most part, think Air France. So it's not antiquated, but it's hardly world-leading.

Saudia is a dry airline.

While it's tough to get a visa to enter Saudi Arabia, it's generally not necessary to get a transit visa (not open to unaccompanied females in any case!) — connections are permitted up to 18 hours.

Largely because of policies of the government of Saudi Arabia, the airline has been controversial.
The Riyadh and Jeddah airports aren't great to spend tons of time, although reports are the coffee in the lounges is pretty good.
It may not be the most aspirational product, but there are few airlines in the world which offer more award space than Saudia, and fewer still that also serve the United States.
So if you're looking to travel to the Middle East or to he Indian Subcontinent, Saudia offers an option for how to do that.
---
You can join the 30,000+ people who see these deals and analysis every day — sign up to receive posts by email (just one e-mail per day) or subscribe to the RSS feed. It's free. Don't miss out!