Etihad's big announcement about the most luxurious travel product in commercial aviation has been all the rage.
I'd love to fly it, but the truth is I'm not going to. It's way too pricey for me and at this point there's no reasonable way to access it with miles.
And goodness can striving to book it generate controversy!
It isn't just ~ $20,000 one-way. It's also bookable with miles. Just a lot of them.
Note that the Residences are a separate booking class from first class.
The new A380 has a first class ("Apartments"). And it also has a single Residence for up to 2 people.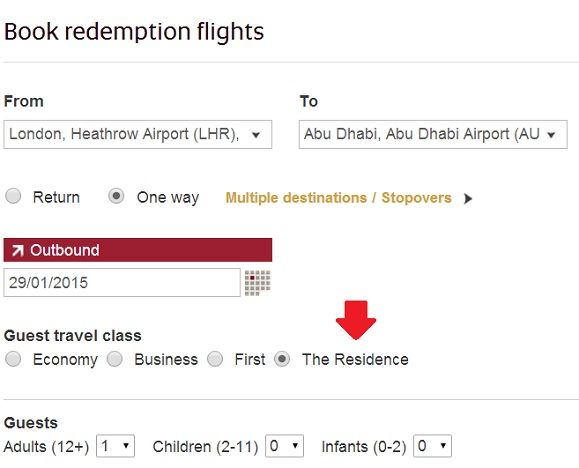 There are no saver first class awards ("Guest First") that I've seen yet for the Apartments. Each day I've searched it shows as unavailable. However — eventually — and once the product rolls out across more planes and more destinations I would expect them to release some award space at the saver level.
Etihad will let you redeem your points as cash, though. In fact they're an airline that's one of the furthest along in treating their points as cash. Less than 5000 points will get you a new wallet, for instance, including shipping.
And so it's not surprising that you can use points for a Residence flight. Here's what it costs one-way London – Abu Dhabi on the A380.

That's 2,365,199 Etihad Guest points plus 183.21 British pounds. Because over 2.3 million points isn't enough to cover the one-way ticket.
Compare that to just 55,243 points for a saver first class award onboard their 777.
The Etihad Residence costs nearly 43 times as many miles as a saver first class seat.
But it is possible to redeem for an A380 residence…
If you must rack up points towards a Residence award, Etihad has a relationship with Abu Dhabi Islamic Bank for a suite of Sharia-compliant cards. Their Visa Platinum has a 50,000 point signup bonus and earns 2.5 points per dollar spent (!) based on current exchange rates (2.5 miles per 4 AED).
That earn rate is probably what won the card a Freddie last month. But personally I'd rather burn the points for traditional first class, or ideally a First Apartment once award space opens up.

---