Back in April American AAdvantage announced an exceptionally generous 2013 'elite rewards' program offering choices of additional rewards for reaching milestones between the various elite qualifying levels.
Unlike in past years, the offerings are based on miles flown and not just the more revenue-based 'points' system and in addition all members are eligible to earn rewards at each milestone rather than just earning rewards for exceeding re-qualification for their current status level.
Put another way, an Executive Platinum (100,000 mile flyer) like me can earn rewards after 40,000 and 75,000 miles — not just after 125,000 and 150,000 miles flown.
Back at the end of May I explained why I was choosing the miles as my first 'elite rewards' choice for flying more than 40,000 miles on American.
This afternoon I received an email prompting me to log in to the Elite Rewards page to claim my 75,000 mile threshold bonus.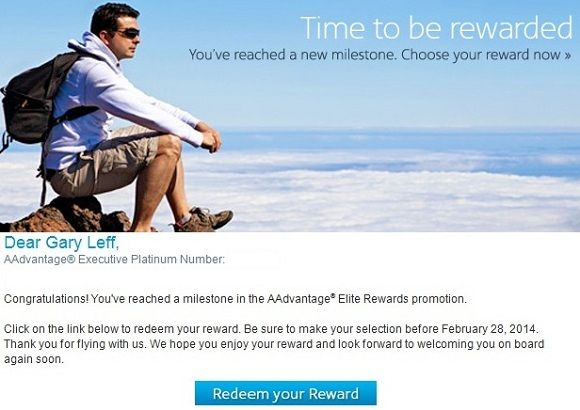 The choices after flying 75,000 miles, earning 75,000 points, or flying 80 segments are:

20,000 miles

(1) Systemwide ("eVIP") upgrade

(5) 500-mile upgrades

(4) Admiral's Club one-day lounge passes

(5) Single-segment wifi passes
Again I selected the miles.
As an Executive Platinum I don't need 500-mile upgrades (since Executive Platinums get complimentary upgrades, while lower tier status levels do not, although Executive Platinums don't earn 500 mile upgrades and those can be used for upgrading companions).
I thought briefly about grabbing 500 milers for future use, as they don't expire, but I don't know what will happen in the future — if I lose status, or if the 500 mile upgrade requirement is ended there could be an offer to convert these to something else, though my guess is that the conversion won't be better than a 500 mile upgrade is worth 500 miles (if such an offer is forthcoming at all in a hypothetical future world where American offers unlimited complimentary upgrades).
I don't need Admiral's Club day passes. I access the Admirals Club via my British Airways Gold status (which I got after British Airways acquired british midland). I will still get my Admirals Club access once my Gold is downgraded to silver. I also have an American Express Platinum card that gets me in. And I could redeem Business ExtrAA points (American's small business program) for day passes or a membership if I needed to.
20,000 miles are worth way more than 5 single-segment wireless internet codes, and I pay for a monthly Gogo membership anyway since I'd burn through 5 passes very quickly.
That left the decision as being a systemwide upgrade versus 20,000 miles. A confirmed-at-booking (if available) international upgrade from any fare is worth more than 20,000 miles if you need such an upgrade — after all, the mileage cost of an international upgrade can be over 20,000 miles and then you would have a big cash co-pay. This saves you from being out of pocket potentially over $500.
But I still have a couple of my systemwide upgrades for 2013 left, and I should receive 8 more when I requalify for Executive Platinum. Odds on I won't need a 9th.
So – for me – miles work out the best.
---
You can join the 30,000+ people who see these deals and analysis every day — sign up to receive posts by email (just one e-mail per day) or subscribe to the RSS feed. It's free. Don't miss out!