Right now the very best business class in the world may be Qatar's, at least on their newest aircraft. The B/E Aerospace Super Diamond seat (which American has on its Boeing 787-9s but without privacy dividers for the middle seats) is certainly one of the very best in the world, and combined with Qatar's soft product — they have served dessert from Laduree the Paris institution — their offering is already hard to beat. Just avoid the old lie flat six-across business class such as on their Boeing 777s!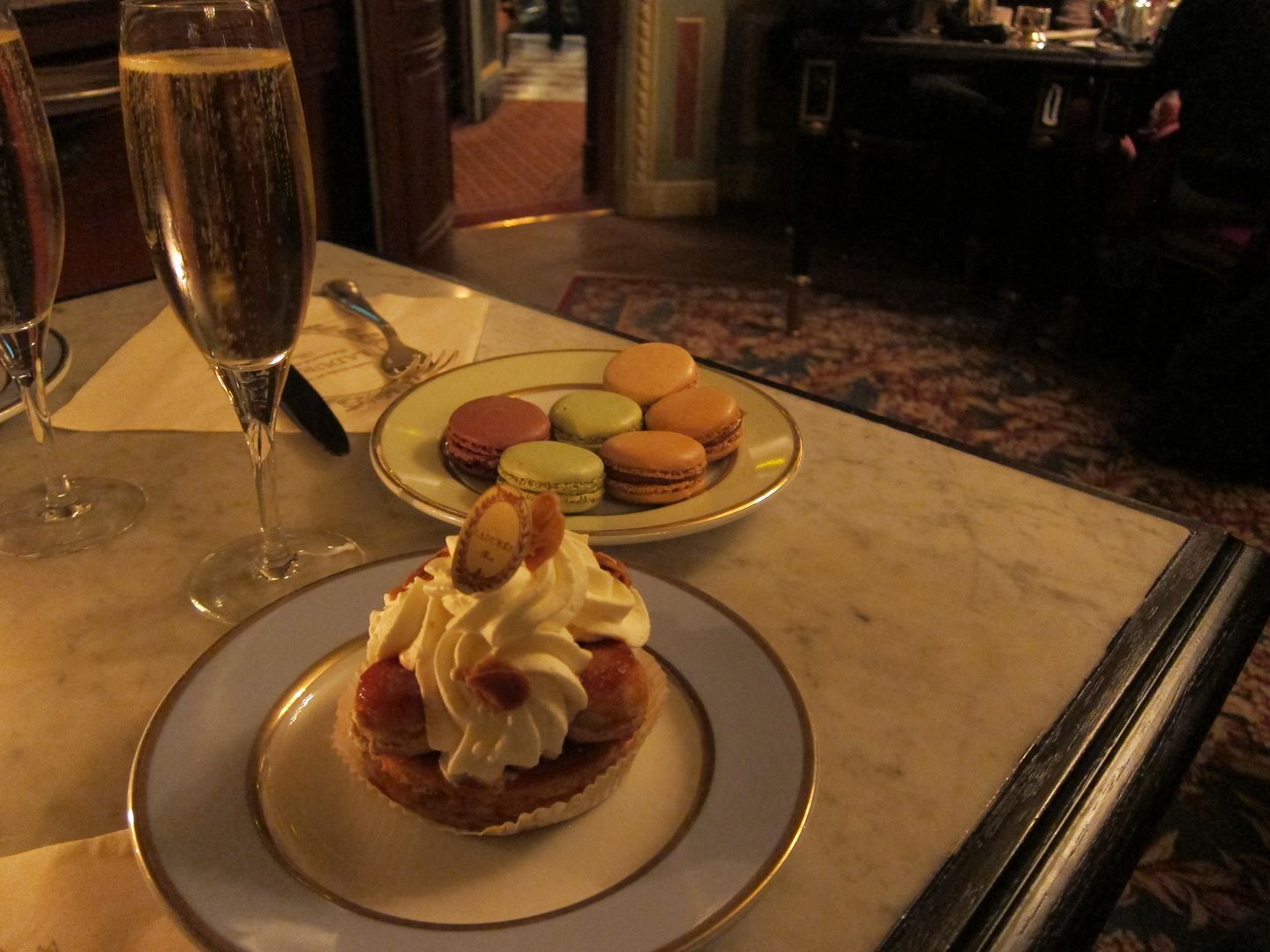 Dessert at Laduree, Paris
Delta announced over the summer that they're going to be introducing suites with doors to business class, the doors will be added onto Thompson Vantage XL seats which are nice enough but hardly my preferred seat for ultra long haul.
Qatar's offering may already be better, we don't really know until the new Delta suites are in the sky, although unquestionably their food program has Delta beat.
But Qatar just announced their own suites, topping even their existing product. They're the second airline in the world to announce suites with doors in business class. And they look really impressive.

Credit: Qatar Airways
Here's video of the new business class Qsuite:
And here's a 360 degree video tour of the new cabin:
In addition to the promotional photos and video, Andy's Travel Blog took his own candids which are always useful for comparison.
Perfect for Joining the Mile High Club
The Mile High Club turned 101 last month. As part of the unveiling Qatar CEO Akbar al Baker declared, "You can take your honeymoon on Qatar Airways, but you'll have to keep silent."
Most airlines are more subtle in marketing inflight sex, for instance when SIngapore Airlines unveiled the first double bed in Suites class on their A380 in 2007 they announced that sex isn't allowed which is an understated way of pointing out you could have sex on a plane.
Note to supermodels: other passengers will watch.
Are There Potential Downsides to the Suite?
We won't really know what these seats are like, how great they are, until flying in them. John Walton offers some concerns to look out for.
[Given the ability to have four people together in the suites, w]hat soundproofing has been done within the cabin to ensure that lively four-person conversations, tedious work discussions, or rowdy games of Snap don't bounce straight off the plastic ceiling panels into neighbouring seats?

It will also be crucial to examine the seats up close with a measuring tape, since the aisle seats (in the centre section anyway) look to be visibly shorter than the centre pairs.

And let's hope Qatar Airways hasn't fallen into the same trap as American Airlines did with its "Concept D" seats, where pairs of seats are mounted back-to-back to the seat track. That product turned out to be very susceptible to shaking when one passenger moved.
Which Planes and Routes Get the New Suites — and When?
The first plane to get Qatar's new suite will be the Boeing 777-300ER. The first one to be delivered is expected to serve Doha – London starting in June.
Eventually Qatar plans to retrofit existing Boeing 777s and Airbus A350s with these new Qsuites. And they're going to put a modified version of the seat into Boeing 787s and Airbus A380s. Those planes are narrower, so it will be interesting to see what the new suite experience is in those aircraft.
Interestingly, since the A380s are set to keep first class but Qatar hasn't announced a new first class seat, first class won't have doors but business class will! (It almost begs the question whether they'll update first class, which they wouldn't want to highlight now since they're claiming the new business seat 'makes first class obsolete' and they're calling the Qsuite "First in Business".)
Older Airbus A330s and A340s aren't expected to receive the new suites.
Qatar claims reconfigurations will be complete by the end of 2018, though that's a pretty aggressive timeline.
I'm Excited Because…
This ups the ante in business class, new passenger experience is great to see. Qatar flies myriad routes from the US with great connections into India and the surrounding region. And as a oneworld member American AAdvantage miles are great for booking awards. Hopefully award availability will remain great with the new product. It should be since they plan to roll the product out quickly, so it'll ultimately be available on most routes, and they claim not to be reducing seat count to offer the new Qsuites.