Just when you thought everything that could be said about denied boarding compensation had been said, I posed a question on my Facebook feed about the taxability of payments from airlines when you're bumped.
I initially posted the question about "involuntary denied boarding compensation paid in cash that's 4 times your one-way fare."
My hypothesis was that this is income that's just generally not reported to the IRS, since:
Money you receive is presumed to be taxable unless there's a specific exception that makes it not table

It's neither a reimbursement nor a rebate, in fact compensation is generally going to be for even more than the ticket price.

Copyright: artisticco / 123RF Stock Photo
Remember that whether or not you get a 1099 from the airline is irrelevant other than to the question of whether or not the IRS knows about the income. The question of whether or not it's income, and therefore taxable, is independent of tax reporting.
There's no question we're not talking about employment income or compensation for services (not flying, though valuable to the airline, isn't really a service you're performing).
It's also clearly not a gift from the airline, it is provided to you in exchange for something. Gifts can be taxed but the amounts involved here wouldn't be. (I noted that if the money isn't a gift then perhaps involuntary denied boarding is more like a 'prize', ironically enough.)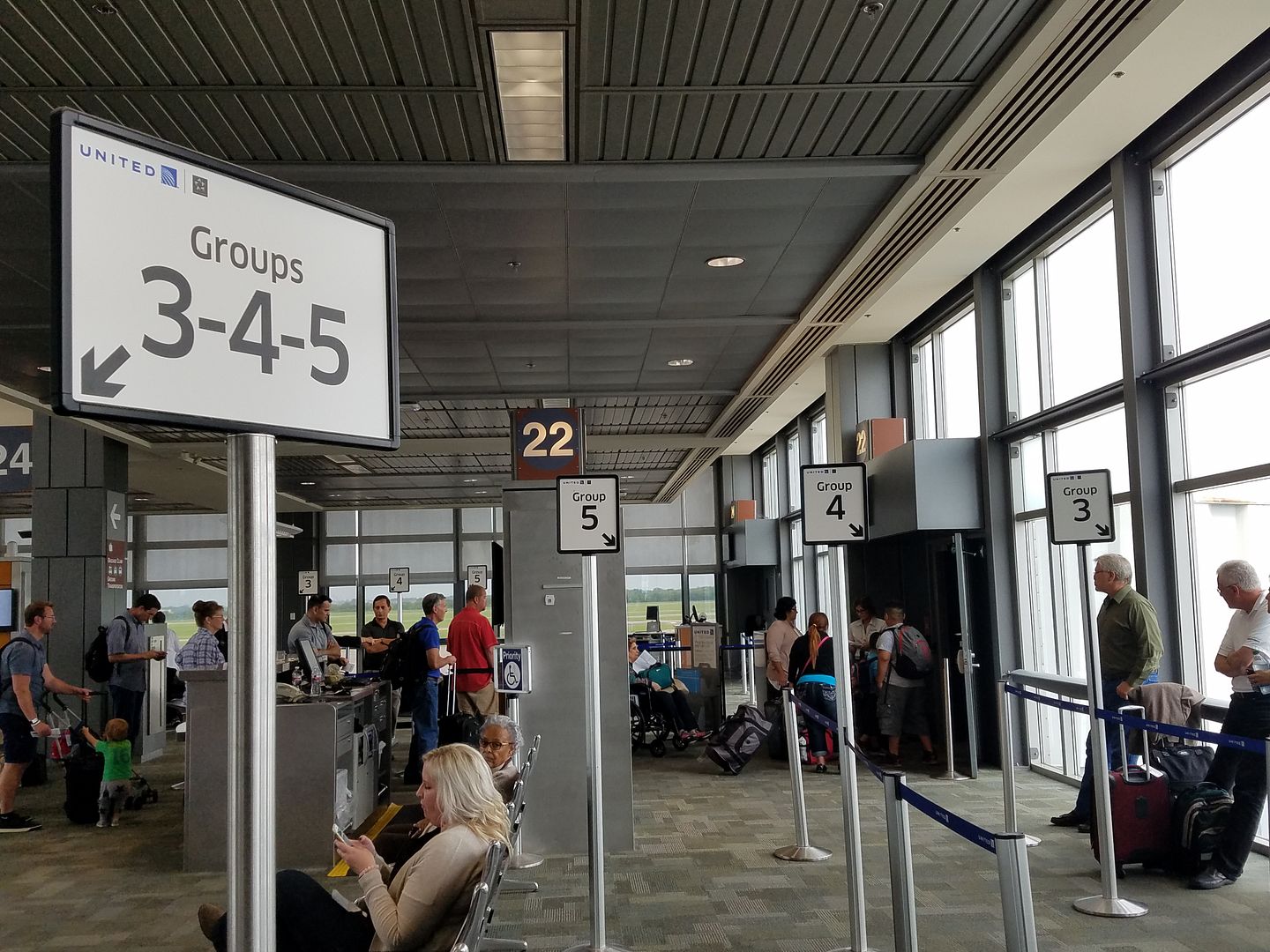 Sam suggested that it's "a capital gain on buying back the ticket." However "you might be able to deduct certain expenses that the rerouting incurred, such as ground transportation if you were rerouted to a new airport and had to go pick up your car at the old one."
He further points out that if the IRS ever did move to tax denied boarding compensation, it would make taking compensation in miles relatively more desirable since as a policy matter the IRS has chosen not to attempt to tax those.
However Joe Henchman, who is Vice President of Legal & State Projects at the Tax Foundation, explained why denied boarding compensation is not income and therefore not taxable — with the usual caveats about this being neither legal nor tax advice for anyone's specific situation, and also that the IRS has not definitively ruled on the matter itself.
While denied boarding compensation is not a gift or a settlement/compensation award or a like-kind exchange, and is likely not a rebate, the IRS has concluded that the purchase of an airline ticket is in fact the purchase of a seat on a specific flight *plus* the potential to travel on another flight and/or receive a voucher or compensation if the airline fails to provide that specific flight. A passenger spending $100 to purchase this bundle of services does not receive any net benefits from receiving the denied boarding compensation and thus no amount would be taxable.
He cites IRS Memo No. 200605011 on airline revenue recognition which suggests that an airline receives income in the present even when a passenger doesn't take a flight and gets credit towards future travel.
The IRS concluded that the passenger originally purchases both a specific flight and the potential to receive a voucher and/or an alternate flight if the airline fails to provide that original flight, all as one bundle. The contract is consequently not rescinded or substituted.

The IRS did not address whether the voucher or a cash payment would be taxable to the passenger, but did reject the airline's characterization of the payment as "compensation" in favor of its one purchased bundle view.

If this is the case, a passenger spending $100 to purchase this bundle of services does not receive any net benefits from a voucher or denied boarding compensation, and it would thus not be taxable.
Here's the rest of his analysis:
Gift – Individual gifts of up to $14,000 are excluded from income and gift tax. To be a gift, however, it must be provided with "detached and disinterested generosity." Because the airline provides the payment in consideration of the passenger giving up his/her seat, it would not qualify as a gift.

Settlement/Compensation Award – Payment of non-punitive damages for personal physical injuries is considered compensatory and is excluded from gross income. Payment of emotional distress damages is excludable from gross income only if it is on account of or attributed to personal physical injuries or sickness; payments related to emotional distress itself are not excludable, and physical symptoms resulting from emotional distress don't make it physical injury or sickness. Punitive damages are not excludable from gross income. While the airline ticket could be considered a compensatory payment for non-physical damages, such a payment would not be excludable because no physical injury or sickness is associated with the airline payments.

Rebate – Rebates, or reductions in the purchase price of an item, are not taxable. However, the ability to purchase something at a bargain price as a compensation for a service is taxable to the extent of the difference between the purchase price and the fair market value. Cash awards, miles, and points, are generally considered rebates, and the IRS ruled in 2002 (IRS Announcement 2002-18) that it would not enforce tax obligations relating to frequent flyer miles. In IRS 2002-18, however, the IRS expressly excluded from the protection of its ruling any benefits converted to cash or "compensation that is paid in the form of travel or promotional benefits." See, e.g., Shankar v. Commissioner (T.C. 2014) (concluding that redemption of Citibank Thank You points to purchase a flight constitutes net income in the amount of the ticket although the taxpayer did not contest this position). Whether denied boarding compensation is a non-taxable rebate is unclear, although the IRS has taken the position that cash payments do not qualify as non-taxable rebates.

Like-Kind Exchange – In exchanges of one product or service for another, the gain is taxable and the loss is deductible. Basis in the product or service is determined by fair market value at the time of receipt.

1099: Miscellaneous payments of less than $600 are generally not reported to the IRS. IRS flags are triggered when they receive a 1099-MISC and the taxpayer does not report it. It seems that the airlines do not report denied boarding payments to the IRS. Airlines would need tax information from passengers to issue 1099s, and to my knowledge that information is not collected.

Transportation Taxes: Tickets purchased with vouchers are not taxed for one additional transaction, the view being that taxes were paid on the original foregone flight and doing so again would be double-taxed. AA, for instance, says that transportation vouchers are tax-exempt unless they have the code OU (full refund on unused flight). However, if someone uses a $300 voucher for a $200 flight and then a $100 flight, the passenger will pay transportation taxes on the $100 flight.