Earlier this year the Supreme Court limited the ability of consumers to sue frequent flyer programs, suggesting that the Airline Deregulation Act prevents state law claims against frequent flyer programs because it requires that all regulation of the airlines be done at the federal level.
Strictly speaking you could sue for direct breach of contract in state court but could not make a state claim like a "covenant of good faith and fair dealing" — the terms and conditions of your frequent flyer program are what they are, no matter how one-sided. Your only recourse is to the Department of Transportation.
But the Department of Transportation doesn't regulate frequent flyer programs.
They are, however, initiating an audit this month of programs and in particular their compliance with disclosure rules.
The Transportation Department's inspector general plans to conduct an audit of frequent flyer programs to ensure that airlines are in compliance with disclosure requirements. In a memo to the DOT general counsel, who oversees enforcement, the inspector general noted that the department does not directly regulate the terms of frequent flyer program contracts, but it does require disclosure of their rules.

The DOT also provides "guidance" on disclosing costs: Any government fees or taxes or mandatory carrier charges, including processing fees charged to members of awards programs, must be shown on the airlines' websites. Failure to adhere to the guidance "could constitute an unfair and deceptive practice," the memo said.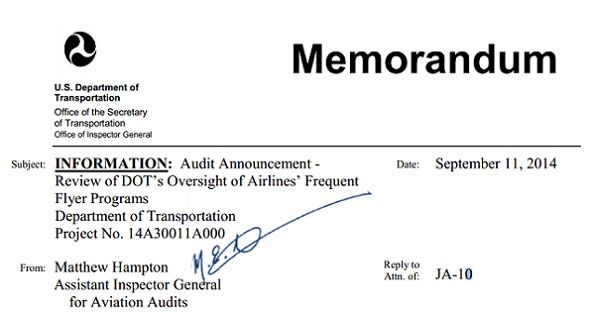 The audit is being done at the behest of a single member of Congress, Representative Alan Grayson.
Here is the DOT Inspector General's letter (.pdf)
The key item flagged for DOT review is "transparency for consumers when airlines change their frequent flyer program terms and conditions".
Under existing law, frequent flyer programs can do anything they want to you. They just have to tell you they're doing it.
---