Years ago there was a story about former American Airlines CEO Bob Crandall having olives removed from first class salads, saving $40,000 a year. Small savings add up across all an airline's flights and passengers. So carriers are often very careful about their pennies in catering.
In the spring of 2001 United replaced steak at lunch with gourmet cheeseburgers. Today's inflight burgers on domestic airlines are much smaller and I find with lower quality meal. They keep figuring out ways to push the savings envelope farther.
It's difficult to make broad claims about the first class catering of US airlines, since meal choices do vary, however I've had pretty good food on Virgin America and pretty bad food on American since September 2014 (when they aligned catering between legacy American and legacy US Airways).
American improved their food a bit in August 2015. Those new meals were supposed to rotate for a year but were served until November 2016.
On the whole American Airlines domestic meals are just bad. I don't want them. Whenever possible I'll grab food before the airport or in the airport, although sometimes a late arriving flight means there's no time to grab anything on the way to your connection — especially with American boarding some aircraft before published times, and unlike Delta there's generally no effort to save overhead bin space for first class passengers. Here's an American Airlines domestic meal that isn't actually terrible.
In general however I won't eat when flying American Airlines domestically. That way I can just work, I don't have to wait for my tray to be cleared.
Delta can be a mixed bag, but they generally offer better meal service than American. Whenever they serve salmon I find they do a good job.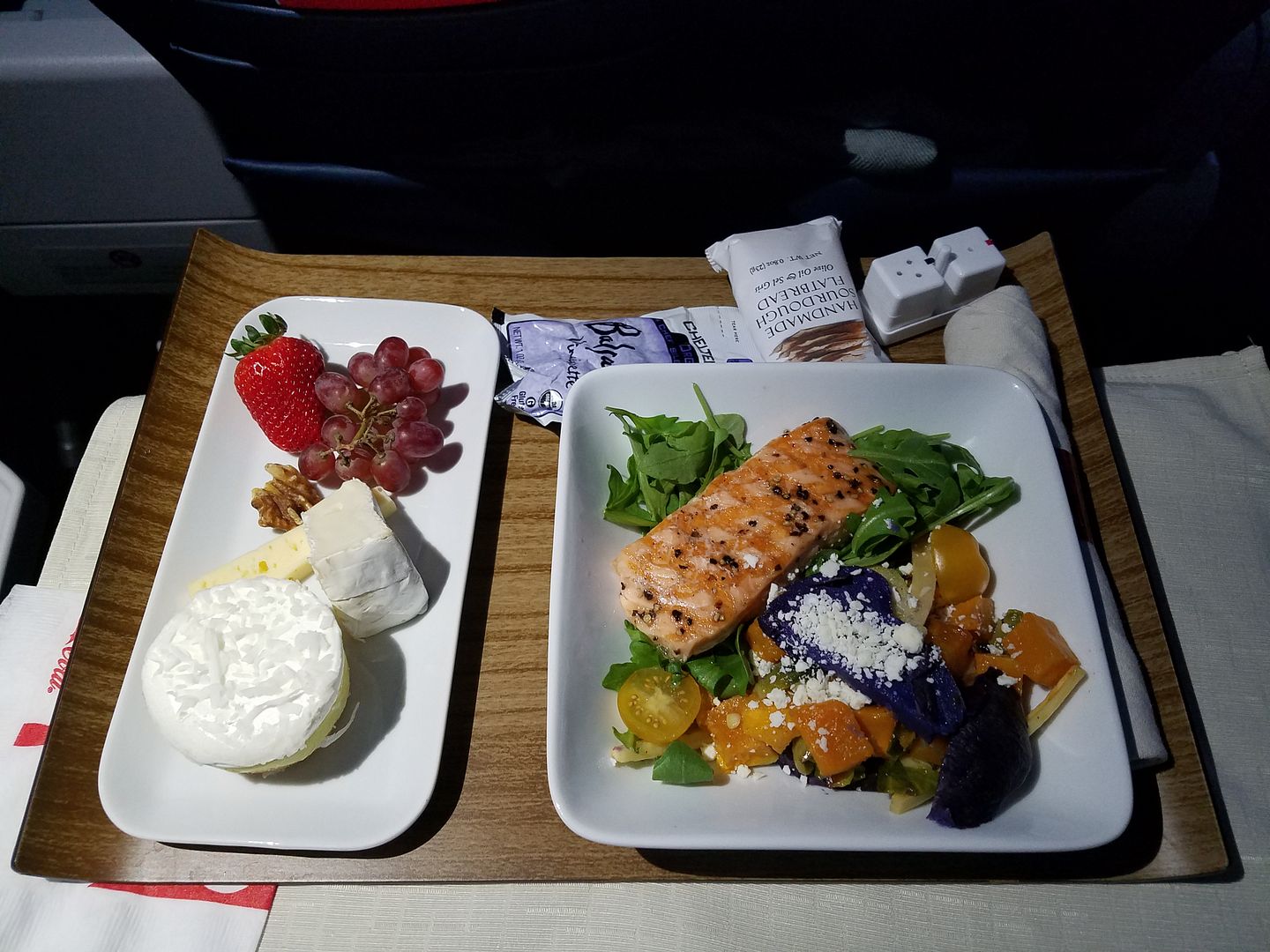 Delta, like Alaska, puts a small bottle of water at first class seats prior to boarding. Delta does that and offers predeparture beverages. So the overall service up front is better than American. American has more legroom in first class, but American's new standard cabin interior will squeeze that advantage away.
United is an interesting case. My recent lunches on United have been small but tasty.
I'm surprised by United's willingness to offer food with spice. Here's the jambalaya:
I wouldn't call it close to authentic, but it's really flavorful. And it's not a lot of meat, heavy on the rice. A bread plate would be nice..
I recently tried chicken with macaroni and cheese. It came with a delicious spicy sauce. The entree, again, was small. I will talk small but edible any time over larger portions which are just bad.
Not everything is better about United Airlines of course. I intensely dislike their boarding pens. They board even earlier than American does on many aircraft, and passengers line up by boarding group before that even starts. That's great for United getting everyone on quickly, not good for respecting the time of customers (since they, too — and unlike Delta — do not usually save bin space for first class passengers).
Overall I wish for a domestic first class product with more legroom than Delta, but Delta's water and predeparture beverage consistency. For meals I don't need a lot of food, if there's savings needed take it out of quantity and give me something I don't mind trying — with actual flavor. And save overhead bin space for first class passengers so they don't have to waste half an hour sitting in a seat when they could be working in the lounge.