Aegean Star Alliance Gold is Easy and for Life: Last week I posted that I had received a status match with Turkish Airlines Miles&Smiles. I wanted Gold status a new non-U.S. Star Alliance program now that my beloved british midland was gobbled up by British Airways (oh, don't cry for me, that gets me British Airways Gold status for 22 months — and access to American's Flagship Lounges even when flying domestically).
Turkish has an interesting program, their status lasts for two years, and I just need 37,500 qualifying miles in that time to requalify (and I can even buy up to 10,000 of those miles).
So I thought I was done.
Then I read on Milepoint that Aegean was offering status matches to british midland elite members. They're the Greek airline that joined Star Alliance a couple of years ago, and the program is designed primarily for Greeks flying around the islands with the occasional hop to Europe — you get 1000 (status!) miles for signing up, 4000 miles gets you Star Alliance silver status (so a free checked bag in the U.S.), and 20,000 miles gets you Star Alliance Gold.
In July 2010 I wrote about the value of the Aegean program. For the occasional traveler, a single East Coast – Denver trip on United might earn Star Alliance silver status if credited to Aegean.
Earning is generous on premium cabin fares, with 150% or 200% bonuses for business class and 300% for paid first. While some discount United fares accrue only 50% miles (although they award 500 miles minimum), US Airways fares all earn 100%. There's no elite status bonus.
The award chart has some values, like US to Europe and North Africa for 90,000 miles in business class, and they allow one-way awards for half the miles. But no changes are permitted to awards once ticketed, and cancellations forfeit half the miles, also no stopovers and only one connection each way, rules which are pretty draconian.
But what's really special about the program is that status doesn't expire as long as your account remains active. At least unless Aegean changes its mind. But for now at least the terms and conditions seem clear.
You earn status based on miles earned on a rolling 12 month basis. Once you hit 4000 miles earned, including the 1000 mile signup bonus, you're "Blue" which is Star Alliance silver. (Aegean Visa cardholders automatically get Blue status.)
Gold status isn't actually 20,000 status miles — it's 16,000 miles earned after first earning 4000. So you could earn 4000 within 12 months, not fly for 2 years, and then earn 16,000 and you'd become Gold.
And status earned does not expire. Blue members who do not earn Gold (or fly at all) stay Blue:
If, however, the Blue Member, after completion of the aforementioned twelve-month period, has gathered less than 16,000 Tier Miles, then he/she shall remain a Blue Member, whilst the Tier Miles collected during that twelve-month period shall not be automatically reset, but shall rather be successively deleted one (1) year from the day of each respective flight event, effected within the 12-month period in question.
And they continue to have the chance to earn Gold by flying 16,000 status miles over a continuing rolling 12 month period.
Once you earn Gold, in order to keep it active all you need to do is credit a flight once every three years.
Member Cards and their Passwords will be cancelled within 36 months if no flight activity is recorded in their Accounts.
Aegean is very clear that they can change these rules, of course, so nothing is guaranteed forever.
The number of Tier Miles required for each type of Card, as well as the privileges that stem from each tier, may be modified at any time by AEGEAN without prior notice.

..The Card remains property of AEGEAN at all times and AEGEAN reserves the right to withdraw or cancel and/or replace it with a Card of the same or different level.
Lifetime Gold (which is Star Alliance Gold) sounded good to me, all I would have to do is credit perhaps one US Airways DC – New York flight segment every 3 years and I'd continue to receive lounge access on my domestic US Airways and United travels.
As I understand it, members receive cards that have expiration dates three years forward. We don't yet know whether status will really last 'forever' as long as someone credits a flight every 3 years, though the terms and conditions would seem to reflect that. The program is still pretty new, and the airline has only been a Star Alliance member for two years, so this all still needs to be filed under "developing…"
Given the possibility, though, I signed up for Aegean Miles&Bonus and then emailed a copy of my british midland card and online statement.
Within hours I had a response: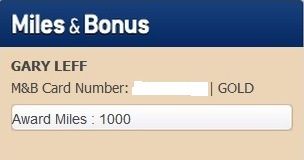 Dear Mr. Leff,

Thank you for joining Aegean airlines.
Further to our communication, we are glad to inform you that you have been upgraded to Gold Status ; thus, you may expect your Gold card to be delivered at your address via Post in about two months after the date of your membership upgrade. Until then for your future flights you can print the log in page of your profile via our web site where is clearly shown that you are a gold member.

Moreover, in any case the standard Star Alliance policy is that either you have with you your gold card or the paper boarding pass that you will get from the check-in procedure, in which your gold status is shown .However, in order to have access on the Star Alliance Lounges some Star Partners consider as mandatory to have with you the gold card.

Remaining at your disposal for any further assistance.

Best regards

XXXXXXXXXXXXXXXXXXXX
eCommerce & Loyalty Department
E-mail: wwwcontact@aegeanair.com
31, Viltanioti Street
145 64, Kifisia Athens
www.aegeanair.com
Aegean doesn't usually match status that I'm aware of, although they're currently matching bmi status holders since that airline has left the Star Alliance. I've seen references to Aegean matching Spanair elite members when that Star carrier went under, and one reference to a status match from El Al.
But it's an easy status to earn and for now, at least, it looks like an exceptionally easy status to maintain.