Cathay Pacific has such an all-around good first class product, that it's my favorite.
They don't have the best food, but they have good food and good snack options.
They don't have the best service, but they have good service.
I used to like their Shanghai Tang pajamas best, their new ones are still very good though not quite as good. Other amenities are good, and wines are as well (Champagne is Krug).
Similarly, I don't like their new caviar presentation (in a tin) as much as the older version that also included Balik salmon. But it's still quite a good high-end offering.
They don't have the best lounges — or the best ground service — but their Hong Kong lounges are good, and the Wing's first class side has the best showers in any airport ('the cabanas').
Most of all they have the best seats. No true suites with doors but 3-across seating when competitors offer 4 means very spacious seats. And the video on demand system is great, too.
Plus award space on Cathay Pacific is quite available, at least when schedules load and considering that their 777-300s have only six first class seats. And Cathay is fairly reliable about releasing unsold seats within days of departure as well.
New York JFK is Cathay Pacific's longest distance route, and that makes Hong Kong – New York JFK my favorite flight (and with 'The Wing' on the ground instead of the British Airways first class lounge at JFK, Hong Kong – JFK as favorite rather than the reverse).
Previous trip report installments
I arrived at the gate for my 6:45pm departure to New York around 6:15pm. They were nowhere ready to board, and didn't offer any explanations. The crew was simply milling about.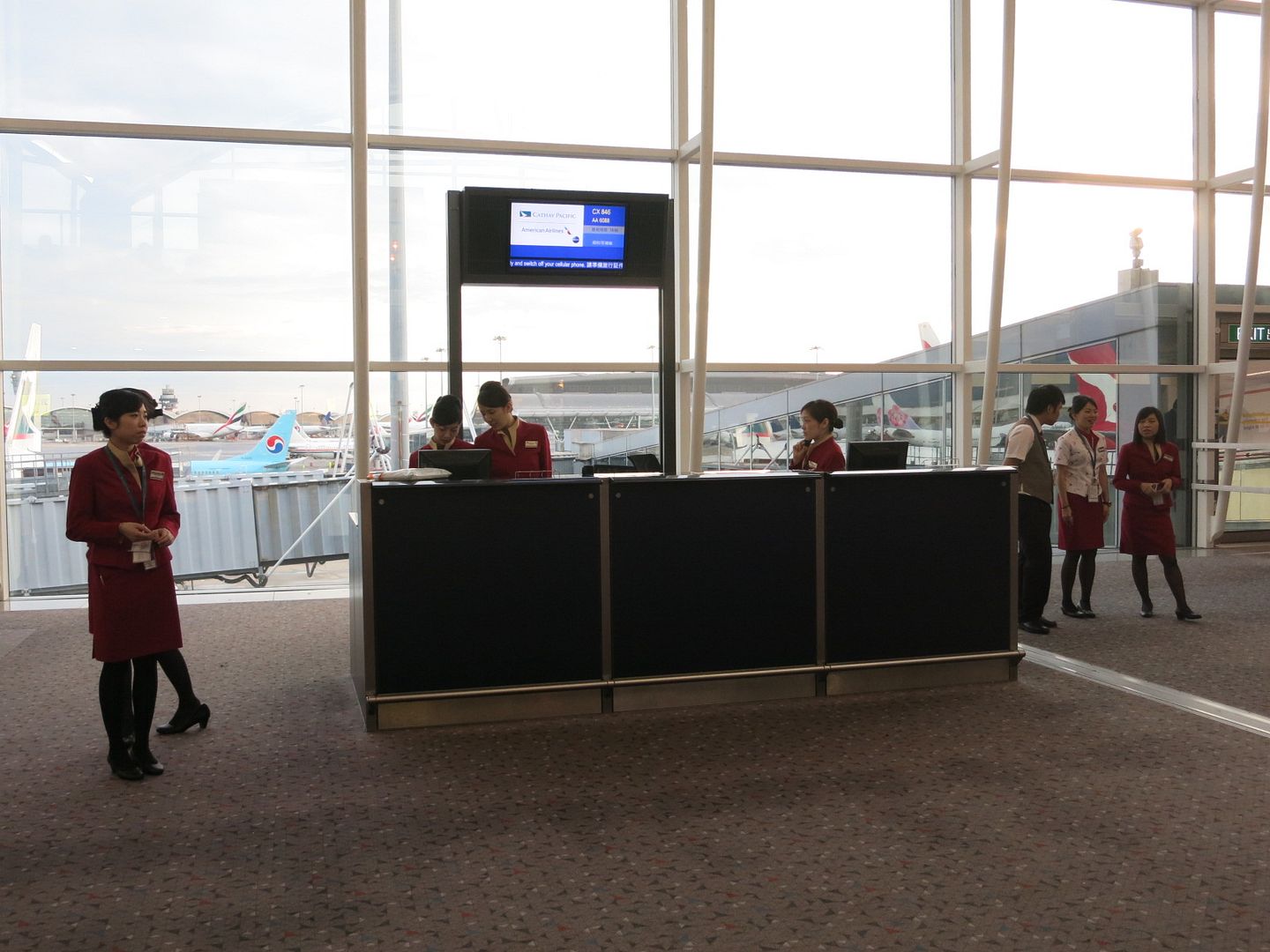 Most of my US flights have left from gate 1, which allows TSA contractors to set up a designated area at the end of the terminal and re-screen everyone entering the gate area.
Hong Kong airport doesn't participate in the War on Water, but all US flights have to be screened for liquids hence the extra screening. That means you cannot buy a bottle of water inside the terminal and bring it on a US flight. I cannot imagine flying United coach, Newark – Hong Kong, relying on United flight attendants to keep me hydrated. But that's how US dictates work.
It's nice when that secondary screening it done prior to boarding, because the whole process goes more smoothly.
We were departing gate 16. And as in past departures from gates other than at the end of the terminal, this screening gets done on the jetway.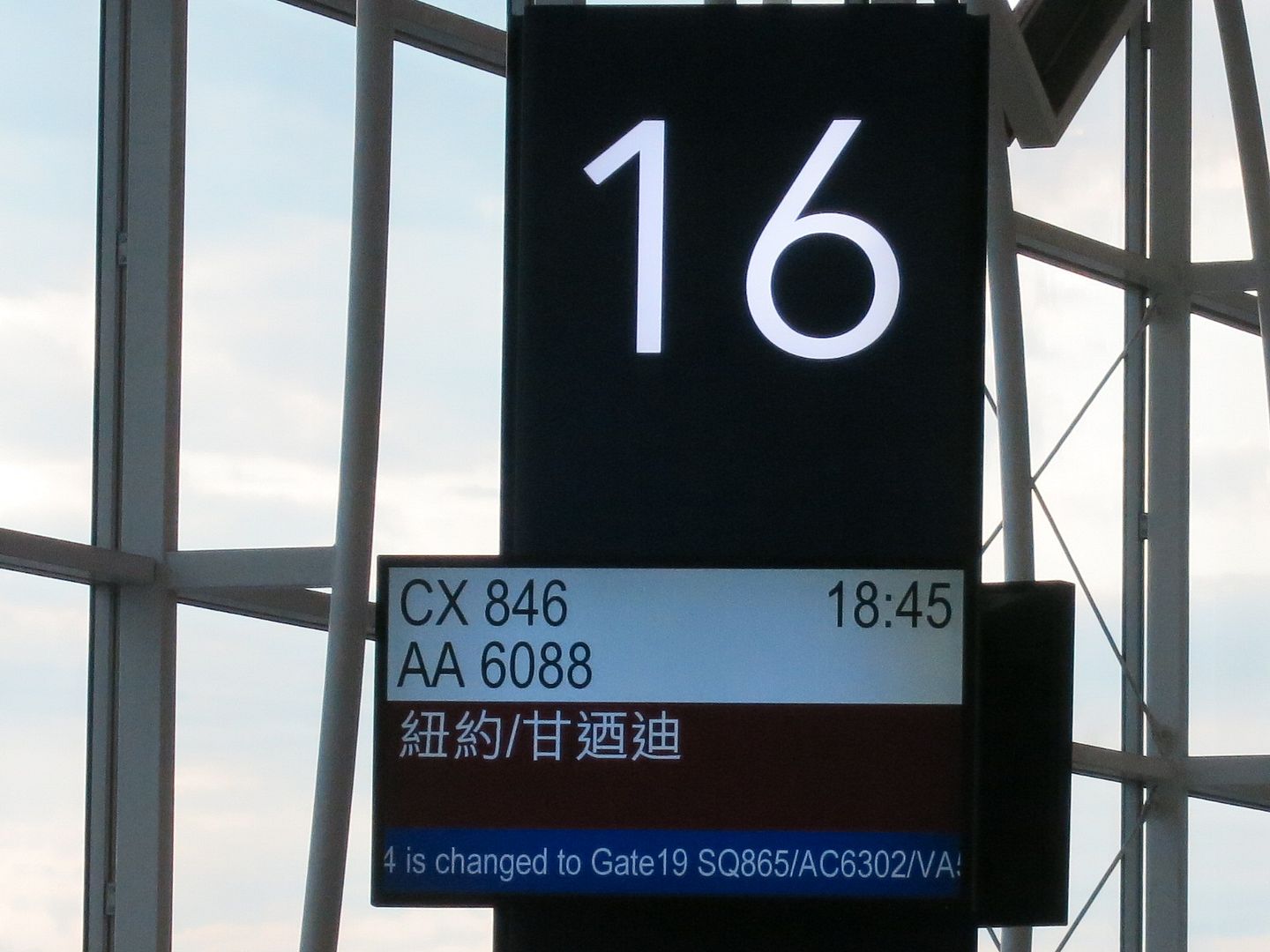 Boarding finally commenced around 6:35pm.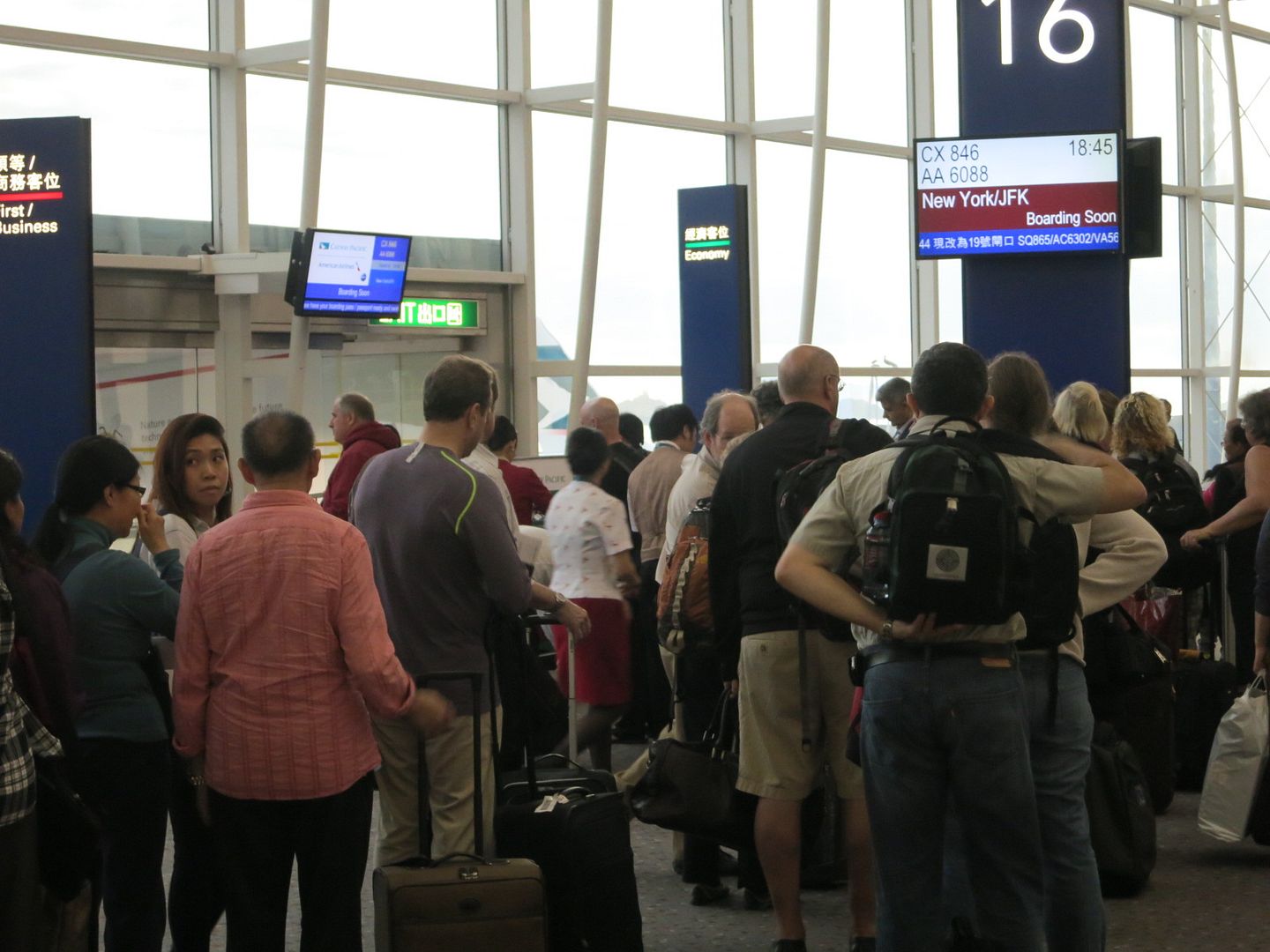 The business class and priority queue was quite long, but they had a separate sign for first class and top tier elite priority.
Once boarding passes were checked we proceeded down to have carry on bags searched for contraband.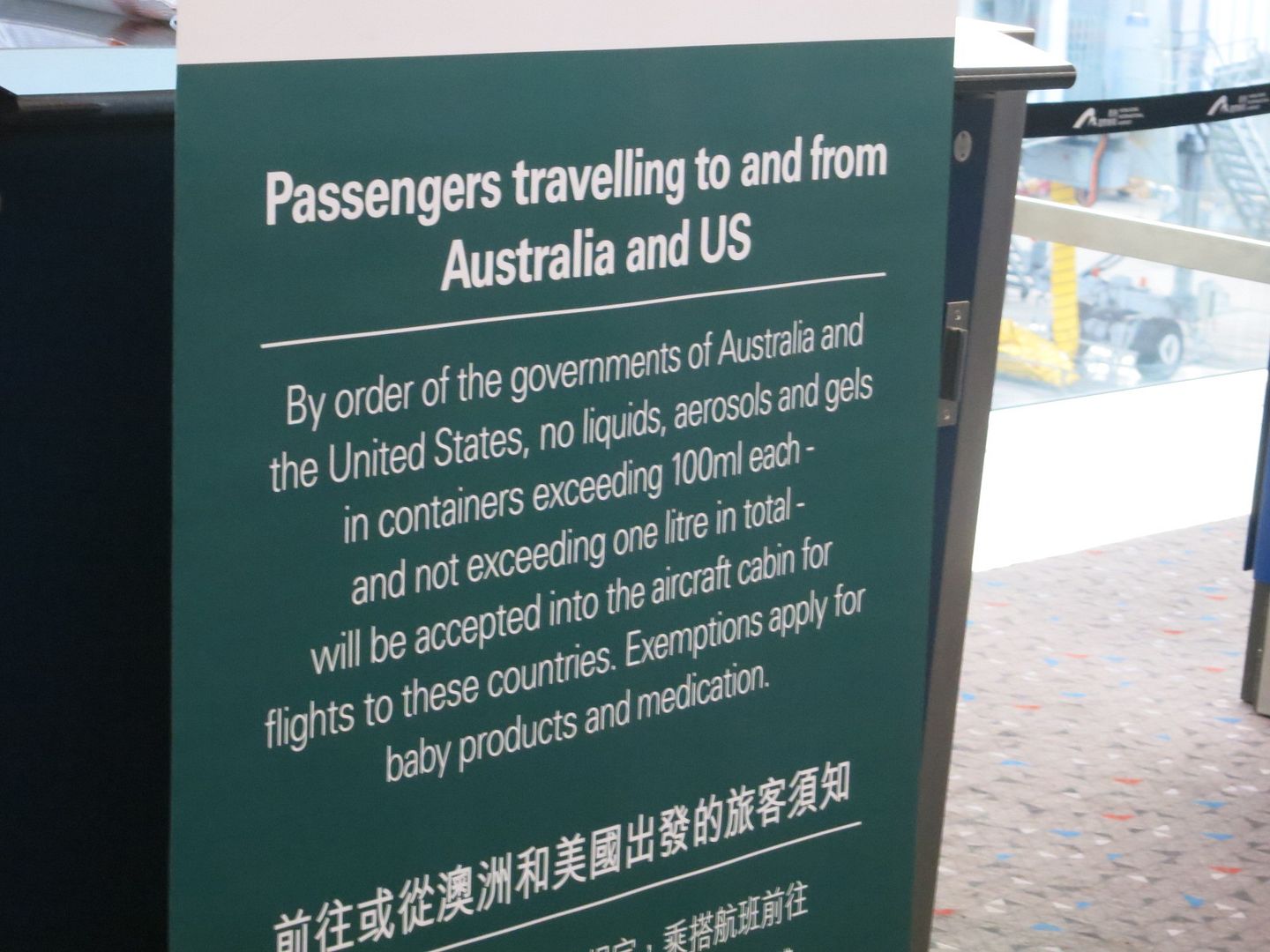 Once through that process, I boarded the plane that would be home for about the next 13-14 hours.
And home it is.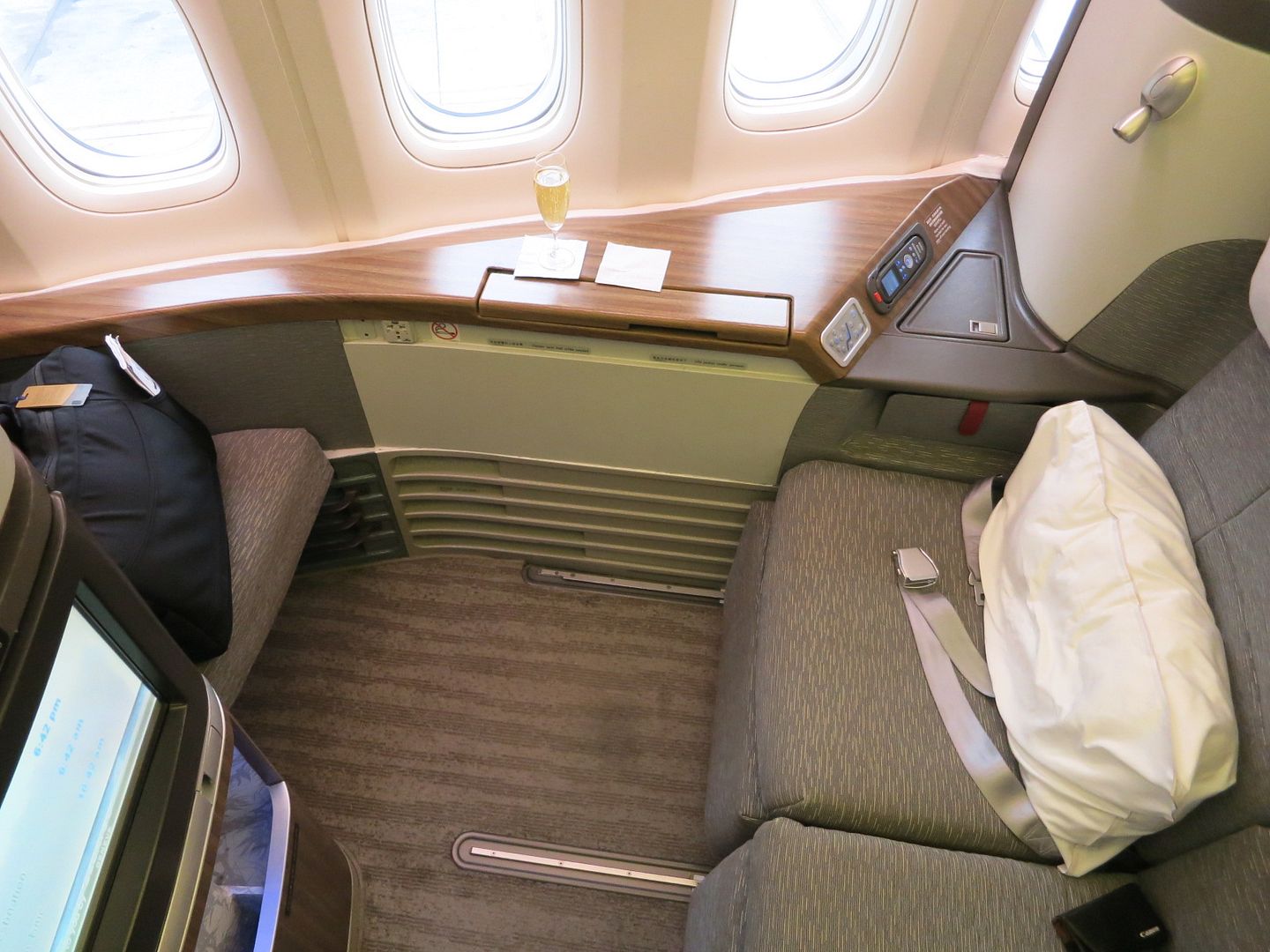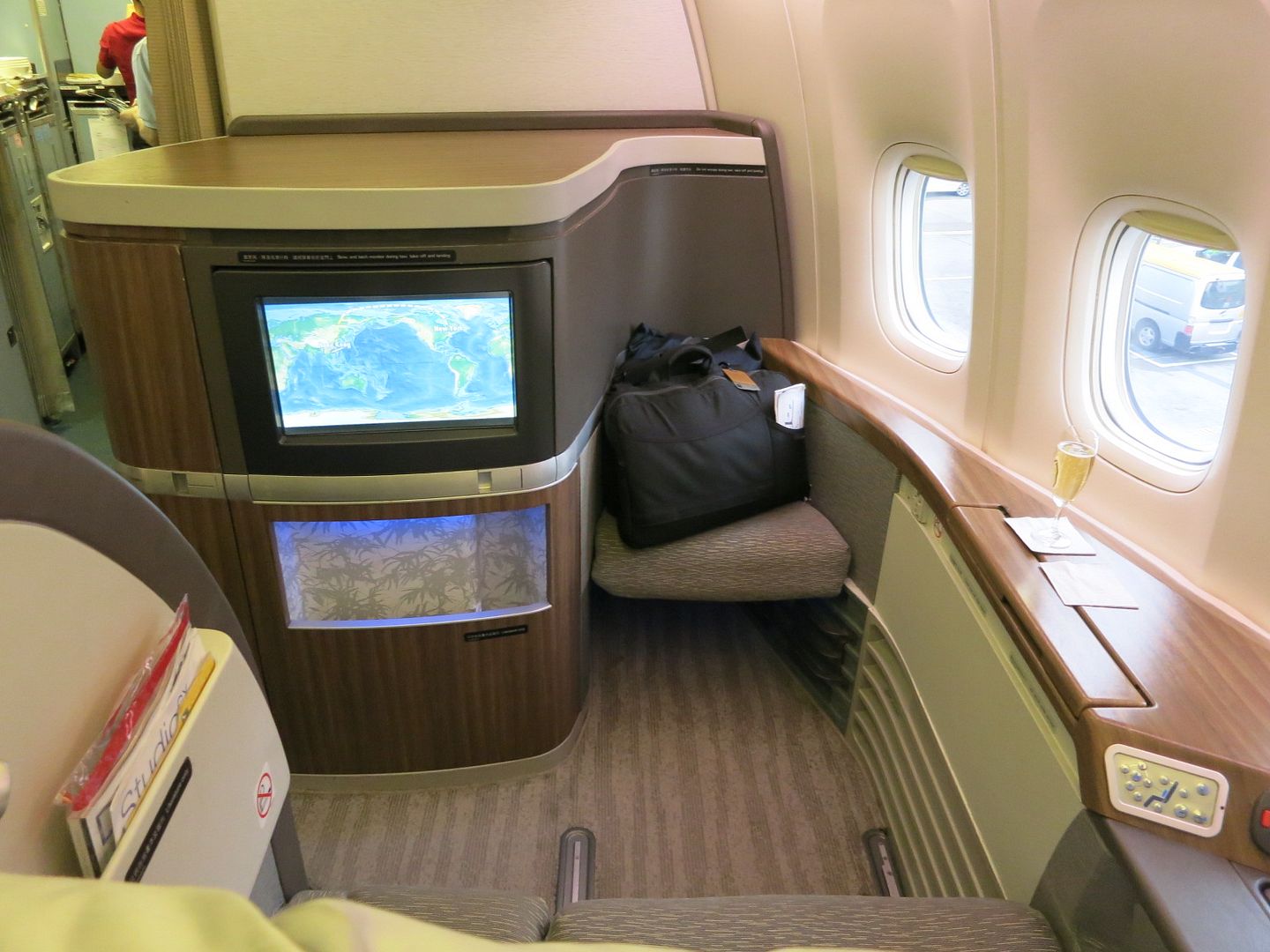 This is just the widest and most spacious seat. There are no overhead bins in the cabin, but there's a closet at your seat (much bigger than the Etihad closet, it fits a small rollaboard and clothes) and you can use the space underneath the ottoman as well.
Service began almost immediately. Predeparture drinks were served. I opted for a glass of Krug.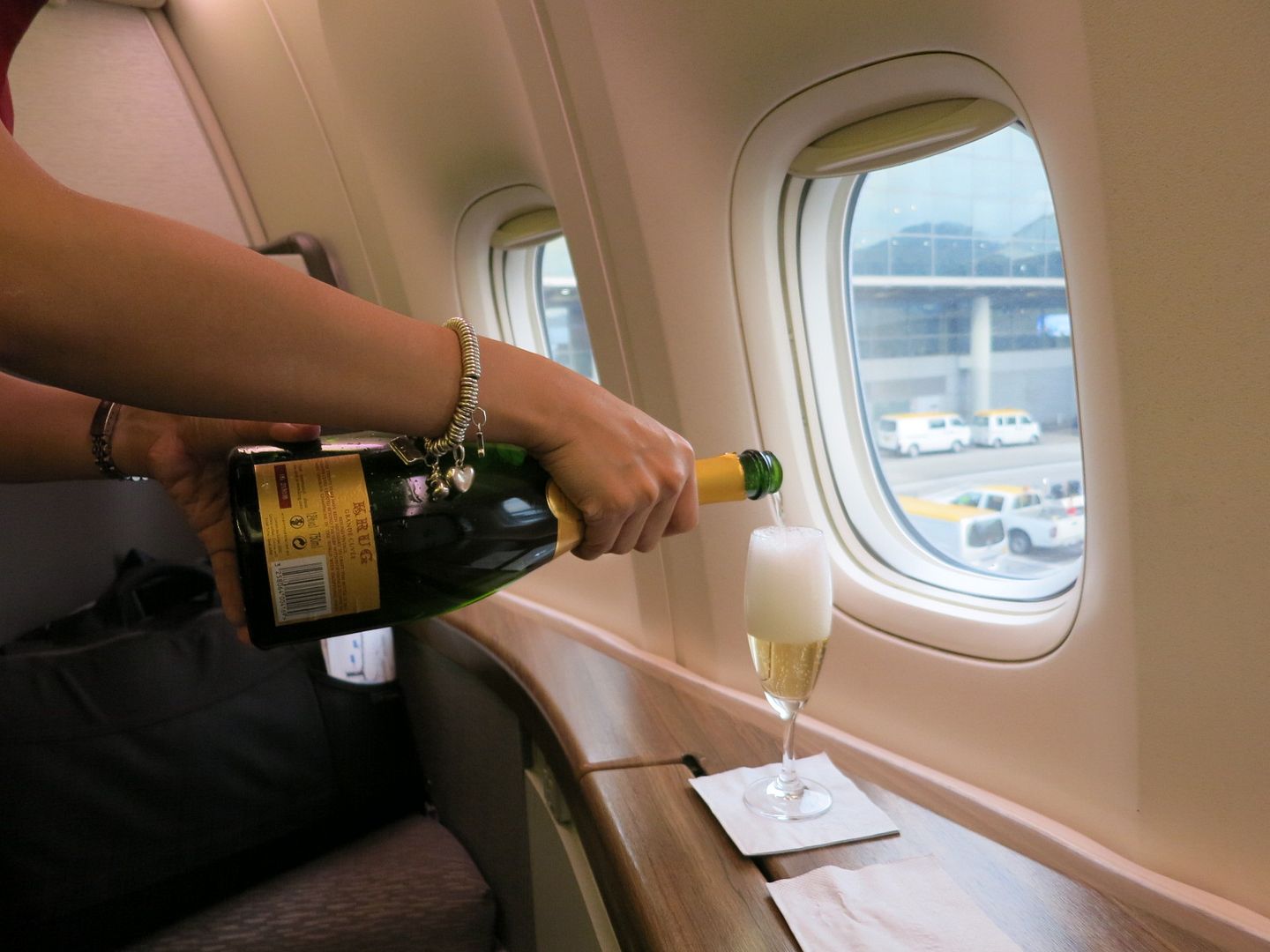 The new first class service standards include an amuse bouche served on the ground, something I experienced for the first time in early February (the amuse bouche started February 1).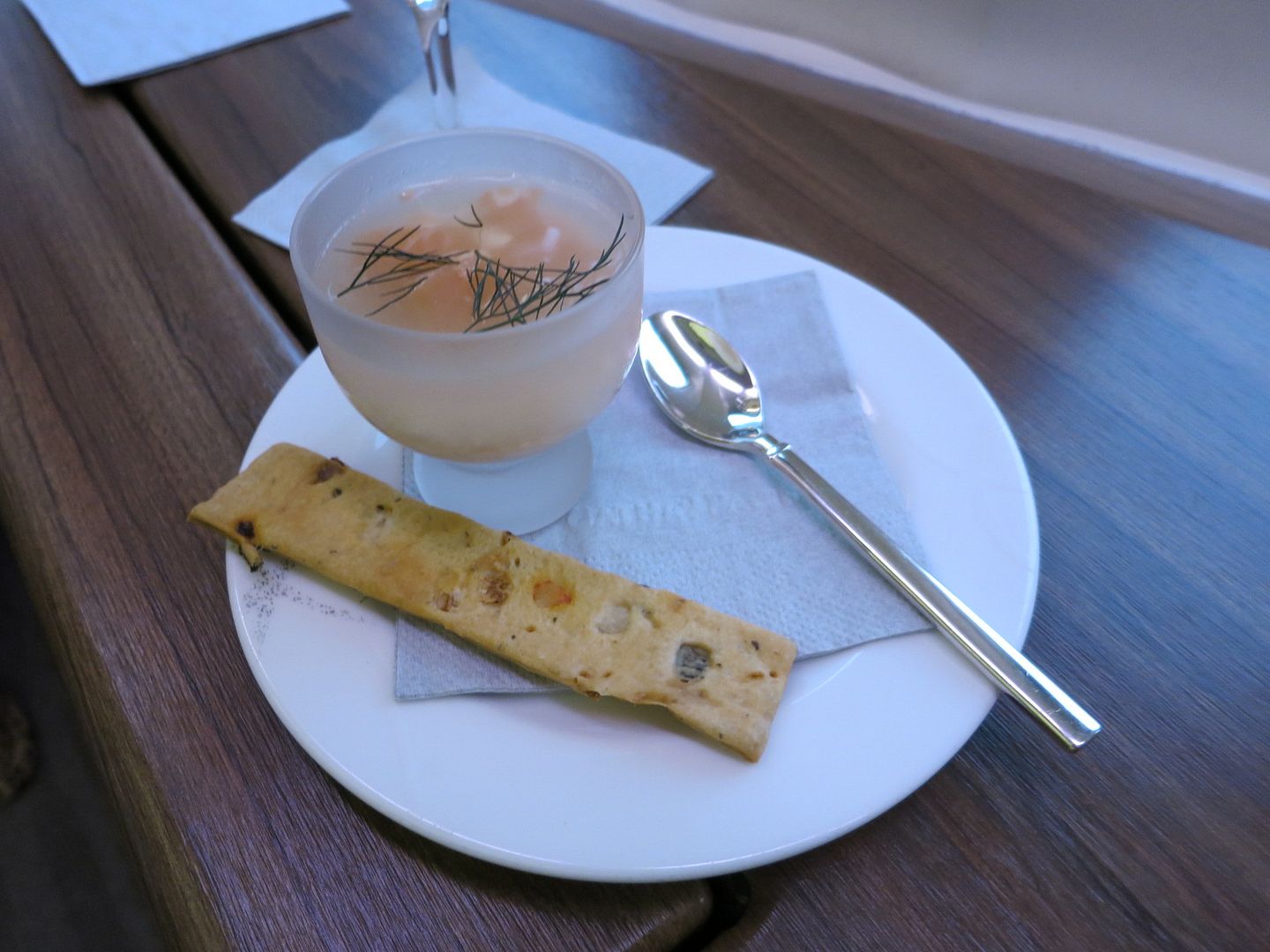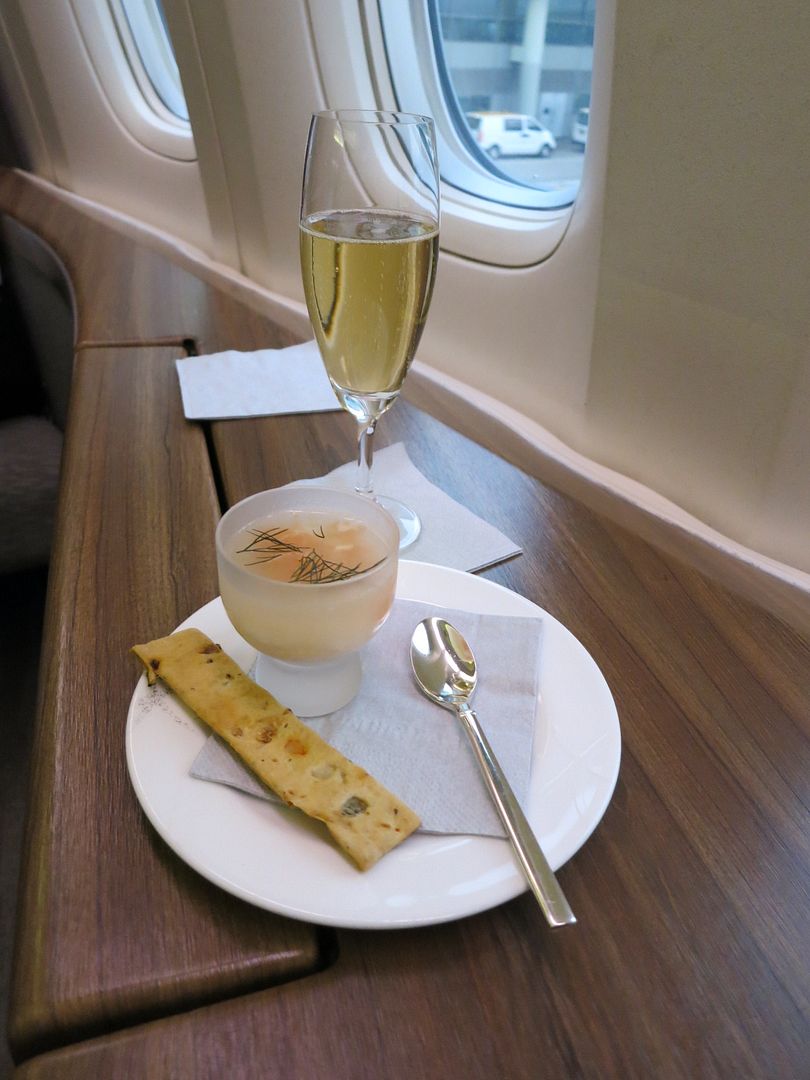 Pajamas were distributed.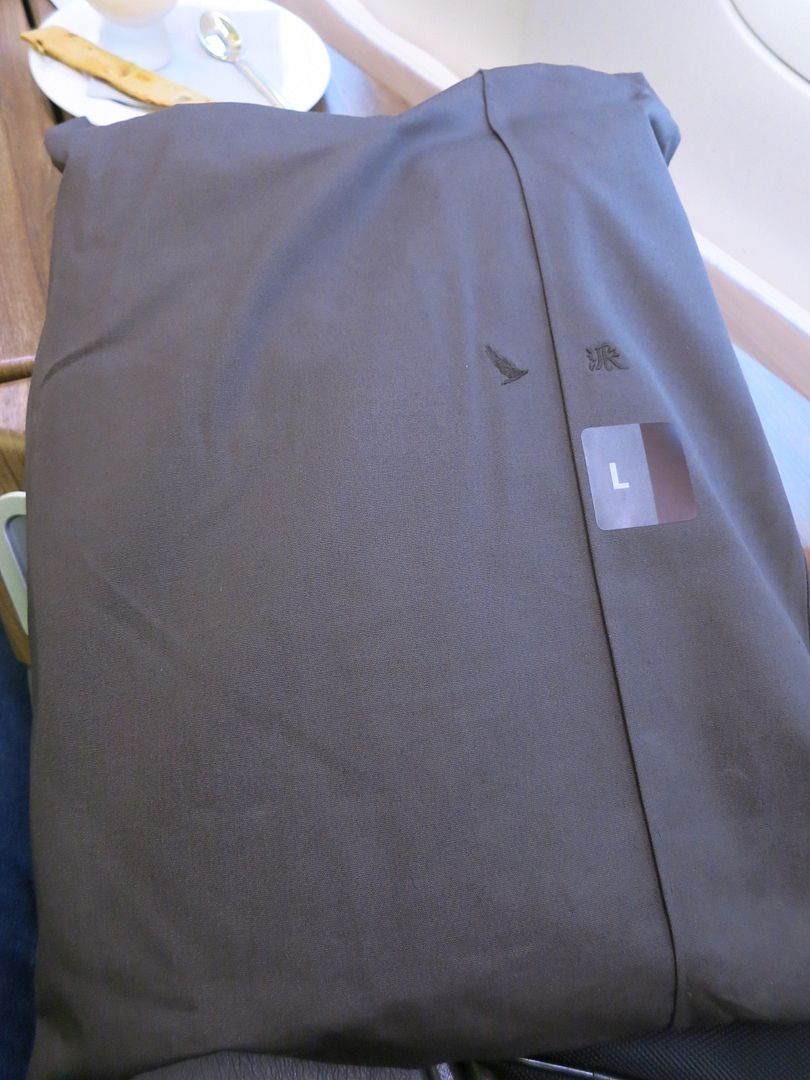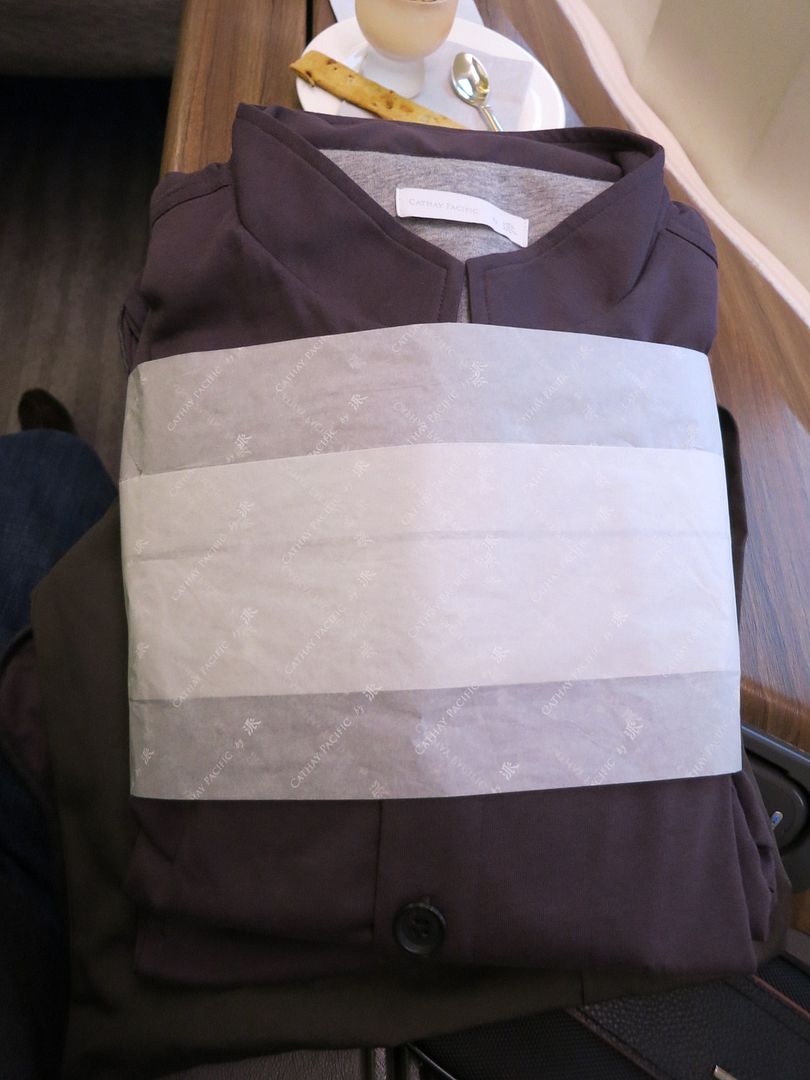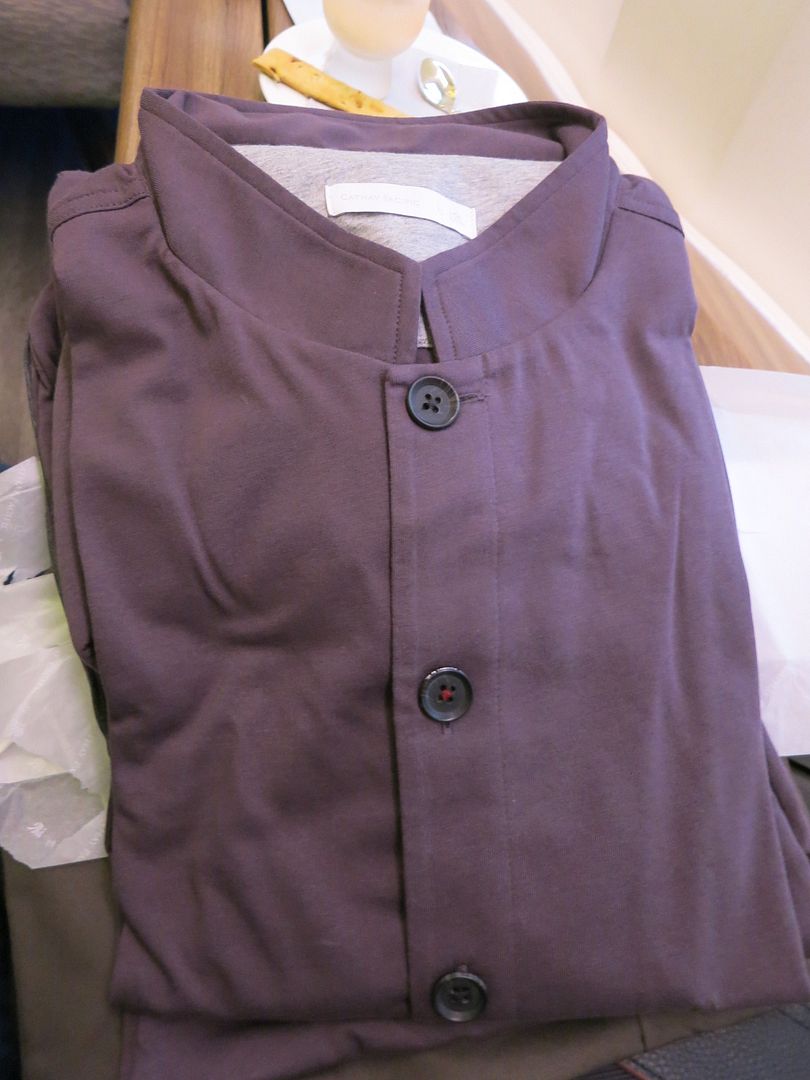 And amenity kits:
We were running a bit behind but still looking at an early arrival in New York. The first class cabin had only one other passenger (so we were full to 3 of 6 seats).
And then there was a delay. A business class passenger reported washing her face in the lavatory, and having an allergic reaction. The crew took a report, and brought in a service manager from inside the airport. After some consultations they decided to offload her. She didn't like the soap in the bathroom, all seemed fine, but we'd be in the air a long time and didn't want to take any chances that something would develop that's actually wrong. No one wanted to divert!
We had to wait while they located and offloaded her baggage. All in all we pushed back a little over an hour late.
Once in the air dinner service began quickly. I had initially thought I might wait to take my first meal, but decided to start right away so I could get to sleep sooner.
Here was the menu (click to enlarge).
I began with the new caviar service, and I admit I miss it served with salmon.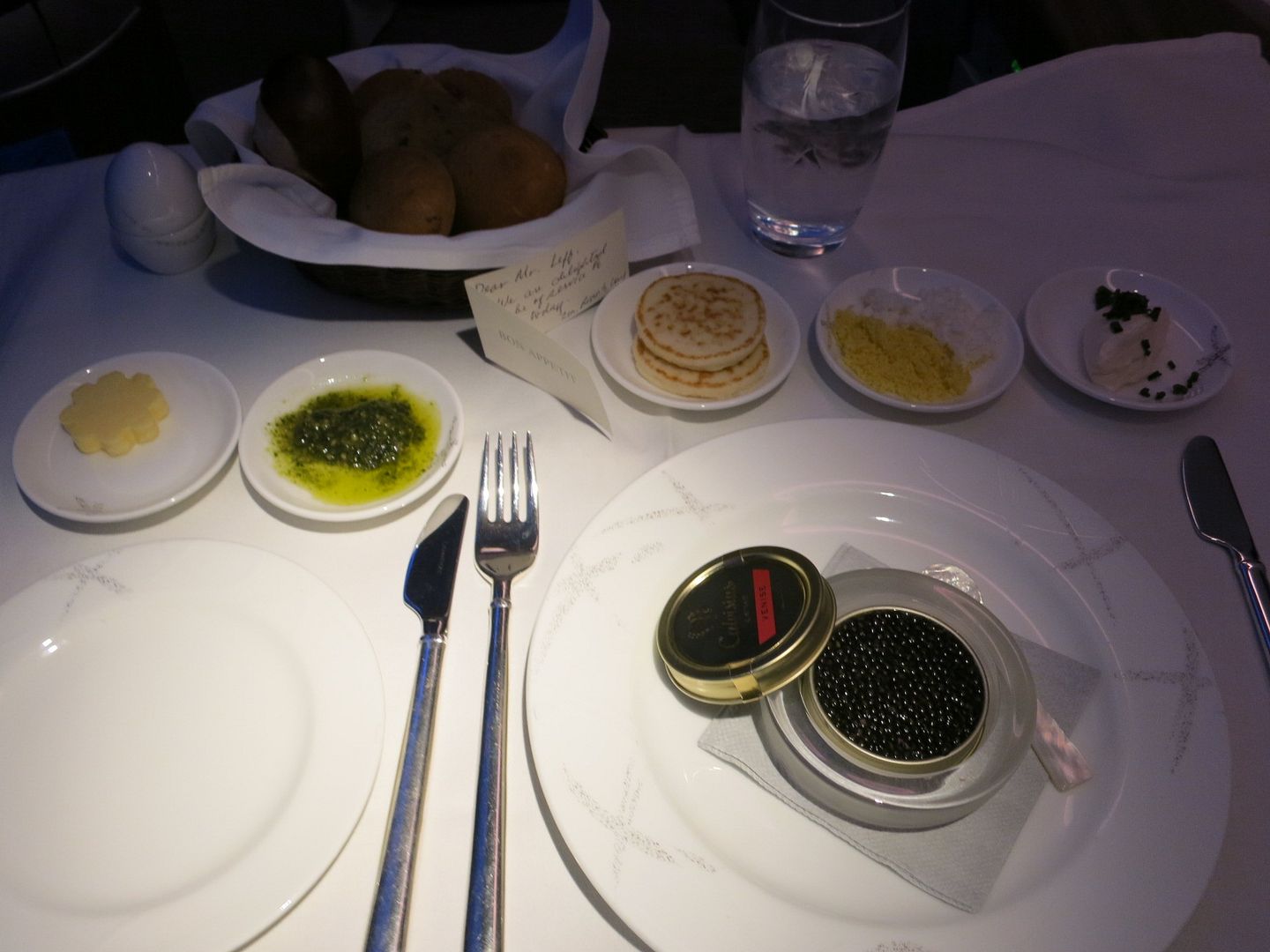 A nice touch on the table is always a handwritten welcome card from the crew.
I had the cold plate, that's almost always my favorite item from the Chinese menu.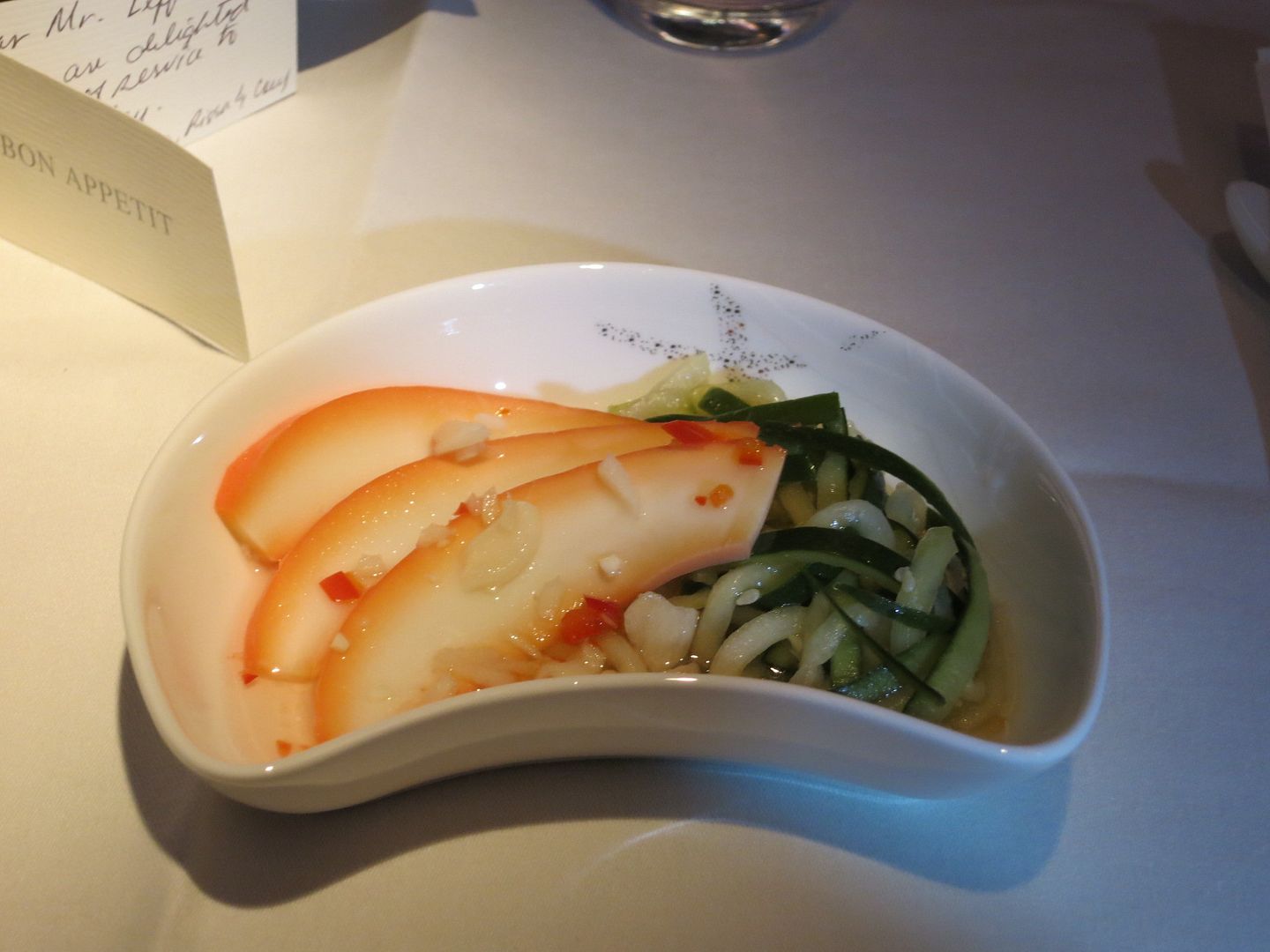 .. even though I was going to be eating the steak. Cathay Pacific's steaks used to be a disappointment but I've been much happier with them on my last two first class trips this year.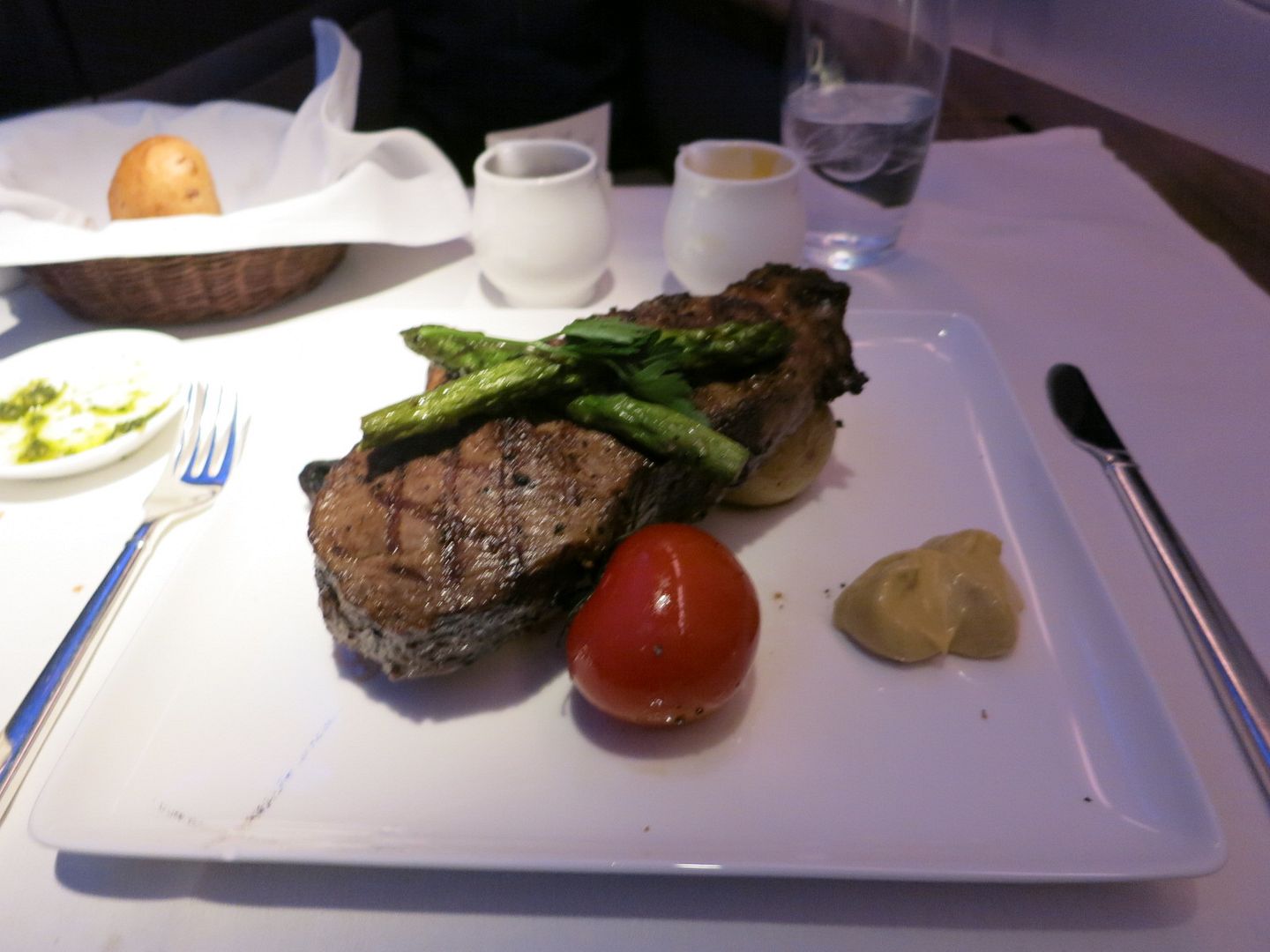 After dinner I changed into pajamas while the crew made my bed.
I watched a few shows on the CXWorld entertainment system and then slept for about five hours. I woke up and watched some TV I had downloaded to my laptop and then after a couple more hours I decided to order a snack. I almost always do the hot pot.
At this point I realized I had made a real strategic blunder. I thought about falling asleep right away, and then making myself get up in a couple of hours. That way I would be a little rested but mostly re-acclimated to the time in New York on arrival. Instead I slept too much and was getting up in the early afternoon New York time.
I watched shows for the bulk of the rest of the flight, and then ended with breakfast (oddly served at dinner time in New York).
Even though we arrived late into New York we had to wait for a gate to become available. There was a British Airways flight parked in our spot. After about 15 minutes we were able to pull in and disembark.
Immigration was quick with Global Entry, though lines weren't long for anyone. I picked up bags, used Global Entry to cut the customs line, and headed to the Hilton JFK to spend the night before taking the 11am American Eagle flight back to Washington National airport the next day.
Having slept too much and too late on the flight, I didn't sleep much at all on arrival, and it took me a solid 2-3 days to recover from the time change.
---
You can join the 40,000+ people who see these deals and analysis every day — sign up to receive posts by email  (just one e-mail per day) or subscribe to the RSS feed. It's free. You can also follow me on Twitter for the latest deals.   Don't miss out!