Basic principles:
Non-stop flights are better than connections. More flights mean more chances for something to go wrong.

Airlines don't tell you what's really wrong. During delays, posted flight times are just as likely made up as they are real projections.

You want to get out of bad weather as quickly as possible. Fly away from the weather, not into it.
On Friday I was scheduled to fly Washington Dulles – Austin on United. I was happy to get out ahead of a storm and doubly thrilled the aircraft I'd be on was flying in from nowhere near the weather. It would fly Austin – Houston – Nashville – Washington Dulles – Austin.
Unfortunately the plane went mechanical in Nashville, a rolling delay that stood at 8 hours last I checked. And that's how it operated:
My 5:40pm flight was delayed so I switched over to the earlier delayed DC – Chicago flight that was continuing with same aircraft to Austin. Before boarding though I checked again and the Chicago – Austin segment was given a new aircraft.
I'd be flying into a misconnect and an overnight in Chicago

Where it was snowing (modestly)
So I moved myself back to the non-stop — while I was reticketed onto the new flight, my original flight was still in the reservation and at that point it still had a chance to get me home that night.
I started to doubt though that even if my inbound aircraft took off from Nashville that there would be a legal crew available, so I started looking at options.
There was a 10 pm Houston flight where I could overnight or even drive, but it was oversold by two and I was only fourth on the wait list. Not promising.
I got backed up on a 1:40 pm flight the next day through Houston, after the bad weather coming through DC would in theory have passed. But that could certainly get snarled in delays and I really didn't want to put off getting home by a day (or two).
The goal became just to get out of the bad weather. An agent offered Detroit and an overnight there, but the forecast was snow. I didn't want that bet. I wasn't going to head to Chicago, either.
As I tweeted,
My Austin flight eventually cancelled but before that I came up with something that would be pretty undesirable to most people but that would ensure I got home before noon the next day – it would ensure I wouldn't get stuck in DC due to snow, or face another day of rolling delays caused by weather.
When they told me nothing is available, I simply replied "Nothing? Or nothing that any sane person would want?" You see, there is a difference! I suggested the following:
Washington Dulles – Jacksonville at 10 pm.

Overnight at the Jacksonville airport Aloft

Then Jacksonville – Houston – Austin starting at 6:45 in the morning
Half the Austin flight was in the club lounge, everyone was told nothing is available. Whenever you're rebooking during irregular operations, especially with bad weather at play, you're playing odds. I wasn't sure forcing a misconnect in Chicago that night was a bad idea, I'd have gotten more sleep and might have made it home with only one flight instead of two.
I was lucky to get on the Jacksonville flight when I did, because it filled up: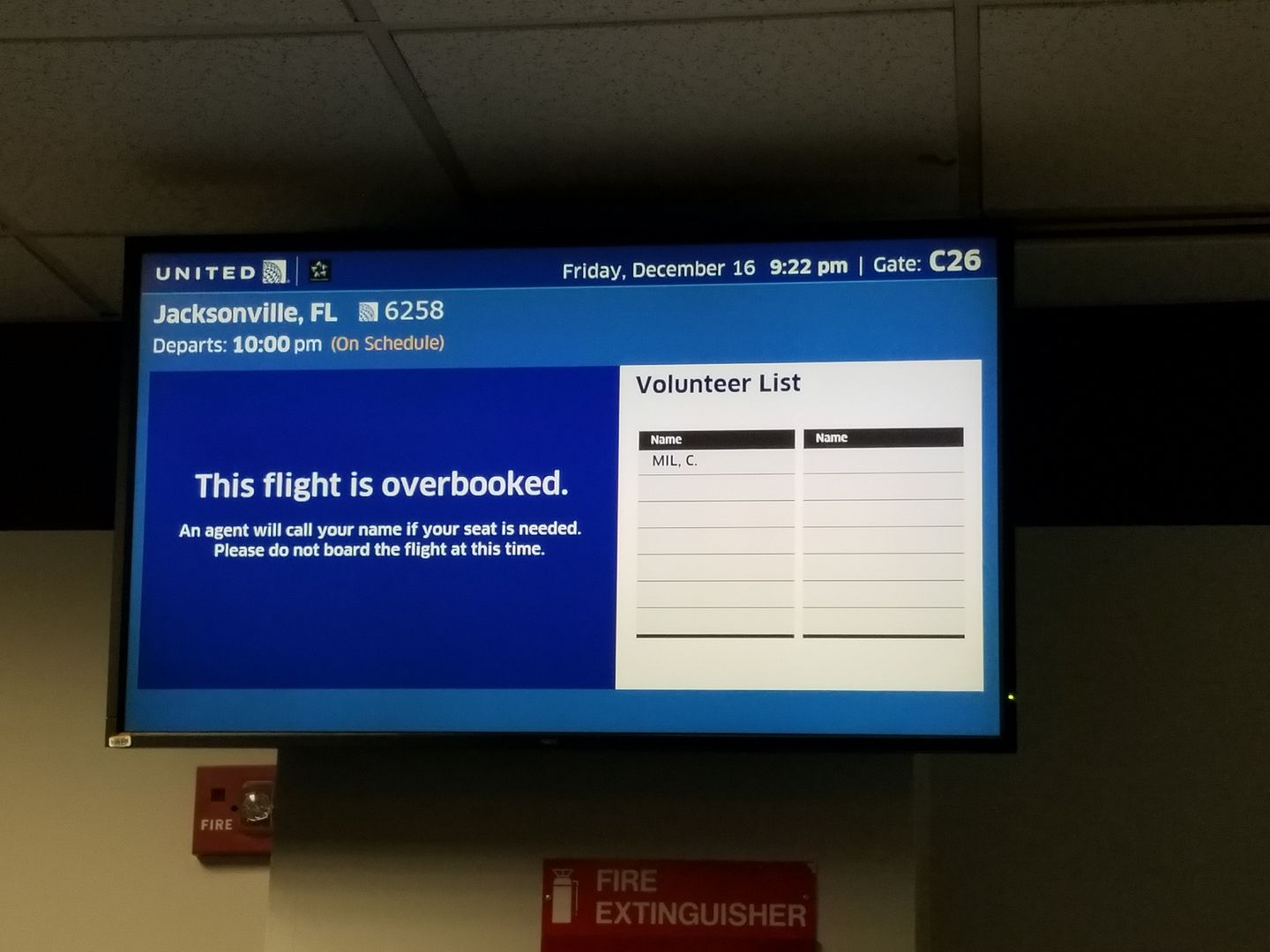 But as time crept on and it was more and more likely things were headed south, I wanted to get away from the weather. That meant getting out of Washington DC that night, and heading South. I wanted the only seat I could get to some place warm.
I'd catch a few hours of sleep, clock in my 100th Starwood night of the year at a 3000 point airport Aloft.
I considered paying cash and turning the claim over to my credit card company, but again – playing the odds – I thought that a hotel in Florida when my cancellation was in DC might pose headaches getting the claim processed. It's all about playing the odds and I decided to play it safe.
Even though that meant saying "Nothing's available? Or nothing any sane person would want?"