Miles and points were once seen as a reward for loyalty, a customer to be treated better and more flexibly when reaping the fruits of travels. In recent times though airlines have become more draconian with change fees and some have sought to gouge customers with accumulated miles for cash co-pays when booking awards under the guide of 'fuel surcharges'.
Instead of offering 'free' travel the notion is that miles cover just the 'fare' and not add-ons.
Only a few airlines in the US, and for travel on a few partner carriers, impose these fuel surcharges on customers booking award tickets. But they've been a specter haunting programs for some years – a risk of future devaluations.
But the very existence of fuel surcharges is an historical and technological accident. And recent program devaluations actually make it less likely that will see the spread of fuel surcharges in the US any time soon.
What are fuel surcharges?
First of all, understand what "fuel surcharges" are. They're generally a fixed amount of money added to a fare. The amount will usually be the same across all fares for a given city pair. In other words, all "New York – London" fares that an airline publishes will add the same amount for fuel surcharge.
There are some exceptions to this. An airline may file a different fuel surcharge amount for premium cabins (so a business class ticket might have a higher fuel surcharge than a coach one). And it is possible to file discounted fares that do not incur fuel surcharges or that have lower ones.
But in general, each route can have a fuel surcharge and it'll be a constant amount added onto all fares for that route.
Here's a fare breakdown for a random set of dates in September flying British Airways roundtrip economy between San Francisco and London Heathrow.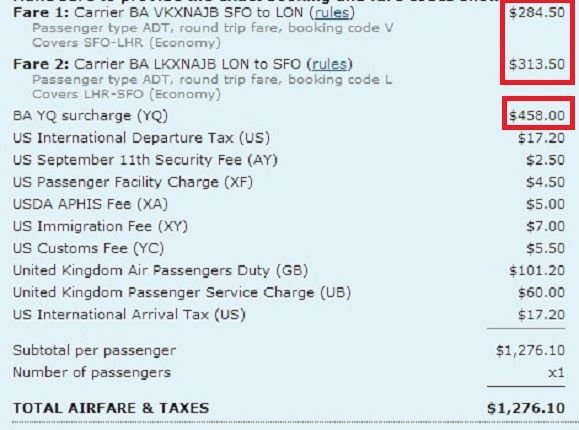 The fare is $598 ($284.50 outbound plus $313.50 return). The fuel surcharge is $458. The rest of the taxes and fees total $220.10.
Why do airlines impose fuel surcharges?
Once we establish that, it's easy to understand why fuel surcharges are useful to airlines. Fuel surcharges have nothing to do with the price of fuel.
It makes no logical sense for 'fuel' to be broken out separately from the rest of the cost of transportation. It's one of the cost factors in providing transportation. You cannot buy transportation with the option of taking the fuel or not. Fuel surcharges are, fundamentally, part of the cost of transportation.
Fuel surcharges are an easy, efficient way for airlines to alter their airfares across a given market. They can change one number — the fuel surcharge — and raise or lower (almost) all prices in the market at once.
That's a whole lot easier than changing the price of every single fare in the market.
For paid tickets, fuel surcharges don't really matter. They're displayed as part of the ticket price. They don't really increase the amount most consumers pay. (They may raise the price paid on some contract fares, where a base fare is negotiated but the surcharges may be on top, that doesn't touch most consumers but it's another reason airlines like fuel surcharges.)
How do fuel surcharges influence the cost of award tickets?
This becomes a much bigger deal for award tickets than for paid tickets. It's almost an historical accident. Airlines use the tool to quickly and efficiently alter all fares in a given market. And as a byproduct they've figured out a way to extract cash from their frequent flyers for ostensibly "free" tickets.
Most European and Asian airlines say, effectively, that miles cover the cost of the airfare but not the taxes and fees that are part of the ticket.
So when you redeem your miles, the fare is covered by the fuel surcharges are not. All of a sudden instead of collecting perhaps $50 – $200 in airport taxes in government fees, an airline might collect nearly $1000 total in taxes, government fees, and fuel surcharges.
In our San Francisco – London example above, the fare is $598 and the taxes and fees are $678.10. An airline adding fuel surcharges onto the cost of an award would require the person redeeming miles to come out of pocket $678.10 (not including any telephone booking fee). That's 53% of the cost of just buying the coach ticket even though one is using miles..
One implication of programs that add furl surcharges to award tickets is that coach awards almost never make sense — a fuel surcharge often represents a substantial portion of the total ticket cost, sometimes even the majority. So you're spending miles and still coming out of pocket half or more of the cost of a paid ticket, not earning miles and status, and are constrained by award availability.
I've even seen cases where discounted fares exist in a market that have lower fuel surcharges — and it is less expensive to buy that ticket than it is to redeem miles (using miles could mean spending more cash rather than less).
Fuel Surcharges on Award Tickets Aren't Common Amongst US Airlines
United and US Airways do not add fuel surcharges to awards. US Airways isn't relevant as it will be going away, with the Dividend Miles program folded into American AAdvantage with the merger.
There are currently some fuel surcharges imposed by US airlines:

Currently American adds full fuel surcharges to award tickets on British Airways, which is their primary transatlantic partner. All of BA's partners (including Alaska Airlines) add fuel surcharges onto BA awards. American also adds very modest fuel surcharges onto Iberia awards (Iberia is owned by the parent company of British Airways). But there are no fees on other partners.
Delta has an international origination surcharge on trips that begin in Europe that functions like a fuel surcharge. European carriers have them, so Delta can gouge their European members who have (more or less) nowhere else to go. Delta also adds fuel surcharges to awards on certain partner airlines, regardless of where the trip originates – like Air Tahiti Nui and China Southern. But there are no fees on the bulk of airline partners for awards departing North America.
Why Fuel Surcharges Won't Become More Widespread in the US
While many fear higher costs as a result of less competition, and one way passenger costs can go up is the imposition of fuel surcharges (extracting cash from members trying to use their miles), United's pending devaluation of miles actually makes it highly unlikely that US-based frequent flyer programs will impose fuel surcharges on an increasing number of awards.
Meanwhile, though fuel surcharges have been increasing worldwide over the course of the past decade – they're charged by most European and Asia Pacific airline programs and by our neighbors to the North (though not common in South America) – the trend may have been pushed too far. Air France and Virgin Atlantic has capped their fuel surcharges on economy awards (adding these to coach awards undermines the very purpose of redeeming points for that class of service). British Airways still limits fuel surcharges on short haul flights within Europe for active members of their progam.
World trends, and United's moves, will help hold that fuel surcharge demon at bay. But it's United's move that's most interesting.
By increasing award costs by in some cases over 80%, they make it unthinkable that they will also add cash costs of as much as $500 each way to award tickets. And by United not adding such fees, in order to remain competitive American and Delta will limit theirs as well.
And relatedly, because American already imposes fuel surcharges on their primary transatlantic partner, their awards are already viewed as expensive and that limits their ability to match the sorts of award prices increases that Untied is pushing through February 1.
---