United Airlines President Scott Kirby, who has previously served as President of American Airlines (and US Airways and America West before that), is the most 'by the numbers' executive in the airline industry today. I've called him a destroyer of airlines.
Historically if he couldn't see revenue directly attached to a customer experience initiative at the margin he did not see any reason to invest in that experience. For instance at US Airways he's said that it wasn't until he could actually see people booking away from the airline due to lack of internet — actually choosing to fly someone else — that US Airways pulled the trigger in outfitting their planes with internet. They had stayed away from internet for years because they didn't believe it was a money maker, until they found out not having it was a money loser.
Under his leadership US Airways started charging for water, and eliminated frequent flyer elite bonuses. He had to walk back both changes. As head of US Airways his airline actually removed seat power from planes to save on costs. He gutted American Airlines meal service in September 2014, moving it closer to his legacy US Airways standard, but had to walk that back, too.
Kirby claimed Basic Economy would be a billion dollar idea. When he moved over to United he revamped their Basic Economy fares to be more draconian, eliminating carry on bags as he had planned to do at American before he left. The roll out lost $100 million, attributing it to American not yet doing the same thing. They kept at it anyway. Now American is giving up carry on restrictions from basic economy fares. Delta's President says these restrictions are costing United money.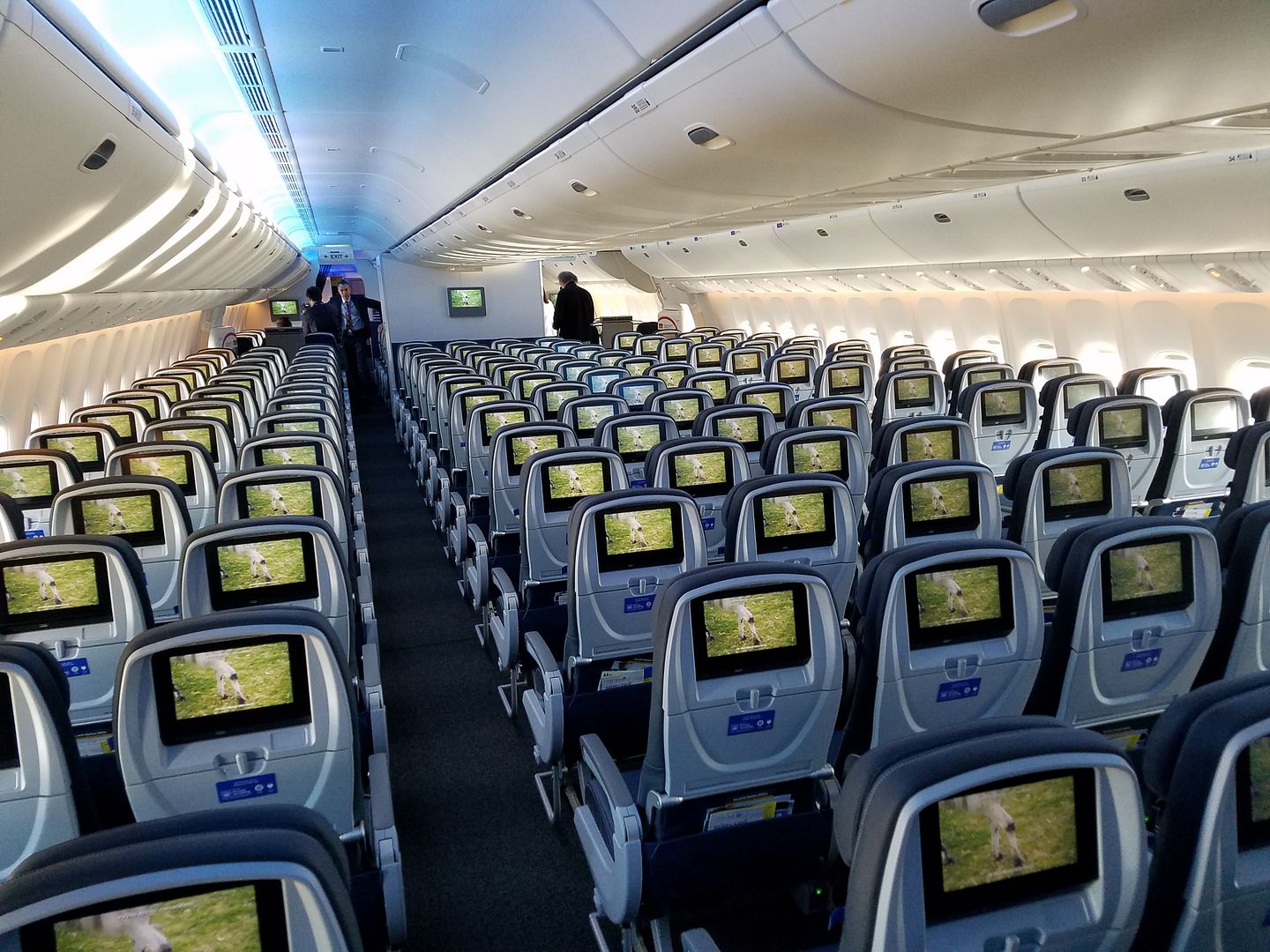 United Boeing 777-300ER Economy
The inimitable Brian Sumers interviews Scott Kirby for Skift and some interesting, out of character statements come out.
Kirby walks back his claim that United's product investment is about 'keeping up with the joneses', investing in product so that they can offer what their competitors offer, rather than focusing obsessively on what customers want.
And he actually says that brand matters to an airline's success in the long run and so more than what's in the spreadsheet matters.
It's hard to find effects of those things in the short term, but in the long term, I believe it matters. In the long term you can look at airlines like Southwest who've had a history of good customer experience and perception and they drive superior results. We have a strong belief that even though we can't put it in a spreadsheet and say how people feel about this one thing is going to show up in the next earnings report, we have a core belief that it does matter in the long term and that it's tables stakes now to change the perception. It's not true just at United, but certainly for us, it's true at United.
Kirby says he wants to "chang[e] how people feel when they fly United" beyond "just the hard metrics" and that it was the David Dao incident that served as an inflection point for him, "how perception and opinion matter so much and how much more quickly something can go viral."
He thinks that their Polaris business class "is the best in class" where it's been rolled out, the best "across the Atlantic, flying to South America, flying in most Asian markets" which is downright silly.
It's direct aisle access fully flat business class, while taking up less space than American's seats. On planes with the new seat it's no longer a reason to actively avoid United business class, but it's not better than American's seats, or Air France's new seat, or Delta's new suite with doors. Their business class isn't better than EVA Air or Cathay Pacific.
The United soft product in business class isn't better than Singapore's, Cathay's, Austrian's, Turkish, or ANA's.
However in May brought back meal service on 3 hour domestic flights mere weeks after eliminating it, and despite myriad cuts to the Polaris soft product they continue to add the seats to more planes and open the country's best business class lounges.

United Polaris Business Class
Is Scott Kirby just talking a good game, or has he actually reversed course on his history as an airline executive?