In June 2019 American Airlines ordered 50 Airbus A321XLRs to be delivered between 2023 and 2025, and which are meant to fly to small cities in Europe and to close-in South America. The planes will have lie flat business class and a premium economy cabin.
These planes are delayed, and currently expected to start coming into the fleet in 2024. In addition to flying short transatlantic trips from Philadelphia and Charlotte, they're expected to take over premium cross-country flying from the Airbus A321T – which means a better business class product than the current 2×2 configuration (since they should offer direct aisle access), but no more first class and a more densified economy.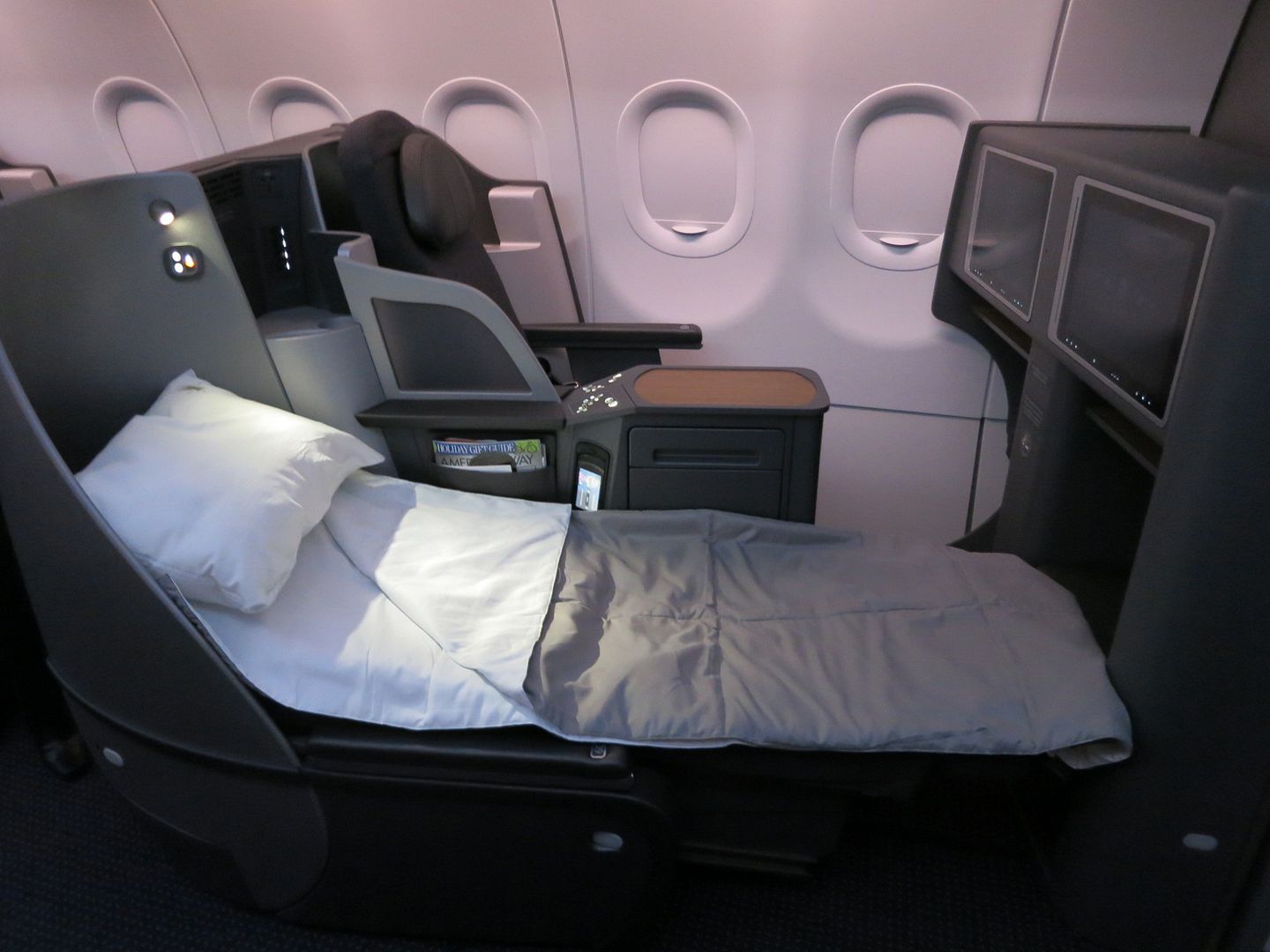 Current Airbus A321T Business Class
In April I wrote that the "Collins Aurora" seat was something American Airlines had been considering for the new A321XLR.
They're considering putting doors on their narrowbody lie flat business class seats. And this seat would balance their desire for a top shelf product without taking up a lot of real estate on the plane – they could literally manage to offer less than 35 inches of pitch (distance from the same point on two seats) because of the angling of the seats even as they do just one seat on each side of the aisle since each seat turns into a bed facing outward at an angle from window to the aisle.
The seat would basically back up against the window. That means passengers would all 'have' windows but it wouldn't be easy to look out the window. Instead their back would largely face the window with their feet facing the aisle. Seats would be positioned at an angle in a herringbone pattern. The Collins Aurora seat resembles the Thompson VantageSolo seat which JetBlue uses for their new Mint product.
Aviation watchdog JonNYC shares internal American Airlines photos of what the seat would look like if it's the one selected for the 321XLR.
this was out there at some point not too long ago as a contender for AA 321XLR J-seat, have no idea if it got swept aside in the interim: pic.twitter.com/KIhvIySKmc

— 🇺🇦 JonNYC 🇺🇦 (@xJonNYC) August 18, 2022
JonNYC further offers a response to a common question, which happens to have been asked by some commenters in my post about the expected end of first class on premium cross country flights – whether Hollywood studio contracts require a first class cabin. He points out that while this used to be the case it hasn't been for quite some time.