Australia is One of the Very Toughest Awards to Get
Award travel between the US and Australia is one of the very toughest frequent flyer bookings there is. It's doubly tough during peak periods of November through March.
Getting two first class seats non-stop is pretty much impossible. Getting two business class seats is very, very hard (although Delta partner Virgin Australia does often have space).
Here's a month-long calendar from the American Airlines website, showing not a single day with 2 first class seats and just one day with two business class seats.
Most of the time it's necessary to route via Asia in order to make an award happen, which several programs permit. It's a lot of extra flying, but at least in one direction you can generally break up the trip with a stopover in at least one direction.
For instance with Delta miles you can fly China Southern via Guangzhou, or Korean via Seoul. United is a possibility via Seoul on Asiana, and I've certainly booked New Zealand travel via Shanghai (though this isn't always permitted). American does not permit routing from the US to Australia via Asia on a one-way partner award, though a workaround is the distance-based oneworld award where you will pay only a slight premium.
How Rare Are These A380 First Class Seats?
If you want to fly the Qantas A380 there are some routes that are much easier than others like London – Dubai. But for non-stop US-Australia travel? You won't be able to use American or Alaska Airlines miles pretty much… ever.
I'd show you what 2 passengers in first class looks like on an award availability calendar, but there aren't any days within American's or Alaska's 331 day booking window where there are 2 first class Qantas seats available between Australia and the US.
Here's what 1 passenger in first class looks like on an award availability calendar.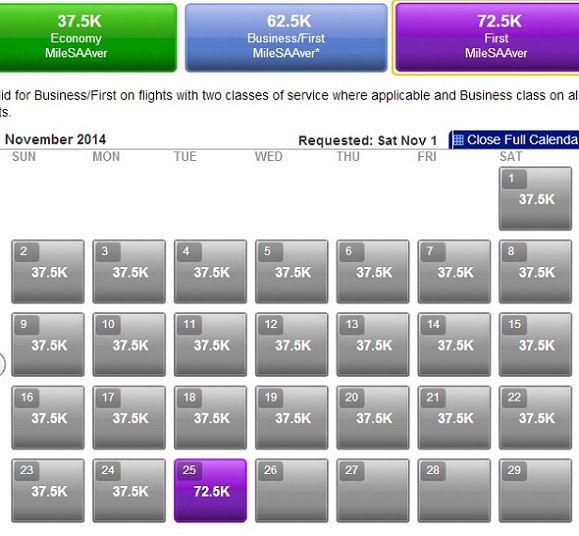 That's one seat, 331 days out exactly.
The 331 Day 'Problem'
Qantas publishes their schedule ~ 353 days in advance. American AAdvantage will only let you redeem miles for travel 331 days out. I frequently see award space available for two passengers in first class between the time the schedule opens and when American AAdvantage members can claim the space… but it's almost always gone by the time the AAdvantage window opens. I can't tell you the number of times I see it 332 days out, and then it's gone the next day.
Qantas award space is perhaps the one exception to the rule that it's a myth you need to book award seats at midnight 331 days in advance of travel.
Alaska Airlines Mileage Plan used to be the secret weapon here. Though they only opened their own schedule 331 days out, they would book partner award travel whenever those partners opened their schedules… so you could book on, for instance, Cathay Pacific, Qantas, and British Airways farther out than 11 months.
That ability was taken away when Alaska introduced one-way partner awards. Now you can only book award travel through the Mileage Plan program 331 days in advance. So the 'great Qantas loophole' closed.
How to Get Qantas A380 First Class Seats
There's a way to get two first class award tickets on the same flights, non-stop between the US and Australia, on Qantas. You can even get them on the Qantas A380. Here's how.
There are ways to book awards on Qantas more than 331 days in advance, where there are still pairs of first class seats available even on the Sydney – Los Angeles and Melbourne – Los Angeles routes.
Here's availability (as of this writing) for two passengers in first class on the Melbourne-Los Angeles route during the last two weeks of the Qantas booking calendar — December 3 through 16, 2014.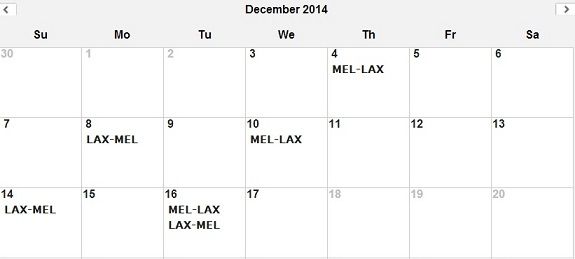 That's not a ton of space, but the point is that it is space. It exists.
Redeeming More Than 331 Days Out Will Be Expensive
Two programs you can use, with points reasonably available to US frequent flyers, are British Airways Executive Club and Cathay Pacific AsiaMiles – the former being a transfer partner of both American Express Membership Rewards and Chase Ultimate Rewards, and the latter being a Membership Rewards transfer partner.
These are far from ideal options. You will pay more miles and more cash than if you were using American or Alaska miles, but those are usually not an option.
Both British Airways and AsiaMiles add fuel surcharges onto the cost of awards. Expect fuel surcharges of $780 on a roundtrip US-Australia first class award, and total taxes of ~ $936.60. That's per person.
British Airways charges 150,000 miles per person, each way for first class US – Australia non-stop.
Cathay Pacific's award chart is more reasonable. It's a distance-based chart. Here's the distances for Los Angeles – Sydney and Los Angeles – Melbourne.

And here's the pricing: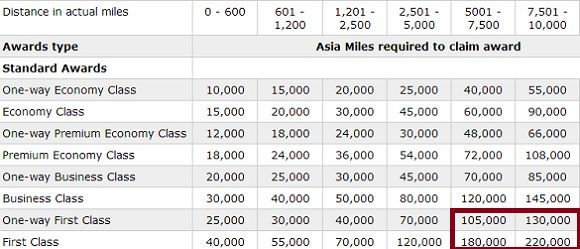 Sydney – Los Angeles, just under 7500 miles each way, is 105,000 miles one-way in first class or 180,000 miles roundtrip.
Melbourne – Los Angeles, just over 7500 miles each way, is 130,000 miles one-way in first class or 220,000 miles roundtrip.
That's still a whole lot of miles and you still pay fuel surcharges. But it's fewer miles than British Airways charges. And it's a way to get Qantas first class awards on the A380 with somewhat reasonable availability. Not a solution for everyone, but seemed worth pointing out for some.
---