I recently spent four nights in Chennai, India flying Eithad first class (business for the regional flight) and staying in a suite at the Park Hyatt there.
On the surface it may seem strange to fly to India for just four nights on leisure, as well as to choose to travel to Chennai as a tourist. But it made sense to me for several reasons.
I have way too many miles. With large balances in both US Airways Dividend Miles and American AAdvantage, my points stash will become even more concentrated. Despite three international first class award trips in 2013, I end the year with more points than I began. So my willingness – and even eagerness – to spend points is high.
Though I've been to India, I've never visited Southern India. Chennai is the third largest city in the country and would be new to me. I didn't suspect I wanted to stay there long, just get a feel for the city. I don't claim to 'understand' a place after just a few days, but I have far better context having seen it than not. And I'm interested in Southern Indian food.
I had a few days where it would be convenient to spend abroad – not enough to do multiple destinations, or several flights, but enough for efficient connections and a single city.
Award space on Etihad, for which I can use American Airlines miles, is really really good (especially when booked far in advance, and especially from my home airport of Washington Dulles – but also last minute and from other gateways like New York JFK and soon-to-be Los Angeles and Dallas though less good in Chicago and Toronto markets which don't have first class).
The Chennai property is the cheapest Park Hyatt in the world. Room rates when I booked were under US$100 per night. Their spa runs about US$40 per treatment hour.
All in all it seemed a reasonable way to spend six days, two days in transit and four on the ground.
Booking a few months out, I wasn't sure I wanted to make this trip but it would be fully cancellable. Airline schedules lined up perfectly. And I could confirm a suite at booking at the Park Hyatt. Overall it looked like it would make a great, albeit short, trip.
To find award availability I used the KVS Tool, but what it does it search the Etihad website for space. American AAdvantage has access to the exact same space that Etihad offers to its own members, or at least there's only been one time where I couldn't find a match between the two and that's about a year ago for first class on an Abu Dhabi – London segment and I think that had to do with aircraft swaps and American not seeing that the aircraft had three classes of service (American saw business class available on the flight).
Then, of course, since American doesn't show Etihad award space online I had to call, for which there's no booking fee as an Executive Platinum.
Since I would be making a simple roundtrip, I was permitted to use Washington Dulles as a stopover on the return portion of my trip (American permits stopovers on one-way partner awards only at the 'North American gateway city', the city where you first arrive at or depart from in North America) and add an additional first class award flight for use later which of course permits free date changes.
One nice feature of Etihad first (and business!) class is that they offer free car service on departure and arrival. Reserving this is even a feature on the front page of the Etihad website.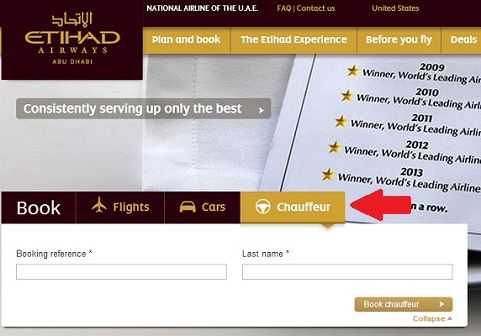 I set up an airport pickup from home in DC. Though I was entitled to it on arrival in Chennai, I preferred to have the Park Hyatt handle my pickup (which was also free for a suite guest) since they would know I was coming and be prepared for a seamless arrival, in fact to escort me straight up to the suite and handle paperwork there, something that as a no cost option was desirable after ~ 24 hours of flying.
Locally car service is provided by Empire CLS who rang to confirm my Sunday evening pickup on Friday morning. The driver tuned up 17 min early. And I was shortly on my way…
---
You can join the 30,000+ people who see these deals and analysis every day — sign up to
(just one e-mail per day) or subscribe to
free
Don't miss out!