I choked a little at first — Hyatt is changing their award chart, too? They're the program that has resisted award chart inflation while all of the other programs substantially devalued over the past year.
I've long said that the best values never stay quite as valuable over time, so enjoy them while they're around. It doesn't surprise me that Hyatt is making changes. And for most people the changes aren't all that bad — they seemed a whole lot less bad than I thought at first once I was able to stick the changes into spreadsheets and dig into them.
But here are the top-line key changes:

27 hotels go up in category, 17 hotels go down in category

The price of category 5 hotel standard rooms go up 11%, the price of category 6 hotel standard rooms go up 14%

Six hotels go into a new category 7 which is 36% more expensive than their previous category 6… only three and a half years after category 6 was introduced as the new highest tier.

Upgraded rooms — club rooms and suites on award nights, and also on paid stays — get more expensive almost across the board (everything except category 1 club and suite award redemptions).
Here are the Changes to the Free Night Award Charts
Here's the current award chart — for standard room award nights, club rooms, and for suites:
Here's the new award chart for reservations made January 7 and beyond:
Here's how the new award chart compares to the old one:
The price of a standard room in categories 1-4 doesn't go up at all. Category 5 goes up 11%. Category 6 goes up 14%. The big increase is in the creation of a new category 7, it currently affects only six hotels but those hotels are going to be 36% more expensive than before.
Using points for free nights in club rooms goes up the most. In each category those have the biggest percentage increase.
Suites are more expensive as well. They do, however, continue to compare favorably to other chains — Starwood is second-best for securing free nights in suites with points, and they charge double the cost of a standard room. Hyatt has gone from charging in most cases 50% more to charging in most cases 60% more than a standard room for a suite. That's a bump, but one that still leaves Hyatt as the best program for free nights in suites.
Which Hotel Awards Are Getting More Expensive, And Which Will Be Cheaper?
Here are the 17 hotels that are going down in category.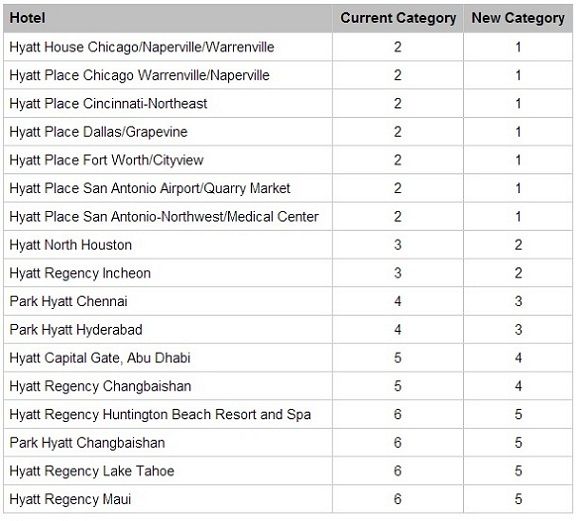 Here are the 21 hotels that are going up within the current 6 redemption categories.
And here are the six hotels most affected by these changes, the ones that will be going up into the new category 7:

I'm told that the Park Hyatt New York will be category 7 when it opens next year.
I'm a little bit surprised to see the Park Hyatt Tokyo going up, rates are often lower than in Zurich and Paris and I would have thought comparable to the Maldives which remains in category 6.
Most hotels in the Hyatt Gold Passport redemption portfolio will not get more expensive. I can live with the modest increases in categories 5 and 6. It's the six properties — literally just six — that are going into category 7 that bother me the most.
It's only six properties now, but eventually more will likely creep into the new category 7.

The strongest value proposition for Hyatt Gold Passport has been that no hotel cost more than 22,000 points a night to redeem for — the Park Hyatts in Paris, Sydney, and Zurich didn't cost more points than the Grand Hyatt New York. That's no longer true.

Suite awards become tougher to swallow now for me in this category 7. At 33,000 points per night I could afford to redeem a suite at the Park Hyatt Paris if one was available. At 48,000 points a night (remember, 3 night minimum) I can afford that a whole lot less — that's an extra 45,000 points on a 3 night stay.
Upgrades on Paid Stays Are Getting More Expensive, Too
My favorite use of points is for upgrades on paid stays. Booking a Hyatt Daily Rate is enough to be able to use 6000 points to confirm a suite. That hasn't been 6000 points per night. It's been 6000 points for a whole stay up to 4 nights. (Resorts require a slightly higher rate, such as for a partial ocean view.)
But that offered such disproportionate value, that the next-best progam for suite upgrades on paid stays — Starwood– charged orders of magnitude more points. Upgrading a four night stay at the Park Hyatt Tokyo could be done at booking from the daily rate for 6000 points total. Upgrading a four night stay at the Westin Tokyo could be done five days in advance of check-in from a similar rate for 80,000 Starpoints.
That was too good to be sustainable, and indeed it turned out not to be.
Hyatt is increasing the cost of upgrades by charging the same price for a single night that used to be good for a stay of one to four nights.
Upgrades to a club room go up from 3000 points for 1-4 nights to 3000 points per night

Upgrades to a suite go up from 6000 points for 1-4 nights to 6000 points per night
It's not really a quadrupling, most upgrades are confirmed for 2 nights or 3 nights. So it's a double or a tripling for those stays.
Upgrades to a suite are still a great value in the program, and cheaper than offered by competitors. They aren't "almost free" under the new rules the way I used to internalize them, where I would do confirmed suites without thinking. Now I'll have to consider how badly I want the suite on a given eligible stay.
How to Take Advantage of the Current Award Prices for Your Future Stays
You can book future stays up through January 6th at the 'old' (current) rates. And it's not even like you're going to be locked in, most award nights are cancellable with fairly generous terms.
What's more, Hyatt is going to even let you make a booking by January 6 for a future stay and make changes to that booking through February 15 without requiring a reprice. They will even let you add or remove nights from your reservation, so if you book a 2 night stay on January 6 you can make it a 3 night stay on February 10 at the old rates.
That's actually super-generous. We've got two months' notice, can get in a speculative booking, and as plans firm over the following month can still adjust without paying more points per night. I have to give Hyatt credit for this.
The only exception to the ability to modify an award between January 7 and February 15 without a reprise is awards booked using the annual free night from the Hyatt Visa. That's valid on category 1-4 properties, and if you booked one of the (4) hotels going up from category 4 to category 5 (Andaz West Hollywood, Hyatt Chicago Magnificent Mile, Hyatt Place Hyatt Place New York/Midtown South, or Park Hyatt Melbourne) you won't be able to change the dates on the stay after the new chart goes into effect.
Hyatt is also going to — on its own — give back points for stays booked prior to January 7 where the hotel is going down in category. Folks won't have to do anything to get their points back.
Most Gold Passport Members Will Barely Notice the Difference But I Hate These Changes
I save up my points for the Park Hyatt Paris and similar hotels. I certainly have envisioned redeeming for the Park Hyatt Sydney on my next visit there. And the Park Hyatt Tokyo is just such a special hotel. I see points as a way of accessing the sorts of travel that I couldn't otherwise afford, and hitting the pricing of those properties in particular means it hurts me more than the median member.
Ultimately 27 properties go up in category, 17 go down, award chart prices stay the same for four categories and bump up for two existing categories relatively modestly. This isn't anything like the Hilton bloodbath. It's a blip for the median member. But they hit me where it hurts.
I don't redeem for the Park Hyatt Paris every day of course, in fact I've only spent my points there once. I've redeemed for the Park Hyatt Hadahaa in the Maldives more than once, and surprisingly that one doesn't get more expensive.
But what I do on a regular basis — in fact pretty much whenever I'm booking a Hyatt Daily Rate rather than a discounted rate — is use points to upgrade to a suite because that was so darned cheap, it was such a fantastic value. That will get pricier for me.
Still — and even though there aren't as lucrative promotions from Hyatt as there used to be (there's no more 'Faster Free Nights' but no one has promotions that are obviously better than Hyatt's) and they don't throw points at us with property-specific promotions the way that they used to (the economy is much better, after all) — even after these changes Hyatt offers the best access to suites of any major program (both through points redemption and confirmed upgrades for Diamonds), they offer the best breakfast benefit for elites of any major program, and they offer solid earning for hotel spend (better than Starwood, which is my only realistic alternative for top end hotels and reasonable access to suites on a consistent basis).
So while I don't like to see award chart increases, this won't change my loyalty plans. But it doesn't mean I have to like it.
There's Good News Coming
I've spent a good bit of time chasing this down, sorry for posting so late at night. What I've got is that this isn't the end of the changes, but that the bad news comes first and that we can expect some improvements to follow in short order; that the award chart changes stand on their own and the genuine thing to do is not try to hide them behind token good news. So we'll have to wait a short bit so that the positives can stand on their own too. All I can say is they'd better be good!
---