Hyatt's biggest challenge is scale. They have 10% the footprint of Marriott, which makes it hard for guests to stay loyal. Their coverage doesn't meet all guests' needs, and it's often necessary to stay at a less convenient property in order to stick with Hyatt. As a result the program needs to work harder — give guests a reason to go out of their way — to be loyal Hyatt customers.
While I believe their top elite tier is the most rewarding for those who can make Hyatt's 600 hotels work for them, the level below Globalist isn't competitive with Marriott or even Hilton's mid-tier. Hyatt's limited-service properties don't offer meaningful elite benefits. And the credit card isn't the fastest way to accumulate Hyatt points, and doesn't provide benefits for those chasing top status.
These are the major challenges faced by the chain. They're announcing changes at Hyatt Place which largely do not address these challenges.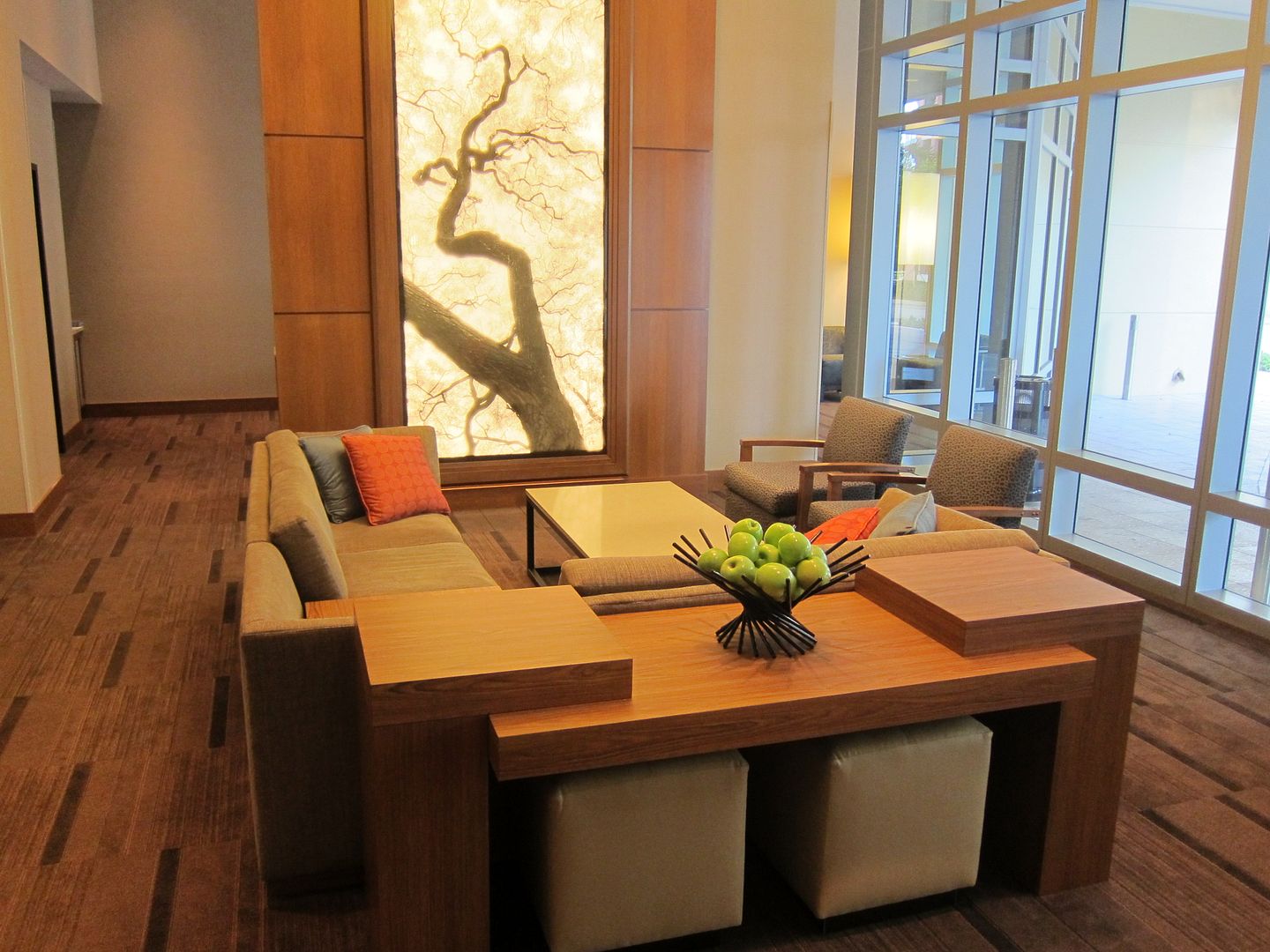 Hyatt Place Lobby
Hyatt Place Free Breakfast Will Require World of Hyatt Membership
Three months ago I broke news that Hyatt Place was testing charging for breakfast at a limited number of properties. Top elites still received breakfast via coupon during the test.
Now we know more about what they're doing with the idea going forward. Hyatt Place breakfast becomes a loyalty program signup play, and also a book direct play. Program members who don't book direct (e.g. book at Expedia or other online travel agency) won't be entitled to breakfast — giving Hyatt Place customers a stronger reason to book direct.
For reservations booked November 1 onward Hyatt Place breakfast will only be free for World of Hyatt members, including those who sign up at check-in. Anyone staying in the same guestroom as a registered program member qualifies for breakfast.

Hyatt Place Breakfast
They Also Promise Changes to Breakfast
Hyatt Place keeps changing breakfast. They were known for their breakfast sandwiches that were a lot like Egg McMuffins, but got rid of those in favor of 'make your own breakfast bowls'. The breakfast sandwiches weren't super healthy, but they were tasty.
Now they promise to add regional items that provide a sense of place, such as "in the southern U.S. [Hyatt Place breakfast] may feature biscuits and gravy or Hyatt Place hotels in the west/Pacific Northwest may feature avocado toast."

Hyatt Place Breakfast
Explorist Members Will Get Early Check-in at Hyatt Place
Top tier elites (Globalists) get early check-in — subject to availability and starting at 9 a.m. — at all Hyatt brands except for Hyatt Residence Club resorts, Oasis Homes, and M Life Rewards destinations (which aren't Hyatt properties, but Hyatt has an alliance with MGM).
Hyatt will be extending early check-in "based on market and occupancy" to Explorist members staying at Hyatt Place hotels starting in early 2019.

Hyatt Place Bathroom
New Build Hyatt Places Will Offer Keyless Starting Next Year
New Hyatt Place properties are nice. Legacy AmeriSuites properties are awful, with sinks in the room and a separate room for toilets and showers. Rooms are smaller and may have window unit air conditioning systems.
The newest Hyatt Place properties "will be mobile-entry capable..coming in 2019." Improvements to new build hotels are great, but the older hotels desperately need capital investment.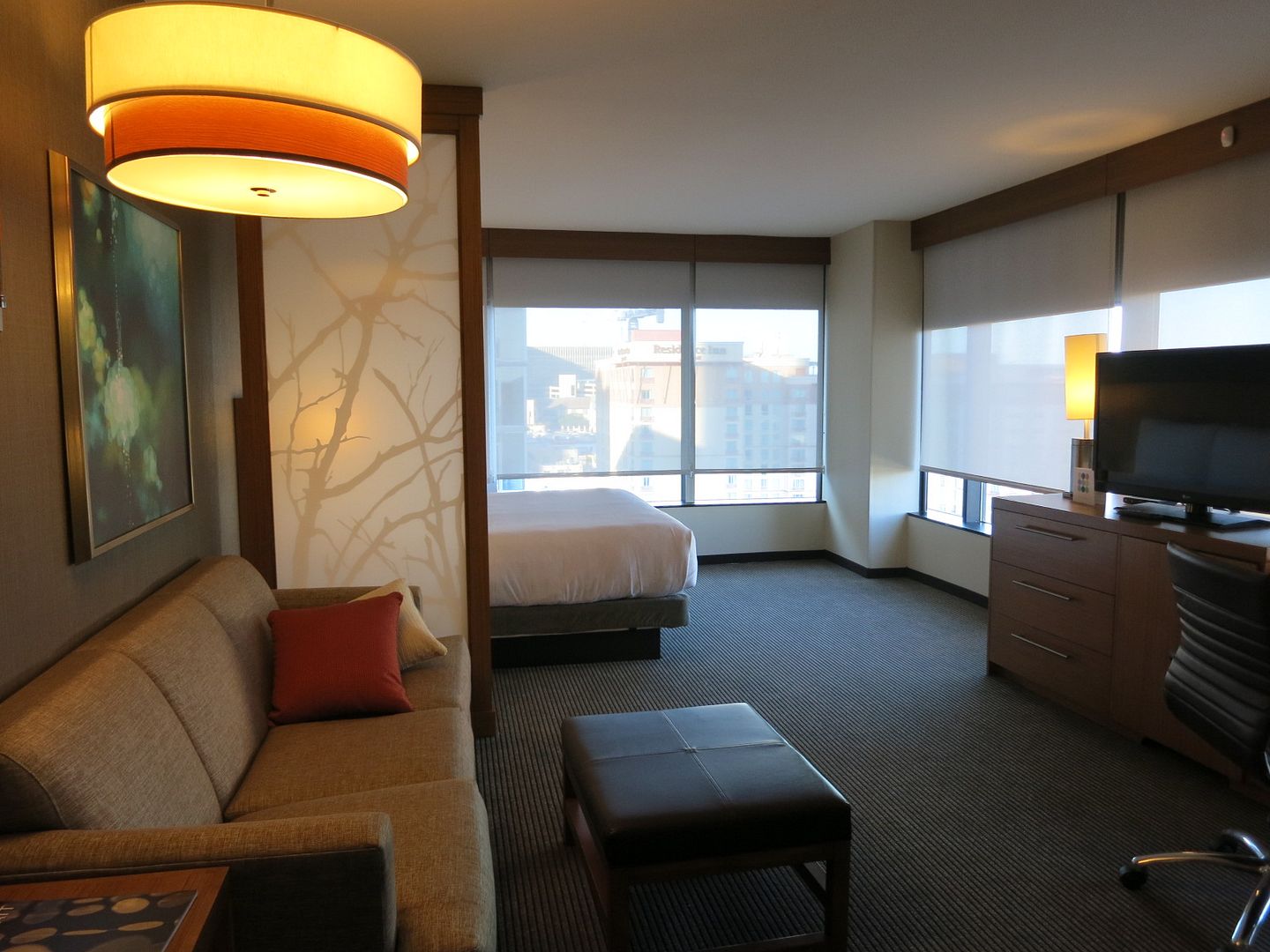 Hyatt Place Guestroom
Continuing to Integrate Exhale Lifestyle Brand into Hyatt
Hyatt Place properties are going to offer "more space to enable activities like yoga and stretching" in their fitness rooms. Exhale spas will "extend preferred privileges and rates" to Hyatt members late in 2018. And Hyatt will be adding "fitness and mindfulness program[..]" videos into its mobile app.
They're going to need to do a lot more than that if they believe acquiring Exhale spas is going to create a halo over Hyatt properties so that people stay – and are willing to pay a revenue premium to stay – at Hyatt hotels as a destination for being a better person. I remain skeptical of the play, but it's an early step and one we'll have to continue to watch.
This Isn't About Members, It's About Booking Channels
Early check-in at Hyatt Place for Explorist members subject to availability so you can't count on it is a modest benefit, but doesn't address the lack of overall benefits (or the lack of benefits for a top tier elite ) at limited service properties.
As a Globalist member staying at Hyatt Place — where breakfast is already included, where I cannot use suite upgrades, where there's no club lounge and there's no longer a check-in amenity — my benefit is a bottle of water.
In the future Hyatt will market Hyatt Place breakfast as a benefit of program membership but they're getting there by taking it away from non-members and making it a tool for program signups.
Hyatt told themselves World of Hyatt program changes were working because more people were signing up for the program — nevermind that the program changes were about elite levels, not general memberships, and they were pushing discounted rates for members. Give discounts and breakfast for people to sign up, they'll sign up, but that tells you nothing about whether the program is working to keep members staying.