Shortly after Hyatt annoucned the devaluation of some of their top end awards, they also announced new features of the program.
Today cash and points awards went into effect.
Here's the cash and points award chart — you pay half the usual number of points and a cash co-pay.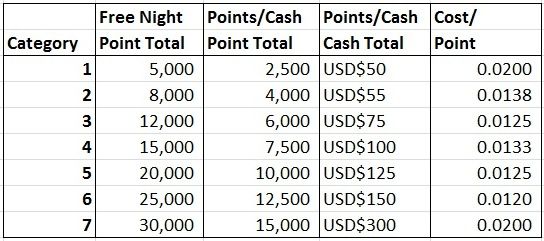 I've included with the chart the price at which you are 'buying' the difference in points. For categories 2 through 6 this is an exceptional value, and one I would take advantage of every time compared to spending points for the room (although there will be times when paid rates are low enough that spending any points at all, even cash and points, won't make sense).
Even at two cents a point this is a discount relative to what Hyatt suually sells points for, but higher than what i like to acquire them at. At below 1.5 cents this is a no-brainer to me.
There are some real advantages to these awards, in addition to stretching your points:
These awards earn Gold Passport points on the cash component of the cash and points award. So spend $50, earn 250 points plus elite bonus. In effect, the points price of the award is reduced even further.
Diamond members can upgrade these awards using confirmed suite upgrades (they get 4 per year each valid for up to 7 nights).
They count towards elite status.
And they count towards earning bonus points from promotions.
Regular free room night awards are available whenever a standard room is open at a hotel, with no capacity controls.
Cash and points award nights are capacity controlled. They are available only for standard rooms. Hotels determine when they want to offer them. So the worry has been that they wouldn't see the revenue as lucrative enough to offer except on the slowest of nights. So far, and anecdotally, it seems that availability is actually quite good (at least not on nights that are close to sell outs, and when there are standard rooms available for sale).
Cash and points awards like standard award nights, are cancellable. They can only be booked by phone (so if you're interested, you'll have to call to find out if there's availability).
Hyatt Gold Passport will deduct the points component at time of booking, and you'll pay the cash co-pay directly to the hotel. If I had to guess, the cash co-pay is effectively the hotel's reimbursement for the award night.
Category 2 through 6 cash and points awards are a great value and so far this looks like a great addition to the Gold Pasport program.
---