IHG Rewards Free Night Promo: Here's how it works and why you'll want to play
Earlier in the week I wrote that IHG Rewards – the loyalty program for Intercontinental, Crowne Plaza, Holiday Inn, and related brands – would be bringing back their fun, complicated, and rewarding "Big Win" promotion for the fall under a new name.
IHG's Into the Nights Promotion turns out to be easier and more rewarding than past versions. Registration is required and the promotion period runs through the end of the year.
Different members get different offers. Generally unengaged, irregular guests with the chain get easy offers and regular guests get tougher offers. (Members opening a new account seem to get the easiest offers.)

I haven't been an IHG regular in quite some time so here's what I received: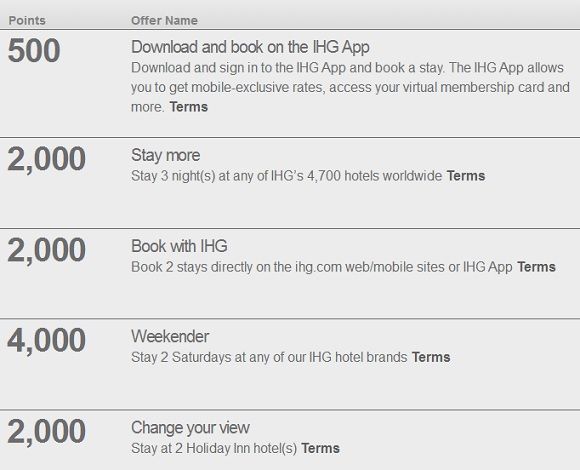 Bottom-line: If I download and use the IHG app to make at least one of my reservations, and book 3 nights over two stays — each of which includes a Saturday night — at Holiday Inn properties then I will earn my choice of:
60,500 points, or

2 free nights at any IHG participating properties and 10,500 points.
In general I value points more than free nights, since the former won't expire. But the free nights offer here is super generous. Three paid inexpensive nights generating 2 free nights at any hotel plus bonus points on top of the normal points earned is probably the third most generous hotel promotion I've ever seen.
IHG confirmed for me that these free nights work just list their co-brand credit card's annual free night: usable at any participating IHG property (as long as reward nights are available) and expire after 12 months.
Beating this would only be —
Hyatt's Faster Free Nights (two stays earned a free night at any Hyatt in the world when paying by MasterCard) back when Priceline stays counted and even the free nights themselves counted, as long as something was charged to the room – like a single phone call. But that was a decade ago…

Hyatt's 'Next Big Thing' where every two stays at a cheap Hyatt earned a free night at any Hyatt plus 13,500 United miles and other bonuses plus double elite night credit stacked. (There may even have been a cheap airport hotel I knew of which credited phantom stays..) But that was five years ago…
It seems like everyone in the family could sign up for this promotion, whether they have existing non-frequent IHG stay accounts or need to open an account for the first time. Then find a couple of cheap Holiday Inns to check into on Saturday nights.
Spending say $300 should earn back points worth at least a third of that amount plus earn 2 nights at any Intercontinental. Do that for all members of the family and you potentially have pre-paid luxury Intercontinental nights (that will expire if unused) in expensive destinations at a cost of ~ $100 per night.
Last summer I wrote that this promotion bucks real industry trends by embracing gamification.
I expected this promotion to be good for folks already staying at IHG Rewards properties, and certainly not to make 'mattress runs' make any sense. But for many members the promotion turns out to be better than that. It's certainly worth directing incremental stays to the program, if you receive a good enough offer. And it may even be worth booking hotel nights you do not even need and will not use, depending on your situation, how much you'll value those free nights.
---