The indispensable The Flight Deal points to a LAN business class sale, $998 New York – Quito / Guayaquil, Ecuador.
Normal coach fares from New York to Ecuador runs about $600. They rarely go on sale. If you want to go to the Galapagos too, LAN's fares from Guayaquil is about $350 roundtrip. You can also redeem 7,500 British Airways Avios each way to Galapagos from Guayaquil. There is no premium class seats between Guayaquil and Galapagos or within Ecuador– only coach.
If you just want to go to the Galapagos, book the deal to Guayaquil. (New York – Guayaquil is non-stop, going to Quito involves flying to Guayaquil and connecting to a one-cabin domestic flight, and is the same price terminating in either city.)
The fare must be purchased by August 25 for travel between September 1 and the end of the year. Search LAN's website to find availability.
When you enter travel dates, LAN will give you an availability calendar with surrounding dates.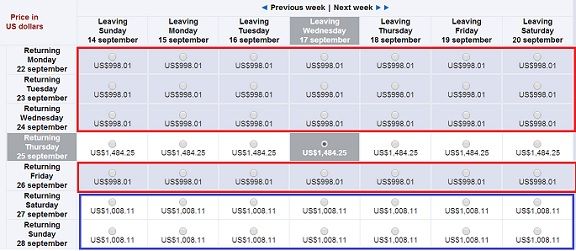 Select your dates from their grid, then select your flights. Business class really is less than $1000 all-in.
---