The 'new' PEOPLExpress airlines had a very bad operational day yesterday. They took to their Facebook page, with a message signed by their President:
Lots of customers appreciated this heartfelt and detailed explanation, although I'm not sure in his position I would have scolded customer behavior (it won't be taken well by the customers who behaved that way, and will be read mostly by customers who didn't — and is about the airline's needs rather than theirs — although perhaps it paints a sympathetic picture).
It seems like they handled things better than United does.
Although their non-Facebook communication probably wasn't as good, based on this Facebook comment:
While I am grateful for the explanation, I am still upset about the lack of knowledge from your airport checkin-in counter staff, not being able to get anyone on your toll free number (was on hold for 1 1/2 hours) and no timely notification (email or call) about these flights being cancelled or delayed. I didn't get an email regarding the cancellation until 3:50 PM and my flight was due to depart at 4:45 PM.

…Also, when I checked flypex.com, nothing was updated on the website regarding the cancellations or delays…
It's not just reserve crews they haven't figured out yet. They don't quite know how to coordinate with the rest of the required services at the airport yet, either.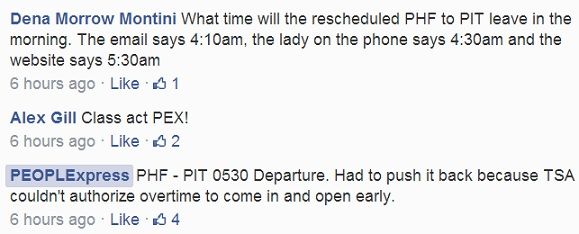 I'm a much bigger fan of flying airlines with ticketing agreements that allow them to put customers on other airline flights when mechanical or crew issues force significant delays or cancellations.
Or assuming that there's some chance such things will happen, taking a portfolio approach and self-insuring — if it happens one out of ten times, set aside a tenth the cost of buying a new ticket on another carrier.
Or, for the cost savings, recognize that there's a greater chance of not making it to your destination on the day you plan. There's a trade-off you need to accept to get the savings offered.
The reaction of customers overall suggests though that going to Facebook with this sort of message is appreciated by consumers starved for authentic communication. They'll give far more slack than is deserved, even, if they receive what feels like honest information. There's a lesson in there for other travel providers I'm sure… a lesson which won't be learned or followed.
---