This has been reported as a Skyteam sale out of fiercely-competitive Los Angeles to Vienna. (Not looking like a mistake, just a good old fashioned fare war.)
It turns out that there are similar fares out of other United hubs as well (at least Denver, Washington Dulles, Newark and Chicago O'Hare), and to other destinations.
I see Denver – Frankfurt, for instance, similarly priced. So is Los Angeles – Frankurt and Los Angeles – Munich. These are Star Alliance hub destinations, of course.
So it's worth looking at other cities (United hubs) to cities that aren't Skyteam hubs (i.e. places other than Paris, Amsterdam, but especially to cities like Vienna, Frankfurt, and Munich that are Star Alliance hubs).
Here's a calendar of July departures showing lowest price, Los Angeles – Vienna.
The Delta Mileage Run blog says that there are some dates and routes that will come up ~ $1700.
Here's a sample itinerary for Los Angeles – Vienna:
Here's a calendar for business class Denver – Frankfurt in July: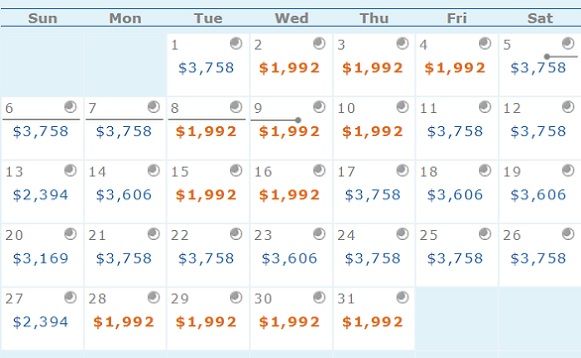 This one offers fewer routes and dates than Los Angeles – Vienna does, but again all Skyteam — and out of a United hub.
Now, I'm not taking advantage of this, it's too rich for me for Skyteam business class. But for folks who tend towards premium cabins and haven't booked their summer trips yet this could be just the ticket given how pricey economy fares can be during peak summer times.
---