An Australian man is suing American Airlines after being 'crushed' by large seatmates on a Los Angeles – Sydney flight.
The Wollongong man says he was forced to crouch, kneel, brace and stand throughout the lengthy flight, which also aggravated his existing condition of curvature of the spine.

…'The airline could have put me in a crew seat or moved people around but they did nothing.'
The man reportedly asked if he could spend the flight sitting in the lavatory but was told no.
As a result of the fact that American Airlines failed to reseat him or even offer a viable alternative, he suffered bodily injuries by contorting his body within the cramped space caused by the intrusion of the grossly obese passenger sitting next to him.
One strange element to the story is that he was apparently in a window seat yet claims to have been crushed by two large passengers. Perhaps the large passenger in the aisle encroached on the middle seat, causing the large passenger in the middle to spill over even more into the window.
Sitting next to a large passenger may not be pleasant, but it's a known hazard of economy flying.
My sympathy for an airline with 10-abreast seating in coach on a Boeing 777 isn't particularly strong. And indeed while this configuration is common (see for instance Emirates, Air France) it's also tighter than traditionally offered.
A judgment for the plaintiff could be endorsing larger economy seats. But that takes up more space on the plane – fewer people on the plane — and thus more expensive tickets for everyone which is the opposite of what people in general have a demonstrated preference for.
You may like this result but consider that it's a wealth transfer from less well off travelers to more well off one. And you can consider buying premium economy.
An alternative is Southwest's policy of making passengers of size purchase two seats — and then have one seat refunded to them if the flight isn't full. Southwest therefore tries to accommodate them with enough space for free if they can, but on a full flight the passenger has to pay for enough space so as not to encroach on the space of others. This policy draws substantial fire quite regularly.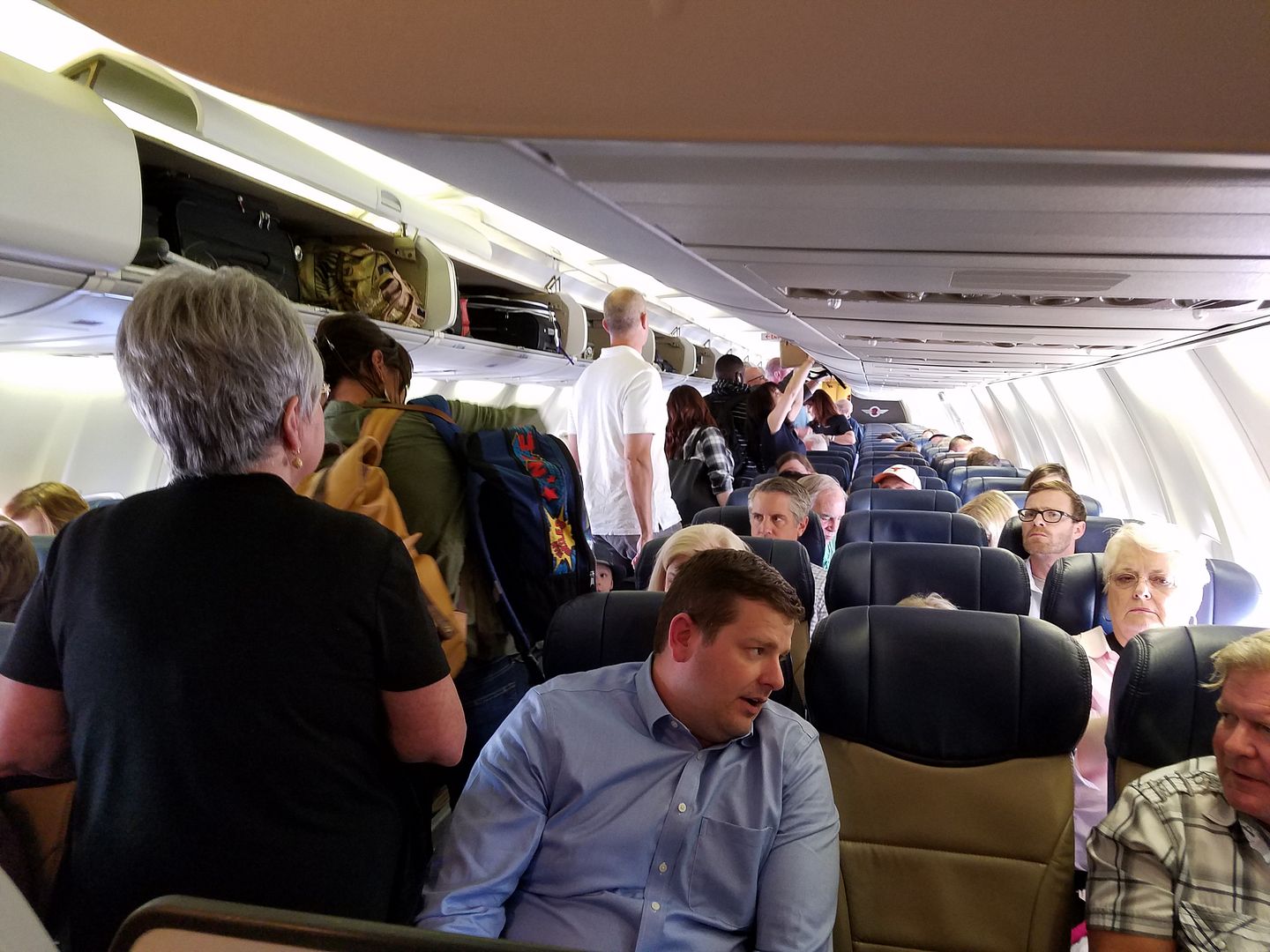 Southwest Airlines Economy
Kevin Smith made headlines in 2010 over Southwest Airlines' customer of size policy, vowing never to fly the airline again. He flew them again in 2011 and had another altercation over the policy.
It sucks to have to sit next to someone who limits your space. It's not comfortable for them either. It's tough to say they ought to spend more money to travel, but the scarce resource on a plane is space and it doesn't seem unfair for each person to pay for the space they occupy.
Not everything that's uncomfortable ought to be actionable, and it's not obvious that the airline did anything improper here. But people love to hate airlines so any suit that survives summary judgment is a risk to the carrier. It's hard to imagine it's worth actually suing for just $100,000 though.
Sometimes unfortunate situations occur, being uncomfortable on a long flight is one of those. If real injury occurred that's doubly unfortunate, although "aggravated his existing condition of curvature of the spine" is going to be pretty hard to demonstrate.
The claim is being made under the Montreal Convention for accidents but being seated next to a large passenger is quite common.
(HT: Alan H.)