Marriott's deal to acquire Starwood has closed. And they're seriously ahead of the curve with member benefits.
They are ready to let members link Starwood and Marriott Rewards accounts. This is a huge benefit to the loyalty program from a data-matching standpoint, it will help them eventually move to a single loyalty program. But there are two big benefits to members for doing it.
They will status match you. If you have Marriott status, they'll give you equivalent Starwood status so that you will receive elite treatment staying at Starwood hotel properties, and vice versa.
They will let you move points between Marriott and Starwood accounts at a ratio of 3 Marriott points to 1 Starwood point. So if you want to use Marriott points for Starwood hotel stays you can, and if you want to use Starwood points for Marriott hotel stays you can.

You can also use Marriott points, transferred to Starwood, to then transfer points to one of Starwood's many airline partners (with the usual bonus of 5000 miles when you transfer points to 20,000 miles).
Members can link their accounts, in order to match status and transfer points, just go to members.marriott.com.

St. Regis Bangkok
On Thursday I spoke with Thom Kozik who runs Marriott Rewards and with David Flueck the new head of Starwood Preferred Guest who had been running Global Revenue Management at Starwood. Though I don't recall this, David mentioned meeting me up in White Plains when Starwood rolled out their new elite program benefits in January 2012. I took that as intended to signal continuity with the program.
No program has ever set up a mechanism to link accounts this quickly. Delta and Northwest did it, and America West and US Airways did it, but some time into their merger. They got all of the work done before the deal closed, and were ready to pull the trigger.
Link Your Accounts Now – There's No Reason to Wait
The data matching does help the programs do their job, and Northwest and Delta offered miles to customers for linking their accounts. Flueck said they considered incentives, but their objective here is member benefit and that the status match, points transfer, and access to properties across both chains' portfolios provided a compelling reason to do it. He assured that members won't lose out if they link their accounts right away, they're "not going to come up with something richer down the road."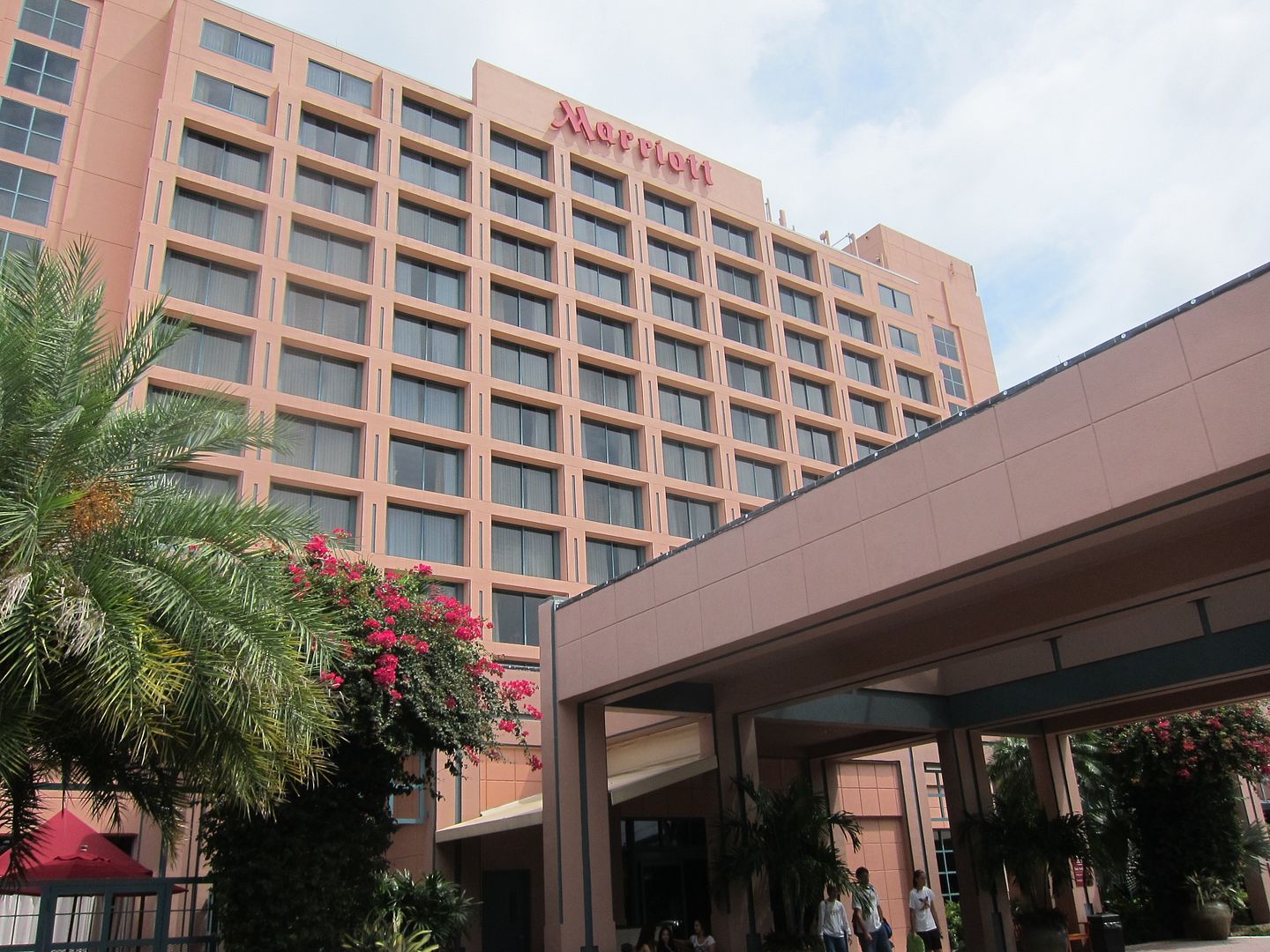 Marriott Boca Raton
How the Status Match Works
The status match means getting equivalent status in one chain based on what you have with the other. This isn't yet letting you earn Marriott elite nights for stays at Starwood hotels, or Starwood elite nights for stays at Marriott hotels. The nights you have in your Starwood and Marriott accounts don't pool together to help you earn a higher status tier at this point.
Here's how Marriott's and Starwood's tiers line up for the match:
Marriott Rewards Platinum = SPG Platinum (base)

Marriott Rewards Gold = SPG Gold

Marriott Rewards Silver = SPG Preferred Plus

Marriott Rewards Basic = SPG Preferred
There's a lot embedded here. A Marriott Platinum becomes a Starwood Platinum, but the equivalent of a 25 stay (not 50 night) Platinum. That means Marriott Platinums don't get Starwood Suite Night awards (or alternative benefit choice). They don't get "Your24" 24 hour check-in, even though it takes 75 nights to make Marriott Platinum and that's a Starwood 75 night benefit. And they don't earn the extra Starpoint per dollar that 75 night Starwood Platinums do.
However Starwood Golds getting Marriott Gold is fantastic. While both levels offer 4pm late checkout, Starwood Golds aren't normally entitled to club lounge access or breakfast but they'll receive these benefits when staying with Marriott (at brands where those are offered).

Breakfast at the St. Regis Bali
You Can Use Your Points in Either Program, Moving Them Back and Forth
The ability to move points back and forth between accounts at will is a huge benefit. It lets members redeem points at either chain's properties. It lets members redeem for Marriott travel packages with Starwood points, and for Starwood Nights and Flights awards with Marriott points. It lets Marriott members transfer to more airline partners like Japan Airlines and Aegean.
And I think they've chosen the right ratio. At 2:1, Starwood members would have been very unhappy 4:1 would have been too generous. A single Starpoint is worth somewhere around 3 times as much as a Marriott point. Consistent with how I value point, a Marriott point is worth about 7/10ths – 8/10ths of a cent and a Starwood point is worth a little over 2 cents (2.2 – 2.4). They took the baby bear approach, 3:1 is just right.
Thom Kozick said told me he 'wished he could say it was because it was the number I threw out' when I met with him and Marriott CEO Arne Sorenson in March but they "did lots of analysis of stay patterns, property distribution, 3:1 is the right number" for them.
Transfers won't be instant, but they'll happen over the course of a few hours.
Still Many Questions Left to Answer
The deal has just closed and there's a lot of work to do. Most of that work will happen with hotel employees, owners, corporate employees, and any number of other projects. But for customers there's little as important as what the loyalty program is doing so it's great they've got something positive to offer on day one.

SkyCity Marriott, Hong Kong
We don't know what co-brand credit card relationships will look like in the future. But Marriott has told us what we already knew — that a Starpoint is worth more than a Marriott point. Even someone who wants Marriott points ought to earn using a Starwood American Express, and transfer points over, for spend that's unbonused. They'll earn 3 times as fast, since each card earns 1 point per dollar for unbonused spend and Starwood points transfer 3:1 to Marriott. This tells me that in the future any Marriott card will have to have stronger earning.
And we don't know how Starwood lifetime elite status will be honored in the program, but they've told us that Starwood Gold is equivalent to Marriott Gold, which gives Starwood's lifetime Golds hope that their status will be honored with lifetime Marriott Gold — which will be an upgrade.
Marriott hasn't said whether they'll add suite upgrade benefits to Marriott Platinum, though I suspect they will.
It's also not clear when we can expect these questions to be answered. Kozik emphasized that this "is the beginning of a journey" there's a lot of work to do to get to a single loyalty program and though they've talked about 2018 he wasn't willing to reconfirm that at this point, he just suggested that as they work to get it right they'll communicate their progress.
On the one hand, it's impressive they're ready with the technology on day 1 to link accounts, that shows the IT work is well underway. On the other hand, closing is happening later than anticipated thanks to extended regulatory review, an 18 month project starting now wouldn't be ready to combine programs for the start of the 2018 program year. There's too much to do to more than project right now.