The FAA reauthorization bill being considered by Congress includes a provision requiring the FAA to set minimum seat size regulations.
The regulation of seat width and legroom is part of a five-year extension of federal aviation programs announced early Saturday by Republican and Democratic leaders of the House and Senate committees that oversee the nation's air travel.

Congress faces a Sept. 30 deadline to keep FAA programs running. The Senate will also need to take up the bill this week or both chambers will need to pass a short-term extension.
Politicians are claiming this is going to be a boon for travelers. Florida Democrat Senator Bill Nelson declares "Relief could soon be on the way for weary airline passengers facing smaller and smaller seats." Nothing could be further from the truth. These regulations will either do nothing, or they'll help protect the major US airlines from low cost carrier competition. They won't help travelers.
Seat Pitch (Legroom) Regulation is an Attack on Low Cost Carriers, Will Help Majors Raise Fares
The standard amount of distance between seats in the U.S. has been 31 inches for many years. That's the distance from seat back to seat back or 'pitch'. Over the last few years the major airlines excluding Southwest have moved towards offering at least some seats at 30 inches.
American Airlines considered 29 inches for some seats but faced push back. They kept the same number of seats by reducing how many extra legroom 'Main Cabin Extra' seats they offer.
And claimed that 30 inches is as good as 31 because they're using uncomfortable seats with less padding to ensure you keep the same amount of room.

American Airlines Boeing 737 MAX Economy
As much as I don't like 30 inch pitch, it's worth noting that this is the amount of legroom offered by British Airways and Lufthansa in business class on intra-European flights. And it's hardly the least amount of legroom offered by airlines in the United States.

British Airways Club Europe
Spirit Airlines and Frontier offer as little as 28 inches of pitch, the distance from seat back to seat back. They also offer seats with greater legroom at additional charge. These airlines are also the primary driver of lower fares.
One of two things will happen,
Any final seat pitch regulation will set standards tighter than what Spirit and Frontier offer today, so they will have no effect on the US market.
Regulation will require greater pitch than what Spirit and Frontier offer, limiting their ability to compete as effectively with the major airlines and to drop fares as low as they are today. This will benefit Delta, American, and United and will mean higher fares.
Seat Width Regulation Will Preserve the Status Quo
Seat width regulation isn't likely to change anything for travelers either. Boeing 737s have offered three seats on either side of the aisle for decades. Seat width on these narrowbodies that squeezes slightly under 17 inches isn't going to change.
Where things have gotten worse is on widebodies. Moving from 9 seats abreast on a Boeing 777 to 10 abreast as American and United have done means narrower seats, though still over 16 inches. (Delta remains at 9 seats on their 777s.)

United Boeing 777-300ER Economy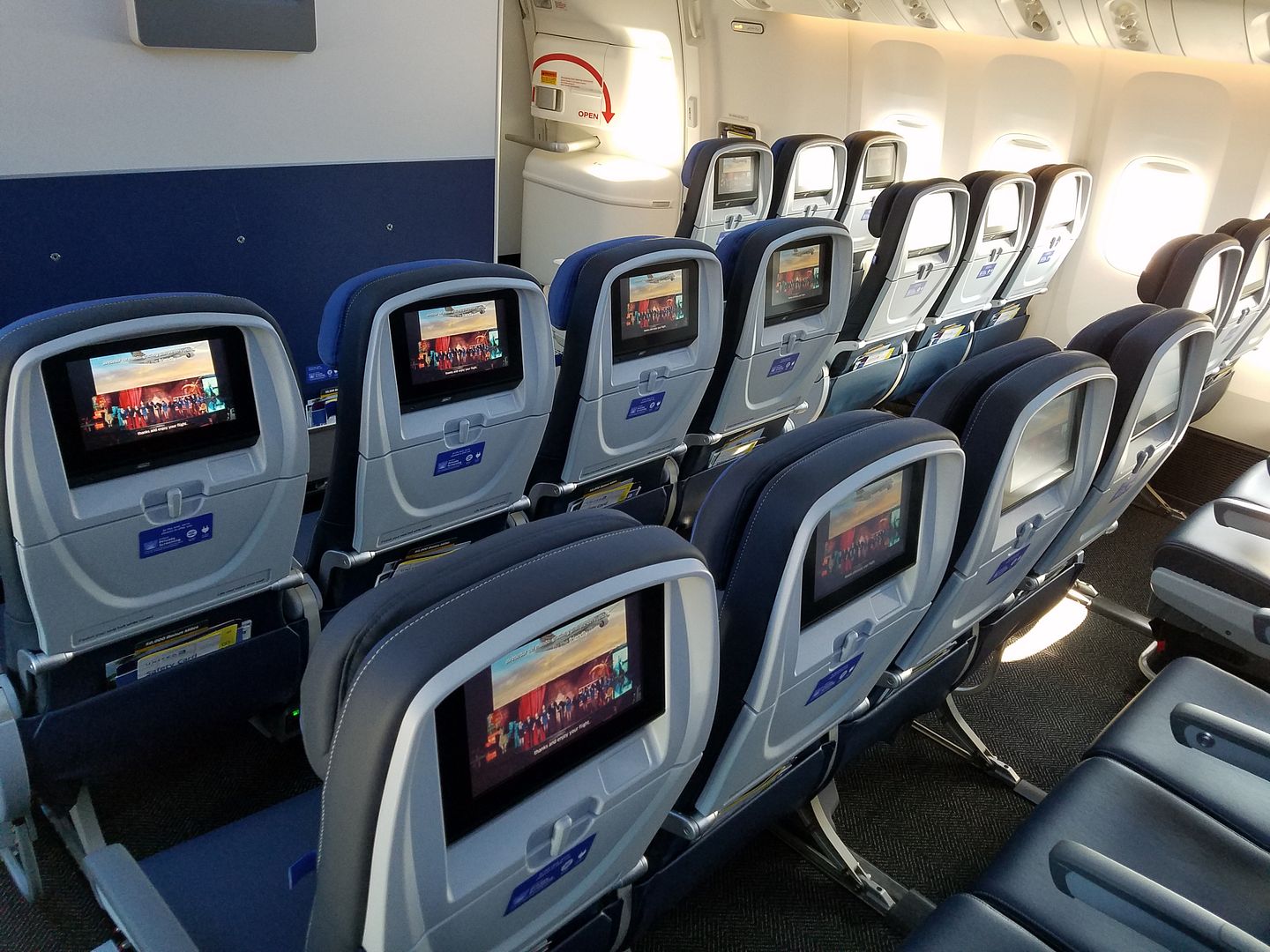 United Airlines Economy
However this has become a world standard. 10-abreast 777s is the same configuration offered by Air France and Emirates and many other major airlines in the world. That practice isn't going to be overturned by regulation least of which by regulations issued by a Republican Department of Transportation.
Ultimately seat size regulation in the U.S. will be meaningless or it will turn into a tool to limit low cost carrier competition to the benefit of the major airlines.
Wishing for a better passenger experience you don't have to pay more for doesn't make it so. And expecting politicians to do more than grandstand, and for a legislative and regulatory process that won't tilt towards those with the best lobbyists, isn't how the world works.