American Express Platinum may have lost access to American and US Airways lounges a few weeks ago and will be losing guest privileges at Delta lounges May 1, but there's a growing network of lounges that the card does get access to.
This month Citibank will give American club lounge day passes to Amex Platinum cardholders.
Increasingly though you don't need to belong to one airline's club network in order to have lounge access.
United's clubs are off-limits to credit card holders of a bank other than Chase with a lounge access product. And American's and US Airways' lounges have been withdrawn from the Priority Pass program.
But there are independent pay-in lounges, there are lounges operated by banks, and there are lounge networks like Priority Pass (and sister program Lounge Club).
In fact, The Club locations are owned by the same company (Collinson Group) that owns Priority Pass.
The New Independent Club at the Phoenix Airport
They have a new location at the Phoenix airport that opened this past Wednesday, perfect considering that Priority Pass and American Express Platinum have lost US Airways lounge access.
The pay-in price is $35, and includes alcoholic beverages.
Other "The Club" locations are in Dallas, San Jose, Atlanta, and Las Vegas as well. (There are currently $5 off coupons for access to the Las Vegas and San Jose lounges.)
Fly and Dine posted a copy of the food and drink offerings. Click to enlarge: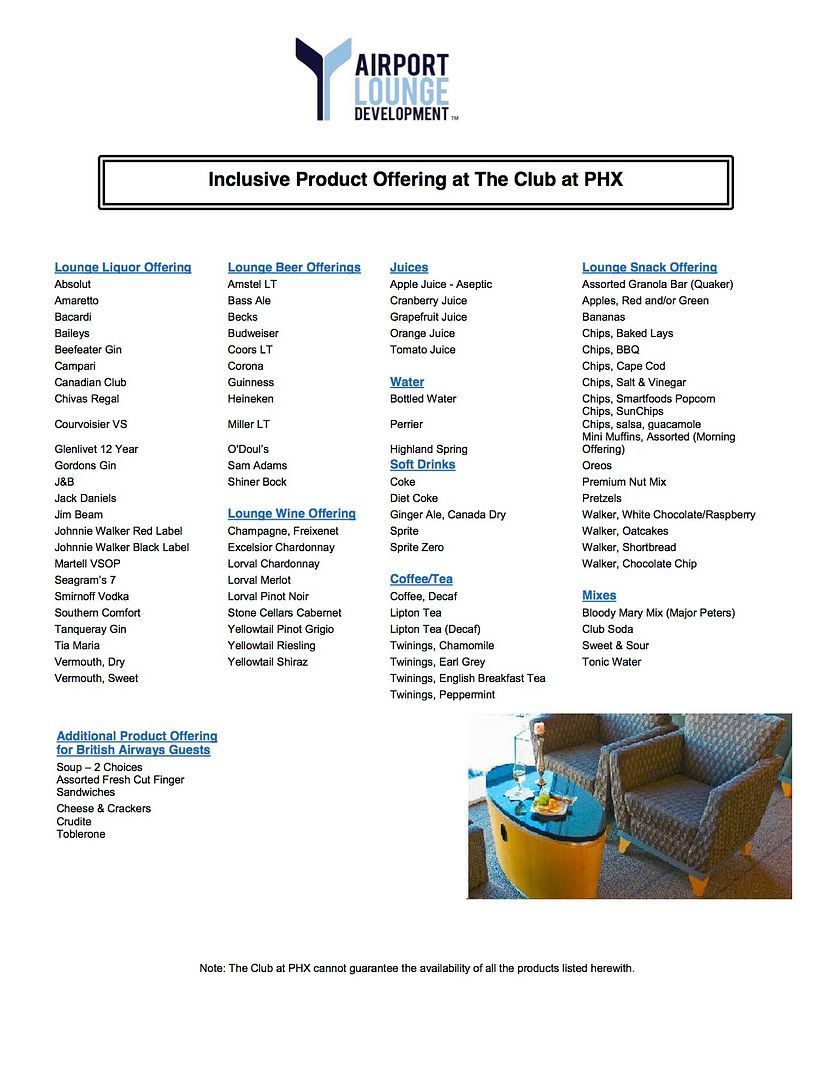 The Club is located in Terminal 4 on the B concourse, has room for about 90 people, and serves at the British Airways First Class lounge. As a result there are more substantial food items served prior to the daily BA departure.
Other Lounges Accessible Via Priority Pass and Lounge Club
There are other independent and airline lounges that are a part of these networks, mostly around the world but also in the U.S. — like Alaska Airlines Boardrooms and recently added the Virgin America Loft at LAX.
At Newark there's the new Art and Lounge as well which can be accessed through Priority Pass.
Access By Buying a Priority Pass Membership.. Or Getting it Free Via Your Credit Card
You don't need an American Express Platinum card to access a Priority Pass lounge, although Platinum cards can be requested with Priority Pass Select membership. (Priority Pass has been around for over 35 years.)
You can get a membership on your own. And Chase offers access for its Ink cardholders to lounges in the Lounge Club network which is a similar product.
American Express also includes the Priority Pass card but no visits (you pay each time you enter) with their Hilton HHonors Surpass Card.
The American Express Lounge Program is Growing Too
American Express is building its own network of lounges. I love the lounge at DFW.
There's one in Las Vegas, lounges in the pipeline for New York LaGuardia and San Francisco, and more to come (including, it seems, Miami in the old space occupied by the British Airways lounge from before they moved over to the E concourse).
---