There's a famous story about Mayor Fiorello La Guardia of New York flying TWA to Newark and refusing to get off — because his ticket said New York. He insisted they fly the plane to Floyd Bennett Field in Brooklyn where he then gave a press conference urging support for a commercial airport in New York.
American Airlines started commercial service to Brooklyn, and though the city government provided police escorts out to the airport to provide a competitive advantage it was still less convenient than Newark. However LaGuardia airport was born. And when the media embarrassed the mayor over his huge office there, the space was rented out to American to open the very first airport club.
So perhaps language usage can matter. Indeed I have one blog commenter who consistently complains when I refer to Dallas Fort-Worth airport as 'Dallas'. He's not the only one who doesn't like it. Fort Worth (Update: former) city council member Joel Burns let loose a tweetstorm today bullying American Airlines over it noting that he plays a role in their tax breaks.
@AmericanAir BNA gate agent Stephanie says she's "prohibited" from saying "Fort Worth" when calling @DFWAirport and "must" only say "Dallas" according to her script. And if I have an issue with it to take it up with Doug Parker. I now "have an issue." How do I contact Mr Parker?

— Joel Burns (@JoelBurns) April 14, 2018
Are @AmericanAir gate agents trained to say "if you have an issue take it up with Doug Parker" in Nashville and elsewhere?

— Joel Burns (@JoelBurns) April 14, 2018
And do the @AmericanAir gate screen scripts actually only say "Dallas" when calling Dallas-Fort Worth, @DFWAirport ?

— Joel Burns (@JoelBurns) April 14, 2018
Even after asking nicely & reminding her omitting Fort Worth when calling @DFWAirport lacks respect (works for a FW based airline) and clarity (Dallas = @DallasLoveField) BNA agent Stephanie only said "Dallas" next 7 calls & was smugly still at when I boarded. #AACustomerService

— Joel Burns (@JoelBurns) April 14, 2018
So, since BNA agent Stephanie suggested it, how DO I contact @AmericanAir CEO Doug Parker? I would love to remind him of what I said when I voted "yes" on @CityofFortWorth Council for the $ millions in AA tax abatements.
Email address or direct number to PM me?

— Joel Burns (@JoelBurns) April 14, 2018
This elected official 'reminded' the American Airlines gate agent she 'lacks respect' by saying the flight is headed to Dallas, and calls her out on Twitter, while his twitter profile calls for "bullying's end." Which I guess is a little like the First Lady making that her signature cause.
The man is on something of a mission, too, here he was on Monday.
Another legacy @USAirways cabin crew incapable of saying "Fort Worth," @AmericanAir's home and grantor of $Millions in AA tax incentives. This #NewAmerican is getting old and lacks respect and clarity. #AA419 DCA-@DFWAirport #notDallas

— Joel Burns (@JoelBurns) April 9, 2018
He has something of love-hate relationship with American for this man it seems because earlier in the week there was this:
We love to #TrAAveltweet with you too. #Blushing

— American Airlines (@AmericanAir) April 11, 2018
The man is a linguistic prescriptivist. He wants to lay down rules defining correct usage. I'm more of a descriptivist. I care about how people use language and whether people understand what's said. So I'll keep referring to Dallas because it's shorter to say, quicker to type, and people in general know where Dallas is — while people outside the Metroplex hear Fort Worth and shrug.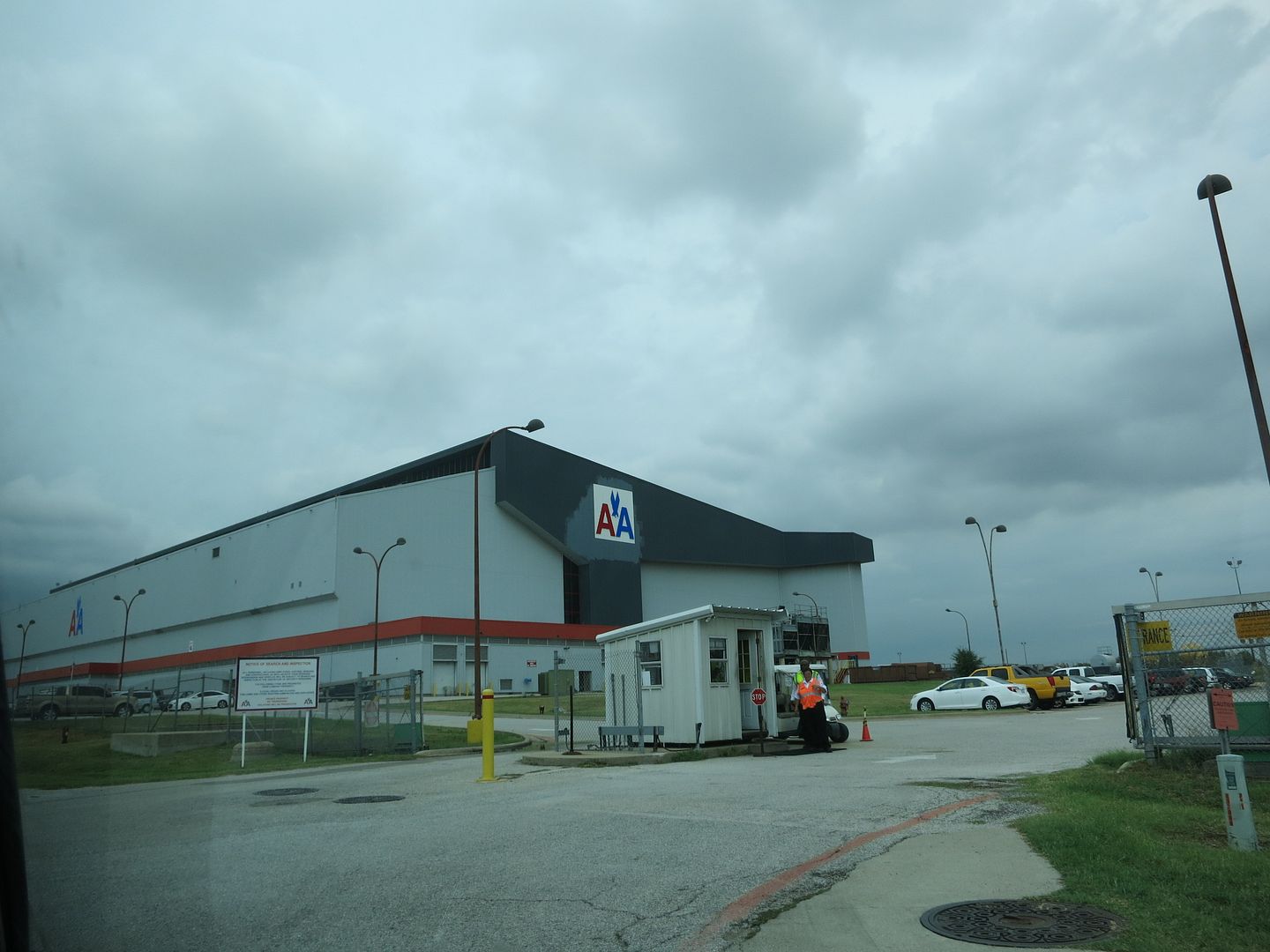 American Airlines Hanger at Dallas Fort-Worth Airport)
(HT: Joe R.)
Update: Though it appears to me otherwise from his Twitter profile Burns is not a current member of the Fort Worth city council.