American will be the only North America carrier that doesn't allow stopovers on its awards of any kind (unless they bring back stopovers later), and the only North America carrier to add fuel surcharges to US-originating itineraries on their primary partners.
While American hasn't devalued its award chart in many years, it is already quite expensive to many regions so that it is more or less on part — for all except first class redemptions — with where the industry already is with last year's round of devaluations.
There are a few regions where they've got headroom to increase award prices. And the fact that Delta doesn't offer international first class awards, and their primary competitor United increased their so much, makes it thinkable that we could see first class increase a good bit. But I would be genuinely shocked to see them priced anything like what United has done.
Back when United announced its changes, I said that "American flyers should be nervous."
I've put together a comparison of roundtrip award prices for American, Delta, and United along with "worst likely" prediction for what happens to the American award chart.
On the whole I would guess that we'll see some increases when the programs combine although I very much hope they simply combine into the American chart or combine to take the higher of the two award prices between American and US Airways.
Note that:

Each airline has a slightly different definition of which countries are in which 'zones' but this is a pretty fair comparison of like-awards I think.

I exclude off-peak award discounts, which American offers at certain times of the year.

I'm using United's partner award pricing for comparison because — while you can save miles sticking to United flights — the best availability is often on partners. The fact that United has a lower price for flights on its own aircraft will help, though, hold award chart increases in check because it will serve as a comparison point for members (regardless of relative availability at each price).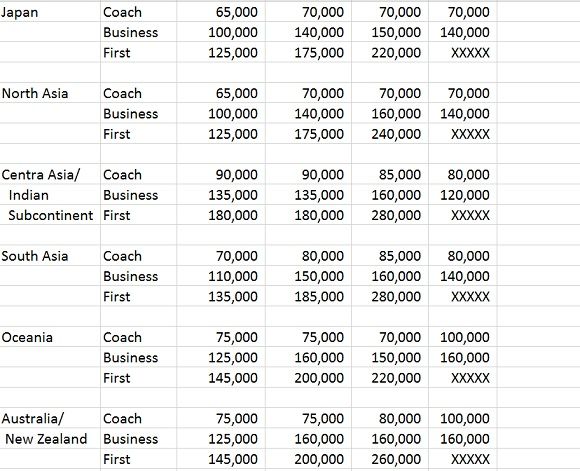 Awards that shouldn't change much:

American adds fuel surcharges onto their primary transatlantic partner's flights. That means their Europe awards are already more expensive than the industry norm, and there's not a ton of rom to bump them up.o

Competitors have kept awards in the Americas relatively steady, so American will likely follow suit.

Competitors have kept awards in economy relatively steady , so American will likely follow suit.

American's chart to Africa is already expensive, and British Airways awards to Africa doubly so with fuel surcharges, so I don't see likelihood of an increase here.

American's chart to Central Asia and the Indian Subcontinent is already expensive, so I don't see likelihood of an increase here.
By all means, some awards will go up. But there won't be major upheaval the way we've seen especially with United.
Where I expect the biggest increases is North and Southeast Asia, and possibly Australia (especially if American alters is routing rules to allow transit via Asia now that they no longer offer distance-based awards).
I don't think any new chart is going to be worse than this. You'll be able to link back to this post (and presumably I will do so too) when news actually does come out. We'll see how I did.
I hope when changes do happen that we get good advance notice and of course that they're better than what I'm predicting above.
What are you expecting?
---