American is expected to relax the most draconian restriction on their lowest-price Basic Economy fares, and that points to the failure of the overall basic economy strategy. Perhaps as early as next month they will once again allow customers on these lowest fares to bring both a personal item and a full sized carry on bag onto the plane.
When Scott Kirby was President of American Airlines they developed a 'basic economy' product — an attempt to make flying unpleasant enough that customers would spend more to avoid it — by taking Delta's basic economy restrictions (no ticket changes, no upgrades, no advance seat assignments) a step further: no full-sized carry on bags.
Customers would have to check their bags, and of course American charges for that too. Elites and co-brand credit card customers would be exempt from this new restriction.
United was prepared to roll out their own Basic Economy product but delayed once Scott Kirby came on board as their President — adding the carry on bag restriction to their own Basic Economy product.

United Boarding in San Francisco
In fact United rolled out their Basic Economy first. They promoted new lower fares but the truth was these were just restrictions on their lowest fares. Although basic economy was once promoted as a billion dollar idea, United lost about $100 million on the roll out of basic economy because customers were just choosing to fly other airlines instead.
United stuck with their plan, figuring that once American introduced their basic economy fares customers would have nowhere else to run. Nevermind that Southwest is actually the largest domestic airine, Southwest doesn't even charge for (2) checked bags and doesn't have change fees on their tickets. American's CEO calls Southwest a cattle car but flying American's basic coach product is worse.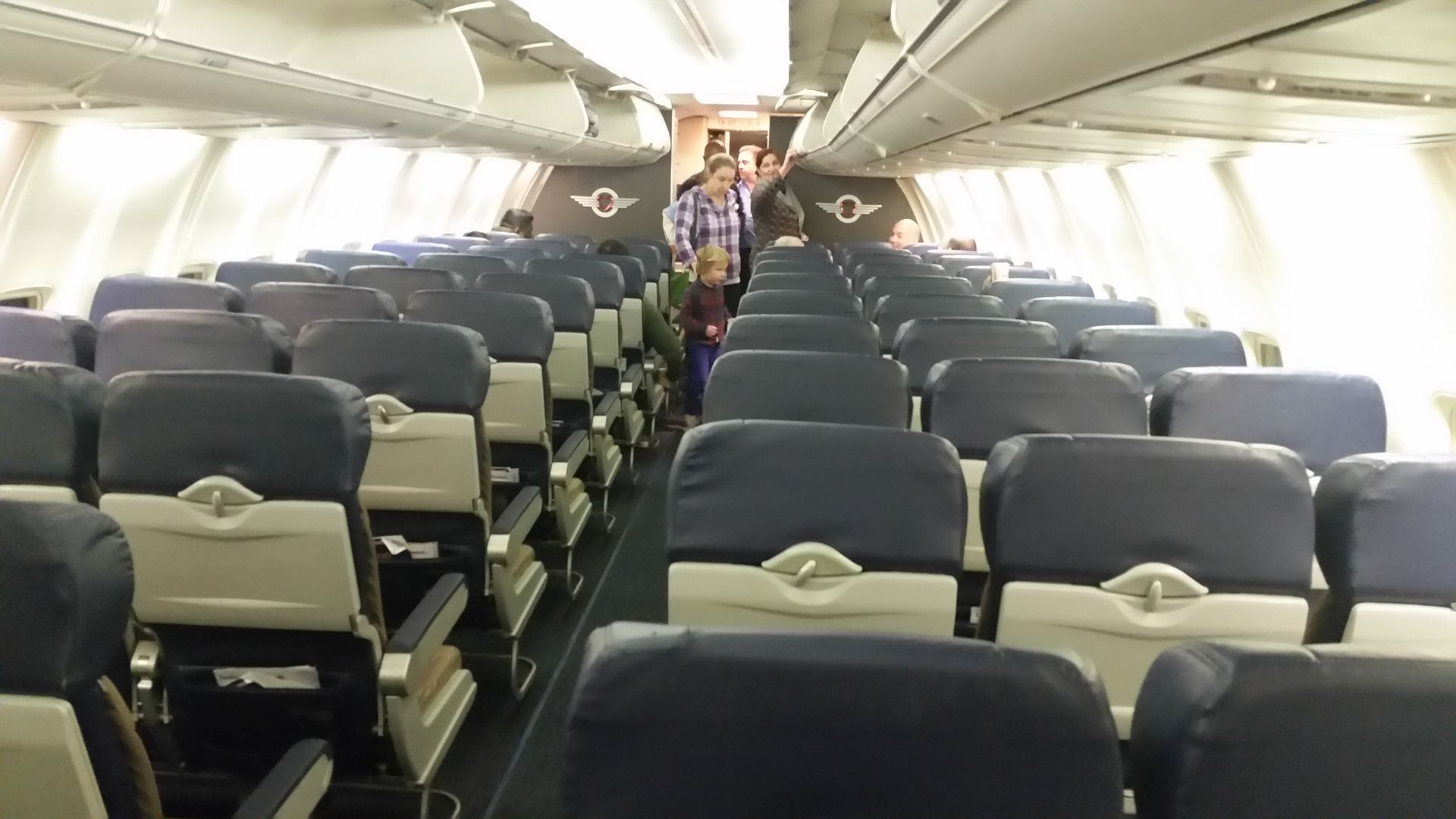 Southwest Airlines Cabin
I've contended from the beginning that you don't make money over time by making your product worse. A successful business, not protected from competition by government the way US airlines are, works to deliver more value at lower prices. However the bet here was,
Airlines could get business travelers to pay more. Their employers are footing the bill and they won't book basic economy.
This would function as a targeted price increase, allowing them to raise fares on people who care about their travel experience while still competing for the business of leisure travelers who might be siphoned off by Spirit Airlines and Frontier.

American Airlines Economy
Increasingly there's little difference between Spirit, Frontier, United, and American at the lowest fare. In fact Spirit Airlines is adding internet, and American Airlines is taking away seat back entertainment and reducing the distance between seats.
In a sign that Basic Economy really has gone too far, American Airlines will reportedly be relaxing their Basic Economy restrictions. They won't comment on this officially, but I've done some asking around and it appears highly credible.
American will soon be rolling back the back restriction on Basic Economy fares — Basic fares will soon include a carry on allowance. Unknown implementation date, however it will be a fast and hard implementation within the short hours/days after announced. Most likely in August.

— Jamie Larounis (@TheForwardCabin) July 3, 2018
American is going to start allowing full size carry on bags again on these fares.
The reason for the change may not be customers booking away from American Airlines
Basic economy customers with carry on bags at the gate delays departures. Nothing is more important at American than 'D0' it often seems as if American would be happy if they could eliminate customers from the equation and just run their operation they'd be happy.
But if they're sacrificing basic economy restrictions for D0 – departures exactly on time – that suggests the financial benefit of those restrictions just cannot be that much. The potential delays aren't worth taking because the financial upside isn't great enough. They've decided that padding the schedule to accommodate basic economy restrictions isn't worth it, and we can infer the relative value of those restrictions from that decision.
Once full sized carry on bags return to American's basic economy fares there's really not too much difference between regular economy and Basic Economy to the non-elite frequent flyer. Most customers have to pay for decent seat assignments in coach, American's Basic Economy fares mean you wait until 48 hours prior to departure to have access to paid seats. Of course close to departure, as upgrades clear for elite frequent flyers, can be the time the best seats open up in back.
American certainly isn't going to admit their approach to Basic Economy is a failure. However if it was a success they wouldn't be making it less draconian. Nonetheless they should be applauded for learning from their mistakes even if they cannot publicly admit it. Alaska Airlines needs to pay attention before they add their own version of basic economy.