Matthew Klint at Pen and Passport offers up a scoop on changes coming to Hyatt Gold Passport. He says details will be announced November 1 and go into effect March 17.
Hyatt Gold Passport currently:

Skews high end with its hotels, although has the smallest footprint of the major chains with only around 600 hotels.

Offers rewards for spending at its hotels that's around middle of the pack.

But has the most generous top tier elite benefits, with 4 confirmed suite upgrades a year (not just 'if available at check-in'), full restaurant breakfast for up to 4 registered guests when there's no club lounge available (not just continental breakfast for 2), and 4pm late checkout.

Breakfast at the Hyatt Olive8 in Seattle
Here are 14 tricks and important things to know about the Hyatt Gold Passport program.
The upshot of these reported changes is that top tier elites won't be able to qualify on stays alone anymore, and the night requirement is going up a bit, but this comes with even more benefits than Hyatt already offers.
Suites at check-in if available

More confirmed suite upgrades for overperforming top tier elites

Earned free nights in addition to points

Early check-in and waived resort fees

Water Villa at the Park Hyatt Hadahaa, Maldives
Meanwhile mid-tier status becomes harder to hit but comes with access to club lounges 4 times a year. Mid-tier status will be better but not as rewarding as comparable offerings from Marriott or Hilton.
Klint doesn't source the information but I'm willing to bet it's close to right. Recall that Hyatt's CEO said they were working to rethink the program.
Details of the New Program
Bear in mind this hasn't yet been confirmed by Hyatt. It remains a rumor albeit a credible one, and we should know for certain within days.
Hyatt Gold Passport becomes World of Hyatt. They're introducing three elite tiers instead of two. You'll still qualify based on nights, but they're eliminating stays as a method of qualification and offering revenue instead.
| | | | | |
| --- | --- | --- | --- | --- |
| Qualification | MEMBER | DISCOVERIST | EXPLORIST | GLOBALIST |
| Nights Required, or | 0 | 10 | 30 | 60 |
| Based Points Required | 0 | 25000 | 50000 | 100000 |
| | | | | |
| Benefits | | | | |
| Point Bonus | 0 | 10% | 20% | 30% |
| No Resort Fee | On Award Nights | On Award Nights | On Award Nights | On Award Nights & Eligible Paid Rates |
| Upgrade at Check-in | N/A | Higher Floor, Larger Room | Best Room Excluding Club, Suites | Best Room Including Standard Suites |
| Free Daily Bottle of Water | N/A | Yes | Yes | Yes |
| Lounge Access | N/A | N/A | 4 Times Annually | Yes |
| Complimentary Parking on Award Nights | N/A | N/A | N/A | Yes |
| Priority Early Check-in | N/A | N/A | N/A | Yes |
Qualifying:: Klint writes that you can earn status on nights or base points which is really spend since the program offers 5 base points per dollar spent. Also that current top tier members only need 55 nights to make top tier in this new program rather than the full 60.
Suites for top tier elites: Klint writes that in addition to the 4 confirmed suite upgrades that Diamond members currently receive they'll receive 1 additional confirmed suite upgrade for each 10 additional nights stayed beyond 60, up to 4 additional confirmed suite upgrades.
New perks: No resort fees, early check-in, and free parking on redemption stays. Early check-in isn't guaranteed, which suggests it may be the same benefit as now — I was told back in 2011 that hotels are supposed to accommodate Diamonds with early check-in if possible.
Earned free nights: Klint says that Hyatt will provide a free night certificate valid up to category 4 after 30 nights in a year, and an uncapped free night certificate after 60 nights.
Outstanding Questions
These details are via Matthew and don't mention late checkout, any potential changes to breakfast benefits (although I suspect there wouldn't be) or check-in amenities. Current Platinum (mid-tier, comes with credit card) offers guaranteed 2pm late checkout excluding conference and resort properties and Diamonds get 4pm late checkout. And Diamonds also receive points or a food and beverage amenity at check-in.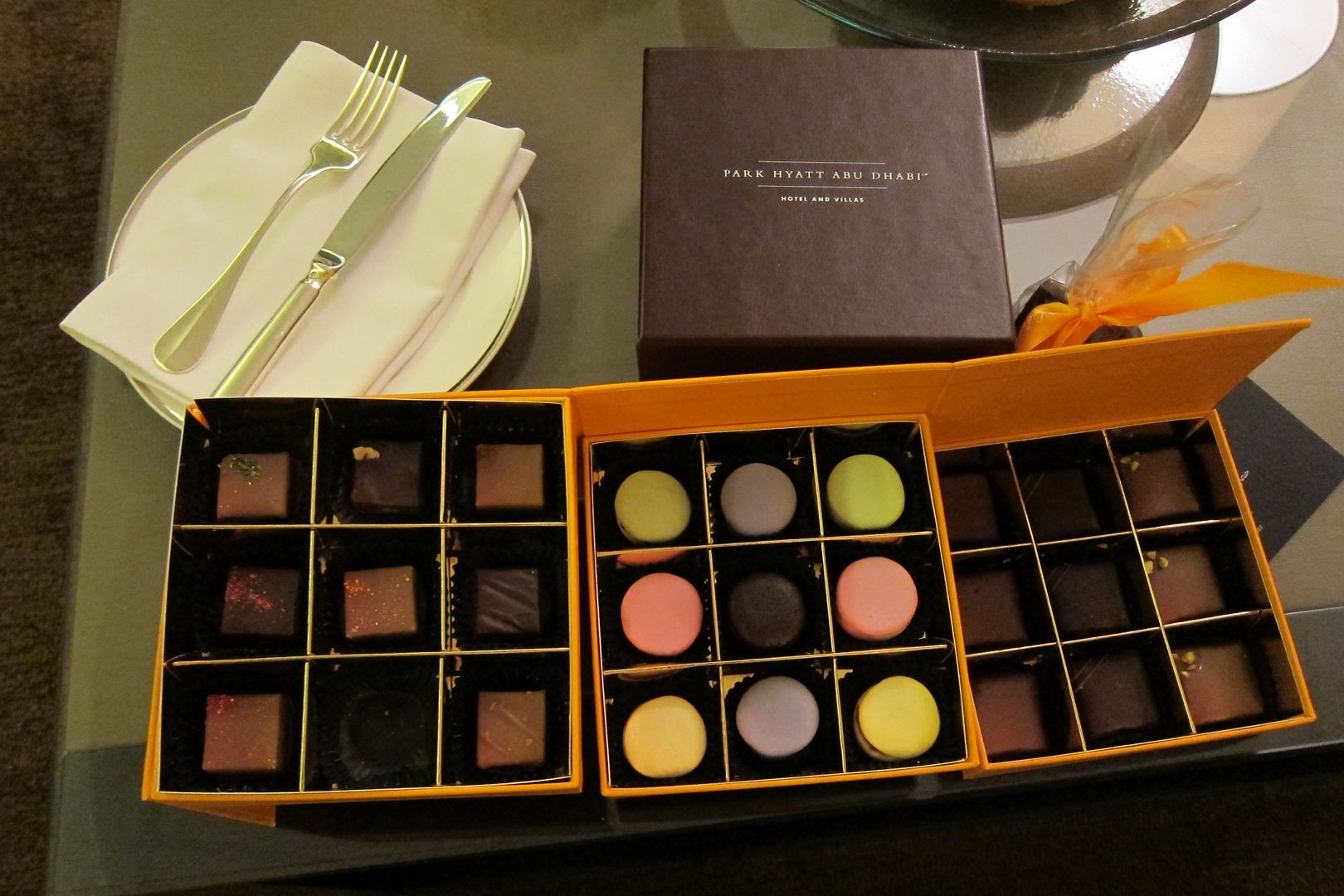 Welcome Chocolates at the Park Hyatt Abu Dhabi
There's also not mention of how spend on the co-brand credit card helps earn status, or what benefit the United Club card (and legacy Continental Presidential Plus card) come with since those currently offer Platinum status.
I'm hopeful that Hyatt's 'Guest of Honor' benefit continues where Diamonds can gift their status for a stay when gifting an award. Diamonds also currently get 2 United club passes each year.
Read the whole thing as they say. What do you think?