Several Members of Congress introduced the SEAT Act bill yesterday to outlaw the ultra-low cost airlines like Spirit and Allegiant and raise airfares.
That's not how they'll spin it, but that's exactly what the Seat Egress in Air Travel Act — aka the "SEAT Act" (ha ha) — would do.
And by raising the cost of airfare, that pushes more people to drive instead of fly (especially true for short haul trips, where legroom may be even less of an issue ironically enough). But since air travel is far safer than car trips, it would mean more highway deaths. That's what's known as statistical murder.

United Boeing 777-300ER Economy
Democratic Representatives Cohen and Senators Chuck Schumer, Diane Feinstein, Bob Menendez, Richard Blumenthal, and Ed Markey along with lone Republican Congressman Adam Kinzinger know that:
This bill isn't likely going anywhere, not only is this a Democrat bill in a Republican-controlled Congress, it would have to pass through the House Transportation Committee chaired by the Representative of airline lobbying group Airlines for America.
So it doesn't matter that this is terrible policy.
But it makes good politics, because people want better flying experiences without having to pay more.
They're counting on mood affiliation, and an inability to think about consequences by people who simply dislike airlines, to turn this into a populist political issue.

American Airlines Boeing 787 Economy Legroom
These members of Congress don't even have their facts straight though. They complain,
The average distance between rows of seats has dropped from 35 inches before airline deregulation in the 1970s to about 31 inches today. The average width of an airline seat has also shrunk from 18 inches to about 16 ½.
That is absolutely false.
Legroom was once 34 inches on empty planes with regulated high fares but most Americans don't have the experience of that.
Average legroom hasn't decreased over the past 20 years. In fact with the introduction of extra legroom economy seats, average legroom in the economy cabin has increased.
Average seat width is simply not 16.5 inches in economy today. These members of Congress are entitled to their opinion, but not their own facts.

Boeing narrowbodies have an average seat width in economy of ~ 17 inches and Airbus narrowbodies an average seat width of ~ 18 inches.

It seems the problem here is the airframe. Should we outlaw the 737?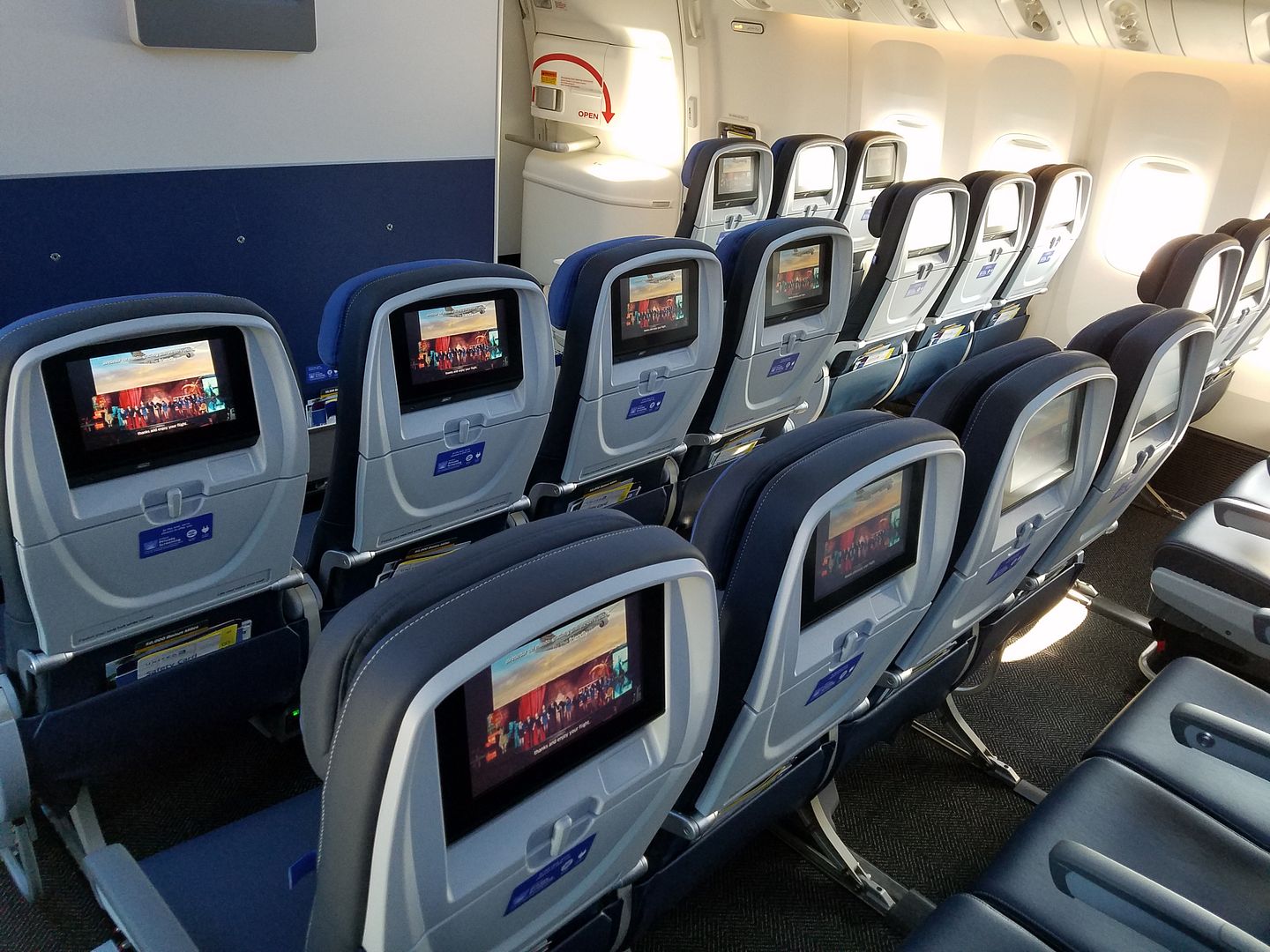 United Airlines Economy
Congressman Cohen warns, "doctors have warned that deep vein thrombosis can afflict passengers who do not move their legs enough during longer flights. The safety and health of passengers must come before airline profits." However:
There's not clear scientific linkage to specific amounts of legroom and medical problems.
Even if there were, they claim it's an issue for longer flights but the law wouldn't be restricted to long haul aircraft.
They're wishing for a world of fewer seats, where prices presumably stay the same. But the law doesn't require this, and there's no reason to think that's what would happen.
On the contrary although the law doesn't specify what standards would apply, the sponsors make clear that 31 inches from seat back to seat back is not enough (if US legal jurisdiction extended to Europe, they'd outlaw British Airways intra-European business class).

British Airways Club Europe
Under this law airlines offering less legroom than the 31 inches complained about — largely Frontier, Spirit, and Allegiant — would no longer be able to do so.
More seats on a plane means a lower cost per seat (since most costs to fly a plane are fixed). You'll either have to see higher fares, or the elimination of flights and routes.
Fewer flights, fewer routes, especially operated by low cost carriers means an end to pricing pressure on the country's major airlines. Without competition from Spirit, American Airlines and Delta fares wouldn't be what they are today.
What level of comfort any passenger needs will vary based on personal preferences, body characteristics, as well as the length of the flight. The SEAT Act would criminalize the least expensive options, so all we're left with is:
Planes with fewer seats

A higher cost per seat

Higher fares
Today consumers can choose the level of comfortable they're looking for, and what level of comfort is worth paying for. The SEAT Act would eliminate the inexpensive choices, so everyone that can still afford to fly gets more at a higher price.