Hotel: Sheraton Saigon Hotel & Towers
88 Dong Khoi Street, District 1, Ho Chi Minh City Vietnam
Phone: (84)(8) 827 2828 Fax: (84)(8) 827 2929
The hotel Mercedes pulled into the driveway, a porter hopped into action, and we walked into the hotel lobby.
Didn't get much of a feel for the lobby, though, because a hotel staff member intercepted us and asked me, "Are you mr. gleff?"
She guided us directly to the right of the entrance to the bank of Towers elevators. She had our room keys in her hand and brought us to our suite to check in.
All formalities were taken care of there, bags were promptly delivered, and she showed us the room and explained Towers benefits.
Now, a quick word about how we wound up in a Towers suite in the first place. I had booked a cash and points award, which naturally books me into a base room – in the regular hotel. Normally upgrades are down within the section of the hotel you book, I had expected based on past experiences reported in the Starwood forum to receive a junior suite and lounge access.
On a lark though I emailed the hotel about a week out and asked whether they offered the ability tro redeem an instant award for the Towers section? They replied that for 6000 points they would process the instant award in advance and confirm my platinum upgrade in advance, to a suite. I figured that 6000 points was worth it for a Towers Suite, rather than just the Towers section!
They actually pulled 12,000 points from my account, and when I queried them about it they apologized and told me they should have quoted me 6000 points [i]per night[i] rather than 6000 points for the stay. I figured I'd take the issue up on my return, but I enjoyed the Towers lounge so much and was happy enough with the preblocked upgrade that I decided not to make an issue of it at all.
The room itself is nice enough though modest as far as my suite experiences have been, a desk area (with a half bath off the desk area) and a couch along with a seating area by the bay window in one room, followed by a bedroom, and a nice sized bathroom with separate shower and tub. (The first morning I didn't have any hot water in the shower…) The room had universal power outlets, as many of the more modern Asian properties do, which is appreciated.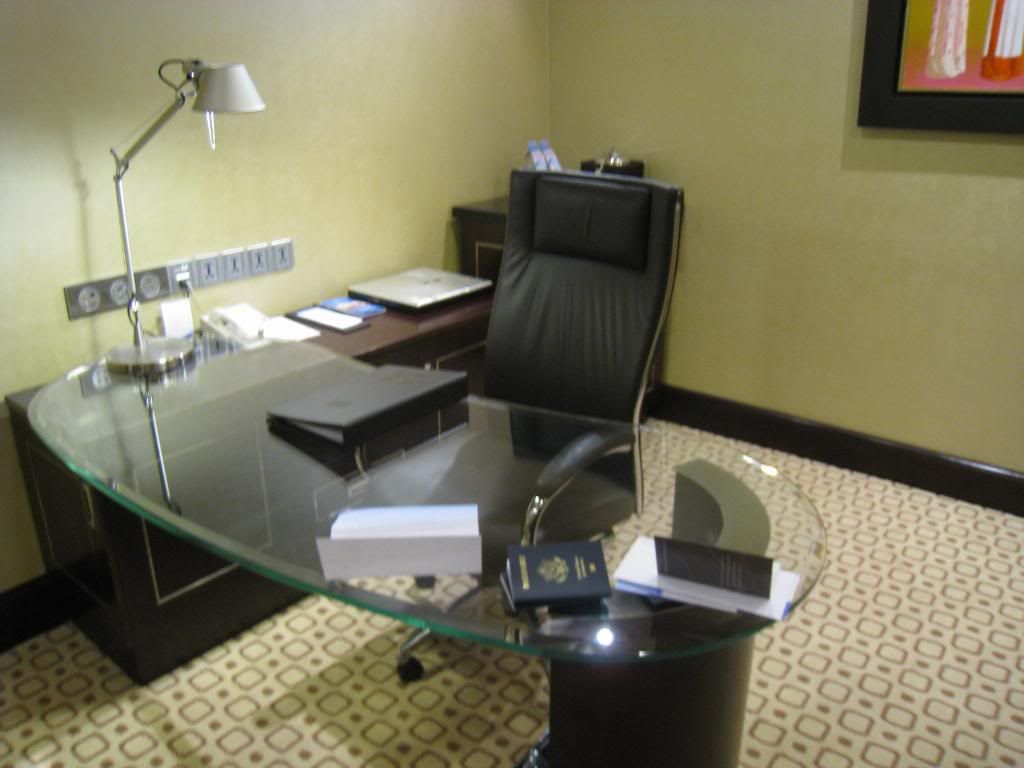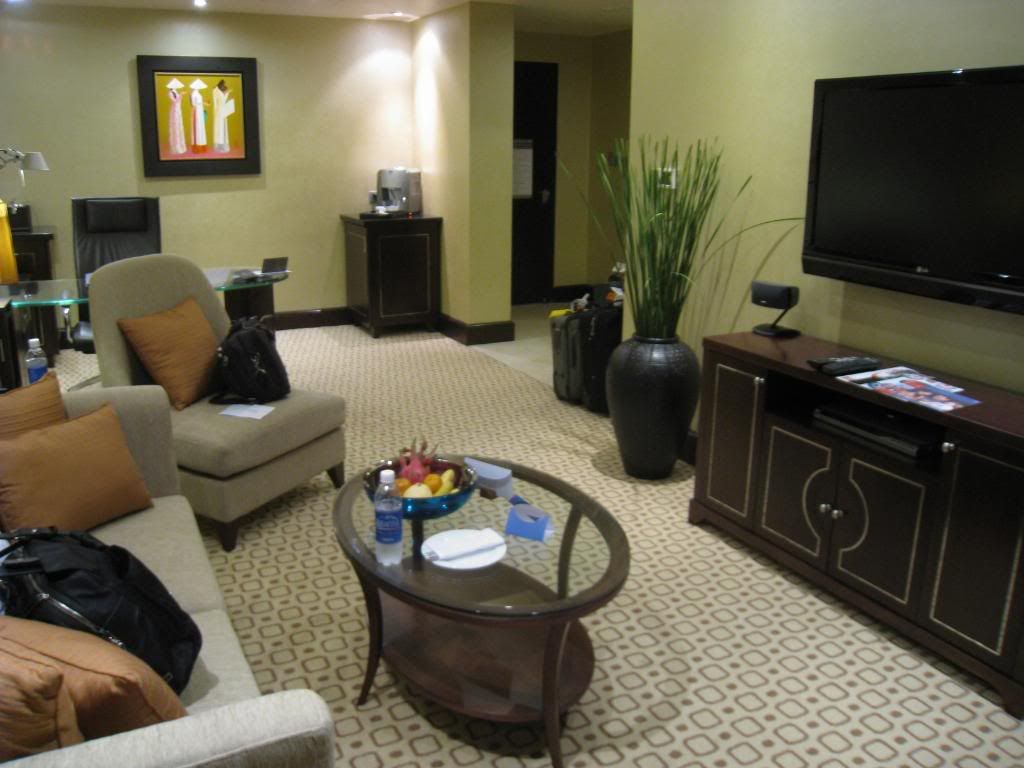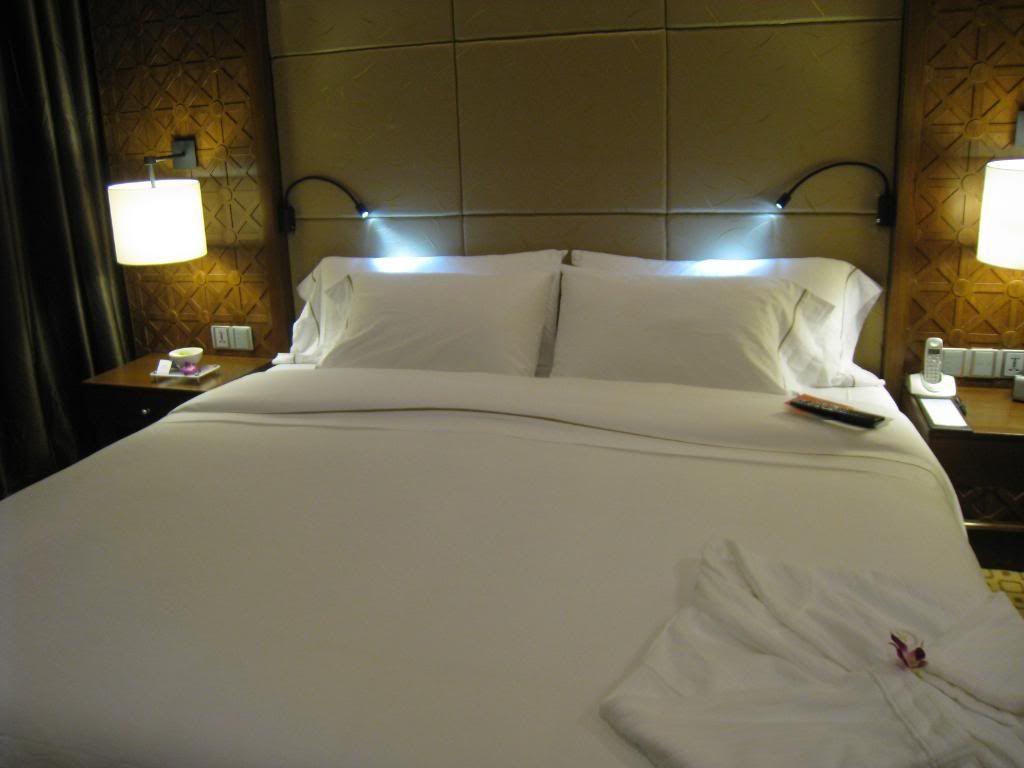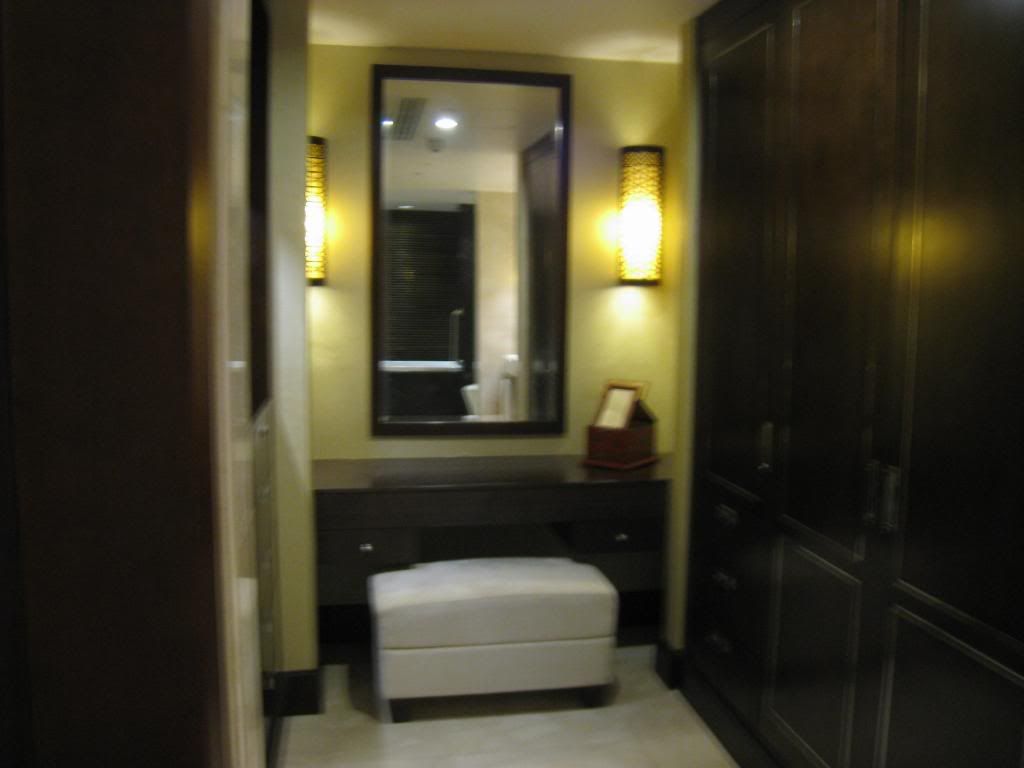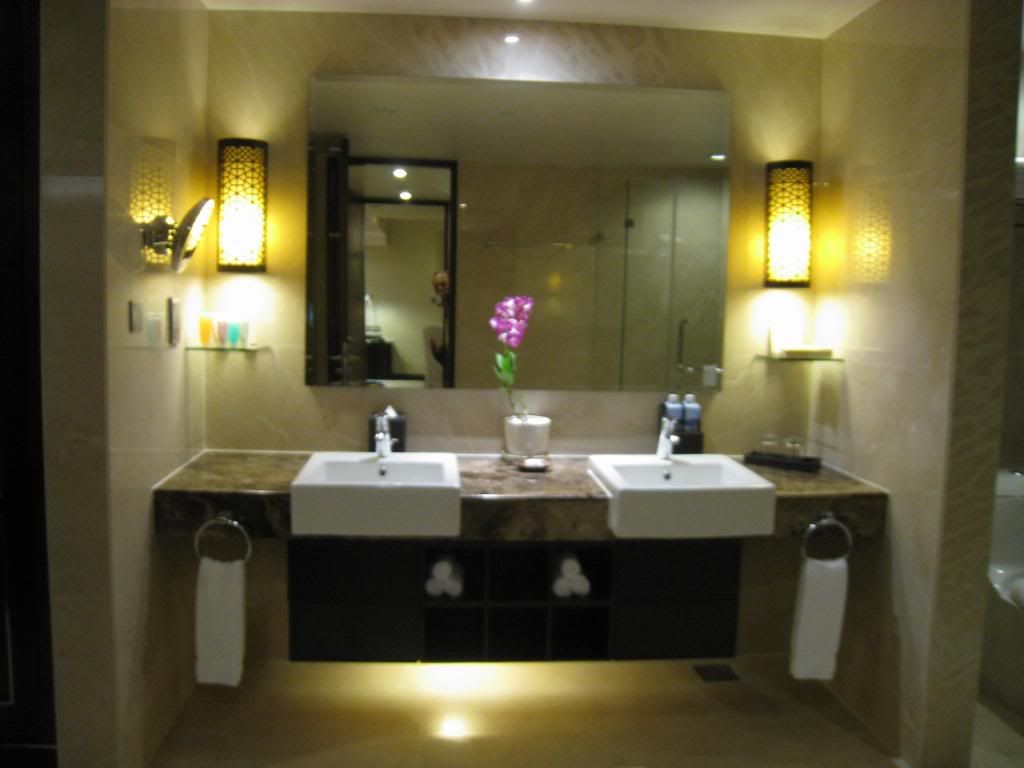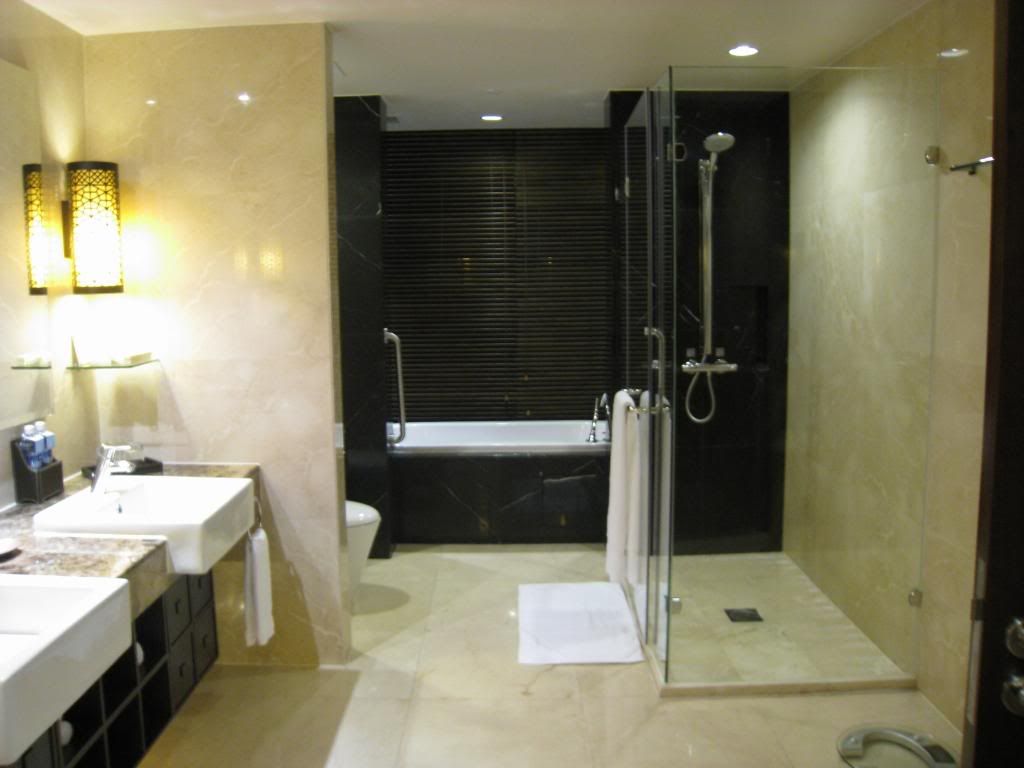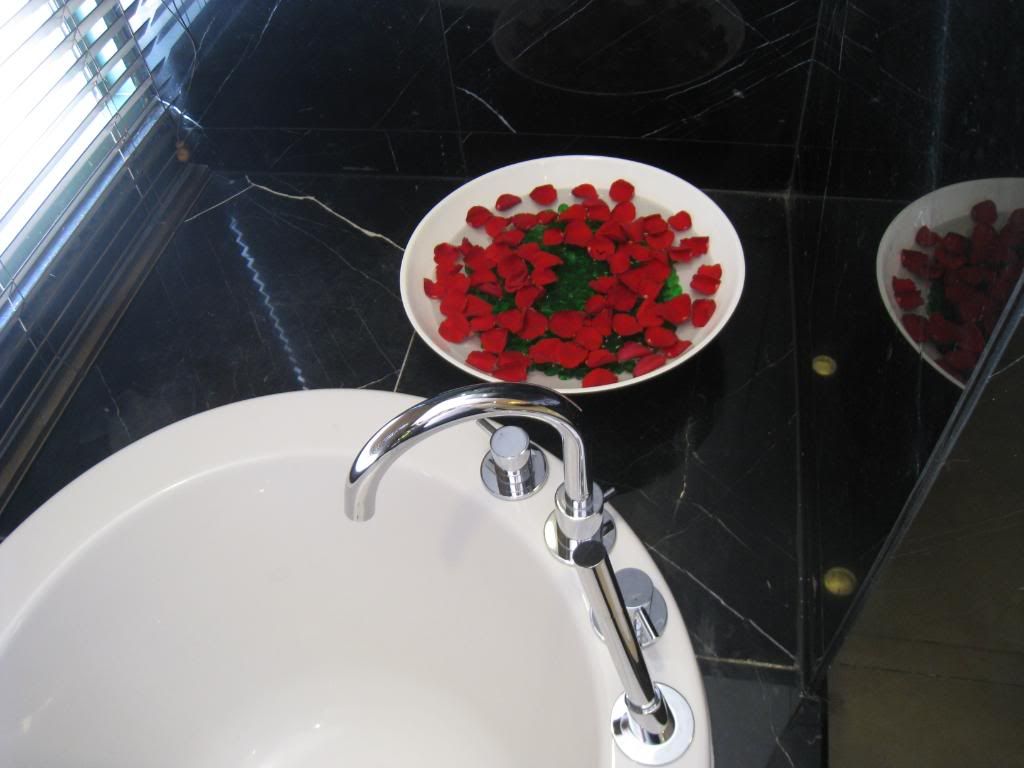 Here's the view from the room, if you crook your neck to the left…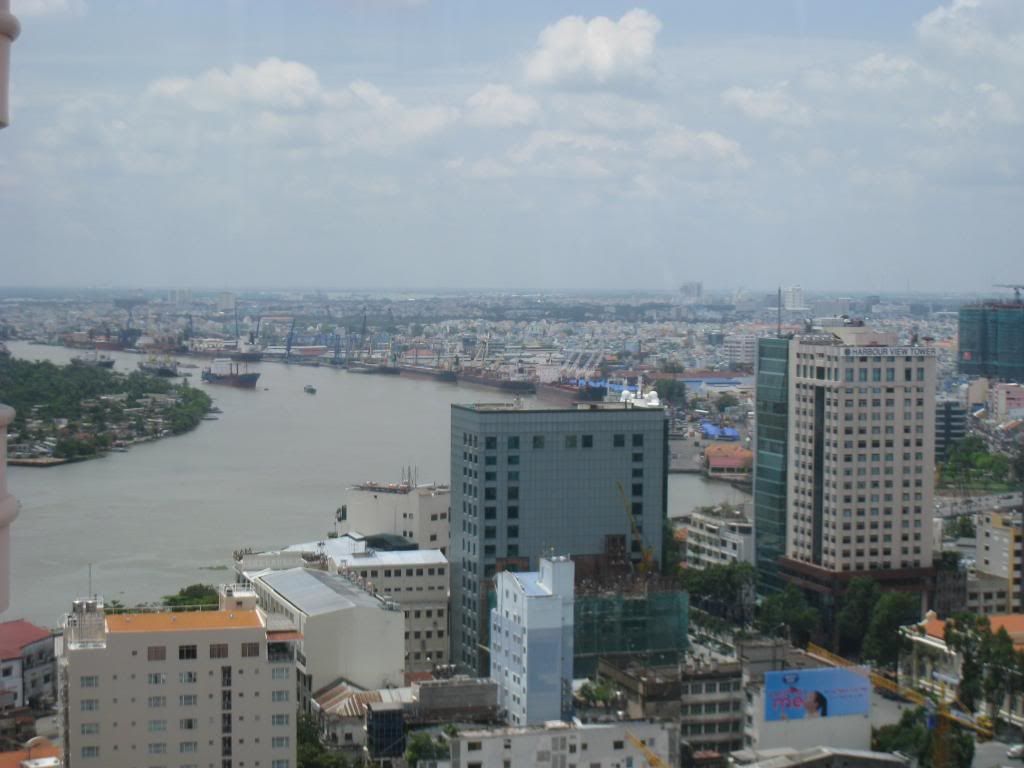 Most of the time it looks like this: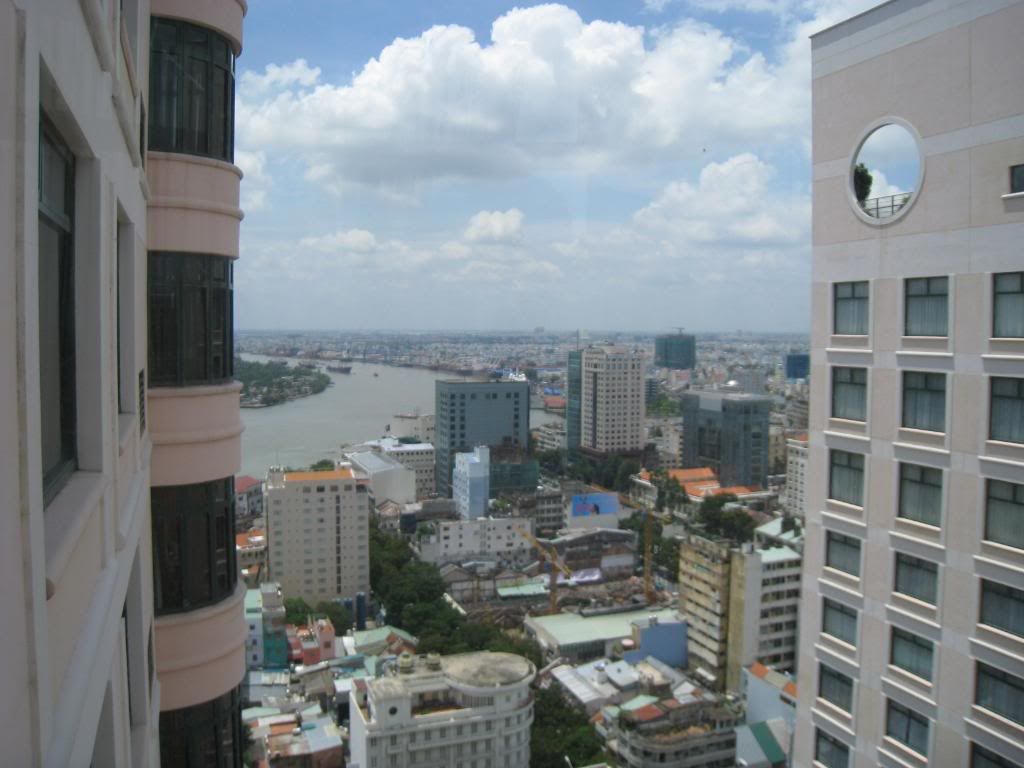 In fact, we were looking directly out across at the Caravelle
While the room was fine in most respects, the living room furniture was just uncomfortable. The couch could have been longer and wider and with more comfortable cushions. The seating area by the window wasn't all that comfortable. No complaints about the desk chair, mind you, but it just wasn't a place for lounging. The other complaints about the suite were that I could hear road noise at night, and also noise from the pipes – it's apparently an open system of some kind and every time I'd use the faucet or the toilet the rush of water through the pipes cold be heard throughout the room.
The highlight of a Towers stay at this hotel, though, is the Towers Lounge. The space is light, airy, and modern and during our stay was completely uncrowded. No one was ever using the upstairs area at all. And the service was magnificent.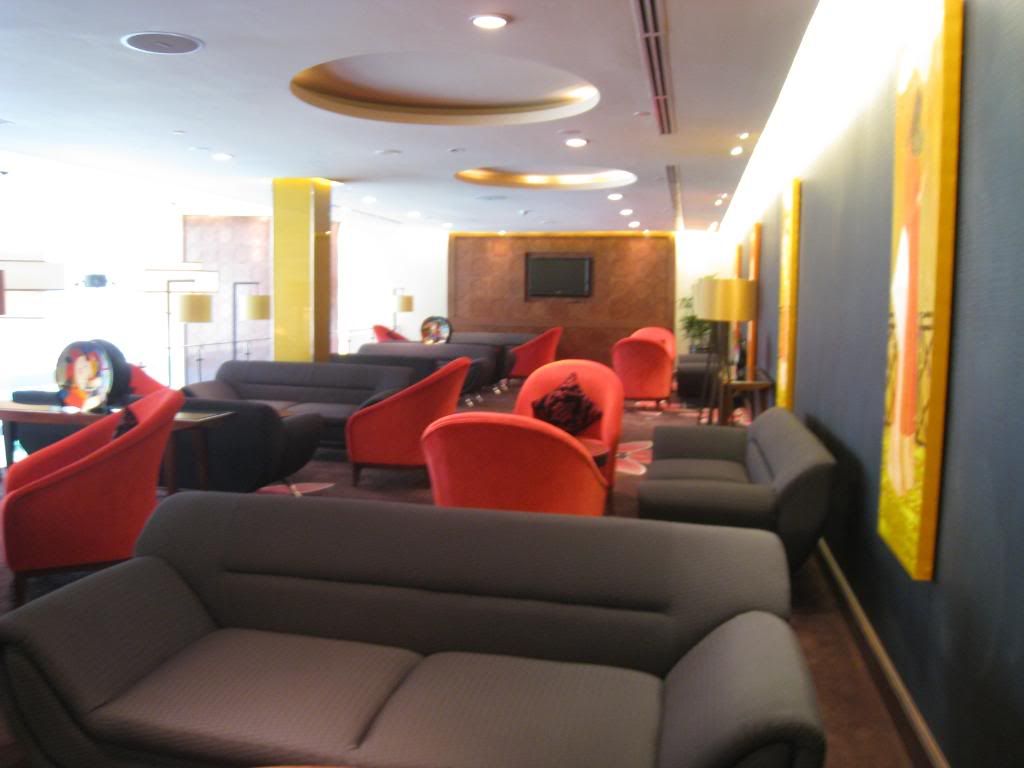 One real test for me of service is my coffee. I am very persnickety about my coffee. I do not like skim milk, soy, or 2%. I drink half and half, but in a pinch will use a smaller amount of cream. This is key to my enjoyment of my coffee. When I first asked for half and half they apologized and told me it would take a couple of minutes because they would have to go to the hotel restaurant to secure it. But throughout my stay they always had half and half available in the lounge for me, and every staff member there knew how I took my coffee. I never had to ask again. (And they were able to handle the complication tha indeed mrs. gleff takes soy milk in her coffee.)
The morning spread included a soup bar and cooked to order eggs, pastries and American items (bacon, hash browns, sausage), as well as cereals and yogurts, and a separate menu service – steak, bagel lox, burrito (though I wasn't at all impressed by the burrito, unsurprising I suppose).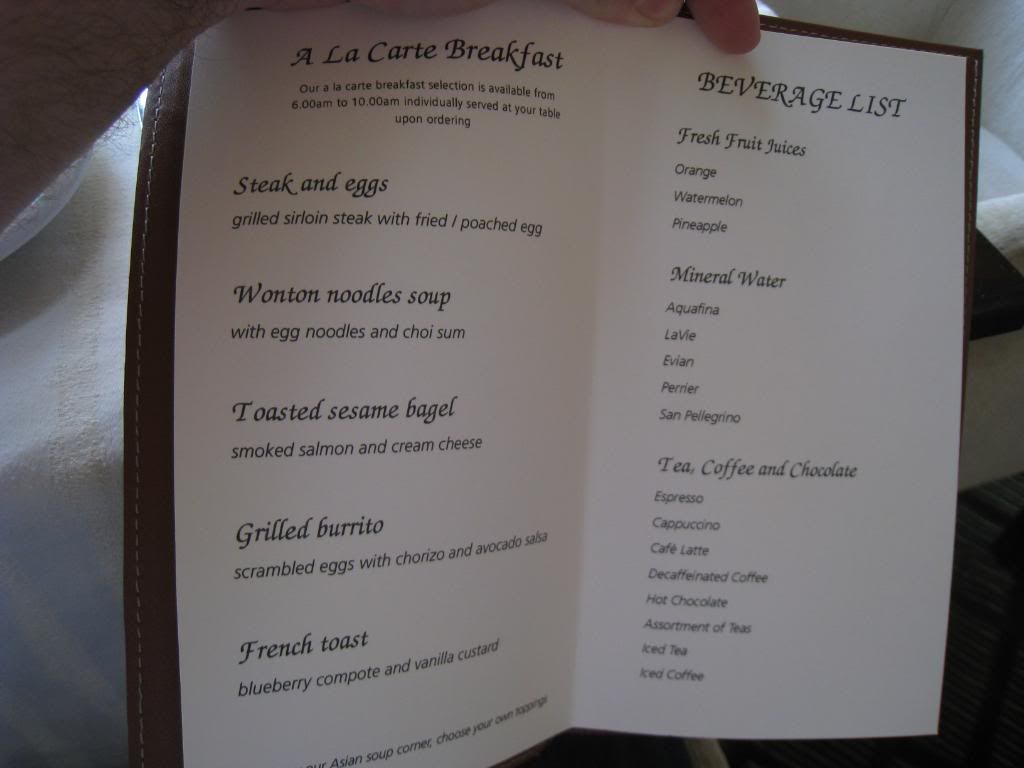 Oh and as others have reported about the property, there's an available freezer with ice cream all the time, just help yourself. I didn't partake during breakfast, however.
Evening h'or deourves in the lounge consisted of fresh sashimi and fresh rolled sushi, plenty of desserts and hot items, cheese, ice cream (still available), no name a few.
Each Towers guest is invited to a choice of gifts once during their stay, redeemable in the Towers lounge. Specifically:
Quote:
Hardys Chardonnay
Two Oceans Red
Vietnamese Lacquerware coaster set in box
US$18 spa credit
Sheraton Saigon Teddy Bear
Lacquerware candle holders
Vietnamese scarves
Here's the list of Towers benefits:
Quote:
• Buffet and Ala Carte Breakfast in Grand Tower Lounge (can also take breakfast at Café Saigon)
• Afternoon Tea 2:30pm – 4:30pm
• 1 hr complimentary use of Grande Tower lounge meeting room
• Wireless in lounge
• Light pressing of 3 garments on arrival (though I was given coupons for 3 garments per day)
• 20% discount on laundry and dry cleaning
• Complimentary use of mobile phone and iPod
• Complimentary fax/printer/copier/scanner
• Complimentary local landline calls
They also offer an extensive array of Instant Awards:
Quote:
Food & Beverage


Afternoon Tea at The Lounge, 750 points
Buffet lunch, Café Saigon, 1500 points
Dim sum lunch at Li Bai for 2 persons, 3000 points
Signature Set Menu for 2 persons, 9000 points

Massage
Ultimate hand paraffin, 750 points
Clear Spirit or Ease Away Spa Treatment, 45 minutes, 2250 points
45 minutes Reflex Zone, 3000 points
Selection of Massage Therapy, 60 minutes, 3750 points
Get Away Package, 110 minutes, 6000 points
Ancient Wisdom, 120 minutes, 6000 points
90 Minutes Hot stone massage and 60 minute Reflex Zone, 9000 points
Spa Collection Experience, 2h30m, 12,500 points

Accommodation
Upgrade to Grand Tower, 6000 points
Upgrade to Grand Tower Executive Room, 12,500 points
Upgrade to Grand Tower Suite, 15,250 points

Transportation
One Way Airport Transfer, 3750 points
Car Rental, 4 hours, 12,500 points