Singapore Airlines will take delivery of a new Airbus A380 later this year with its new first class product.
That was expected to happen in October, but it's been delayed. However they're going to reveal all new products for their four cabins on November 2 in a media event in Singapore.
Most of the discussion has centered around their new Suites but as Australian Business Traveller points out we're going to see new designs for business class, premium economy, and even coach.
The new business class will be featured on the A350 ultra long range aircraft which when delivered will allow Singapore Airlines to fly non-stop to Los Angeles, New York, and even a potential third destination (they already fly non-stop to San Francisco, and offer connecting flights to Los Angeles, New York, and Houston).
New First Class Suites
Even the current Singapore Airlines Airbus A380 'Suites' product — now ten years old — is one of the very best first class products in the sky, although trailing Etihad's Airbus A380 First 'Apartment'.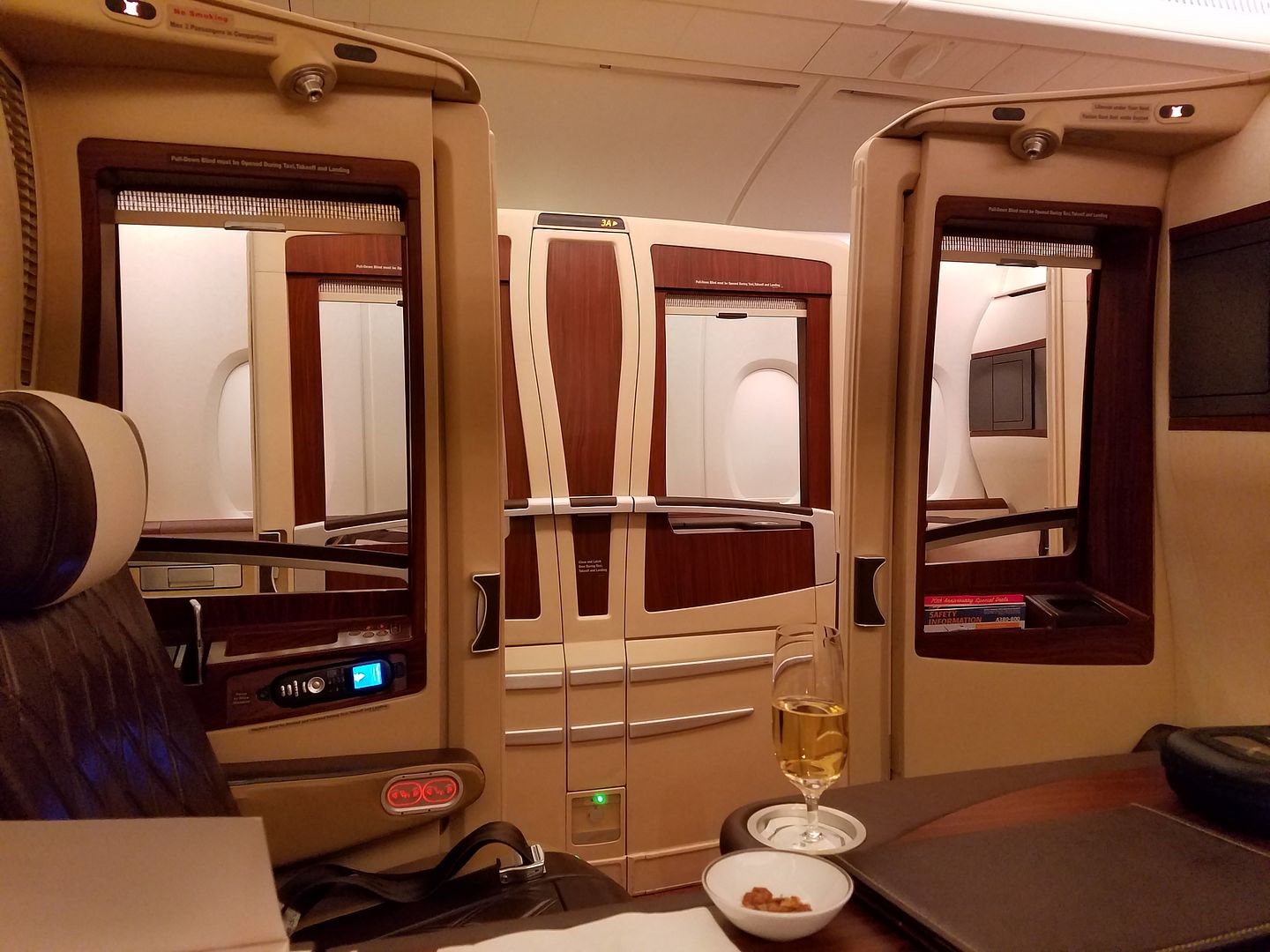 For context, one of the better world first class offerings comes from Emirates. They offer four suites with doors across the upper deck of the Airbus A380.
Singapore has much better actual seats today than Emirates does. Not only is it a classier design, less bling, but they currently put their four suites across on the lower deck of the A380. The lower deck is wider, meaning each suite offers more room.
Singapore's new Suites will be on the upper deck of the A380 (the entire Upper Deck will be for premium seating first Suites class at the front of the cabin, and business class behind it). That's narrower, but they accomplish something even more impressive by having fewer suites which won't be four-across. In fact Singapore briefly put the seat map for the new Airbus A380s on a test website back in April.
Suites class appears to be just six seats, three rows of two across. That's not a lot of first class seating, matching what Cathay Pacific has on its Boeing 777s. But the seat map shows the suites matching Etihad at two across.
Singapore will not offer showers like Emirates and Etihad have. We don't know the seat design yet. But we know Singapore is upping the ante on what's already one of the world's very best first class offers.
Of course Singapore goes beyond just an impressive seat, with fantastic service and in my opinion unrivaled main meal service. (I still believe they could do with some improvement in inflight snacks, ground service, and lounge design in Singapore.)
However two seats across, one at each window with an aisle between them, might mean losing the ability to that center seats currently offer to become a 'double bed'.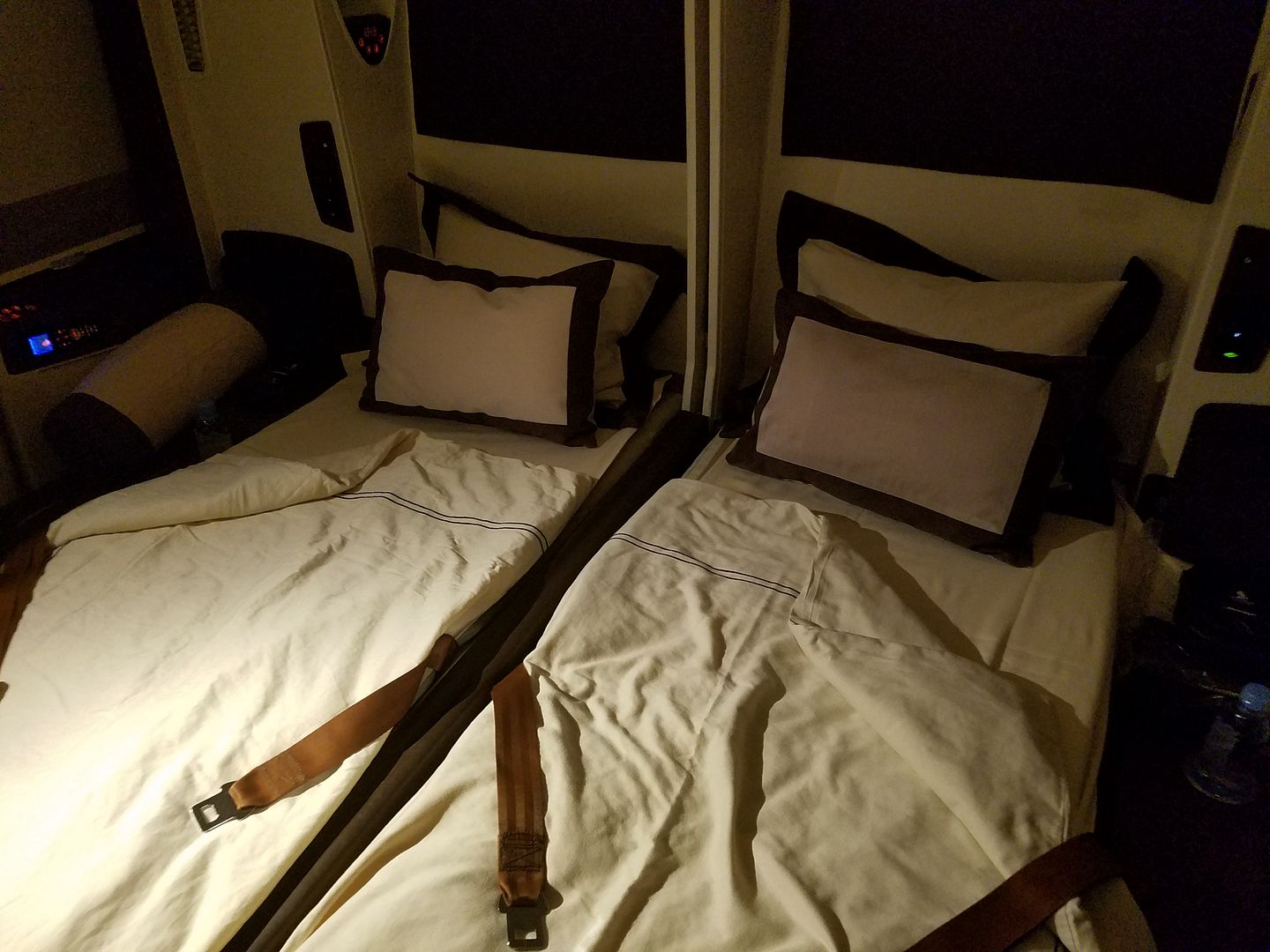 Although Etihad still manages to accomplish a double bed concept with one-by-one seating so we'll have to wait for November 2's event or leaked cabin photos to know whether this feature is lost in the new Singapore Airlines configuration.
Singapore Business Class
I find Singapore Airlines to offer one of the best business class products. There are two general knocks on it, though.
One is that it isn't super comfortable for lounging because instead of transitioning to a bed (and thus offering myriad options in between upright and bed mode) it flips over to become a bed. The tradeoff of course is a very good bed.
The other issue is that to lie fully flat you angle yourself in the seat. I don't mind this at all, but many do not prefer it.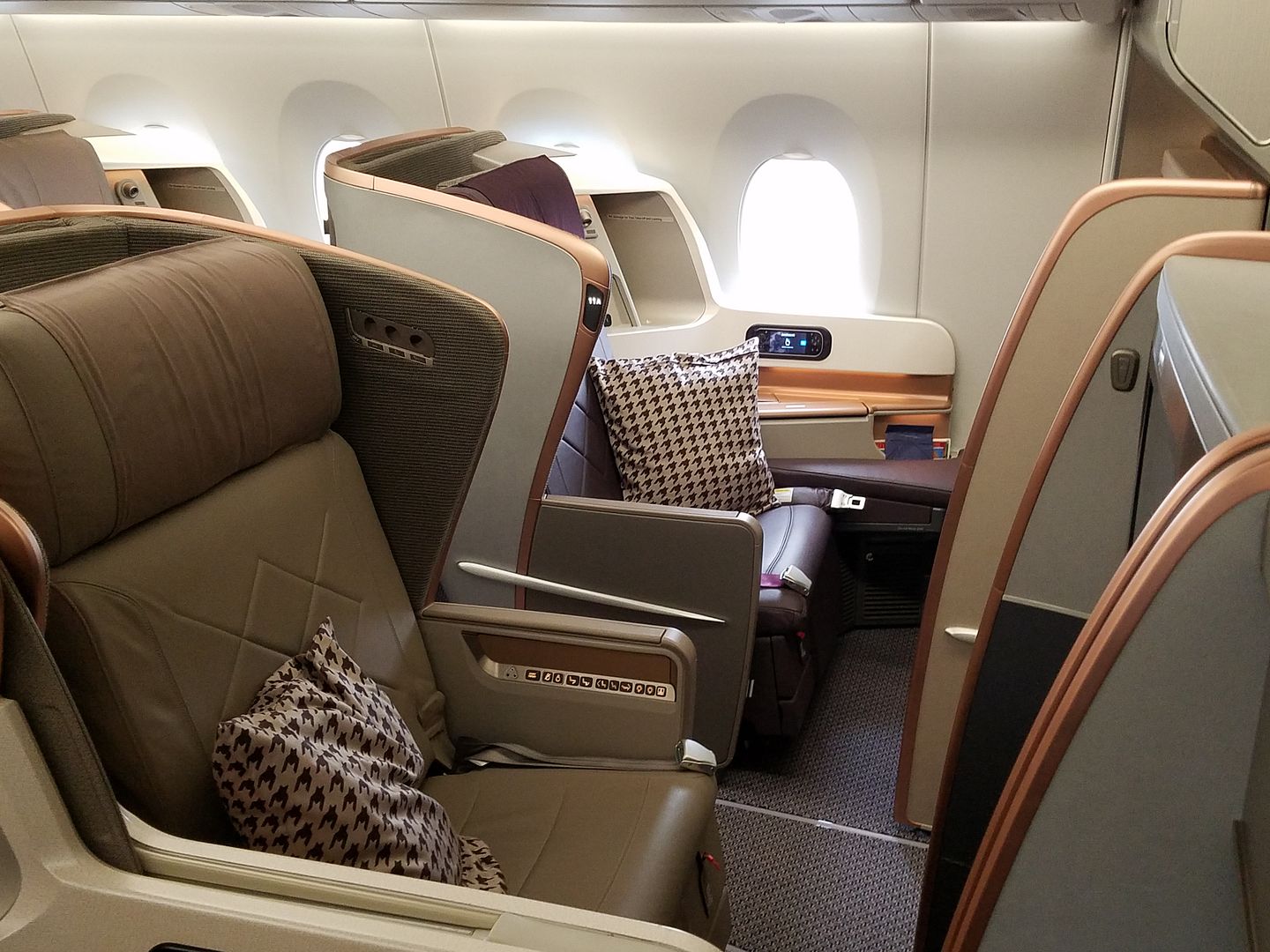 Singapore's new business class has been described as 'more of an evolution' on their current product than something entirely new.
Premium Economy
Singapore's premium economy is one of the real hidden gems in travel — not only because it's an upgrade from coach (with pre-order meal options and champagne) but because it's an easy upgrade to business and a great value to do so with miles.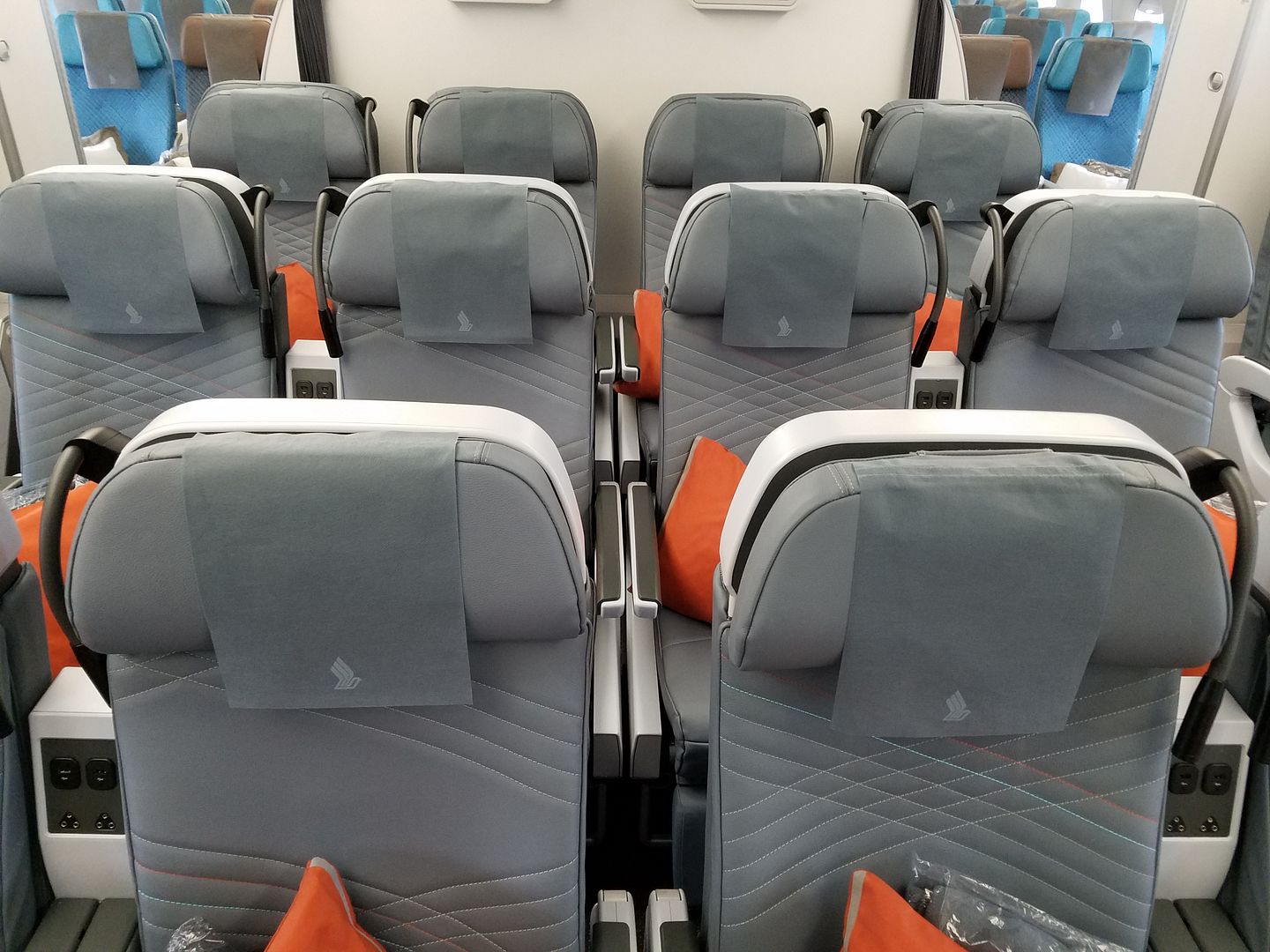 I've only sat in the premium economy seat on Singapore's A350. I do like the soft product, but I find the current seat to be narrow. It's a couple of inches tighter than the American Airlines premium economy seat.
I have to imagine that will remain the case if the newer design for premium economy is going to be used on the Airbus A350, though it would be nice if the wider fuselage of the A380 meant a wider premium economy seat rather than more premium economy seats.
Economy Class
In some sense where Singapore shines the most is in the main cabin. Singapore offers top notch premium cabins but their thoughtfulness and attention to detail really shines in coach and may even be unmatched.
Instead of seeing the back of the plane as just a place to cram in seats, they clearly realize that's where most of their customers are.
Economy seats already have foot bars, something that's reserved for the majority of premium economy seats on most airlines. They have cup holders. Each seat gets a pillow and blanket for long haul – and they're substantive. There are little touches that make the experience feel more civilized.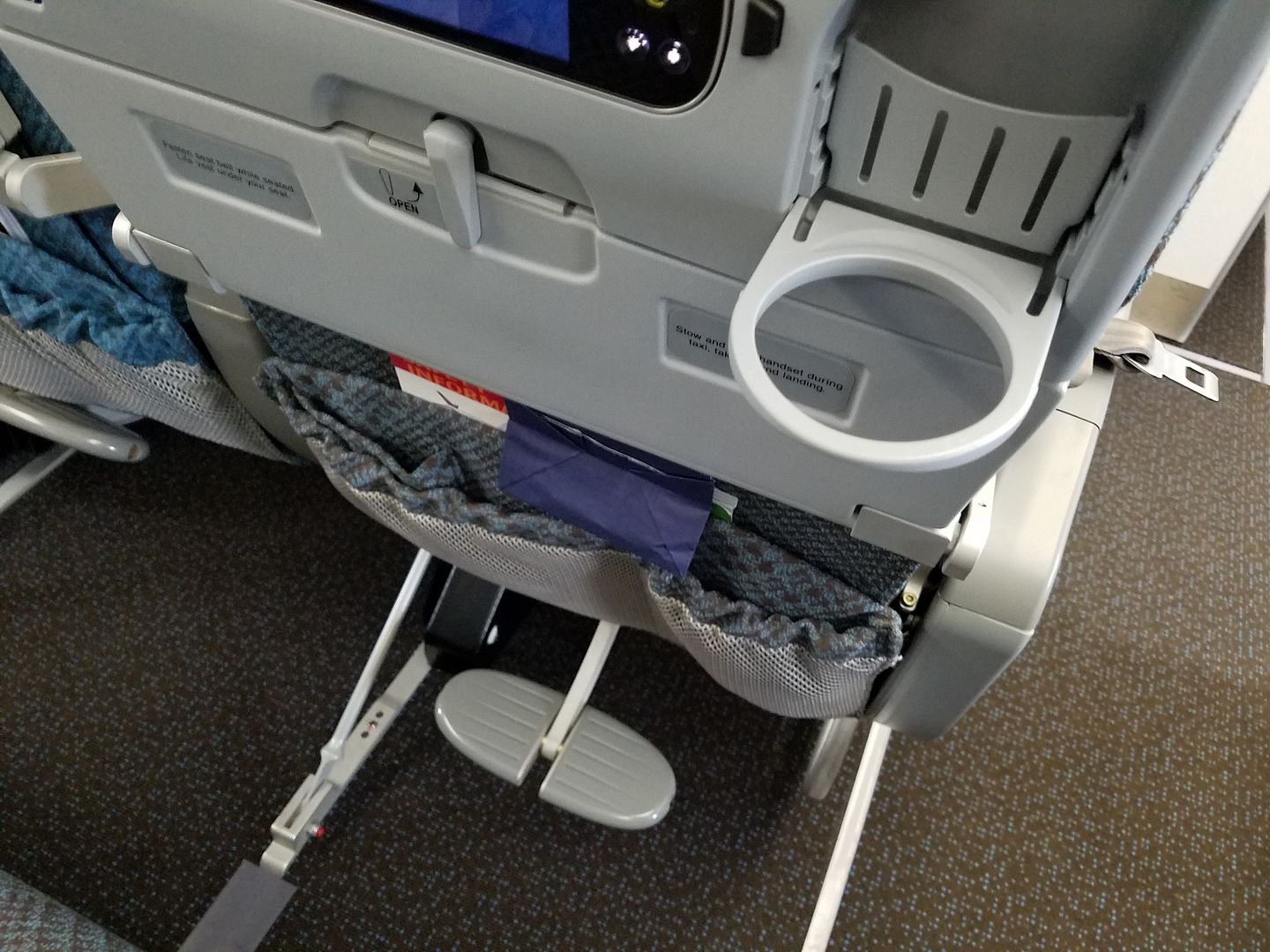 I'm not actually excited to fly Singapore Airlines economy, from the U.S. these are some super long flights. But I'm definitely excited to see what they're doing with a refreshed seat, because it's already quite good as far as economy goes.
Singapore Will Retrofit Their Existing A380 Fleet Too
Singapore expects to take a total of 5 new A380 aircraft into the fleet between October and May. Those will replace 5 that are leaving the fleet.
What's news is formal confirmation from Singapore that they'll also plan to retrofit the remaining 14 A380s already in the fleet.
It's expected that the first service will be to and from Sydney, as the inaugural A380 was a decade ago. I have to imagine that they'll eventually put the new product on London as well, and they have a new competitive reason for doing so with Qantas re-starting Singapore – London.