I've written in the past that the frequent flyer program you should use depends on where you want to go. While I have opinions about 'which program is best' no single program is best for every destination.
There are certainly some off the beaten path programs that are best for some travelers in some situations.
But most of the time when people come to me looking for help booking their award tickets, they already have their miles saved up and want to make the most of those miles.
Since I often say that the best strategy is to earn miles, use them up quickly rather than saving them for a far-off distant future, and then earn some more I think it's a great idea to find the best uses of your miles now, travel, and then earn some more.
So I've put together a list of the very best award options offered by each of the largest US frequent flyer programs, as well as a few bonus award ideas from other smaller programs as well.
In coming up with this list my criteria is that you need to actually be able to find award seats and that the awards are reasonably priced — it's a plus if they're even fewer miles than the award 'should be' compared to other awards the program offers or compared to how many miles other programs require for similar travel. Essentially I'm looking for the awards that one program does better than other programs.
Delta
Delta miles are generally the toughest to use of any US frequent flyer program. They don't make as many award seats available on their own flights, in my experience, as other airlines do. They don't allow one-way awards for half the price of roundtrips (like United and American do). They do not allow international first class awards, business class is the highest cabin. But there are really good strategic uses for Skymiles.
Business class to India. You won't find award seats on Delta in business class at the 120,000 mile level with any frequency. But Delta has several partners — ones you wouldn't think of — that can get you there pretty easily. You might have to buy a domestic flight to get to the US city you'll be leaving the country from, but once you get there it's pretty easy. The award space in business class on Skyteam members Saudia (from Washington DC or New York, through Riyadh and Jeddah) and Aeroflot (a much better airline than you think, and with great availability out of New York and DC through Moscow) is better than on almost any airline. If I want to get a whole family and not just a couple of passengers to India in business class, there's nothing better than Saudia where I frequently see 7 business class seats available on the same flight. You can transit either Moscow or Saudia Arabia without a visa as long as you aren't leaving the airport.
Business class to Australia. The toughest two award tickets in all of frequent flyerdom are Australia/New Zealand and French Polynesia. Delta happens to be the best program for securing awards to both. In the case of Tahiti, Delta is the only airline that partners with both carriers that fly non-stop from the mainland US — Air France and Air Tahiti Nui. With Australia, Delta flies there but it's almost impossible to get saver-level award seats in business class on their own Los Angeles-Sydney flight. But Delta partners with Virgin Australia, which offers more business class award seats than any other airline for US-Australia (especially on their Los Angeles – Brisbane flight where I often see space even at peak Christmas and New Years). Virgin Australia awards have gotten even better because Delta used to add surcharges of several hundred dollars per ticket on top of standard taxes, but no longer does.
Delta also lets you fly to Australia via Asia (with an allowable stopover in one direction) meaning you can fly Korean Air — the airline that has probably more business class awards to Asia than any other, but also has tons of blackout dates — via Seoul, and you can fly China Southern (great award space out of Los Angeles) via Guangzhou, China.
Business class to Africa with a stopover in Europe. Delta charges 100,000 miles for business class to Europe, whether from the US East Coast or the West Coast. Continue on via Europe to Africa, though, and the whole business class award ticket is just 20,000 miles more. That's a lot of extra flying for just an extra 10,000 miles each way, and you're allowed to stop over in Europe on the way. Delta's partners KLM and Air France offer plenty of destinations in Africa, and availability is reasonable. KLM in particular flies to some destinations that almost no other major carriers do — they're the airline of choice for customers contacting me in my award booking service looking to fly to Kilimanjaro — with most airlines the best you can do is fly into Nairobi (or Dar Es Salaam) and buy additional local transportation. But Delta miles can take you straight in.
American
American's frequent flyer program is deep with partners, although as a oneworld member they don't have as many partners as airlines in the Star Alliance. Their strength lies in Europe and Asia (although fewer options than United and US Airways, but with high-quality partners) and especially South America given their own route network and oneworld partner LAN's.
Distance-based awards up to 10,000 miles flown. American is the only US airline which offers both a traditional award chart (where mileage cost is based on the specific regions you're flying between, such as US to Europe is 100,000 miles roundtrip in business class) and a distance-based award chart (where the mileage cost is based on the number of miles flown as part of the award).
While American's traditional award chart is based on one-way awards, if you are willing to restrict your flying to only American and its oneworld partners (excluding other partners like Etihad or Air Tahiti Nui that are not members of oneworld) you can have plenty of stopovers and bounce around all over the world, subject to just a few limitations. Total flying of 10,000 miles in business class costs 90,000 miles. You are required to fly at least two different oneworld airlines other than American so your itinerary might include British Airways and Iberia, for instance.
This is an especially useful award because a traditional roundtrip to Europe costs 100,000 miles and you only get to visit one city. But with the distance-based award you could fly New York to Rome, Rome to Madrid, Madrid to Barcelona, Barcelona to London, London to Paris, and Paris back to New York visiting 5 cities and have it only cost 10,000 fewer miles than just a roundtrip!
Distance-based awards up to 14,000 miles flown. Starting on the East Coast it's easy to bounce around Europe and get in several destinations while staying under 10,000 total flown miles, getting free extra stopovers and getting your award ticket for fewer miles in the process is pretty easy. Starting from much of the US though that can be a challenge. But the distance-based awards for flying up to 14,000 miles are a reasonable 115,000 miles. For 15,000 miles more than a straight roundtrip, you could do something like Phoenix to London (stopover) – Paris (stopover) – Madrid (stopover) – Lisbon (stopover) – Barcelona (stopover) – Rome (stopover) – back home.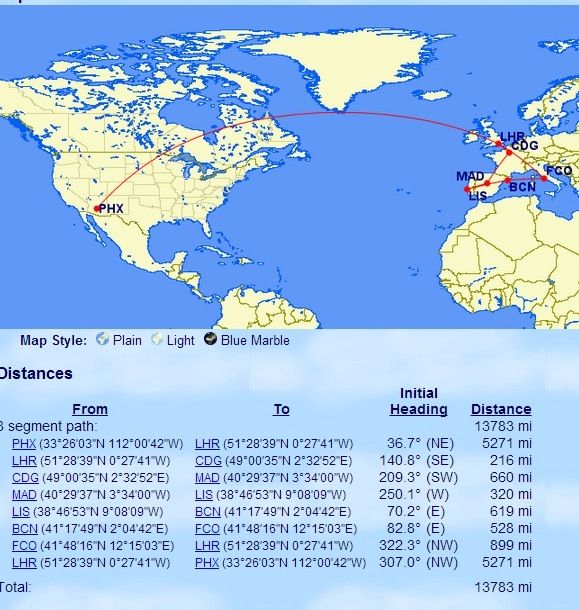 Distance-based awards up to 25,000 miles flown. As I've said, Australia is about the toughest frequent flyer award there is. While American partners with Qantas, getting Qantas award seats in business or first class is tough (though a little easier flying Los Angeles – Brisbane than their other flights). It's easier flying via Asia, but that's a lot of extra flying. If you have the time and want to make a world tour out of it, it's 125,000 miles roundtrip to fly non-stop from the US to Australia and back in business class — or for 150,000 miles you can fly a combination of oneworld airlines up to 25,000 flown miles and do something like San Francisco to Los Angeles (stop) to Shanghai (stop) to Hong Kong (stop) to Sydney (stop) to Melbourne (stop) back to Hong Kong (and stop if you wish again, maybe visit Macau this time) then to Tokyo and stop for a visit before flying home to San Francisco.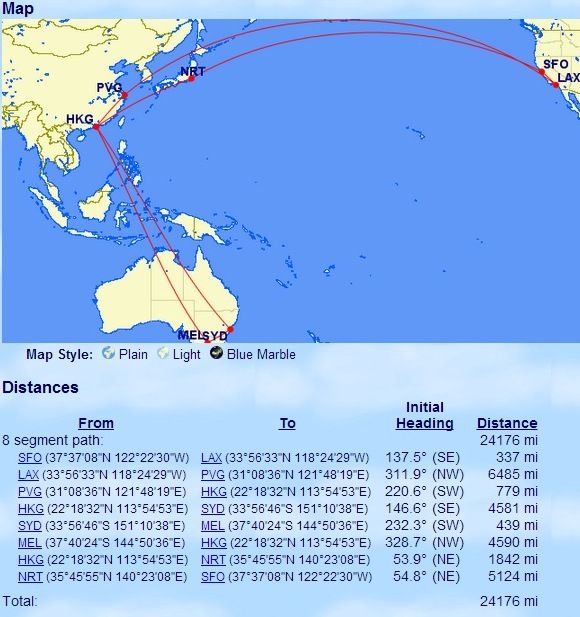 Premium cabin travel to South America. American flies to several South American destinations out of Dallas, Miami, and New York. Award availability is exceptional out of Miami, and in first class especially, where their route network is unparalleled. And they also partner with South American airline LAN whose business class award space is frequently easy to get. At 100,000 miles roundtrip in business class, 125,000 miles roundtrip in first, if you want to travel to South America you want to be working with American miles.
First class awards to a variety of destinations. American probably offers more award space in first class than any other frequent flyer program. They partner with British Airways which flies to more US destinations than any other international airline, and which offers more first class seats than anyone else. First class awards are offered with greater availability on BA than on any other airline, they're much easier to get than business class. Unfortunately you have to pay fuel surcharges whenever redeeming on BA. But I see it as paying less than the cost of a coach award, and using miles for a triple upgrade (BA offers 4 classes of service) to first class, a great deal most of the time. American also partners with Etihad, which offers amazing first class award space out of New York and can be used to fly through Abu Dhabi to India or the Maldives. Qatar is expected to join oneworld and has good first class availability from Europe to Doha, Qantas also offers good first class awards on their A380 aircraft out of London. Finally, Cathay Pacific is a partner, their first class product is truly at the top of world class, and is readily available from Chicago and San Francisco (and to some extent New York) to Hong Kong.

United
As a Star Alliance member, United's miles are all about options. With so many partners I find it's usually quite easy to make an award work to most parts of the world, as long as you're willing to add a connection or otherwise have just a little bit of flexibility in your travels. And while some of their awards (such as business class to parts of Asia) as more expensive than comparable awards on fellow Star Alliance member US Airways, United's rules are exceptionally generous — one way awards for half the miles of roundtrip, and changes allowed after the start of travel.
First and business class to Asia. United's business class awards aren't the cheapest. They're priced similarly to Delta's at 120,000 miles roundtrip. They're 10,000 points pricier than American's (although United will permit a stopover in addition to your destination on a roundtrip award, American will only permit that stopover to be in North America). The real advantage United has is availability. They have so many partners flying out of so many gateways that it can be really easy to fly business class to Asia. Asiana flies from New York, Chicago, Los Angeles, San Francisco and Seattle — the Chicago, LA, and Seattle flights are often easy to get even four awards on the same flights. Thai Airways flies from Los Angeles. Singapore from Houston, New York, San Francisco, and Los Angeles. All Nippon from San Francisco, Seattle, San Jose, San Francisco, Los Angeles, Chicago, New York, and Washington Dulles (not to mention Honolulu). Air China flies from New York, San Francisco, and Los Angeles. EVA is joining the Star Alliance. And all of that is in addition to United's own flights across the Pacific.
First class is an exceptional value, in my opinion, because it's only 10,000 more miles each way on top of business. While Singapore and ANA can be tough for first class awards, the Asiana Chicago and Los Angeles flights are great for first class award availability. Air China's San Francisco flights are as well. What's more, first class to Asia is just 140,000 miles roundtrip — 5000 more than first class to Europe, and it's permissible to route across the Atlantic and make a stopover in Europe.


Business class to Europe. Again it's all about the partners. In addition to United's own flights, there's US Airways, Lufthansa, Swiss, Austrian, LOT Polish, Brussels Airlines, Air Canada, Turkish, TAP Air Portugal, and Scandinavian (and that doesn't even count the one transatlantic flight each contributed by Air New Zealand and Singapore Airlines). With all of those flights you can almost always find a way across the Atlantic in business class on points, even if it's not your preferred routing or requires an extra connection. The cost of business class to Europe in miles is 100,000 for a roundtrip — about average in pricing.
Business class to Africa. Availability to Africa — as long as you're willing to fly via Europe — is hard to beat. Even the direct options are great with United because they partner with South African Airways which flies to Johannesburg from New York and Washington Dulles, though availability can be scarce (in my experience the best time to look is about 10 months out). But if you can get to Europe — which I've already described is really quite doable — you can travel onward to Africa on Lufthansa, Swiss, South African, TAP Air Portugal, Turkish Airlines, EgyptAir, Ethiopian, and Brussels Airlines. Business class is a value at 120,000 miles roundtrip including an allowable stopover in one direction in Europe.
US Airways
Like United, US Airways is a Star Alliance member meaning that their partnerships are plentiful and so their miles can be used to great effect. Know that unlike United, their website does not show any of their partner's flights when searching for awards. So you have to call, and playing telephone roulette will yield US Airways telephone agents of tremendously varying skill. In addition to the tremendous award availability that membership in the Star Alliance offers, there are a couple of real sweet spots in the US Airways award chart:
US to Hong Kong, China, or North Asia in business class for 90,000 miles roundtrip. Travel via the Atlantic and do a stopover in Europe in one direction. That gets you Europe and Asia visits as part of the same award, and it's 10,000 miles less than just going to Europe in business class (which is 100,000 miles roundtrip). Incidentally, flying to Hong Kong in first class across the Atlantic runs 120,000 miles roundtrip, you can stopover in Europe on that award as well, and it's 5000 miles than just flying first class roundtrip to Europe.
US to Australia in business class is 110,000 miles roundtrip. First class is 140,000 miles roundtrip. That's cheaper than a roundtrip award to Thailand in either cabin. And it allows you to fly via Asia, stopping in Thailand, Singapore, or elsewhere in Asia in one direction. So you do a whole lot more flying, get to visit Asia and Australia, and spend fewer miles than just visiting Australia.
Bonus:
Alaska Airlines. My favorite award in the Mileage Plan program is flying first class on Cathay Pacific all the way to South Africa. Alaska charges 140,000 miles roundtrip to Asia in first class. It's the same 140,000 miles if you want to do a stopover in Hong Kong and fly on to Johannesburg. They've added Middle East carrier Emirates as a partner and will soon be introducing award redemption on that airline — so I'm anxiously awaiting the release of the price of first class on Emirates A380 (the plane that has a shower up front!).
Hawaiian Airlines. I'm not a big fan of the program, they have several partners but most of their awards cost a lot of miles. Their rules are fairly inflexible, you can do very little on their website, and many of their agents aren't well-informed. But they have one sweet spot in my opinion: award travel on partner Virgin Atlantic. If you are using Virgin's own miles, or miles from any of Virgin's other frequent flyer partners, you pay exorbitant fuel surcharges when redeeming points. You can easily spend $900 per passenger in addition to taxes just flying from the US to London and back. But Hawaiian Airlines lets you redeem points on Virgin Atlantic without those fuel surcharges. You can fly Virgin's Upper Class for a reasonable 100,000 miles roundtrip to London or 140,000 roundtrip if your travels take you beyond London.
What Do You Consider the Best Frequent Flyer Awards Offered by the U.S. Frequent Flyer Programs?