American Airlines is on the verge of introducing the most uncomfortable seat in the history of US legacy airlines — with as little as 29 inches of pitch (the distance from seat back to seat back) compared to 31 inches in economy currently and less padding (slimline seats) — when it receives its first Boeing 737 MAX aircraft. We can expect that they will retrofit existing 737s, the workhorse of the American Airlines domestic fleet, to eventually offer this uncomfortable product as well.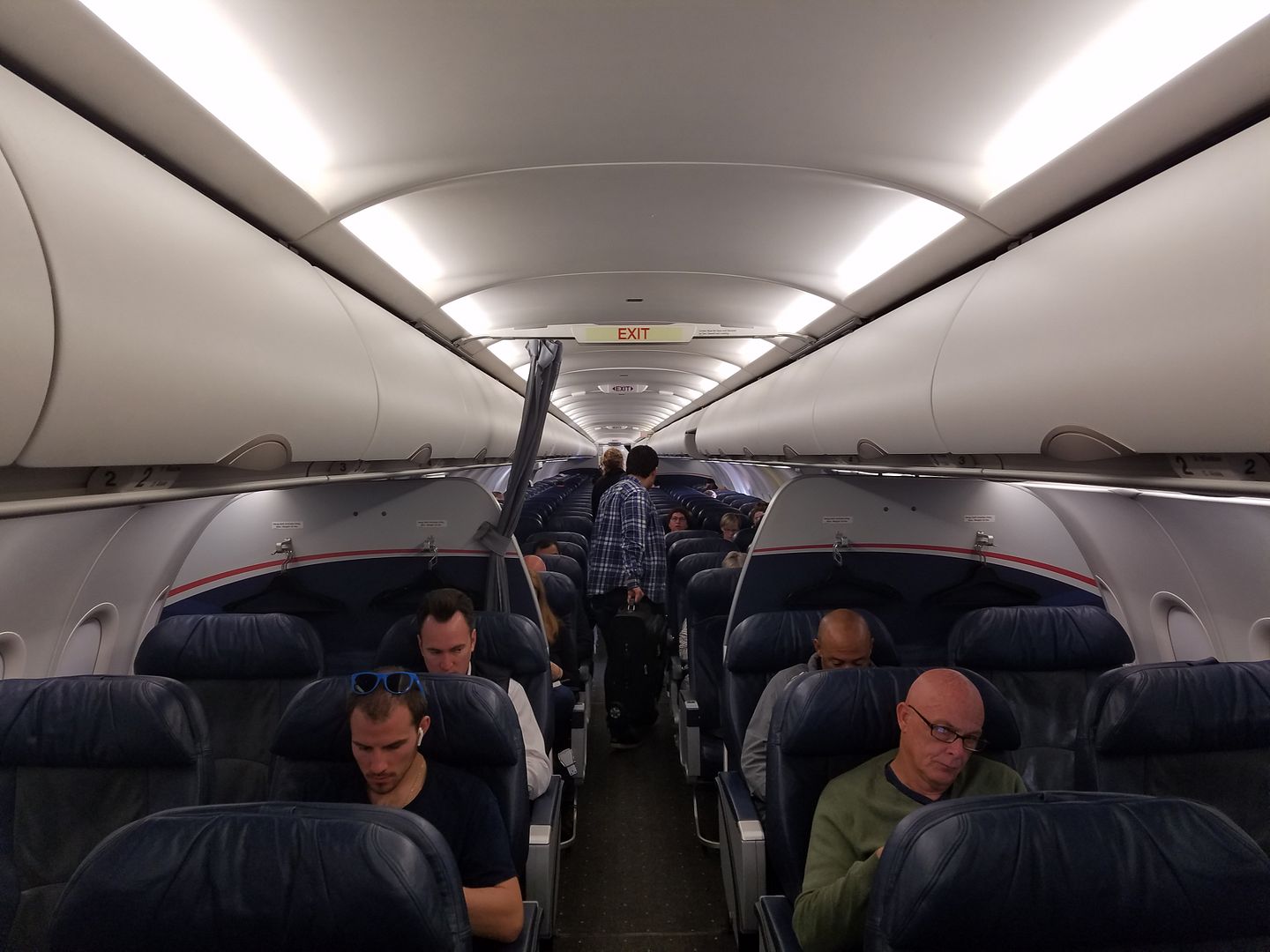 Walking Towards The Second Worst Seats in the History of US Legacy Airlines
The airline was plotting its strategy for these new planes when Scott Kirby was its President. Now Kirby is President of United Airlines.
So it's no surprise that when United Airlines employees asked him whether this was an opportunity for United gain an advantage by offering a better product than American he said no. Brian Sumers wrote in Skift that Kirby went on to explain,
"Seat pitch has come down," Kirby said. "But seat pitch has come down because that's what customers voted with their wallets that they wanted. I know everyone would tell you, 'I would like more seat pitch.' But the history in the airline industry is every time airlines put more seat pitch on, customers choose the lowest price."
As the parody Twitter account @FakeUnitedJeff (United's former Chairman and CEO was Jeff Smisek, ousted in a corruption scandal) remarked,
United: we didn't start the race to the bottom, but by God we plan to win it!

— Fake Jeff Smisek (@FakeUnitedJeff) June 10, 2014
We can clearly expect United to follow American's lead in reducing the amount of legroom in economy. Kirby says if you want legroom, pay more for it.
"I say, 'Pay a little more and you get can get seat pitch," he said. "If it's worth it to you, you can do it. But if you just want the cheapest fare, this is what it is."
Shrinking legroom is important, Kirby says, "to be competitive with Southwest Airlines and Spirit Airlines" but Southwest offers 31 to 33 inches of legroom, not 29 or 30 inches. Southwest doesn't charge change fees or checked bag fees, either. His plan to be competitive with Southwest (which carriers more domestic passengers than any other airline) is to offer an inferior product than Southwest.
Sumers notes that American Airlines took seats out of aircraft for its "More Room Throughout Coach" initiative offering 34 inches of pitch throughout all seats on its aircraft. Customers weren't willing to pay a revenue premium to fly American, so they reduced pitch back to 31 inches. But that doesn't suggest less than 31 inches is the right answer either, though tellingly Kirby doesn't suggest what a bare minimum product offering would look like. Ryanair has jokingly suggested forcing customers to stand in exchange for low fares.
Ultimately Kirby's position is:
If customers didn't like a poor inflight product, they'd stop buying tickets from United.
If customers want anything better than what United offers, they should give United more money.
While American Airlines Chairman and CEO Doug Parker warned (himself, apparently) of the dangers of short-term thinking Kirby may right, United can compete with American in the race to the bottom because there is little margin around which airlines can compete and little prospect of new competitors. Kirby's statements should be a clarion call for government policy to change to allow for greater competition in the airline industry.
It's not a foregone conclusion that Kirby is right, because Southwest, Alaska, Virgin America and even Delta offer a better product today than American and apparently United intend to offer. So consumers have some choices.
But there's a limited margin around which airlines compete today, and government keeps competitors out of the U.S. market. They own the airports and often limit availability of gates, for example gates were even eliminated at Dallas Love Field as part of legislation that relaxed previous restrictions which limited competition out of that airport on flights beyond surrounding states. Other airlines won because it meant there would still be a limit to the number of competitive flights from Love Field. Southwest, the airport's major tenant, won because it meant there would be very little competition against them for flights at that airport. Only consumers lose. Meanwhile there are high quality airlines all over the world that are legally forbidden from entering the U.S. market.
We should eliminate restrictions on foreign ownership of airlines operating between cities in the U.S. While American, Delta, and United want to further limit competition by preventing new routes and low prices from being offered by Emirates, Etihad, and Qatar, we should invite those airlines to fly within the US to compete with American, Delta, and United.
We should invite in Singapore Airlines, Cathay Pacific, and any myriad other airlines that meet safety standards. That won't be a panacea, there will still be government barriers to competition at the airport and airspace level. But it's the biggest thing we can do as a start to turn things around.