United is cutting back on the overall total miles they're awarding for flying starting March 2015 with their new revenue-based earning structure.
They don't want to spend as much marketing their flights anymore, with the economy strong. (Plus, they really really want to be like Delta, Delta has announced they're doing this, and Delta didn't lose $600 million last quarter. It's the Underpants Gnome theory of running an airline and a mileage program.)
But it isn't that they don't want as many miles out there, as some commenters have suggested ('this will make getting awards easier, so it's responsible').
They just want you or their marketing partners to buy the miles. In fact, they'll sell the miles to you at a 40% discount through Monday (June 16).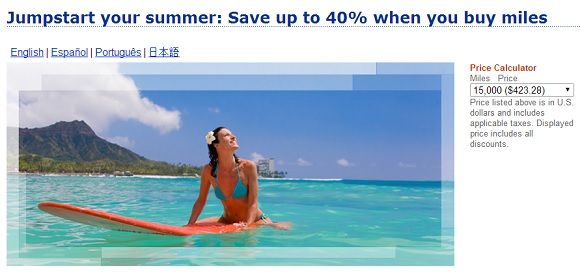 I don't know about you, but buying miles from United isn't how I'm jumpstarting my summer.
It's still not a good deal, of course, because the 'retail' price of MileagePlus miles is set too high.
Even with a 40% discount United still wants ~ 2.26 cents a mile including taxes and fees.
It wasn't worth this price even before the devaluation that went into effect in February. I don't see it as worth it now.
That said, you could find this useful specifically to top off towards an award you're looking to book now rather than waiting to earn miles more cheaply from another source and especially if you don't have Chase points to transfer in. But I wouldn't buy miles speculatively with this offer.
---