Blog reader Mark S. who is a US Airways Platinum member as an American Express Centurion ("Black Card") cardholder passes along the following email that he received: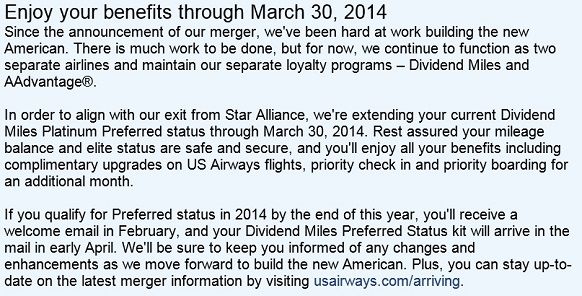 I guess they do not want to send out new membership cards with the Star Alliance logo on it, only to turn around and incur the expense of cards with a oneworld logo.
However, since they're not sending out new membership cards until early April that likely means a gap (of several days or a little over a week) where US Airways elites flying internationally may not be able to access partner airline lounges as lounges generally require showing the elite status membership card for access.
The US Airways relationship with American Express ends March 22. American Express Platinum and Centurion cards will no longer receive American and US Airways lounge access after that date, and the US Airways Platinum status benefit for Centurion cardholders will also go away.
It's been expected that American Express Centurion members would be able to re-up their Platinum status for 2014 prior to March 22nd, however, and have that status through February 2015. And that may still be the case, it isn't clear to me that US Airways status has to first expire before getting re-upped by American Express. But this throws a small potential monkey wrench in that process, if along with the change US Airways stops renewing status since current status will last beyond the expiration of the American Express relationship.
Any Centurion cardholders trying to obtain or renew Platinum status with US Airways please do share your experiences.
---