How and Why to Status Match to Turkish Airlines
I've written in the past about getting complimentary elite status on Turkish Airlines by having them match elite status you already have.
The status lasts two years and they've even been willing to match United MileagePlus status even though Turkish and United are Star Alliance partners.
Having the status, of course, gets you access to United's club lounges when flying United same-day even domestically.
You used to be able to request the status match via email but they started accepting requests via online contact form only (and it can take a couple of months for them to get back to you — be patient).
As a result of these posts many readers have Turkish Airlines elite status. I'd bet most just use the status for club lounge access, or maybe for a free checked bag and priority boarding on United.
But there's also real value in the Turkish Miles&Smiles program, as well.
Requalifying for Turkish Status is Easier Than You Think
The status lasts two years and they give you two years to re-qualify. Since I do not live in Turkey, the rules are 25,000 Status Miles in year one or 37,500 Status Miles in two years, and they will let you purchase 10,000 towards the 37,500 (either at 25 euros per thousand or 30 euros, the website separately lists both prices and I haven't checked which one applies in practice).
Turkish offers 100% mileage earning on all United flights, with 500 mile minimums.
There Are Some Real Values in Their Award Chart
Award ticket rules do have some quirks. Awards are roundtrip only, no one-ways. There's an 8 segment maximum. Star Alliance awards may not be re-routed once issued. Awards may be issued for anyone you wish out of your own mileage account provided you pre-authorize it in writing in advance, and you have to designate them as a 'loved one'.
One open jaw is permitted, and one stopover is permitted (soon not to be an issue, but awards on US Airways are more restrictive).
There are some interesting values on the Star Alliance award chart, such as business class between North America and "Europe and Africa 1" for 105,000 miles roundtrip, this includes for instance Russia, the Ukraine, Ethiopia, and Sudan.
Flying Turkish metal is often cheaper, e.g. from the US to the Middle East is 90,000 miles roundtrip in business. From the U.S. to domestic Turkish destinations is only 70,000 miles roundtrip business class. Not bad for Los Angeles – Istanbul and back, for instance. Flights on Turkish are available for redemption without capacity controls for additional miles.
Turkish adds fuel surcharges to awards when a similar paid itinerary would include them.
Turkish is Very Active Offering Promotions
Currently there's a 50% mileage-earning bonus for all Turkish flights taken in January. There's also a 25% discount on award flights redeemed for January travel. (HT: Loyalty Lobby)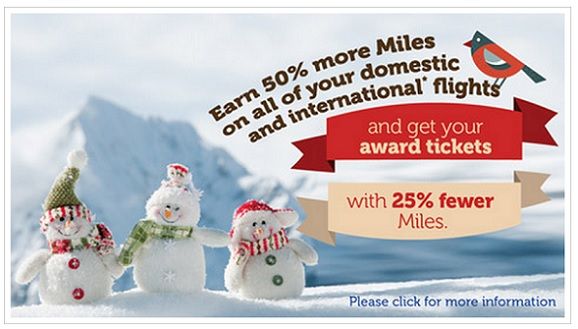 Miles&Smiles members earn 50% extra miles from their international and all domestic flights and can fly to promotional cities and domestic destinations with Turkish Airlines during our special offer between 1 January and 31 January 201 for 25% less miles. This offer is also applicable to all upgrades, one-way, round trip award tickets and companion tickets.
Here are the cities where they're offering a 25% discount on redemptions:
All Domestic Lines

Europe 1: Belgrad, Podgorica, Pristine, Sarajevo, Tirana, Skopje, Chisinau ,Zagreb, Sofia

Europe 2 : Batumi, Bucharest, Donetsk, Ganja, Constanta, Lviv, Nahcevan, Odessa, Simferopol, Tbilisi, Dneprepetrovsk, Kiev, Baku

Europe 3: Ljubljana, Luxembourg, Bilbao, Birmingham, Bremen, Munich, Nurnberg, Dublingoteburg, Edinburgh, Ekatarinburg, Friedrichshafen, Ufa, Cologne, Copenhagen, Leipzig, Manchester, Alborg, Stockholm, Stuttgart ,Turin, Napoli ,Nice ,Riga ,Rostov, Santiago De Compo, Toulouse, Valencia, Billund, Helsinkı, Oslo, Malta

Central and North Africa: Kinsaşa, Cezayir, Hurgada, Misrata, Şarm El-Şeyh, Tunus

Central Asia:Osh, Bishkek, Asqabat

Near East: Aqaba, Beirut, Amman , Tel Aviv

Middle East: İsfahan, Shiraz, Tehran, Mashad, Slemani, Abu Dhabi

America: Houston
Not bad when there's a 25% discount on Houston redemptions, which are already cheap on Turkish metal. That's business class for fewer miles than most airlines charge for coach.
The only quirk is that 50% mileage earning bonus doesn't apply to 'promotional fares' although it isn't clear what booking class those are for the purposes of the promotion.
---