I spent last weekend at the W San Diego, which has been in the news lately because the property is being take back by its mortgage lenders. Like many hotels, occupancy and rates are down. This one was acquired at the height of the real estate boom, fetching a real premium, and the owners decided it didn't make sense to go on making the interest payments. So apparently they believe it's now worth less than the $65 million they owed on it, despite having paid about 50% more than that three years ago.
At the same time, with recent rates as low as $119 the hotel becomes an exceptional value. I had my own special rate, and when I checked in on Thursday night the clerk at the desk informed me that I was going to love my room, I had "been upgraded to their best suite."
The Extreme Wow suite carries a list price of something like $3000 a night, though I can't believe it rents for that or at least does often. Judging from the dust on the toilet paper holder in the entryway guest bathroom, I'm guessing it doesn't see too many guests, as it's not in the pool of upgrade-eligible rooms.
The W San Diego is currently an exceptional value, given recent rates. But it's hardly at the cutting edge of W properties. They replace the floor mats in the elevators during the day, "Good morning/Good afternoon/Good evening," whereas the W Hong Kong elevators greet you in the same way… electronically.
Like the hotel itself, the room was a few years behind cutting edge. But it was large and functional and comfortable, I enjoyed it and was certainly lucky to have it. Having just stayed at the W Seoul and at the W Hong Kong, I wasn't quite as impressed as I probably wasn't as impressed as I otherwise would have been.
I'm sure that many of the non-hotel guest poseurs hanging out at the Beach bar (admittedly, the sand is a neat gimmick) would have been impressed. I heard more than one young twentysomething in impossible heels and a "going out" top marvel to her friends, "Have you ever, like, <I>stayed</i> at a W Hotel?"
The crowds of course limit themselves to the lobby bar

But mostly, really, to Beach Bar

One might expect the pool to be a decent scene, but it was rather small and the weather was overcast when we checked it out

But the room was quite impressive.
Living room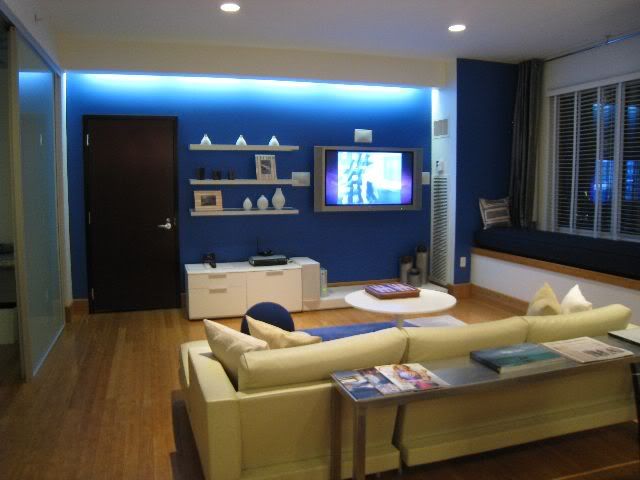 Dining area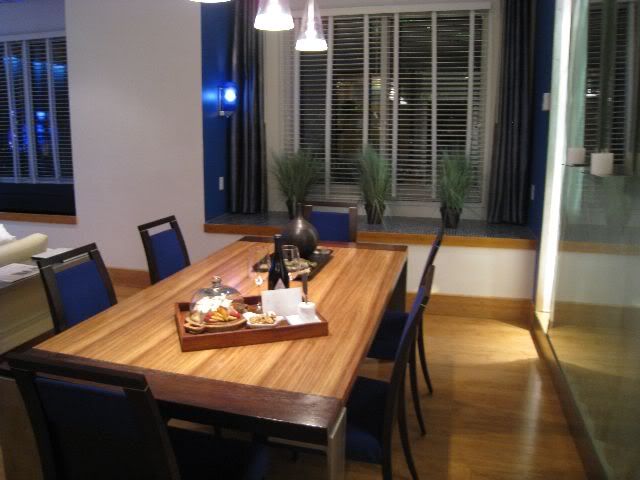 View from the living room towards the master bath (on the other side of the wall)

Office (with a computer, a bit out of date)

Painted ceiling in the office

Guest bath in entryway

Hallway to the bedroom

Art along the way

Master bath: tub and shower

Master bath: toilet

Master bath: sink

Bedroom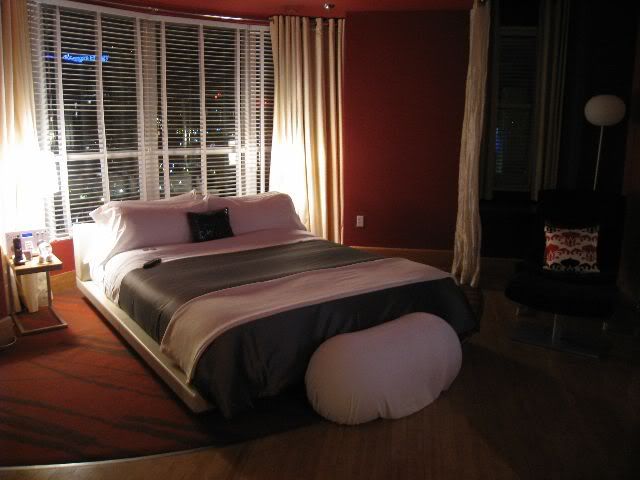 There was a bottle of wine and cheese waiting for us

Of course, there were little things that could definitely use improvement.
Still on East Coast time, I woke up on Saturday morning at 4:30am. At about 5, I wanted some coffee. I called the "Whatever/Whenever" line and asked to have room service bring me up some coffee. Should be an easy request, no? They told me they don't do that until 6, "they're not allowed, and there's no one there to make the coffee anyway." Ok, what time does the nearest Starbucks open? "I think 5:30." Umm, I'm going to head out of the hotel this early based on I think? Fortunately he turned out to be right (in fact, on weekdays the Starbucks by the trolley station opens at 4:30am).
On the way to the elevator I noticed that the newspapers in the hallway were still dated Thursday. Ok, they hadn't put out Saturday's papers yet (those were stacked in the lobby entrance). But they never put out Friday's. And in fact they never did put out a Saturday paper, the next one to appear was Sunday.
With plenty of pay lots around (as well as street parking, check the signs for when you need to move your car), valet service is exorbitant at $32 a day.
Nonetheless when I arrived late at night I decided not to mess with where to park for the first night, and I dropped the car off with the valet figuring I would use them just for a single day. When I took the car out the next day and returned it to the valet just a little later, I pulled up in front of the hotel and waited. And waited. I've only ever seen one valet staffer at any given time, so perhaps he was off parking another car. But when no one came by, I went looking and saw the attendant in his booth working on paperwork. I decided to stand next to him and just wait until he noticed me. He fiddled with some papers, and about 3 minutes later looked up. I apologized and said perhaps he didn't notice me. "Are your keys in the car?" Yes… He just told me to leave the car and he'd get to it. He made no move to drive it away.
The only other complaint is one the front desk probably had little to do with, but the phone in the room rang 6-7 times/day including late at night, we had to have the hotel block the line. No one was ever there. Perhaps it was someone looking to see who famous might be staying here that they'd get to talk to?
All in all though it was a more than lovely weekend. Flyertalk's SanDiego1K introduced us to Jasmine's for dim sum. She also recommended the excellent Karen Krasne's Extraordinary Desserts which was just three or so blocks from the hotel. Went down to the beach, and to Balboa Park, and had some decent upscale Mexican food across from the Mexican consulate (but what do I know, almost anything here would have to be decent, I live in Mexican food-starved DC). That and my Delta flight back through Atlanta had an aircraft swap to the old international-configured business seats. Not bad for a weekend, actually.