I receive compensation for content and many links on this blog. Citibank is an advertising partner of this site, as is American Express, Chase, Barclays and Capital One. Any opinions expressed in this post are my own, and have not been reviewed, approved, or endorsed by my advertising partners. I do not write about all credit cards that are available -- instead focusing on miles, points, and cash back (and currencies that can be converted into the same). Terms apply to the offers and benefits listed on this page.
---
I had an opportunity to see the brand new American Express Centurion lounge Houston last night and try the food since I was invited to the pre-opening party there.
American Express has begun operating their own network of "Centurion lounges," which are a step above what travelers have become accustomed to from US airline-operated lounges.
They are complimentary for Platinum Card from American Express cardholders (and everything – from food and alcohol to, in some lounges, spa treatments are complimentary as well). They are also complimentary for Centurion cardholders. Other American Express cardholders can pay-in.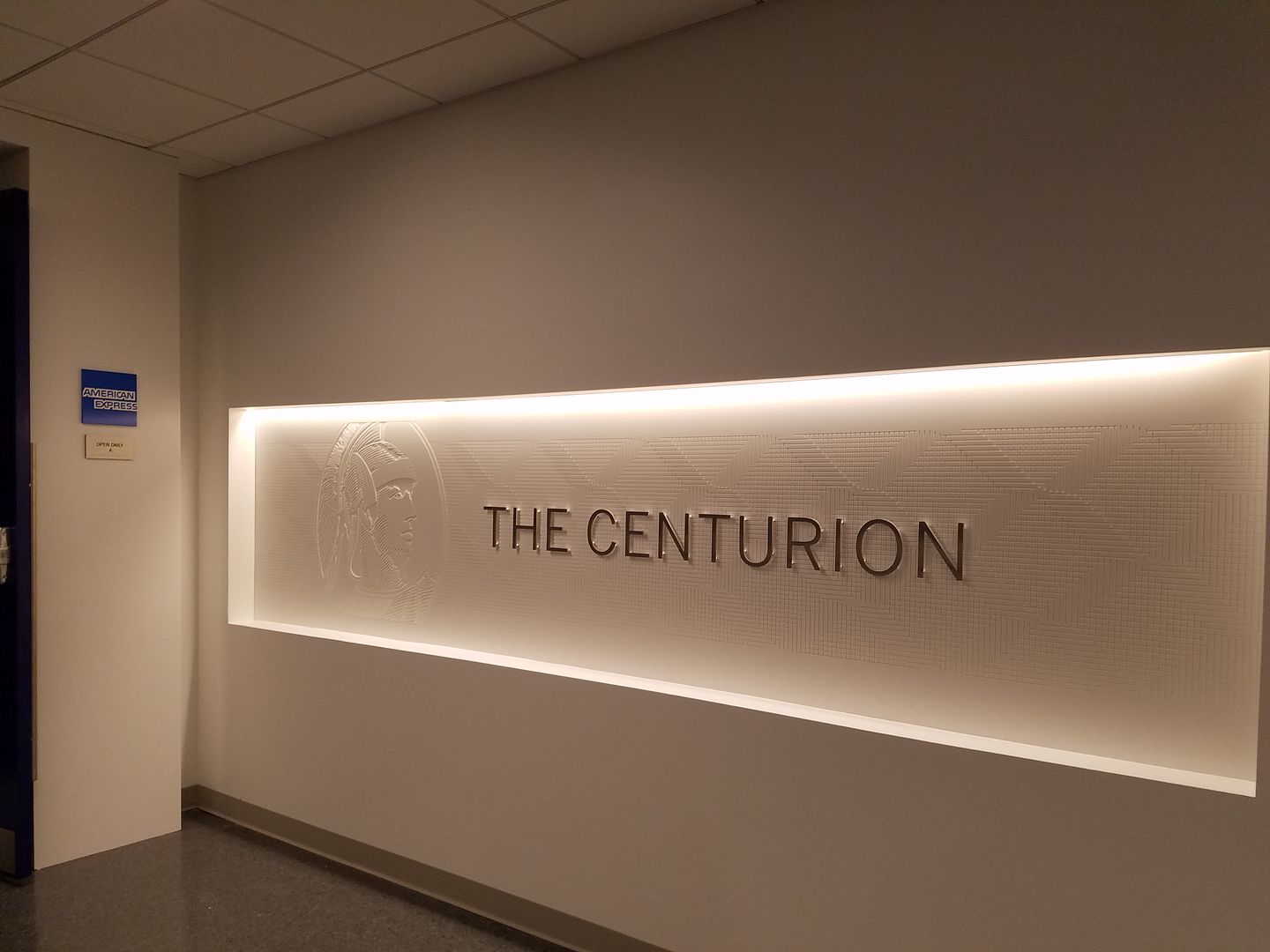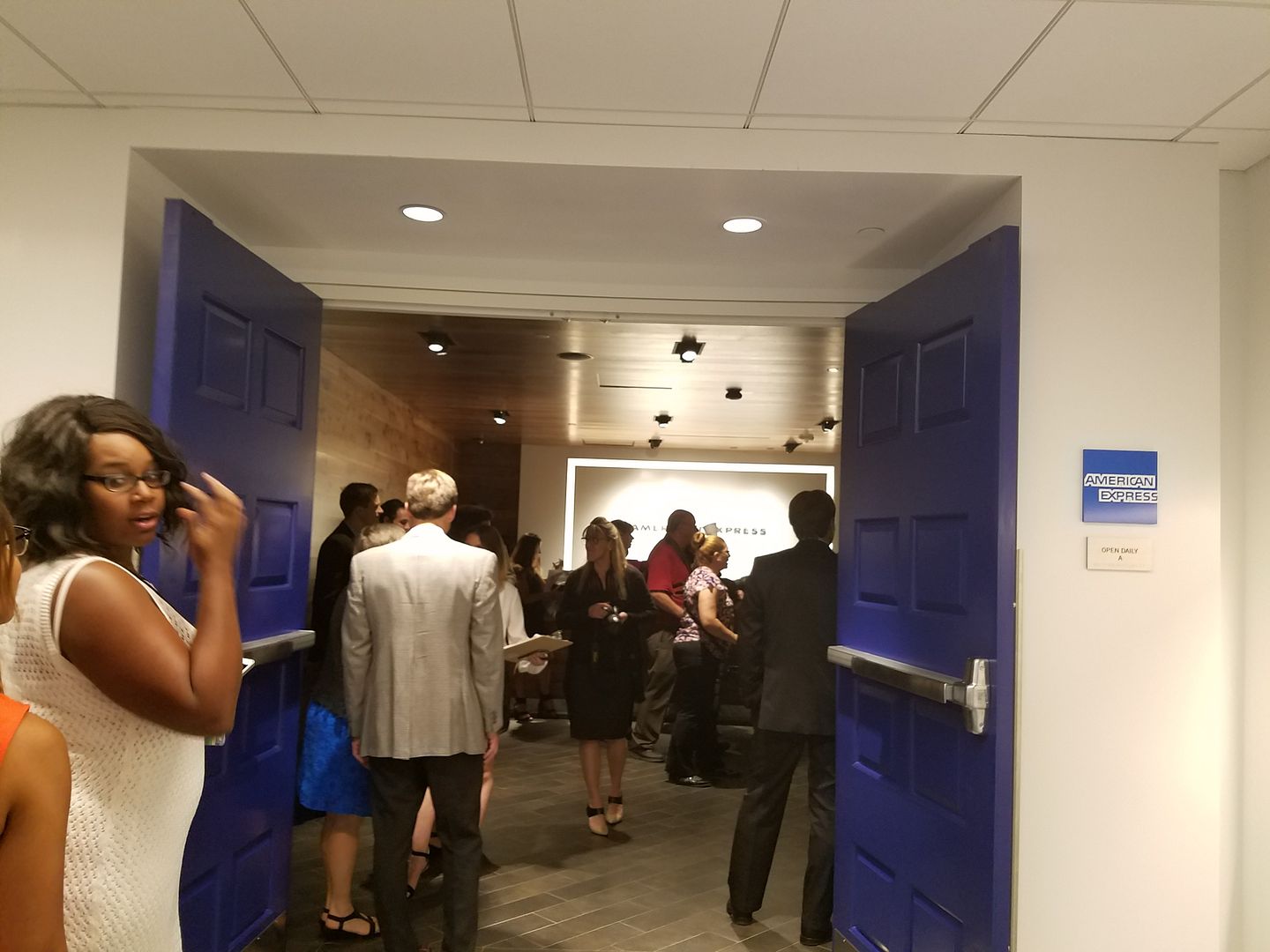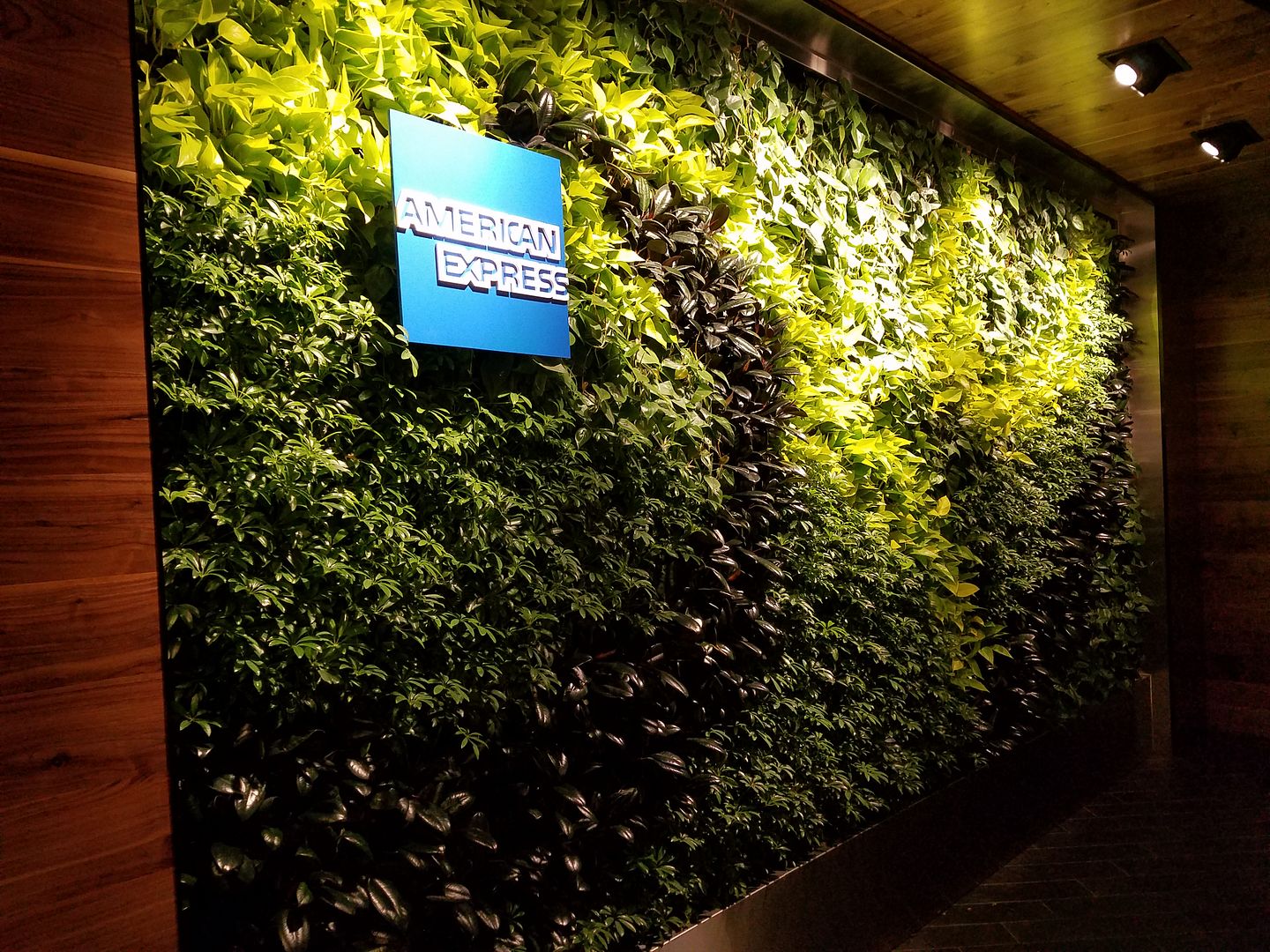 The American Express Centurion Lounge Houston – which officially opens in a few days – is the 6th full lounge in the U.S. (there's one smaller 'studio' lounge as well).
The other lounges are:

More airport leases are being pending, so we'll be seeing additional Centurion lounges in the hopefully not-too-distant future.
How to Access the American Express Centurion Lounge Houston
American Express cardholders with a same-day boarding pass can access based on their card type as follows:

Centurion and Platinum cardholders: Cardmember may bring in their spouse and children or two guests

Other American Express cardholders: $50 per adult (children complimentary when accompanied by paying adult)
American Express budgeted $7 million to build out 8596 square feet in Houston Intercontinental's Terminal D that's the old immigration hall.
Terminal D is slated for replacement But American Express is also promised a place in the new international terminal once that's built, and a 10 year lease there, so this not only gives American Express a place in Houston now it helps to ensure that they'll have a home for their Centurion lounge into the future.
The lounge is located near gate D6. You take an elevator up to the lounge.
Although last night we entered from outside security, beside the Qatar check-in desks, because the lounge had not yet cleared all of its inspections including a security sweep so it wasn't yet permitted to be accessed airside.
The location is a good one because all terminals in Houston are connected airside. It's an easy walk from United's C gates. And in some ways it may be desirable that it's farther from the busiest parts of the airport, and a walk or ride away. That may limit crowding, with fewer 10-15 minute drop-ins.
Of course this is the third lounge on just the D concourse that American Express Platinum cardmembers can access (because both the KLM and Air France lounges are Priority Pass lounges). So if the Centurion lounge is too busy, there are options.
Gorgeous Design
The lounge is gorgeous, which is to say that the design is very similar to the standard Centurion lounge aesthetic.
It's a very open space. That's both a positive and a negative. The furniture wasn't all in just yet it so seemed like there weren't any little nooks and crannies, just a big room, though that also made it feel more spacious than it probably really is. Perhaps furniture will create sense of discrete spaces that will contribute to a feeling of privacy.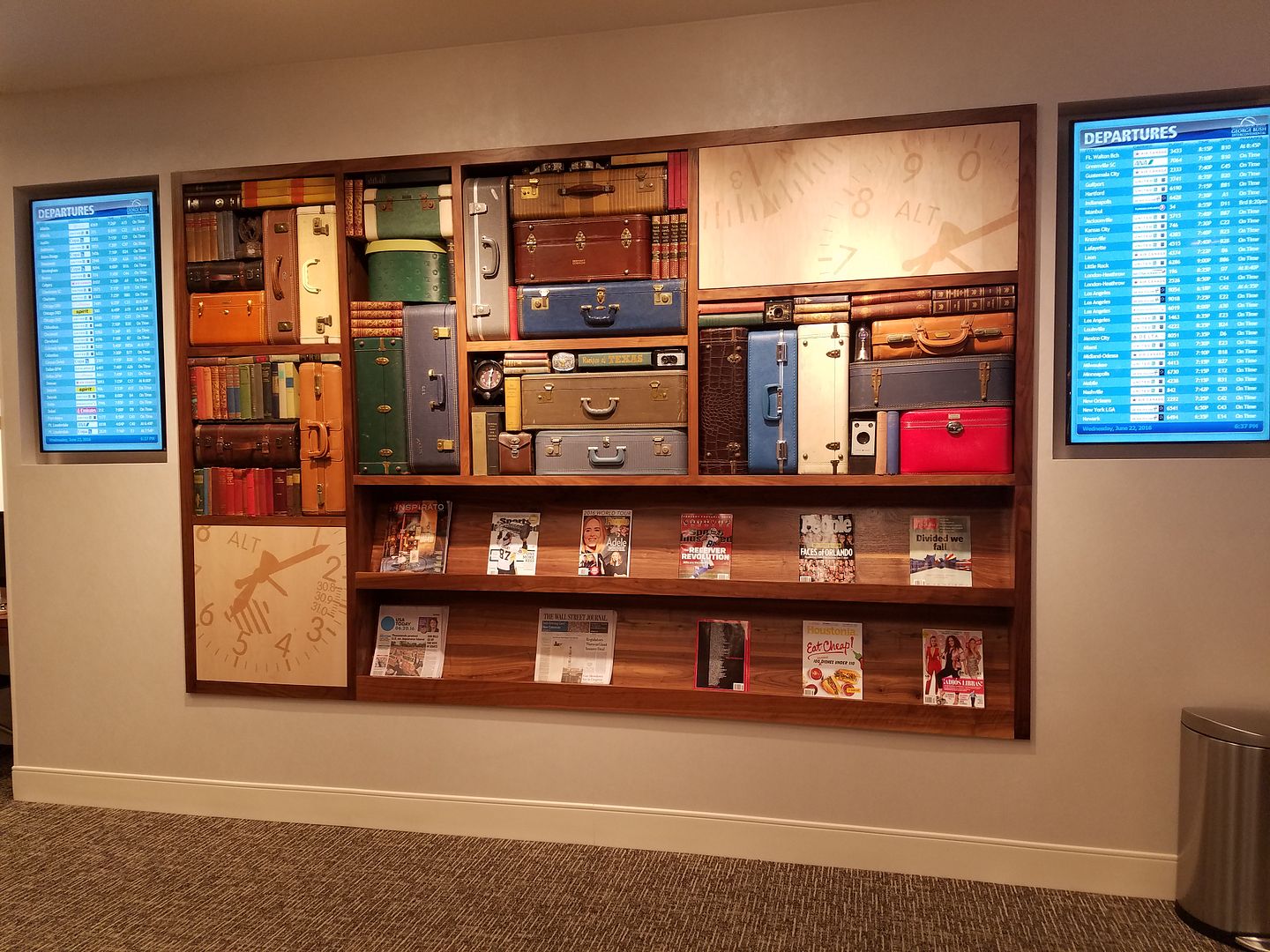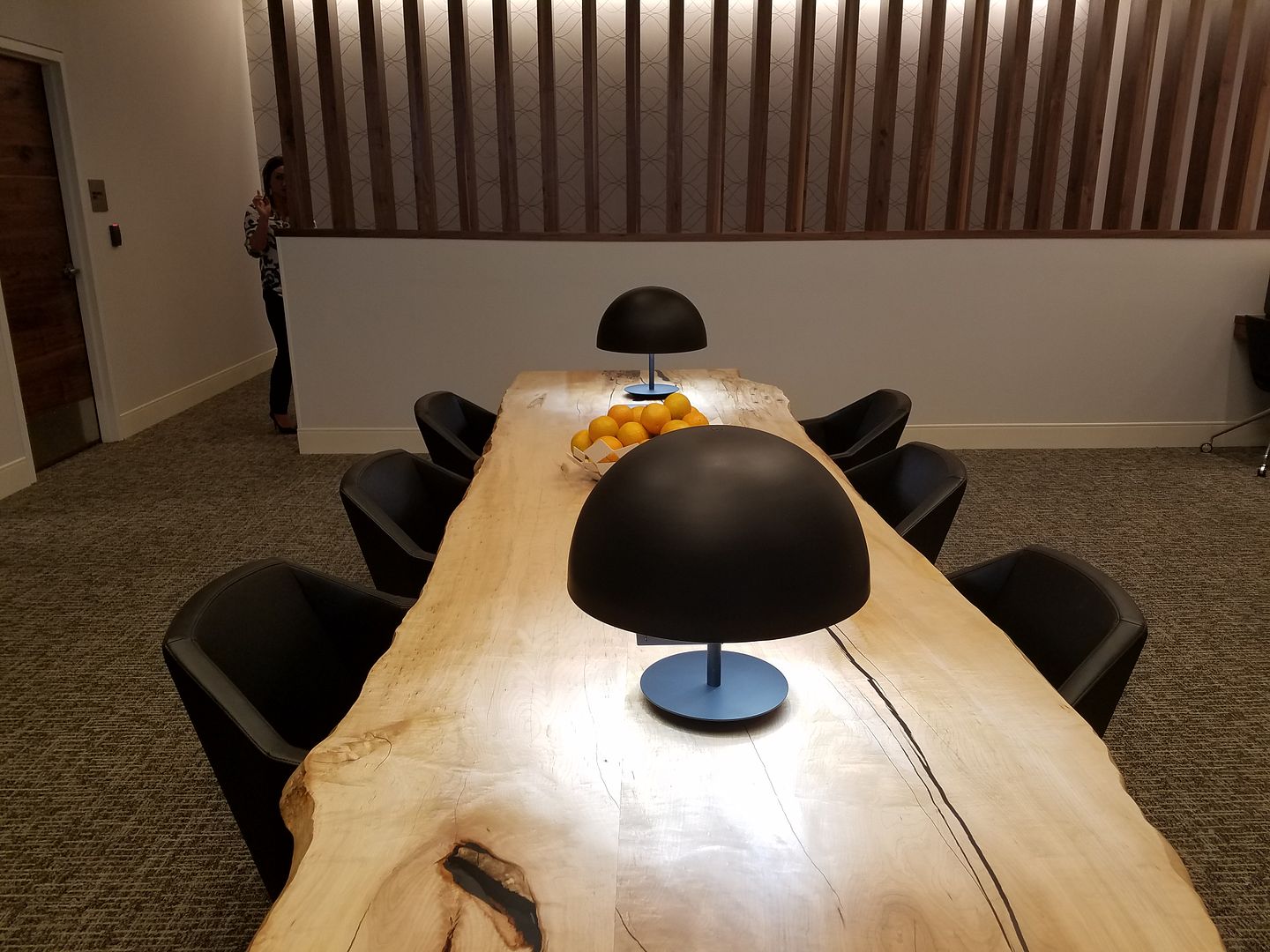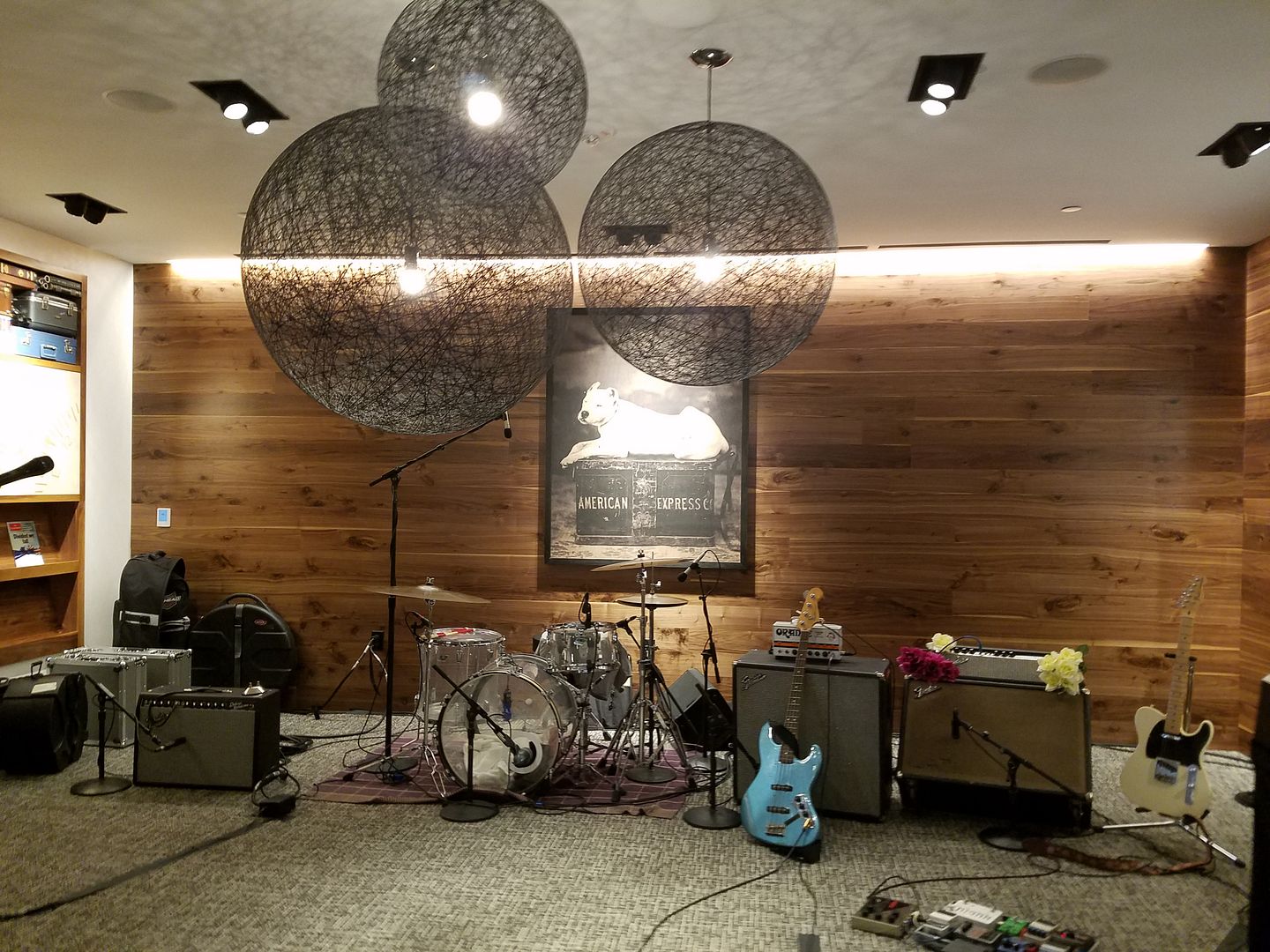 There's a kids' room, there's a shower, and of course a buffet and bar. There's no spa at this location.
The bar will be a highlight for many.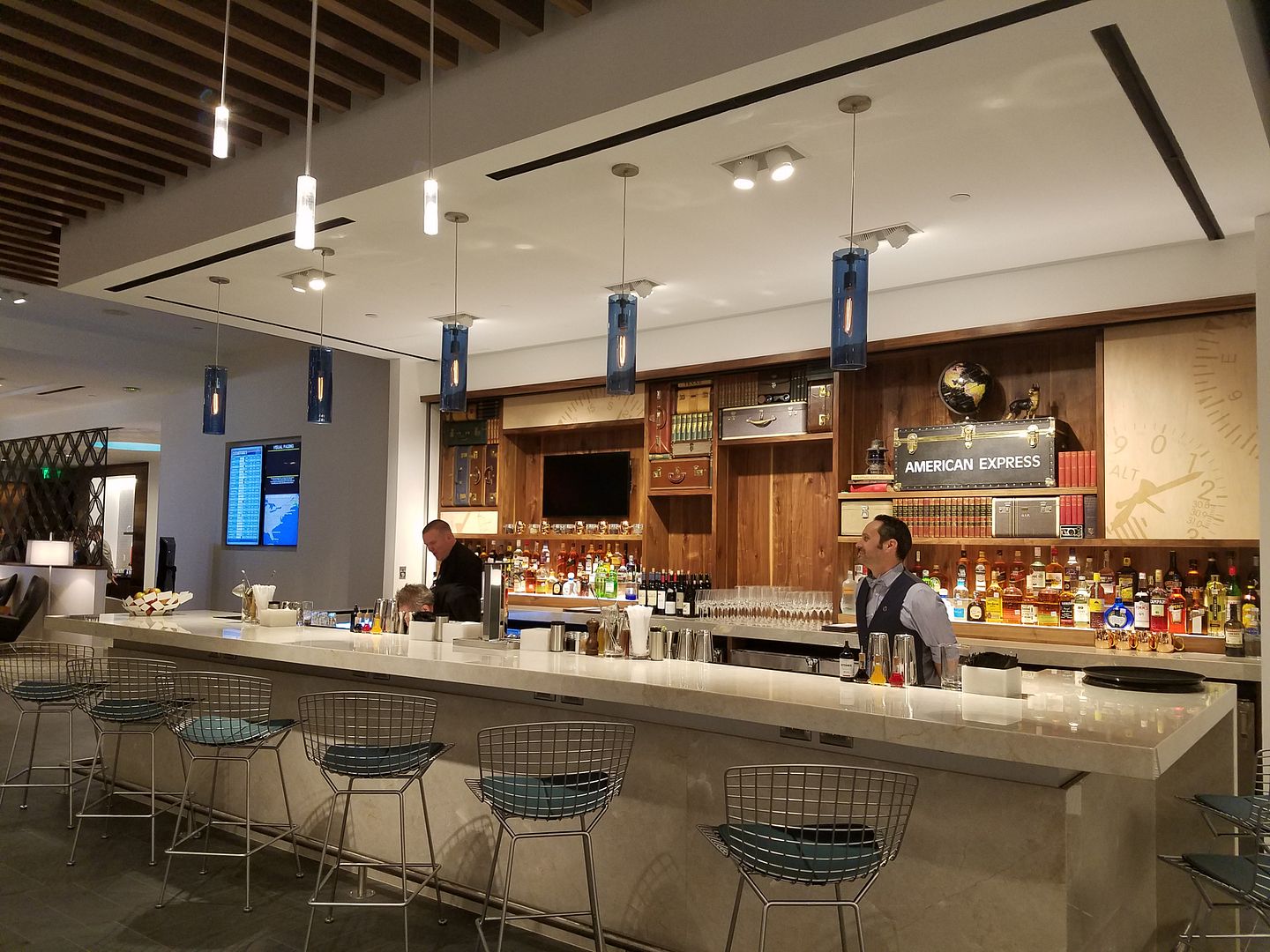 The dining room and buffet is off the bar.
Kids rooms are a feature of every Centurion lounge except for LaGuardia.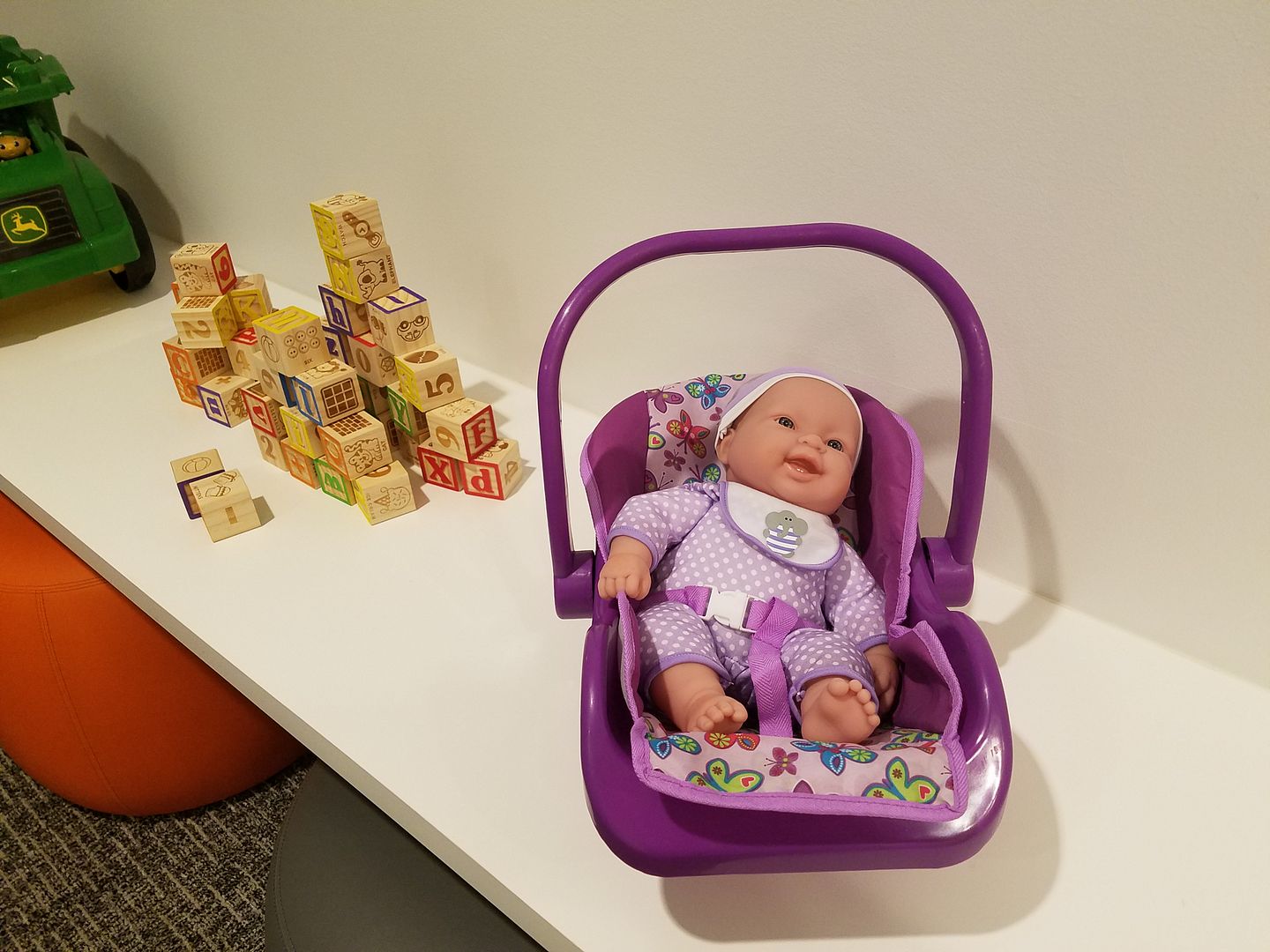 Disturbing doll in the kids room. "Hi, I'm Chucky. Wanna Play?"
The shower room is nice and large. I only noticed one, and they flag that they want you to shower quickly. L'Occitane bath amenities are from a dispenser on the wall in the shower rather than individual bottles.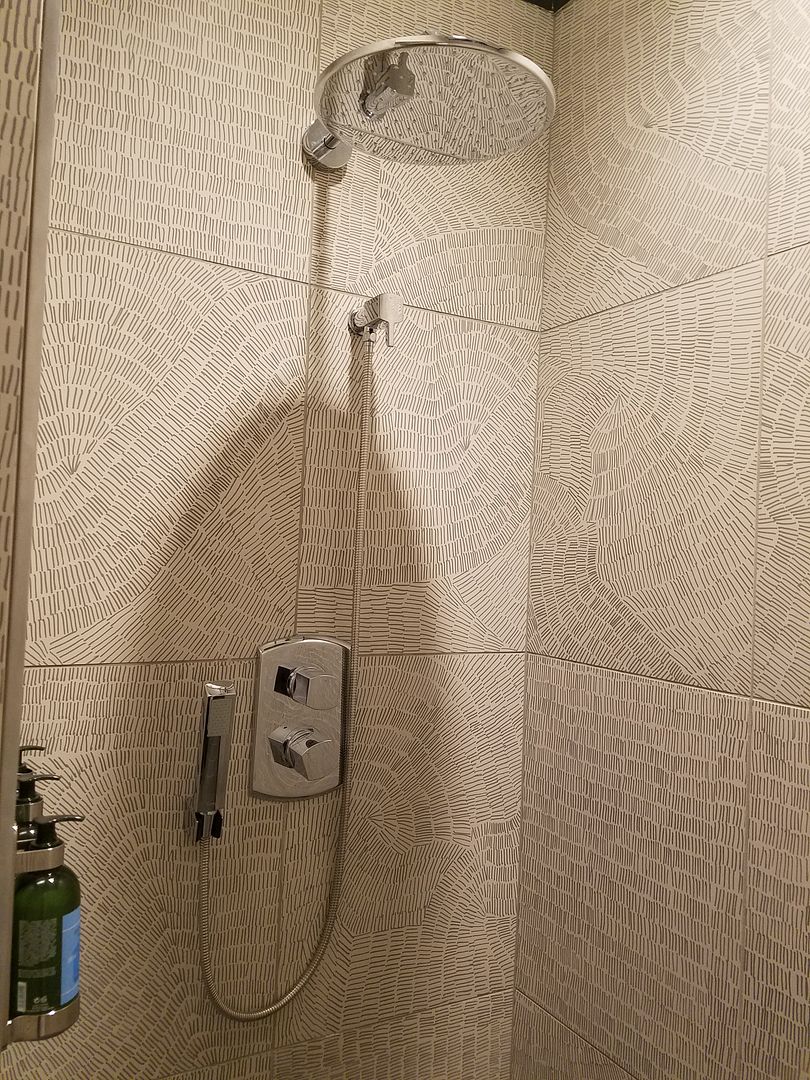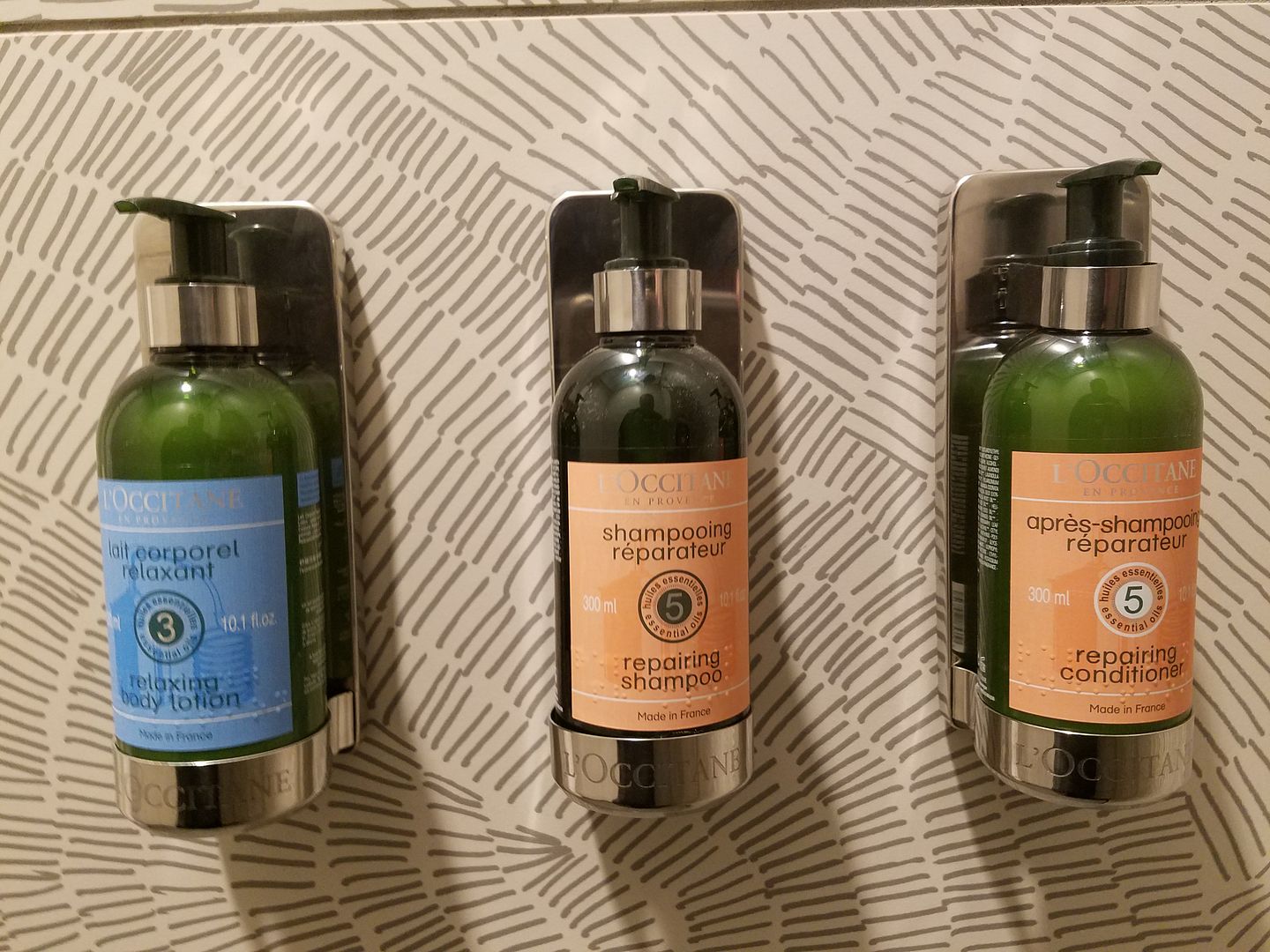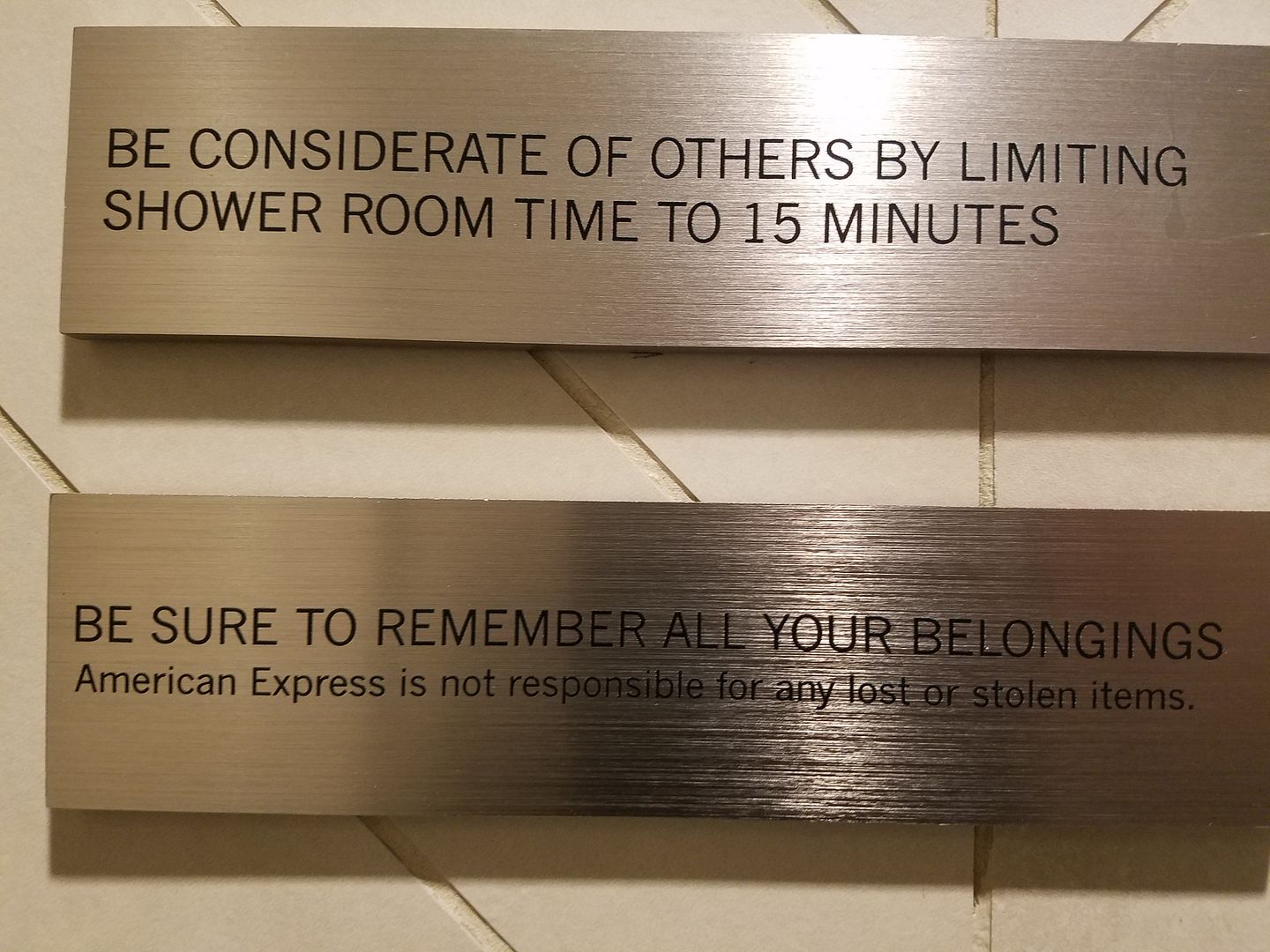 Restrooms are in similar style.
One unique element is a phone room, a quiet place for conversations. Although there's no conference room in this location.
The space overall, and the furnishings, are unmistakably in the 'Centurion lounge' style and consistent with the other US lounges, although with its own unique art (no life sized photo of Meatloaf here but others will be attracted to their choices).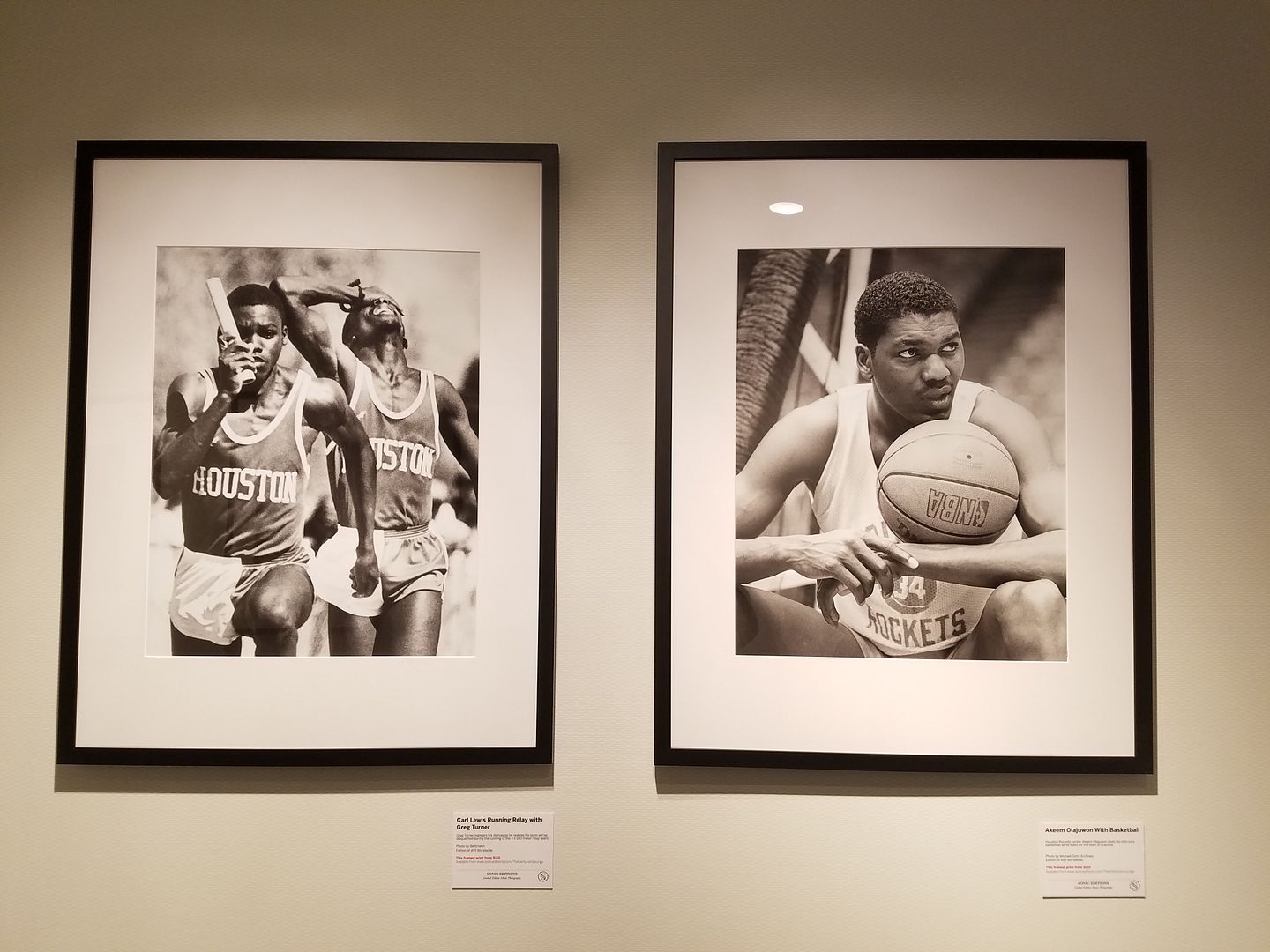 Art is a big deal here in fact there was a live piece of art being assembled by Patrick Rennar during the event. (And guests were writing their names on pieces that went into the installation.)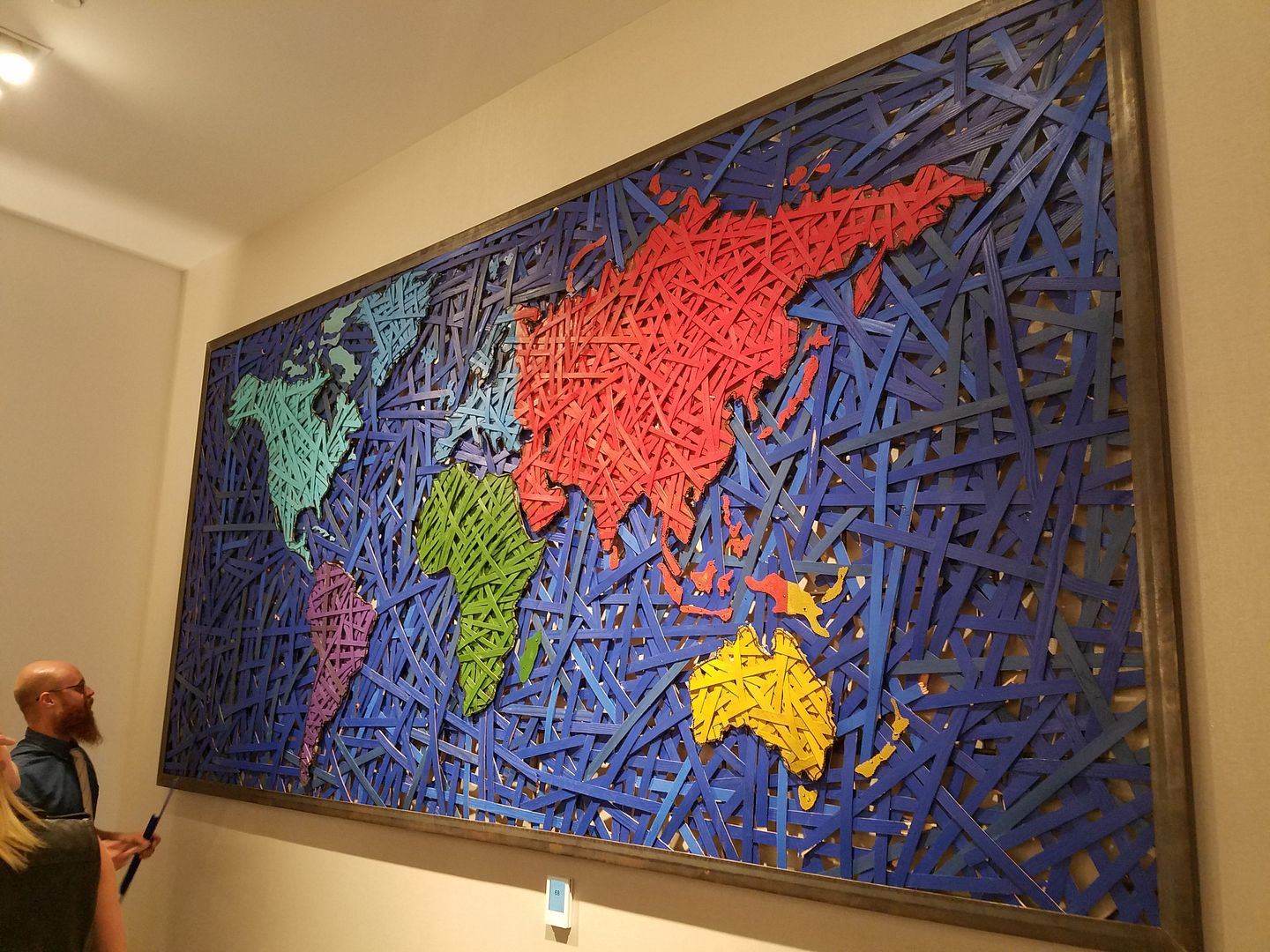 Food & Beverage
Centurion lounges in the US each pair with a local celebrity chef, and the Houston's lounge's chef Justin Yu of Oxheart. I loved the original brisket in Dallas, the chicken at New York LaGuardia.
Chef Yu was on hand for the event and spoke to the way he's adapted cuisine for the lounge. It's flavorful, though not what you'll get at his 30 seat restaurant, he's offering cuisine that will appeal to diverse travelers. But it's all high quality.
Here's the opening menu:
Breakfast:
Griddled Johnnycakes | Strawberry and pink peppercorn jam, thickened cream, and honey
Buttermilk biscuits | Sorghum butter

Three grain breakfast porridge | coconut milk, dried fruit, cilantro, mint

Skillet fried potatoes | harissa and avocado crema

Eggs en cocotte | tomato sauce, parmesan

Zucchini bread

Cardamom and currant scone with whipped butter and jam
Lunch/Dinner:
Light Mushroom broth | miso, green onions and kombu

Beets | Savory granola, spiced yogurt and parsley

Panzanella | charred vegetables and cherry tomato citronette

Braised chicken thighs | harissa, dried fruit, nuts, and avocado crema

Chickpea and egg stew

Quinoa | olive oil, dried fruit, and spiced pumpkin seeds

Steamed summer squash | shallot-lemon vinaigrette

Steamed corn on the cob | garlic aioli, chilies and pickled jalapeno

Dessert:

Black Pepper Panna Cotta | Vanilla poached stone fruits
Food was actually in somewhat short supply for the evening. There may have been less prepared than in the past, or there was just less pre-prepared. They'd put out a bit of food and it was gone in an instant. Since I didn't eat much at all, I stood by the kitchen late in the evening to be able to grab photos of a few dishes right when they came out.

Panzanella | charred vegetables and cherry tomato citronette

Chickpea Stew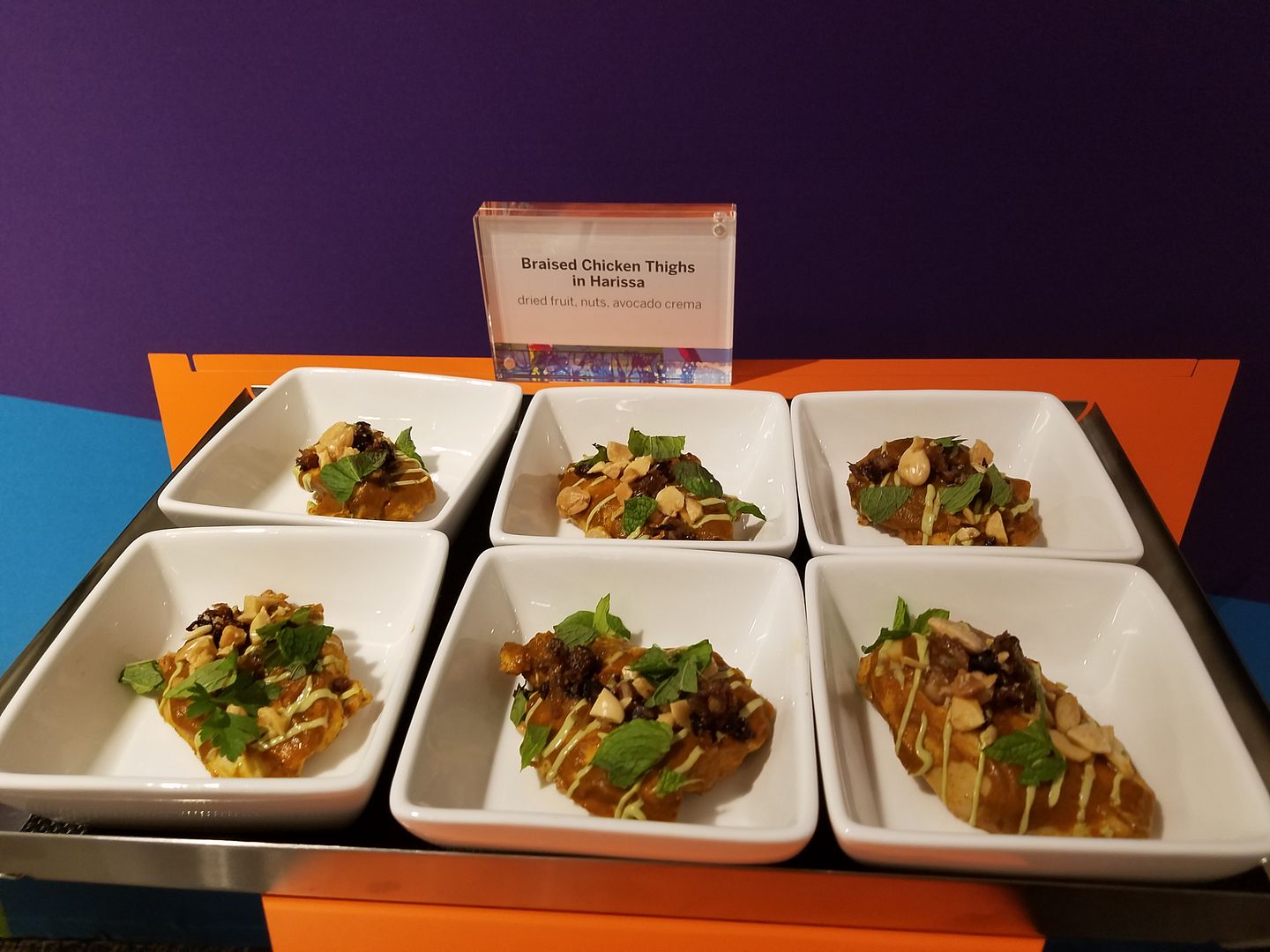 Braised Chicken Thigh in Harissa Sauce
Here were desserts, the pancakes were surprising as an after-meal item but quite good. Normally they're a dessert.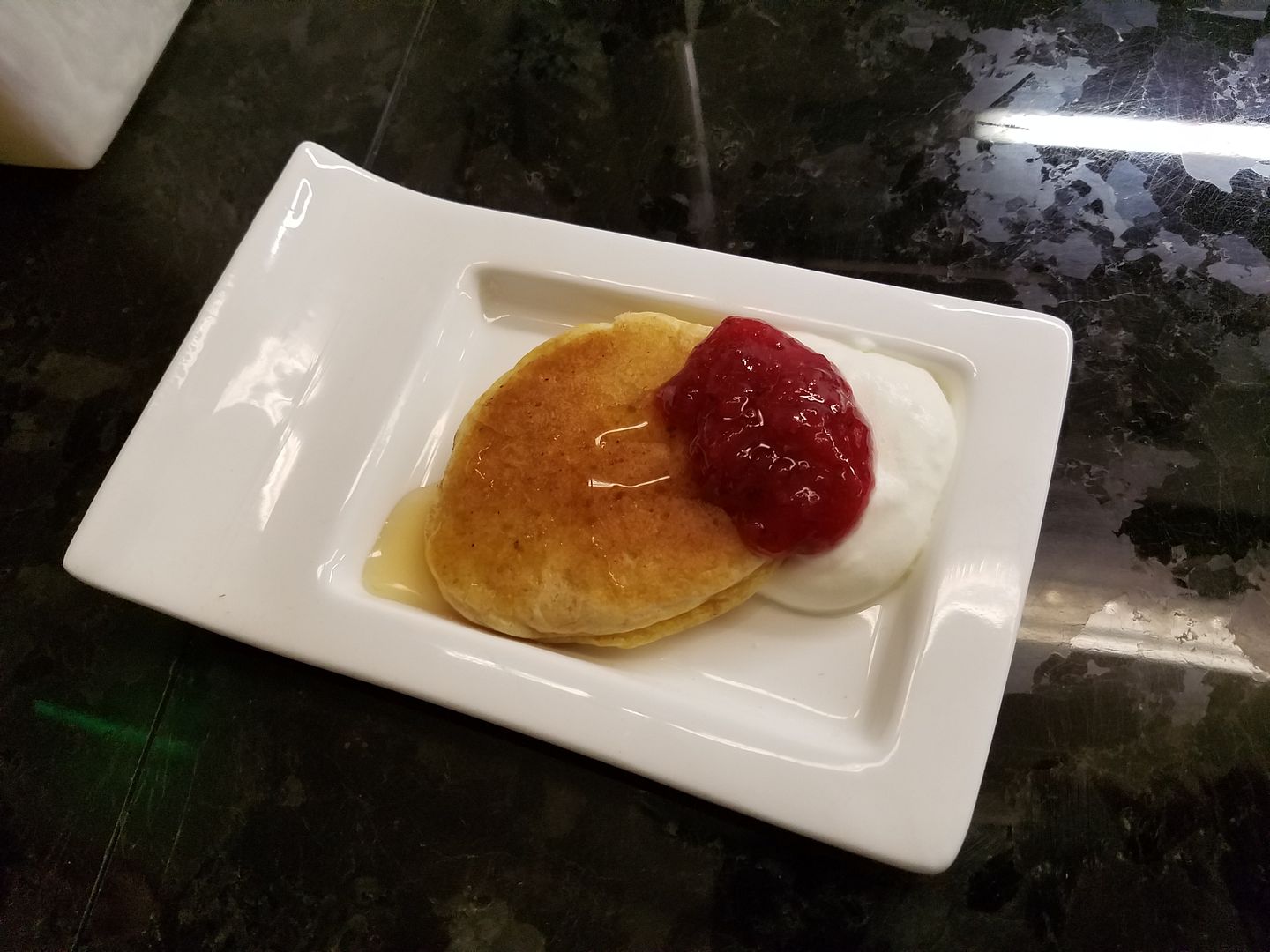 The panna cotta was fine, but I liked the pancakes better!
There's a full bar, so you can have what you wish. There are also custom-designed cocktails for the lounge.
Cocktail menu:
CHINESE NEW YEAR
Prosecco | Mandarine Napolean | Canton Ginger Liquer | lemon juice

This festive, ginger-spiced Mimosa features mandarin orange liqueur instead of juice to balance the bright acidity in the bubbly Prosecco.
PLINY THE YOUNGER
Soda Water | Botanist Gin | Jack Ruddy Tonic Syrup | lime juice | Bittermens Hellfire Habanero Shrub

This spicy gin and tonic is a variation upon Houston bartender Bobby Heugel's Pliny the Elder, which is one of the most popular cocktails at Anvil Bar & Refuge.
DESERT OASIS
Siete Leguas Reposado Tequila | grapefruit juice | Cointreau | Del Maguey Vida Mezcal

The salt and tumeric rimmed glass, which mimics the look of sand surrounding a desert oasis, also reinforces the earthy agave notes in this smoky Margarita.
PIMM'S CUP
Club Soda | Pimm's No. 1 Cup | Cointreau | lemon juice

Like the Mint Julep on Derby day, the Pimm's Cup tends to be forgotten after it's served to thousands of fans at Wimbledon during tennis's most prestigious tournament.

Pimm's Cup
FIKA
Absolut Vodka | pineapple juice | Smallhands Foods Orgreat | Hella Bitters Orange Bitters
The ingredients in this cocktail channel the flavors of traditional Scandinavian pastries that Swedes call "fika" when served with coffee.
OUR PAL
Rittenhouse Rye Whiskey | Contratto Bianco Vermouth | Cointreau Guignolet | Campari

This twist on the classic Old Pal cocktail adds cherries to the recipe, making it a closer kin to the more popular Manhattan cocktail.
FRAGOLA
Mount Gay Black Barrel Rum | Cocchi Rosa Vermouth | Cardamaro

Fragola is Italian for strawberry, which is used to garnish this crimson hued rum cocktail that tastes like strawberry, despite having none mixed into it.
BLUE DOOR
Johnnie Walker Black Label Blended Scotch Whisky | Myer's Rum | herbal liqueur | lemon juice | anise-flavored liqueur

This twist on the Modern cocktail balances earthy malt whiskey with fruity dark rum and a hint of star anise.
How Good is the Lounge?
There's no question that the Centurion Lounge is better than anything else in Houston, but that was a foregone conclusion.
Without a spa (like Dellas and Miami) and without the 'wine wall' and better quality wines in San Francisco, this isn't going to rate as one of my favorite Centurion lounges. I place it closer to the same category as LaGuardia and Las Vegas — a good place to go that raises the bar for the airport, but not a place that raises the bar for American Express' own lounges.
There's good food and good drink and it's complimentary for all guests. Ultimately the value of the lounge will be driven by how crowded it gets. The location in terminal D, while accessible, could help with this.
The lounge should open within the week, but the specific date is not yet announced pending completion of final inspections.