On Friday I wrote about a report that Hyatt would be gutting cash and points awards November 1 as well as introducing new premium suite redemption options.
The claim about cash and points was that instead of redeeming points and a fixed cash price, you would redeem points for half off a hotel's paid rate. That report now has been verified by a hotel which has received information about the change.
Currently Hyatt cash and points awards work on a fixed chart basis. You pay half the usual number of points along with a fixed cash co-pay to book a cash and points award if it's available. It's a great value at category 2 through 6 hotels, and not very good for categories 1 and 7: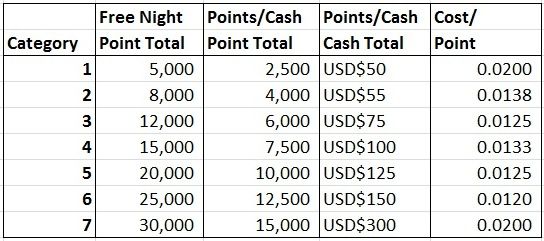 Effective November 1 we expect the cash portion to become half of whatever the hotel's room rate it. In other words, the 'points' would pay half the room rate. That eliminates the ability to get 'outsized value' from cash and points, redeeming when room rates are high yet the hotel is still offering inventory.

Goodness Knows Cash & Points With Confirmed Suite Upgrade Was Once Great Value at Andaz Maui
Point Me to the Plane confirms the inital report by Richard Kerr about this change.
Unfortunately, this seems to be accurate based on documentation received by a US Hyatt property that was shared with Point Me to the Plane this morning. The document details the same changes and at least notes that reservations made prior to the change will stand as-is:

"Any cash and points reservations made prior to the change on November 1, 2018 will be honored at the booked Points + Cash rates"
That's sad, though as I've noted even full awards now count towards elite status and Globalist confirmed suite upgrades can be used on full redemptions, not just cash and points now, so gutting this particular award isn't as bad as it would have been two years ago.
Meanwhile I look forward to hopefully seeing what kinds of premium suites Hyatt may offer through the other rumored new benefit.