The Renew Your Soul package is pricing for $60+tax at the Westin Times Square.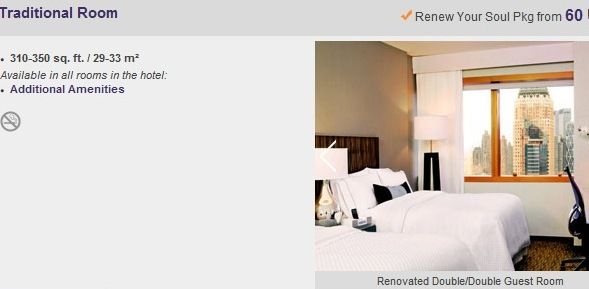 In addition to the link above which pre-fills in the relevant package, you can search for the "Renew Your Soul Package" rate in the "Promotions and Packages" section. Search for your desired dates. Pick the Westin Times Square and then "promotions and packages" and make sure you are searching one adult only. That will bring up the rate if the package is available.

This is available on some but not all Thursday, Friday, Saturday, and Sunday nights between September and December.

The package includes a $10 minibar credit, an in-room movie, a $10 Metrocard, and a $10 coffee card.
As I say, this only comes up when searching for 1 person per room. If this is ultimately honored (don't buy non-refundable airfare just yet!) then they well could enforce the one person per room limit. So if you are two people, you might want to book two rooms as a precaution. And if that's how things work out, you at least get two minibar, movie, coffee, etc. credits and a still-amazing $120 per night for the Westin Times Square.
This is pre-paid non-cancellable though I would guess that they'd rather refund your money than have you stay so it's always possible you may be able to cancel for a refund later if this is ultimately honored. The fact that this is prepaid makes it more likely that it'll be honored, though.
(HT: SalesStud)
Update: 10:30am Eastern it is getting tougher to book, inventory is disappearing, so plenty of folks are saying this is dead. But I'm also still getting reports of success for dates in September and in December, as of just a few minutes ago. Maybe it's on its way out, but it doesn't seem quite dead yet.
Update: 10:50am Eastern it does now appear to be gone. Now we wait to see whether it will be honored or not!