American Airlines and Marriott Rewards announced a partnership today, restoring a relationship which was severed back in June 2010.
Members will be able to earn AAdvantage miles for Marriott stays (rather than Marriott Rewards points) if they wish, and will be able to convert Marriott points to AAdvantage miles.
The conversions will take place at the 'higher' tier that Marriott offers, similar to transfers into Aeromexico, Aeroplan, Alaska, British Airways, Delta Air Lines, Frontier Airlines, GOL/Varig, Hawaiian Airlines, Iberia Airlines, United Airlines, US Airways, and Virgin Atlantic.
The conversion rate of Marriott Rewards to American miles (and to the mileage currencies of the other airlines listed above) is:
10,000 points = 2,000 miles

20,000 points = 5,000 miles

30,000 points = 10,000 miles

70,000 points = 25,000 miles

140,000 points = 50,000 miles
Other air transfer partners are less lucrative, e.g. 10,000 points to 1500 miles and 140,000 points to 35,000 miles.
You'll also be able to redeem Marriott Rewards points for American miles as part of 7 night hotel stay plus miles travel packages.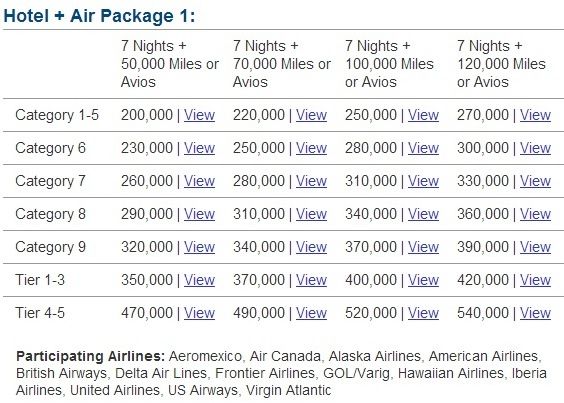 Another option for Marriott stays and transfers is of course a good thing. I usually credit my hotel stays to hotel points, and only transfer Starwood points to miles or hotel points to miles when there's a bonus for doing so or a promotion that requires activity with a variety of partners.
But I know that this is a very popular option. And in fact from speaking with the AAdvantage folks this morning about it they were very clear that it's something that they were hearing across all channels from their members that not partnering with Marriott was a huge gap. I hear from customers in my award booking service all the time as well with Marriott points wanting to transfer to miles (and the travel packages are a reasonable deal). There was a ton of transferring three years ago right before the option shut down. No doubt many will sue this.
They're promoting the new earn/transfer relationship with a 500 mile per stay bonus when you go into your Marriott Rewards profile and change your earning preference to American Airlines AAdvantage miles.
For stays which begin between July 15 and August 15, each stay earns 500 bonus points. There's no limit (other than a calendar limit based on the duration of the promotion) and no registration is required. So an infrequent Marriott guest staying at a Marriott during this time could come out ahead.
It's good to see this partnership back, members clearly value it. It's good to see a bonus to promote it. For these two big travel providers, an airline and hotel chain, it seemed strange that they couldn't work things out before so good to see that they now have.
---
You can join the 30,000+ people who see these deals and analysis every day — sign up to receive posts by email (just one e-mail per day) or subscribe to the RSS feed. It's free. Don't miss out!