Richard Kerr is reporting that Hyatt will soon be announcing two changes to its program.
Gutting cash and points awards Instead of redeeming points and a fixed cash price, you would redeem points for half off a hotel's paid rate.
Introducing premium suite upgrades and awards Currently Hyatt — like Marriott, and Starwood before it — allows redemption and upgrades to standard suites only. There's been no way for elites to use points to redeem or upgrade into 'premium' suites such as a hotel's ocean view suites, or named suites like Ambassador, Diplomatic, Presidential and Chairamns. That could be changing.
Reported Changes Coming to Cash and Points
Currently Hyatt cash and points awards work on a fixed chart basis. You pay half the usual number of points along with a fixed cash co-pay to book a cash and points award if it's available. It's a great value at category 2 through 6 hotels, and not very good for categories 1 and 7: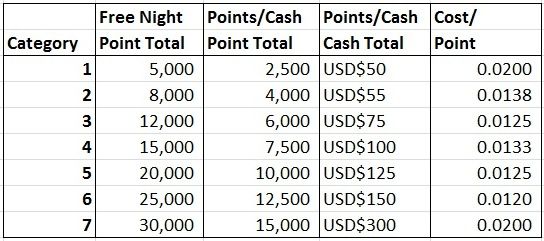 Kerr writes that this is going to change to fixed points and 50% of the published room rate.
Beginning November 1, it appears that Points + Cash awards will still require the same number of points, but the paid portion will be changing to 50% of the nightly standard rate for the property. In other words, if a Category 5 hotel is going for $400/night (not a rare occurrence by any means), you'll have to pay 10,000 points + $200 instead of the previous $125.
Most hotels only make cash and points awards available when rates are low.
Today hotels receive the cash portion of a cash and points award, plus about a third of the hotel's average daily rate from Hyatt. However unlike standard awards when a hotel is considered full they do not get extra compensation for the room. Perhaps this change will coincide with 'always available' cash and points options, that may be hoping for too much.
In June Hyatt said they were working to introduce cash and points awards at MGM M life hotel properties. Hopefully that will be part of any change.
Cash and points awards used to be especially important for Hyatt elite members because they counted towards elite status earning and promotional points-earning, while standard award nights did not. That changed for 2018 and award nights now count on par with paid stays, a huge improvement.
Getting Access to the Best Suites Through World of Hyatt
Hyatt lets you spend about 60% more points than a standard room award to book into a suite. That's the best value for getting into a suite on points that any hotel chain offers.
They also let you spend 6000 points per night to upgrade a paid booking into a suite, although there are rate and room type requirements to use this benefit. (It wasn't that long ago that 6000 points covered a stay in a suite — back then I almost never had a regular room.)
In addition top tier elite members ('Globalists') earn confirmed suite upgrades that can be applied to paid or award stays of up to 7 nights.
In all of these cases members receive a 'standard' suite, as defined by each hotel. Some are more generous than others in what is considered standard. But once it's defined, any time it's available to book with cash that suite should be available for upgrade.
What Kerr reports Hyatt is doing is introducing premium suites to World of Hyatt members.
Redeem double points for a premium suite (remember, a standard suite is a 60% premium over a regular room).
Spend 9000 points per night to upgrade a paid reservation into a premium, subject to the same restrictions as upgrade awards have now.
There's no word on changes to Globalist earned suite upgrades. I've long suggested that Hyatt make premium suites available to members, for instance allowing redemption of two suite upgrades for a premium suite.

Could We Redeem for an Overwater Villa at the Park Hyatt Hadahaa, Maldives?
We do not know how Hyatt would define a premium suite for this purpose. I assume it would be done at the hotel level, and which suites are available will vary tremendously.
A change like this could also have a meaningful effect at properties like the Andaz Maui which severely restrict the rooms that are available for redemption, and the upgrade pool of suites to a handful of ground floor rooms which get little sunlight. Extra points there could get us back to the basic suites we used to have, albeit for additional points.

Andaz Maui
Controversial Changes, But Good May Outweigh Bad Here — Even By a Lot
Members are going to have different views of these reported changes, which have not been confirmed by Hyatt. My own view is that while I like the value cash and points offers now at the category 2-6 level, now that full points redemptions earn elite night credit (and the credit card lets you spend for elite night credit too) cash and points is no longer as crucial a part of my arsenal. Making those less useful is much less of a big deal than it would have been in 2017.
Meanwhile the major constraint on my travel is time rather than points. Since I'm not working hard to stretch each point I'd rather use them for the best experience possible. Just as I prefer business class awards to coach, and first class airline awards to business, I prefer suites on vacation. And I enjoy really nice suites even more.

Perhaps the Park Hyatt Sydney — Which Has No "Standard Suites" — Could Finally Allow Confirmed Upgrades
For a short stay in a city, or a business stay on my own, within certain parameters the room I get doesn't matter. But if Hyatt allows us the ability to secure top flight suites at their best properties as part of the program they'll have done a lot to secure my loyalty.
Of course what final changes Hyatt actually makes and how any of this works out in practice remains to be seen.