Thailand is technically open to visitors, but even with a negative Covid test there's a 14 day quarantine requirement and the idea of being stuck inside a hotel room that long hasn't been popular. It's attracted only a few hundred tourists per month to the country.
However people will go to greater lengths to visit friends and relatives than they will for just a vacation long enough to justify the quarantine period. I saw on social media that the owner of my favorite Thai restaurant was back in Bangkok, in the middle of his quarantine period at a hotel with his wife. He was gracious enough to share his story and some photos.
If you ever find yourself in the Washington D.C. area I've long recommended Elephant Jumps as the best Thai food in the area. I haven't found a better place in the United States. It's worth the trek out to Merrifield in Northern Virginia.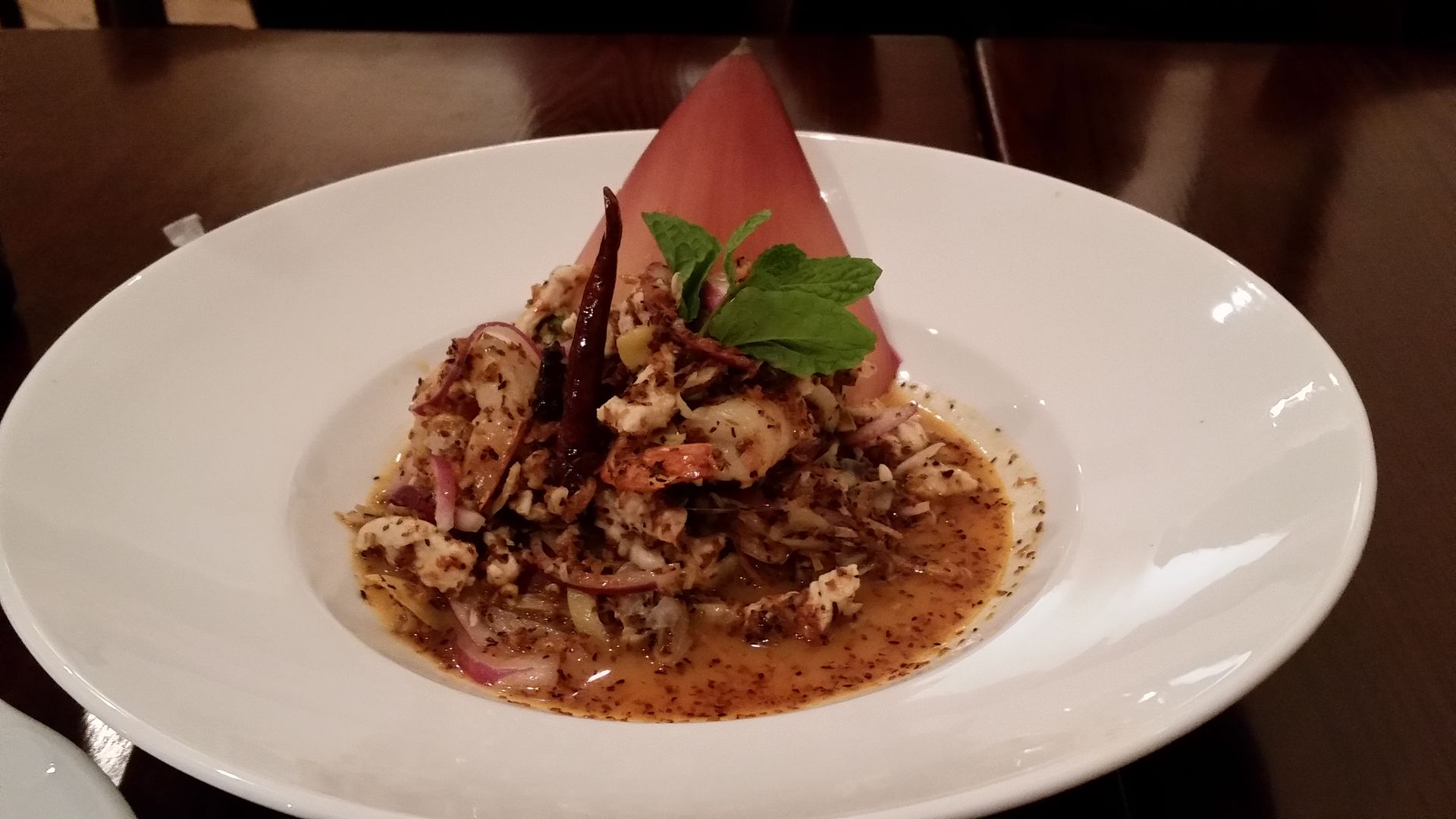 Though he's the restaurant's owner he shares that he asked permission from the team to take this vacation since they "share vacation equally." He was headed on vacation in March 2020 but had to cancel the trip, so hasn't taken a vacation in two years, and haven't seen their parents in two yeas. And right now the DC restaurant scene is slow for exactly the reasons you think.
They got doctors exams and negative Covid tests, and flew Qatar Airways Washington Dulles – Doha – Bangkok. When they arrived they went into "mandatory self-isolation" or "alternative state quarantine" for two weeks.
The hotel sent a van to pick us up from the corona virus battlefield at the airport. We felt like we were among sick people at the airport. But in fact, the infection rate at the airport is none. We had never heard of the airport being shut down for cleaning up due to infection. All the officers at the airport were seriously doing their great jobs.
Here's the airport arrival procedure.
The package includes "accommodations and medical services and 2 Covid-19 tests in a package of 15 nights." They selected Grande Centre Point Sukhumvit 55 for their stay.
When arriving at the hotel, we had an unusual check-in process a medical check-in and a hotel check-in at the same time. Imagine yourself admitting at a "hotelspital." We got temperatures check, blood pressure check, blood oxygen check and answered basic health questions while we were also being checked into the hotel. We had to download a mandatory government tracking body temperatures application onto our phones for government records.

Grande Centre Point Sukhumvit 55, credit: Songtham Pinyolaksana

Grande Centre Point Sukhumvit 55, credit: Songtham Pinyolaksana
So what's it like stuck in a hotel room in Bangkok for two weeks, unable to leave? Tom had a great attitude about it,
The first seven days of the program, we were in a sleep, eat, jog, repeat mode. Our world were upside down, of course, we were 12 hours behind…. We can jog in the room. Services were excellent. We chose our own meals for the next day everyday. They have choice of 15 menus to choose from. The meals came in disposable containers….We asked if could get our our white rice to be substituted with a small salad, we got a yes. The foods was so delicious. We're happy with our first 7 days so far.
The stay is costing them $3,833 for 15 days accommodation for two including 2 Covid-19 tests each on the 5th and 12th days as well as meals. Each day they used the LINE app to order each of the next day's meals. Here's a day's menu:
Breakfast:

European breakfast, omelette, ham, chicken sausage, bacon, baked beans, herb roasted potatoes, grilled tomato, wheat bread, butter croissant, butter, jam, and sliced seasonal fruits

Cereal with fresh milk served with sliced wheat bread, butter croissant and Strawbery muffin, butter, jam and sliced seasonal fruit

Boiled rice with shrimp, served with steamed chicken shu mai and sliced seasonal fruits

Grilled Saba, Japanese rice, seaweed salad with kani, and miso soup, sliced seasonal fruits
Lunch:

Pork BBQ Burger with French fries and Garden Salad

Sauteed Beef in Oyster Sauce served with Jasmine rice, fried egg and fried fish cakes

Kung Pao chicken served with Steamed Rice, sauteed green bean and Shitake Mushroom clear soup

Tofu Green Curry served with Jasmine Rice and crispy spring roll
Dinner:

Beef stroganoff served with sauteed fettucine and cauliflower gratin

Stir fried chicken with Ginger and mixed vegetables served with Jasmine rice

Japanese Beef Curry Rice served with Vegetable Gyoza, pickle and Miso soup

Tofu teriyaki, rice and green salad and miso soup

Credit: Songtham Pinyolaksana

Credit: Songtham Pinyolaksana

Credit: Songtham Pinyolaksana

Credit: Songtham Pinyolaksana

Credit: Songtham Pinyolaksana

Credit: Songtham Pinyolaksana

Credit: Songtham Pinyolaksana
Though I'd certainly tire of hotel food, for what it is it strikes me that the meals look quite good. And I'd even be happy eating them compared to what I get in Austin. Even in takeaway containers the options do include Thai food in Thailand.